The fruits of a booming uk rolling stock market were on show at Railtex as suppliers and major manufacturers promoted innovative new products and services
Although Bombardier and CAF were missing from the line-up, Alstom, Hitachi, Siemens and Stadler all featured. New entrants CRRC, a shortlisted party in the race to build the Tyne & Wear Metro's new trains, and Talgo, which intends to build a new factory in Fife, also exhibited alongside suppliers of seats, carpets, passenger information systems and practically everything you need to fit out a train.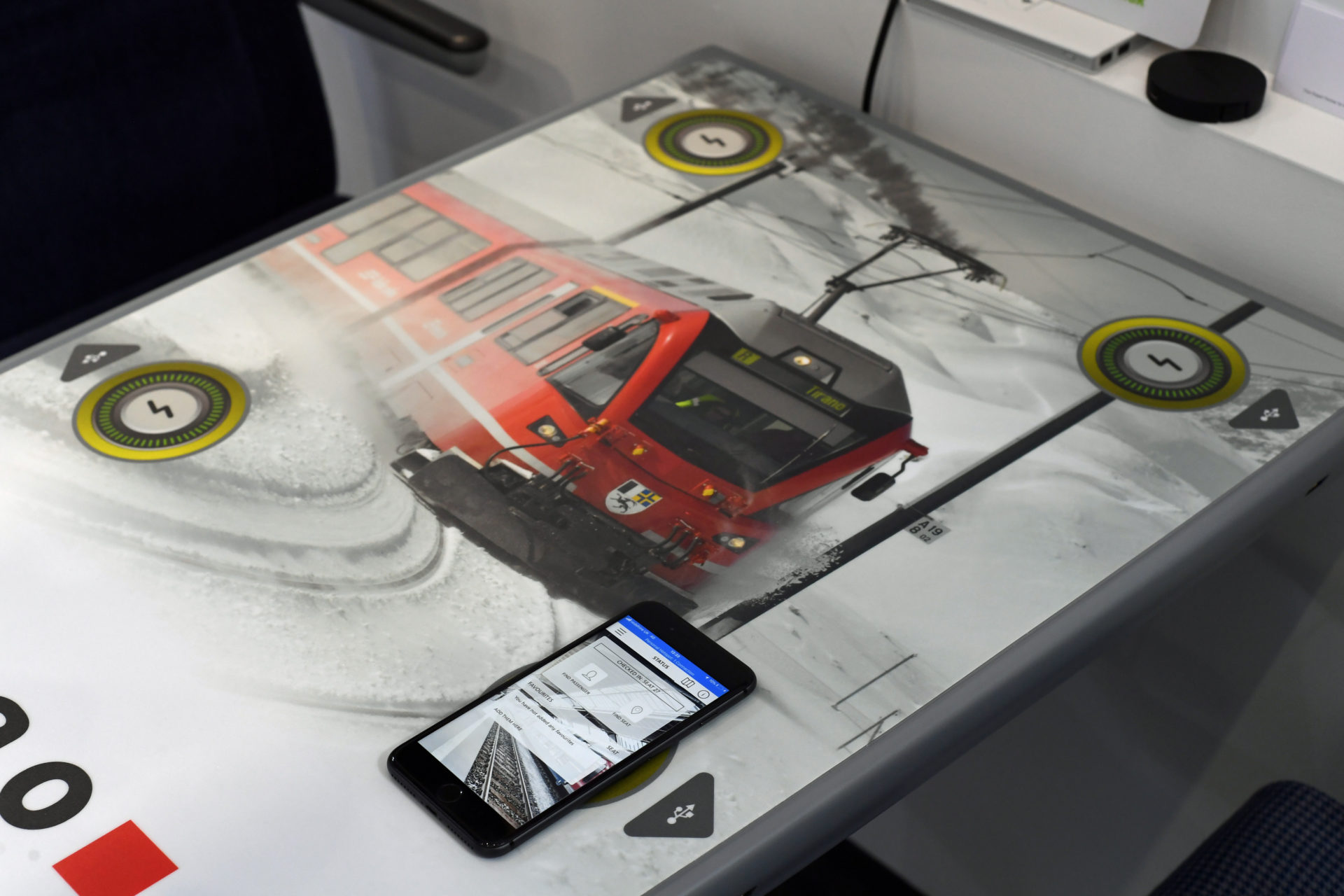 Wireless charging
When it comes to train door-open buttons, Swiss firm EAO dominates the market. The majority of the UK's train fleet is fitted with EAO train door buttons, including the new Aventra and Intercity Express Trains.
However, there was a different focus for its stand at Railtex. Following a soft launch at Innotrans 2018, the EAO team officially launched its new 'Passenger Interface' in May.
The system allows passengers to wirelessly charge their mobile phone (most models released after 2017 are compatible) using a conductive charger embedded in either a table top or setback holster. This reduces a passenger's "battery anxiety" and gives them greater confidence when using e-ticketing.
But it's not the wireless charging that's the innovative part – South Western Railway debuted the world's first fully rail compliant phone wireless charging system in its refurbished Class 444 trains in November.
Using EAO's 'iBeacon' technology, the Passenger Interface builds on the wireless charging capability to connect the mobile phone to the cloud and signal that the seat is occupied. It then searches the device for the train operator's app and, if it's downloaded, prompts the user to open it.
Ticket inspectors can then be informed if the passenger has a ticket while passengers would be able to order food and drink to their seat if there's an onboard catering service. There are also options to provide tailored passenger information.
EAO is currently working with Eversholt Rail to retrofit the Passenger Interface to its Class 395 'Javelin' trains, which are on lease to Southeastern.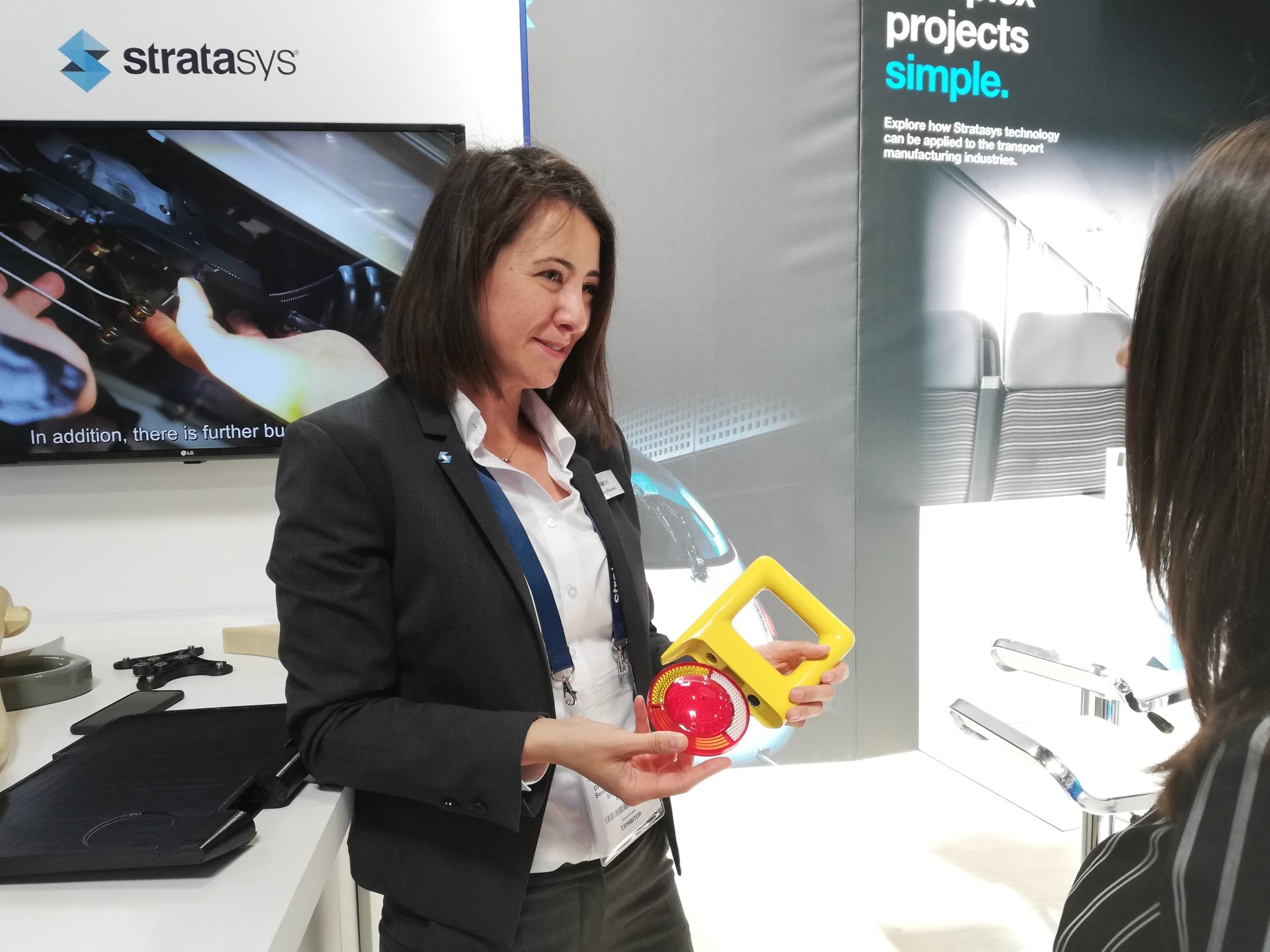 3D printing
Germany's Deutsche Bahn, the Netherlands' Nederlandse Spoorwegen and the United States' Union Pacific all use 3D printing – also known as additive manufacturing – to produce spare parts.
Following the announcement of a partnership between Angel Trains, ESG Rail and Stratasys in the UK last year, approved, 3D-printed components will be trialled in service this year.
Gülay Bozoklu, senior engineer at 3D printing specialist Stratasys, explained to RailStaff that the process results in significant cost reductions, because parts can be produced on a needs basis rather than on mass, as well as significant lead time reductions when compared to traditional manufacturing methods.
While 3D printing is still in its infancy, more and more companies are realising its potential. Stratasys already works in France and Germany but the project with Angel Trains and ESG Rail is its first in the UK.
Gülay said: "It's all about changing the 'We have done it this way, we've always bought our armrest from a supplier, we have never took responsibility to print it ourselves' mindset.
"It will come slowly, they will change their minds but now it's for really rare cases when its really too expensive, when the supply chain is too complicated, and when there is a short time limit.
"I heard from a customer that they were supposed to deliver a train and forgot one part and they had one week. If they passed this deadline, everyday they would have to pay a penalty. With 3D printing, you'd just print it and ship the train."
3D printing is as easy as "putting [a CAD file] into the machine and pressing the print button" according to Gülay, who believes that one day we will see 3D-printed trains on our tracks.
"Why not?" she said. "We have 3D printed houses already, it can happen."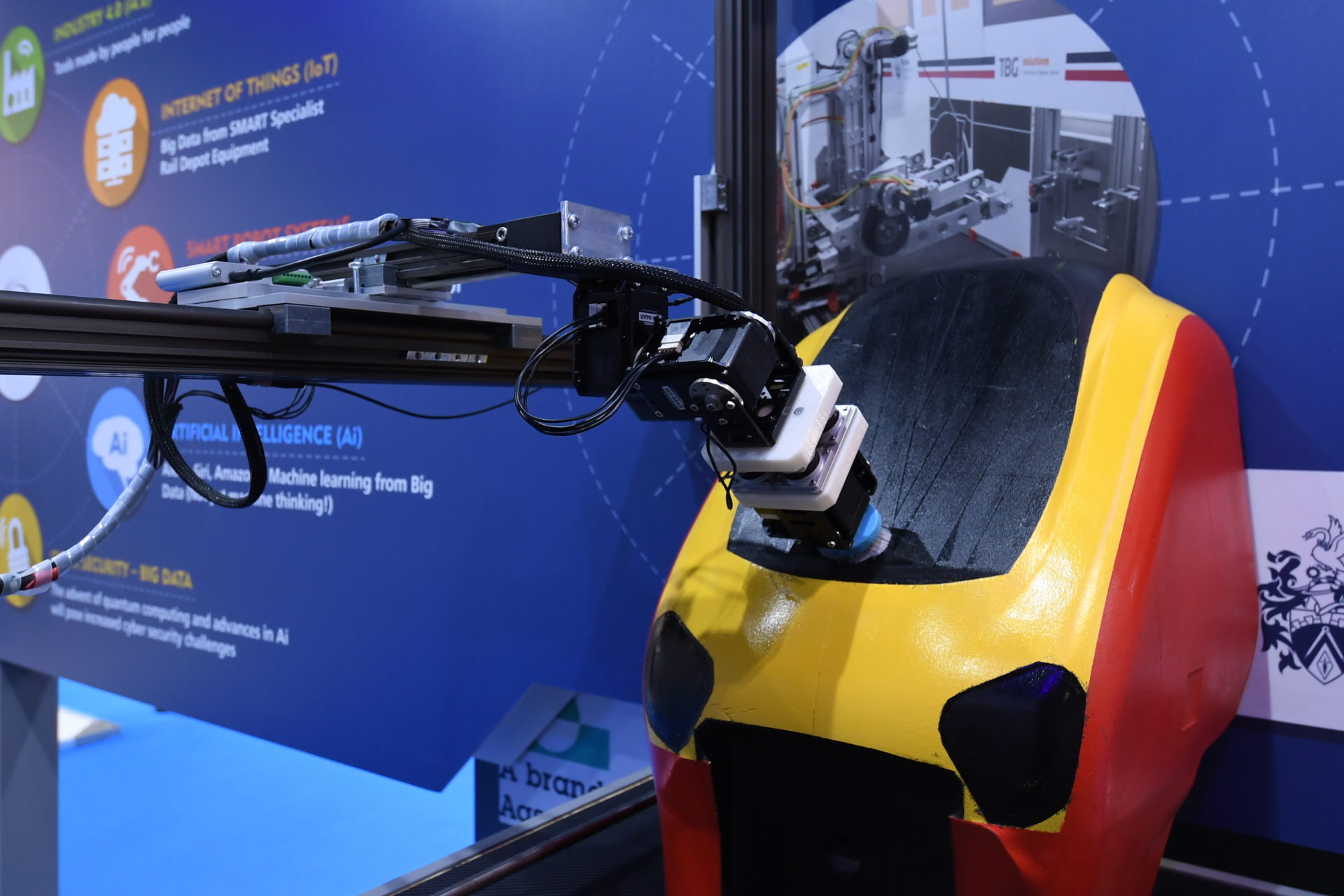 Train cleaning robot
On the first stop of his tour of the show, rail minister Andrew Jones was given a demonstration of Garrandale Rail's train cab front cleaning robot.
Train exteriors are mostly cleaned using mechanised washing systems, except for train cab fronts, which are manually cleaned because they are made up of complicated shapes.
This manual labour requires safe systems to address the risks of working in the depot environment.
Garrandale Rail, supported by Innovate UK, is developing a robot that "feels its way" around the front of a train. A full prototype could be ready for testing in 2020.
High-speed trains
Come the second quarter of 2020, HS2 should be in a position to award the £2.75 billion contract for 54 high-speed trains as well as 12 years of maintenance and the option for another 30 trains if required.
With the bids for that contract yet to be submitted at the time of Railtex, potential suppliers took the opportunity to speak to HS2 staff – including supply chain manager Robin Lappish, who told RailStaff what HS2 is looking for.
He said: "For the rolling stock specifically, we're buying a fleet of high-speed trains that can run both on our high-speed network and also the conventional network in the UK. That in itself is a challenge because, of course, we have a more restricted structural gauge in the UK relative to what they have in Europe or the Far East.
"We're looking to operate at 360km/h, so that is raising the bar slightly on what high-speed rail has done in the world to date. So we'll be world leading in that regard.
"Once Phase 2 is complete and the whole Y-shaped railway is up and running from London to Manchester and Leeds, we're going to be running up to 18 trains per hour. That is really pushing the envelope in terms of the intensity of the operation as well, it's achievable but it will call for an evolution in the technology that we've seen in high-speed rail so far.
"We're looking to learn from all of the best practice that we've seen from around the world, and import that into the UK in developing and delivering HS2, to raise the bar another level in terms of what high-speed can achieve."
All of the four high-speed train contract bidders at the show (Alstom, Hitachi, Siemens, Talgo) promoted their high-speed expertise.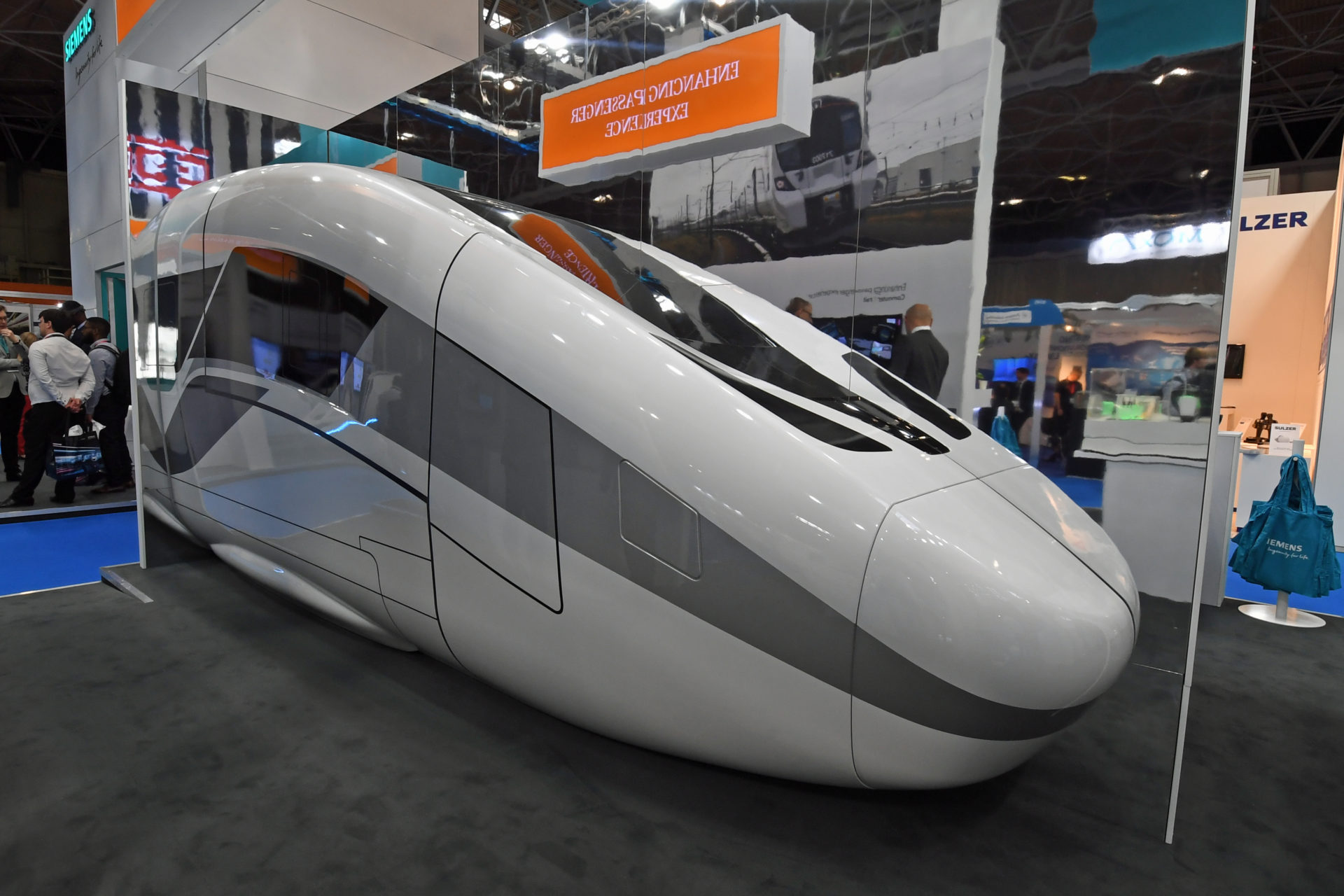 None, however, matched the efforts of Siemens, which displayed a wooden, almost life-sized model of its Velaro Novo train – its next generation of high-speed train. It's the second time a model of the Velaro Novo has been shown in public. The train was initially unveiled on the concourse of Birmingham New Street station in September.
Rob, who previously worked in Crossrail's procurement team, said HS2 staff spoke to hundreds of suppliers at Railtex, largely about the train and systems contracts.
On the subject of supply chain engagement, he said: "We started at an earlier point than I think any project before us has. All the way back to 2014.
"With HS2, we're doing something on a scale that's never been done before in the UK, certainly not in modern British history, so we need to mobilise the supply chain on a huge scale.
"It's more than a railway, it's not just about delivering the railway, it's about how we do it, not what we do, that will define our success. It's actually about how we leave a legacy of a highly skilled workforce, how do we make sure there is improved diversity in the industry, making sure that we are delivering sustainable solutions and really raising the bar in regard to, for example, carbon and carbon content in what we're doing."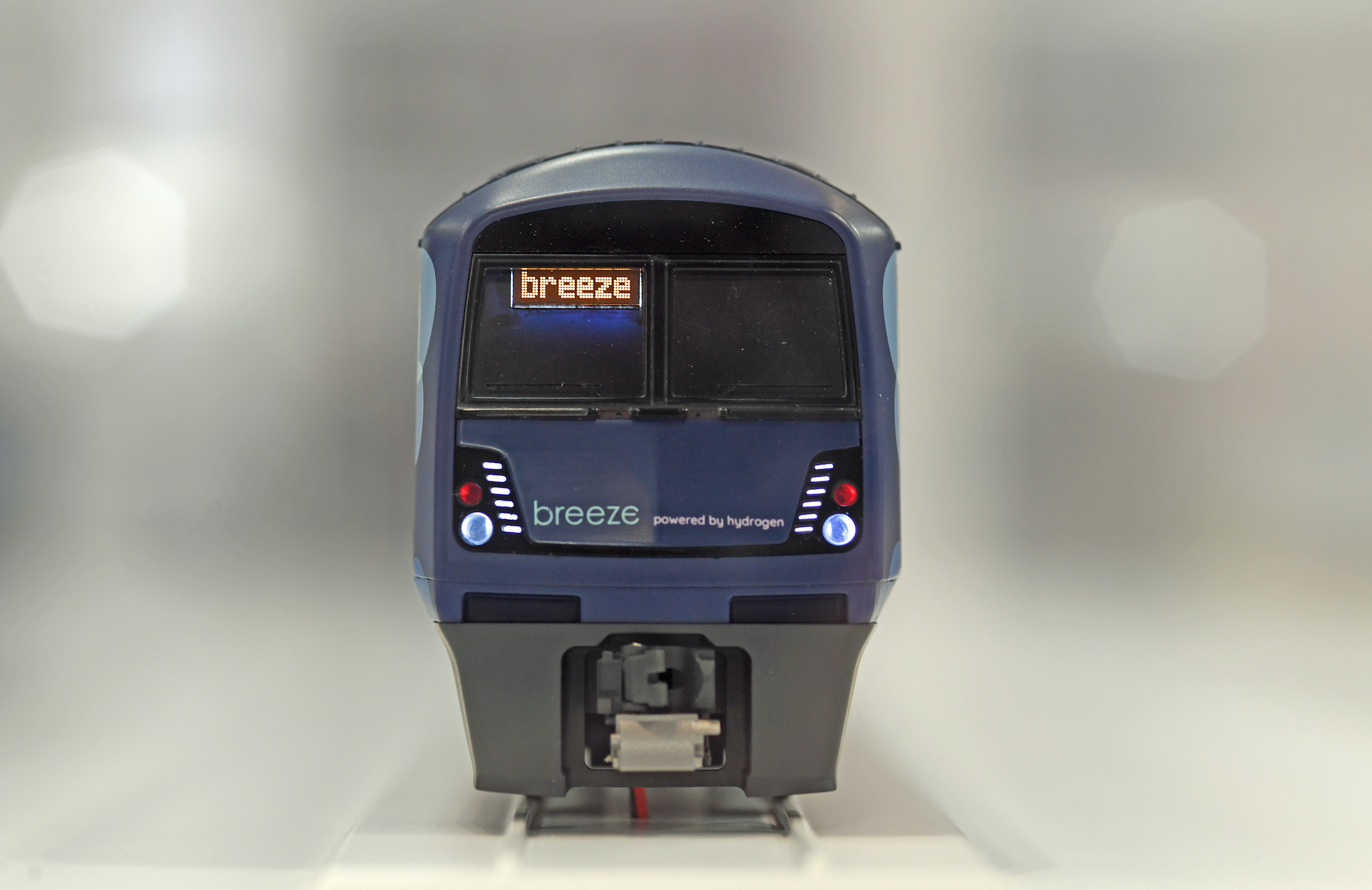 Hydrogen trains
On the topic of next generation trains, Alstom's stand featured a 1:50 scale model of its 'Breeze' concept.
Alstom is currently working with Eversholt Rail to convert its Class 321 EMUs into the UK variant of its hydrogen-powered iLint train, which is in service in Germany.
First conceived by Alstom's German engineering team in 2017, the UK version could enter passenger service as early as 2022, although Mike Muldoon, Alstom's head of business development and marketing, admits this is a "fairly optimistic programme".
Mike explained that Breeze is an alternative to diesel trains – of which the UK has one of the biggest fleets in Europe.
He said: "2,500 vehicles, typically with a diesel engine underneath, are chugging their way around the country, criss-crossing across the country every single day providing essential services, but not in a very environmentally friendly way.
"That didn't strictly matter until [former rail minister] Jo Johnson got up in February of last year and announced the decarbonisation challenge for the railways with his specific objective of removing diesel-only trains from the UK's railway [by 2040]."
Mike emphasised that Breeze is only suitable for rural routes, for which discussions are being held with various interested parties.
He added: "It's probably about as efficient – maybe a little bit more efficient – than a diesel-powered train, but it's not as efficient as electrification. It's not the silver bullet that solves every problem for how we decarbonise the railway but it's a key element in our armoury of solutions as to how we do it."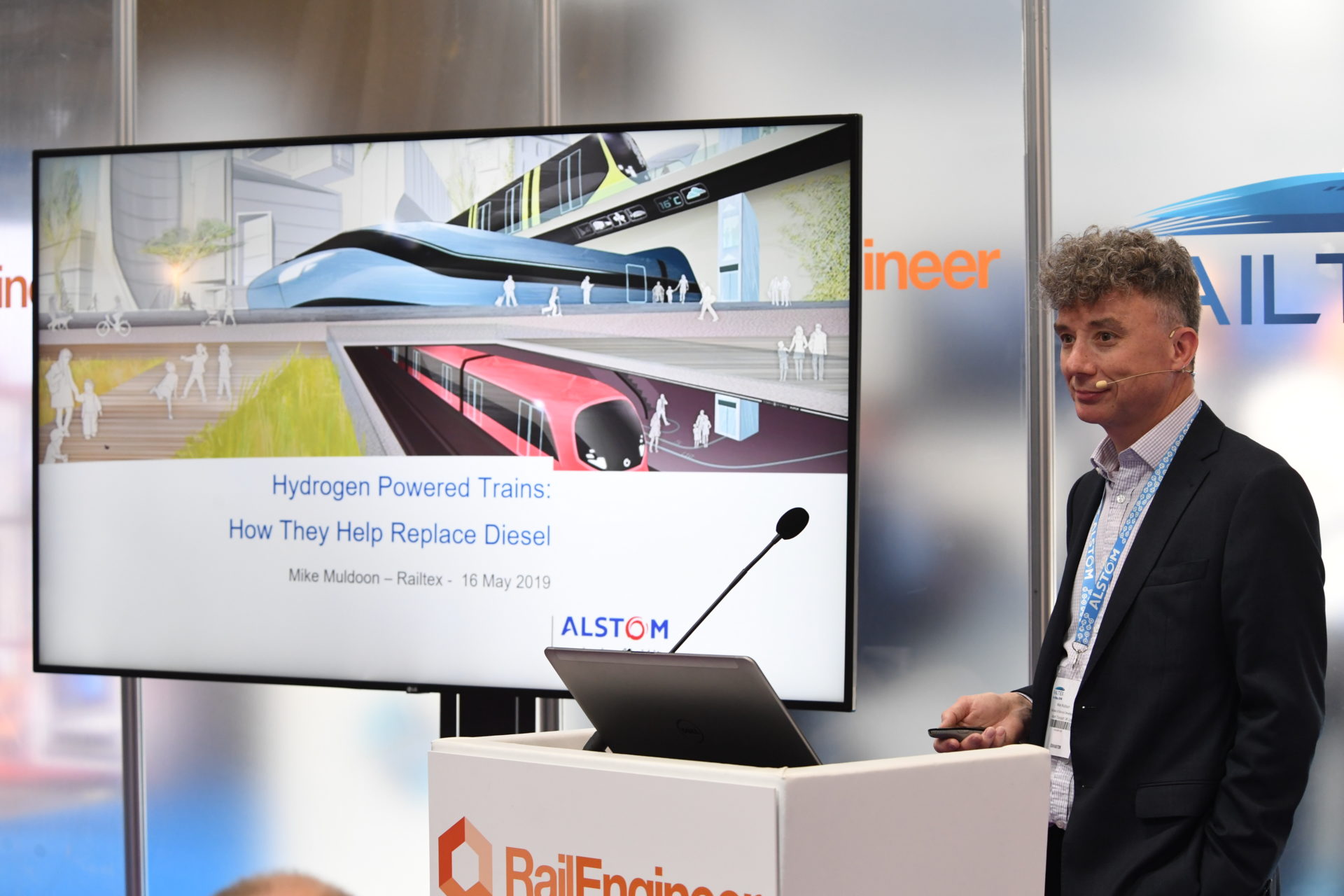 2021
Railtex 2017 brought us adaptable train carriages, innovative passenger seat designs and a new platform of regional EMUs – and Railtex 2019 has not failed to live up to those heights, with its own showcase of the rolling stock supply chain's latest innovations.
With thousands of carriages yet to be delivered and major contracts with HS2, East Midlands Railway and the Tyne & Wear Metro yet to be let, the train building boom looks set to continue – meaning Railtex 2021 looks likely to deliver once more.