Metrolink duo Caroline Haynes and Steve Shaw recorded the best finish for a British team at this year's contest. They tell Stewart Thorpe what it was like taking part in this bizarre competition
---
Each year a different European city takes its turn hosting the European Tram Driver Championship.
First organised in 2012 to coincide with the 140th anniversary of horse-drawn trams in Dresden, Germany, the competition pits some of the continent's very best against each other in tests of skill, speed and sheer luck.
In the United States, the Maryland Transit Administration organises a 'Rail Rodeo' for its own light rail operators. Otherwise, there is nothing like the European Tram Driver Championship anywhere in the world.
As the country that invented tramways, you could be mistaken for thinking Britain would dominate the championship, but you'd be wrong.
A team from Greater Manchester's Metrolink was the first to enter in 2013, finishing midway in sixth place from a pack of 14. Ever since, however, British entries have been disappointing to say the least. In 2015, Metrolink finished in last place in a 23-team contest. In 2018, it finished second bottom, but this was in a field of 25 entries. When National Express' Midland Metro stepped in as the nation's only competitor in 2016, the overall performance was Britain's worse to date, with the drivers from Birmingham finishing 27th out of 27 teams.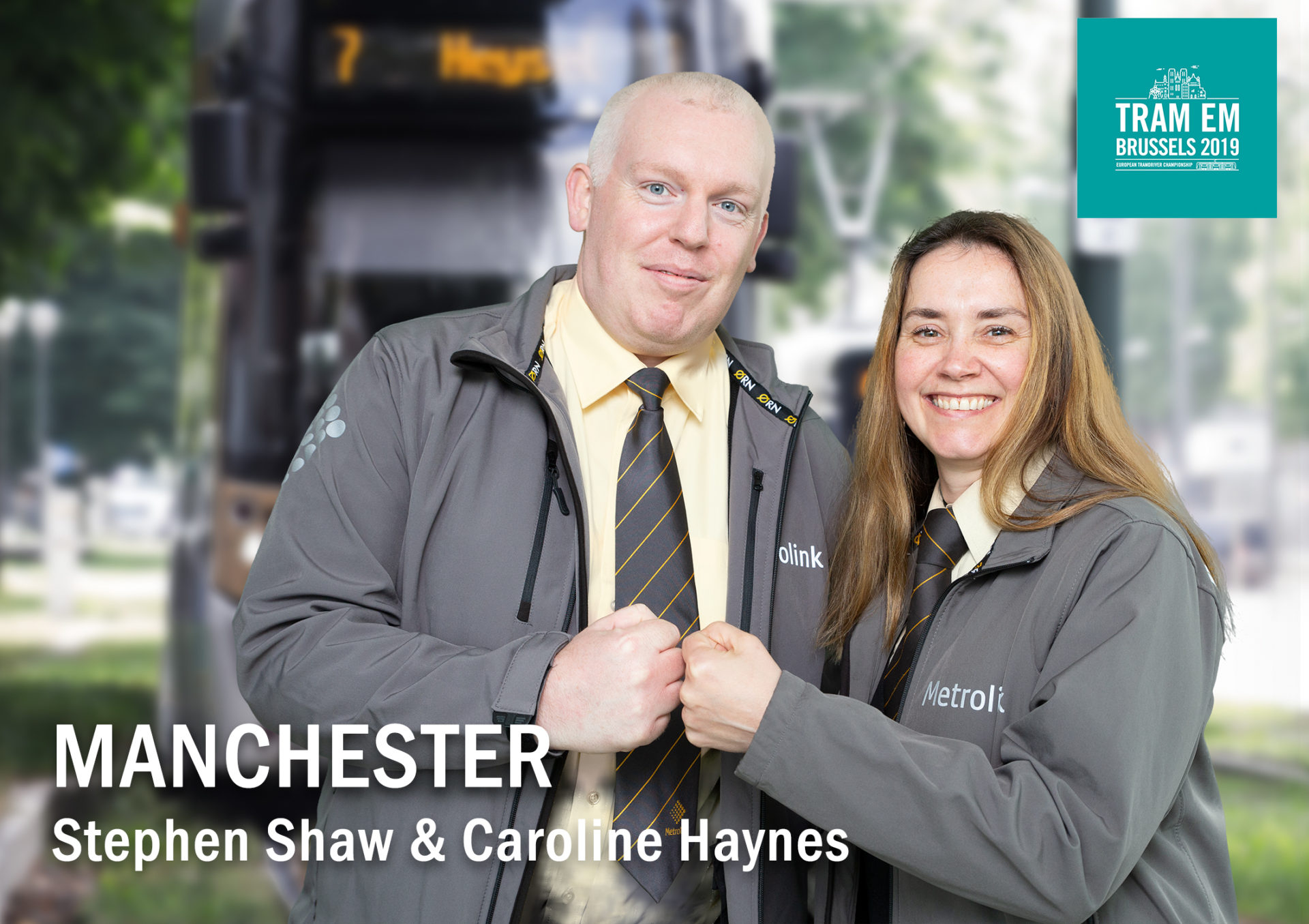 British triumph
In Brussels earlier this year, that trend was bucked when Metrolink drivers Caroline Haynes and Steve Shaw finished in a respectable seventh. In total there were 25 teams from 21 different nations. Those present included teams from Berlin, Dublin and Paris as well as Budapest, Helsinki and Luxembourg.
Caroline and Steve were chosen at random from a pool of 25 drivers who applied to represent Manchester – and, therefore, Britain – on the international stage.
"All my friends were like 'You're doing what?! There's such a thing as a tram championship?'" said Caroline, who spent 15 years working in casinos before packing it in to drive buses as a gateway into operating trams, which she has done for the past seven years. "I was showing them the videos and they were like: 'Seriously?'"
Both were unsuccessful in attempts to take part in previous years, so when they received the call-up, they wanted to seize the opportunity with two hands.
Steve added: "Obviously you get a bit of feedback from the drivers that have been in the past saying how hard it is. We've always struggled. I think we've come last and second last over the last few years."
A former admin worker, Steve achieved his dream of working in rail six and a half years ago when he became a tram driver and hasn't looked back since.
"When we were chosen, I spoke to Chris Allen, driver manager at Metrolink, and he said we've got no chance of winning, to which I said: 'Why not?'
"We're both quite competitive, me and Caroline, we knew that previously we'd done pretty poorly so the main thing was to not finish down there. We just wanted to finish as high as we could."
Practise
Before this year's championship began, the 50 contestants spent a day listening to presentations, riding on Brussels STIB tram network and partying at a big welcome dinner. Crucially, they also had time to drive the three trams they would use in the following day's challenges – out of service. The first was a heritage tram truck from the 1930s, the second was a PCC Streetcar that requires the driver to use floor-mounted pedals and the third was a Bombardier-built T3000 Flexity tram.
Steve said: "The very old heritage tram had air brakes and was unlike anything I've ever driven before – it was crazy. I couldn't get the hang of it in training, but it seemed to go okay in the competition.
"The second was the tram that you use pedals, basically like a car, to drive. You did nothing with your hands – it's quite a weird feeling.
"And then we had the more modern tram, which is quite similar to the ones we drive in Manchester, just on a lower level because we have higher platforms. Very similar just slightly different with the TBC – traction brake controller – and things like that."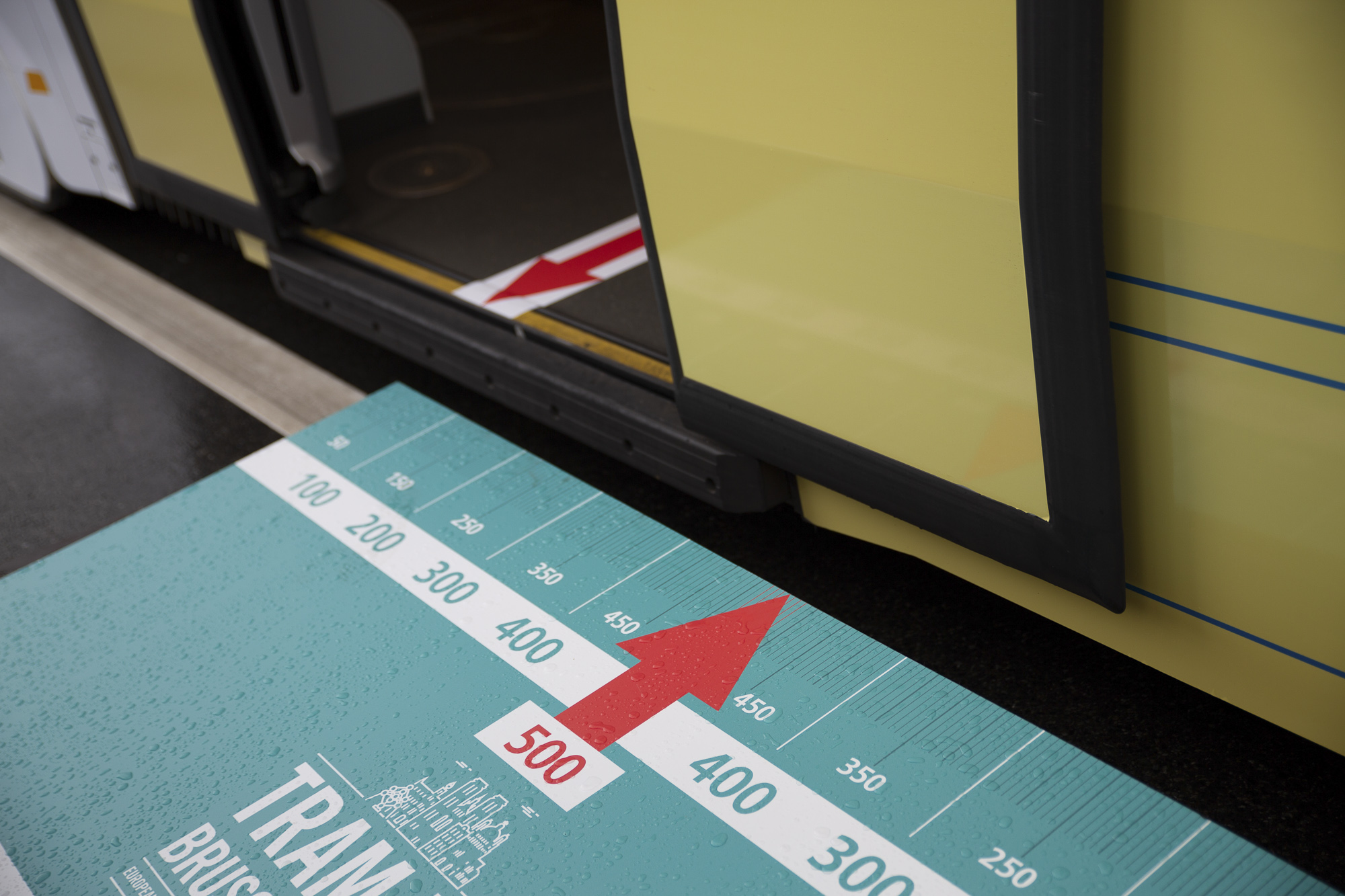 The tram-pionship
And then, on Saturday, May 4, the main event. In total, drivers had five minutes to tackle six back-to-back disciplines:
Precision stop: After pushing a big green button, the circuit begins with the driver boarding the heritage tram. Their first test is to accelerate and then brake within 20cm of a cone without hitting it.
Estimating lateral distance: While their teammate goes ahead to place a cardboard cut-out of Brussels' famous 'Peeing Boy' statue as close to the tracks on a curve as possible without hitting a passing tram, the challenger runs to the second tram for the lateral test. The closer they can pass the statue (within 20cm) without touching it, the more points they rack up.
Door stop: With the clock ticking, drivers then board the final tram where – with their mirrors disabled – they have to stop the second set of doors on a designated metre-wide arrow that's placed at the side of the tram line.
Speed: Staying in their seats, the drivers first have to accelerate and reach 30km/h without the assistance of a speedometer.
Estimation of braking: Shortly after challenge four, the competitor has to take their hands off TBC to see how close they can get to a marked area on the ground. TBC is a safety feature on modern trams that activates the brakes a couple of seconds after a driver lets go of the lever.
One member from each team competed in the morning and the other in the afternoon. For team Metrolink, Caroline went before Steve.
She said: "In the first challenge I hit the cone. The second one I had to do a swept path, which meant Steve placing the dummy at the same time.
"In the third one, the door one, I missed that by about half a foot. Then the fourth and fifth were combined. I did that really well. We practised it in the morning by watching when the other drivers were letting go to stop. I was timing it in my head how many seconds the delay was, so I tried to judge from that as to where to let go."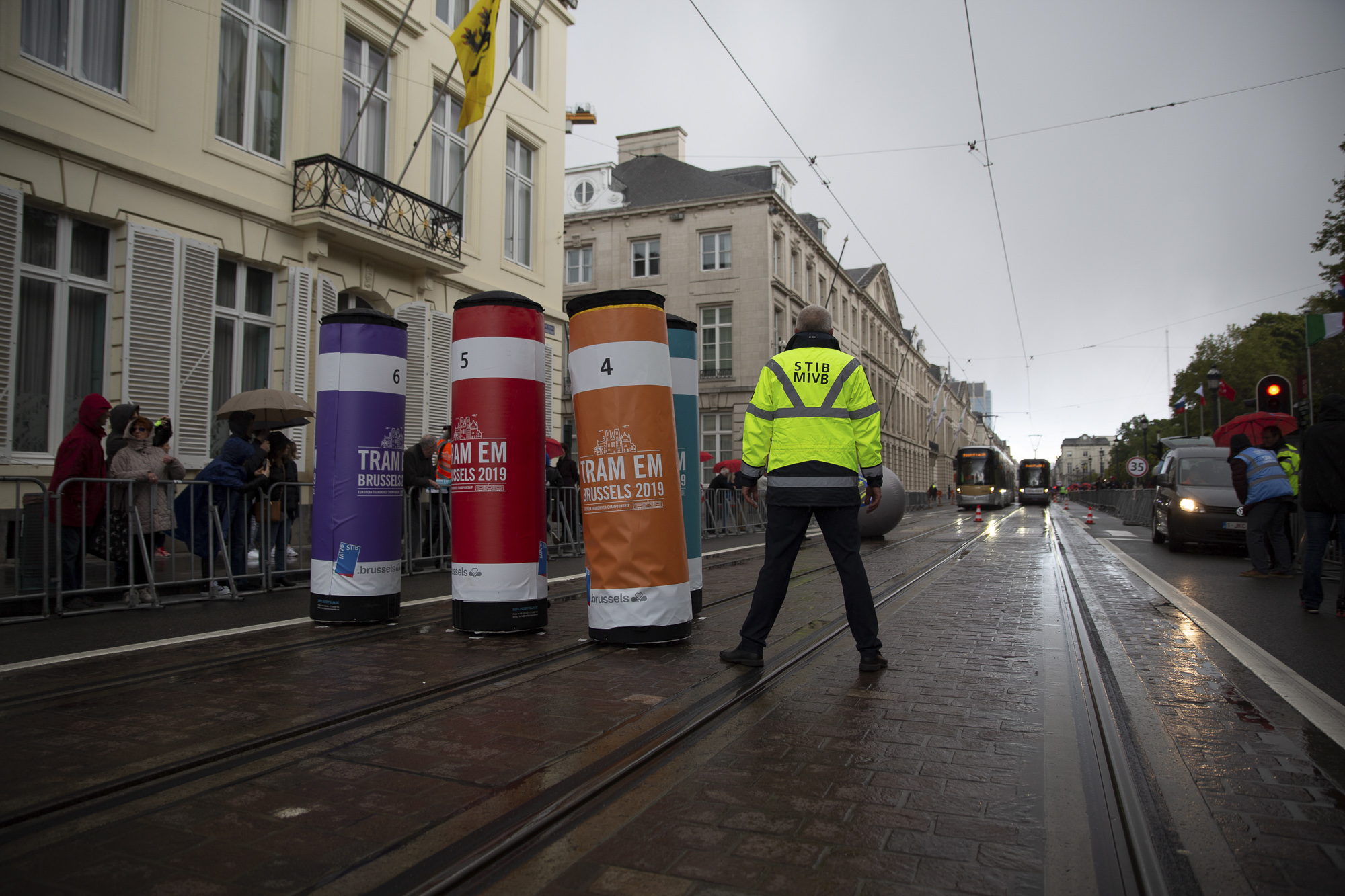 Tram bowling
The first five challenges were based on situations that tram drivers find themselves in on a daily basis. For example, when estimating the lateral distance, the aim is to correctly assess the passing distance of obstacles such as parked cars, to prevent accidents.
The sixth and final challenge is something that none of the drivers would have experience of – well, at least if they wished to keep their licence – and it is appropriately named tram bowling.
It's a challenge that has attracted the public's attention more than any other since it was introduced in 2014. Videos of drivers performing perfectly executed shunts of huge blown-up bowling balls that send skittles flying have racked up tens of thousands of views online.
The aim is simple: knock down as many pins as possible, but, as Steve and Caroline explained, it's not as easy as it looks.
"I didn't hit the ball hard enough," said Caroline. "It's just really weird. There are a few guys standing either side of the ball and it's just totally wrong to drive at people at speed. It goes against your natural instinct to drive at something. You automatically think to brake. Even when you're driving a car it's just something you do without thinking about.
"Because the contest lasts five minutes and you're having to rush around, you kind of panic. It was great fun though."
Steve explained that if you're driving too fast and end up knocking into the pins with the tram, you're awarded zero points, which makes tram bowling even more difficult.
He added: "I've never done anything like it really. I'm usually asked to do the exact opposite, to avoid everything. You've got to go against your gut feeling."
Neither of the Metrolink drivers scored any points in this challenge. Caroline didn't knock any pins over while Steve drove straight into them.
The obstacle course ends here so the competitor disembarks off the tram and runs over to hit a big red button.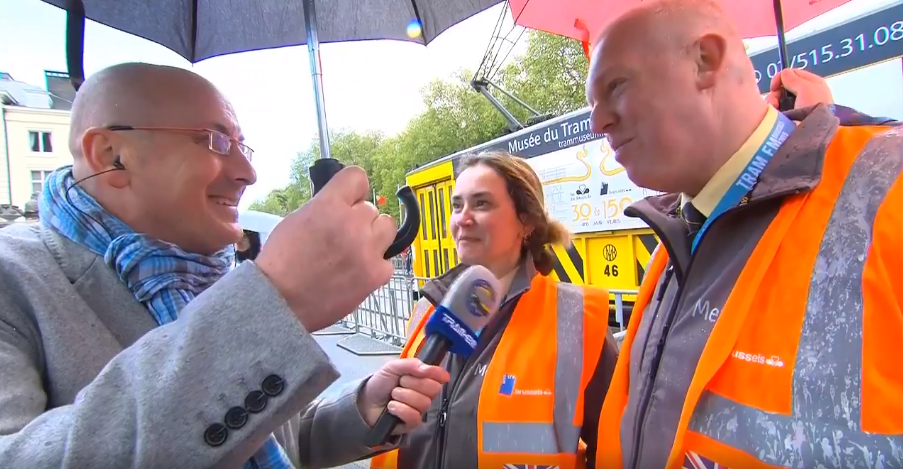 Hometown glory
STIB, the host's team, were crowned the 2019 winners on 3,530 points. Metrolink finished on 2,650 points.
Caroline pointed out that STIB benefited from the home advantage, operating trams – at least the final tram – they would have prior experience with. Except for the brief session before the competition, neither Steve nor Caroline spent any time practising, but that was not the case for everyone.
Steve said: "Stockholm won it in 2018 and they were very meticulous in their preparations for 2019. They'd been practising all week in Stockholm before they got to Brussels."
Steve said Stockholm's team members were also taken off roster for a couple of weeks before the competition to practise. Not that it helped – they came last in the championship on 1,200 points.
Steve added: "When you're trying to stop your doors in a certain place and you've got nothing to line up against, yes there is skill involved. The statue challenge – yeah there probably is a little in measuring distance. The emergency stop one? Definitely. The bowling? It's a complete fluke. No skill in that. It's pure luck."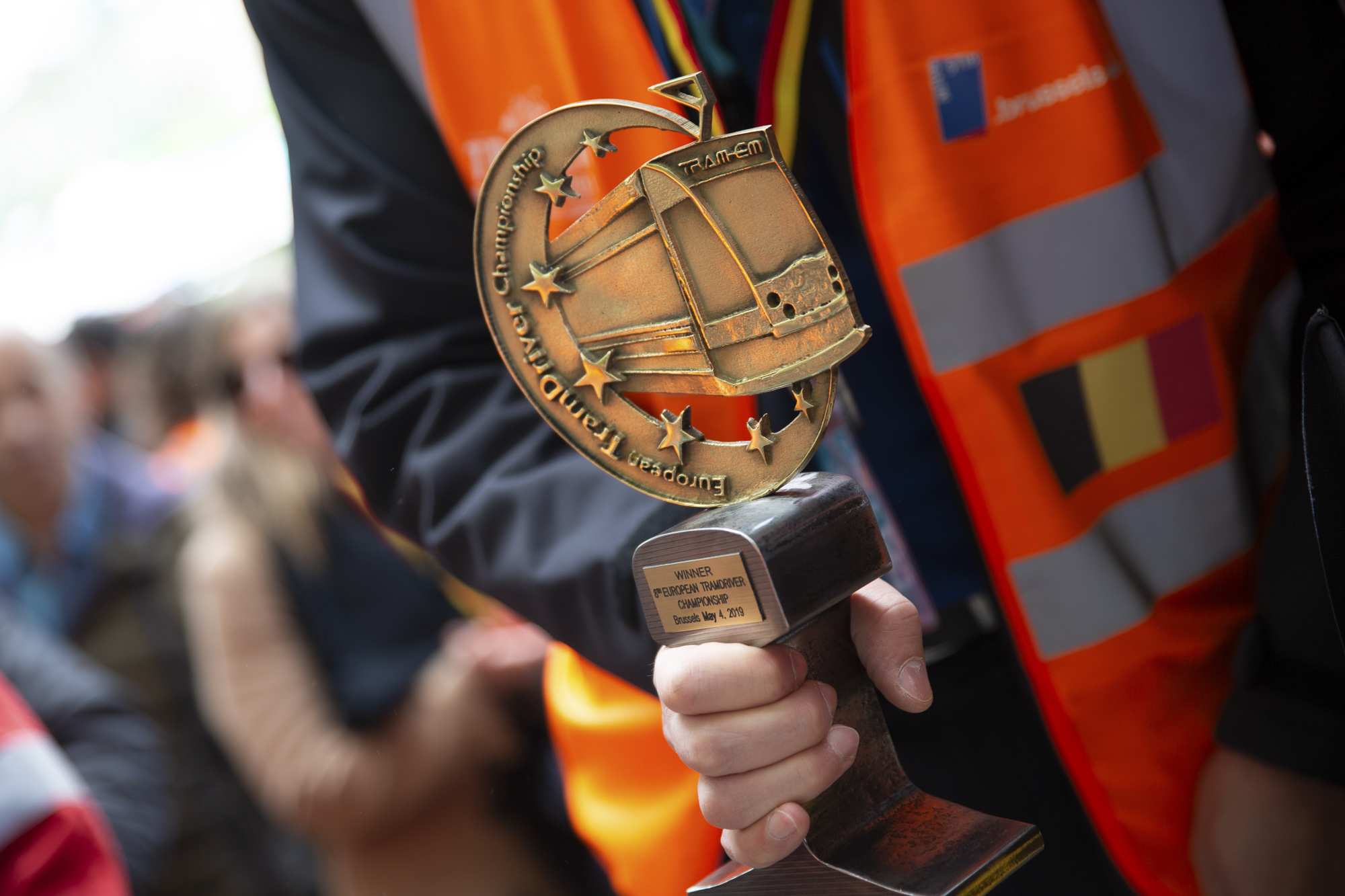 Highlights
After having a few weeks to reflect on their experience, Caroline and Steve were in agreement on the highlight of their four-day stay in Brussels.
"Not coming last," said Caroline. "Everyone has been utterly abysmal before us. We were just happy we didn't come last."
Steve, who intends to put his name into the hat again next year, added: "For Manchester, it was our best position – certainly as it's gone to 25 teams anyway. We were really pleased with it to be honest. We wanted to come in the top ten and got it."
The entire event was live streamed, with tens of thousands of people tuning in to cheer on their countrymen.
On the ground, there were also many who lined the course – including a handful of British families who had travelled hundreds of miles to witness the event first hand.
Next year's event will take place in Oradea in Romania and perhaps one day we might see the contest take place on one of Britain's tram systems – organisers TRAM-EM are certainly keen to come. And, should the home advantage prove as successful as it did for Brussels, we might finally see a British team take home the European Tram Driver Championship crown. Even if we didn't, who wouldn't want to see tram bowling on their local network?
---
Want to find out more about the European Tram Driver Championship? Watch highlights from the 2019 competition below: