Colin Wheeler asks whether infrastructure inspection, maintenance and renewal need to be improved and should individual railway engineers be held accountable
With two recent derailments having caused extensive damage to the railway infrastructure, RailStaff's safety expert Colin Wheeler looks back to how track inspections used to be managed and considers whether further changes need to be made in the future.
As I write, we are still waiting for the delayed publication of the Williams report that is to shape the future development of our railways. One of the issues needing review is the balance of spending between the railway infrastructure and rolling stock.
Being a retired rail infrastructure engineer, I may be prejudiced, but I question whether more should be done to inspect, repair and renew trackwork at the expense of commercially driven train-set replacement. Looking at the details of reported accidents, it becomes clear that the working life of passenger-carrying trains on major routes is being significantly reduced, although I cannot recall seeing any publicity heralding the purchasing of new freight wagons.
How do they decide when to replace train sets anyway?
I remember working on the design and construction of new train maintenance facilities at Neville Hill Leeds, Heaton Newcastle and Bounds Green as servicing requirements were released prior to the delivery of the new High-Speed Train (HST) sets in the early 1970s. Those trains have only recently been replaced on the East Coast main line.
However, judging by recent reports from the Office of Rail and Road (ORR) and the Rail Accident Investigation Branch (RAIB), investment in the renewal and upgrading of the rail infrastructure has fallen behind. Worse still are the rising number of incidents where inadequate rail infrastructure inspection and maintenance is leading to derailments. I suggest this may also be a factor in near misses occurring as rail staff under pressure do their utmost to keep our railway running!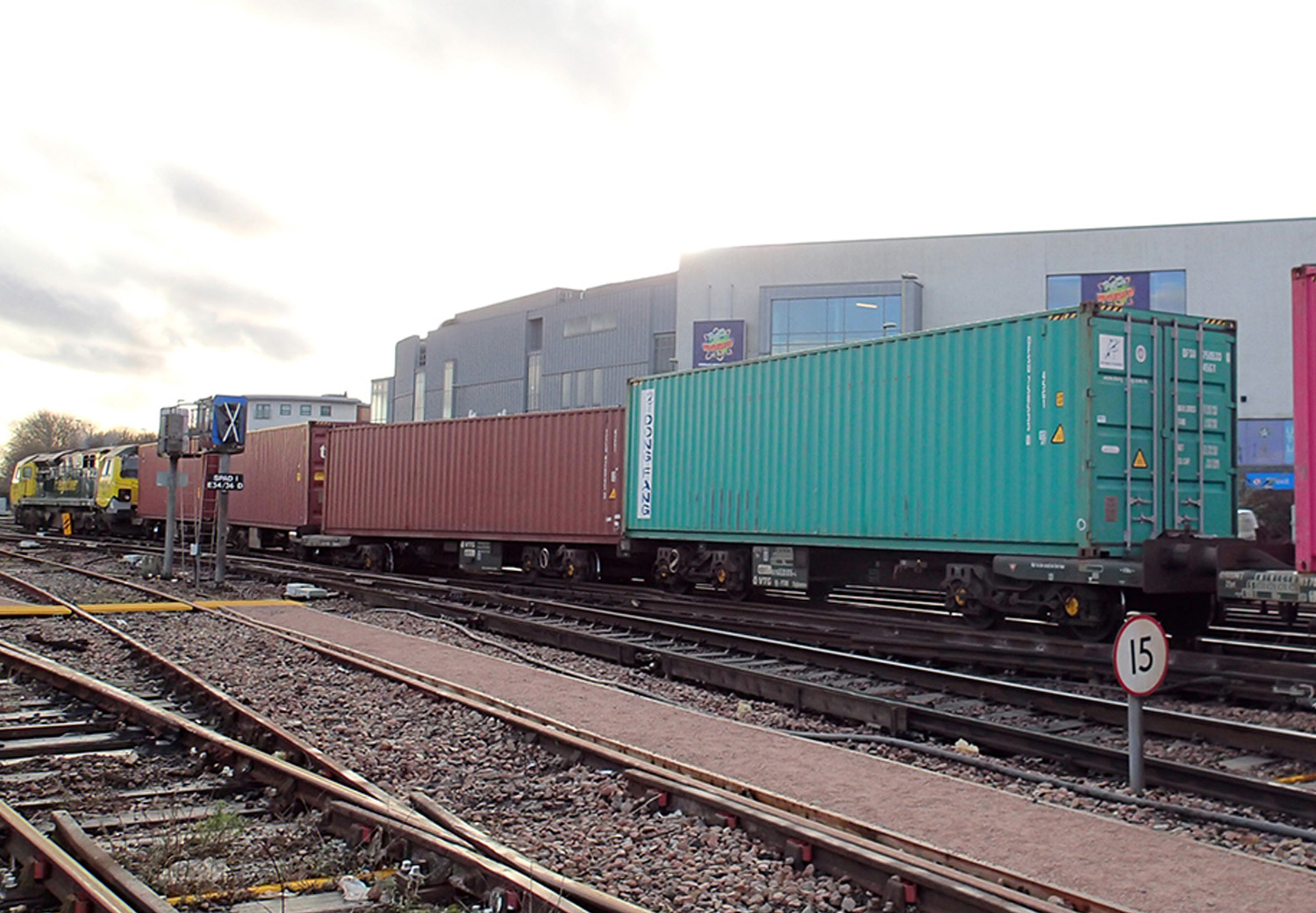 Near miss at Foxton, Anglia route on 14 February
Network Rail's Safety Central website posted a Safety Alert on 20 February following a near miss at Foxton at 11:01 on 14 February. The track worker involved was from Network Rail's Tottenham Delivery Unit and they were working on a track defect on the Down line. A train, travelling from Cambridge to Brighton, approached on the Up line at between 70 and 80mph. The driver saw the worker in the four-foot of the Up line and realised that the worker was not moving to a place of safety. At the same time, a second train was approaching on the Down line and the other gang members had moved to a place of safety in the Down cess. The lone trackworker in the Up line reacted when the approaching train was just six seconds away and reached a place of safety with a mere three seconds to spare.
Rail engineers spoke to the BBC!
In the middle of February, the derailment at Eastleigh, now under investigation by the RAIB, was described on the BBC South news as being "due to inept maintenance". Network Rail was quoted as saying that "the fault was not visible during inspections". Its regional managing director said that "fastenings had given way leading to gauge spread".
Four Network Rail engineers spoke with the BBC. One of them said in a radio interview: "The official line is that this is a component failure, which is true. But it is shockingly inept maintenance."
Network Rail's reported response was: "We know some staff are concerned about the general upkeep of the railway in and around Eastleigh and so we have brought in some extra staff."
Maybe Eastleigh will, in future years, be seen as a turning point. I am content to await the RAIB report, but there is something very wrong managerially when local engineers feel the need to resort to speaking anonymously to the media!
Previous problems with fastenings
The Eastleigh accident happened at 11:31 on 28 January, when a freight train derailed on a set of points just south of Eastleigh station whilst moving at just 12mph. It was travelling from the Down slow to the Down fast using a crossover. The locomotive partially derailed but then re-railed itself. Some wheels on four of the five following wagons also derailed and the track was substantially damaged. The driver was able to stop the train before the other 25 wagons reached the damaged track. There were no injuries, but both track and signalling were severely damaged.
RAIB's investigation will focus on "design and installation of fastenings, the industry's response to previous problems identified with the fastenings during their service life and underlying factors".
Freight train derailed on waybeamed (longitudinally timbered) bridge
Only five days earlier, on 23 January at 06:00, another freight train derailed near Wanstead Park. It was travelling from Barking to Calvert with a Class 66 locomotive hauling 22 wagons of what is described as "material excavated from a construction site". The train carried on for a further two and a half miles after derailing before the effect on the braking system caused the driver to stop. It came to rest between Leyton Midland Road and Walthamstow Queens Road stations.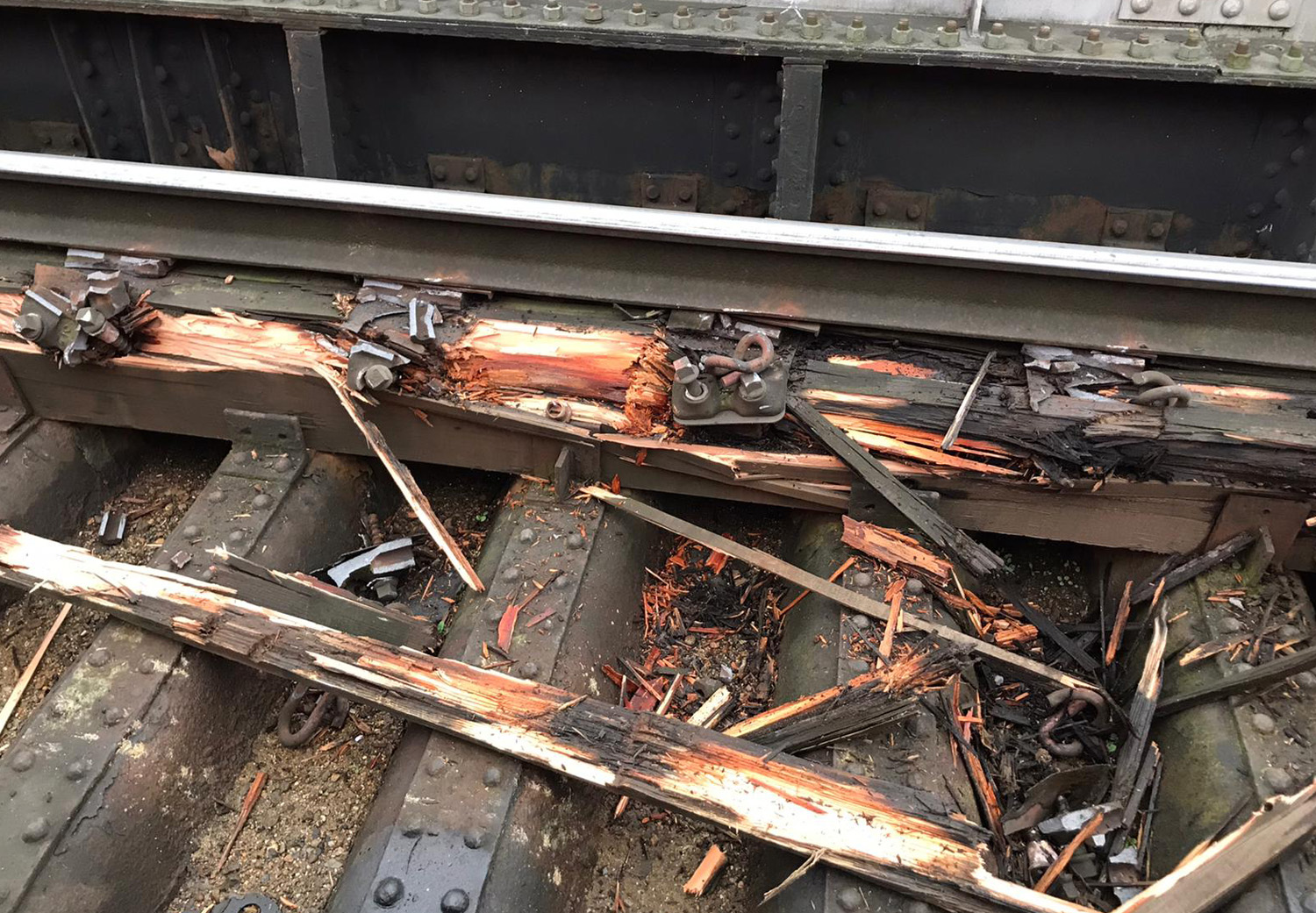 One wheelset of the 16th wagon had derailed, resulting in extensive damage to the track, other infrastructure and the wagon. RAIB's investigation will focus on the condition, inspection, maintenance and loading of the track including the longitudinal timbers supporting the rails, wagon condition, inspection, maintenance and loading and "any underlying factors."
MEWPs collide at Rochford in Essex
At 10:57 on the morning of Saturday 25 January, there was a collision between two Skyrailer Mobile Elevated Work Platforms (MEWPs) between Rochford and Southend Airport stations. One of the MEWPs was stationary, the other had travelled over 150 metres at nine or ten miles per hour before the collision. The RAIB reported simply that the railway was "closed to traffic" while the MEWPs were being used to renew overhead electrification power lines.
Two people in the stationary MEWP were working on the overheads at the time of the impact. Both received severe bruising and back injuries due to being thrown against the handrails of the machine. The single worker in the moving MEWP was unhurt and the machines were only slightly damaged.
The RAIB investigation will focus on the arrangements for managing movement of the MEWPs and the organisation of the works, management of the MEWPs, management of machine operator and controller competences, braking performance of the MEWPs and underlying factors.

"Very high-risk safety incidents"
On its Safety Central website, Network Rail's safety bulletin number 20-03 issued on 2 February describes an incident that occurred at Adswood junction on 19 January. "Whilst an engineering train was being worked on, an RRV (rail/road vehicle) was propelled on the adjacent road which could have injured an employee.
"Reviewing previous similar occurrences, there have been several very high-risk safety incidents that have occurred in recent years. This is due to incorrect movement of engineering trains, on-track machines, and on-track plant when entering, working within or exiting worksites and possessions."
Whilst the grammar in this bulletin may not be perfect, the message is clear! Nonetheless, I suggest the author would be more effective if he or she asked the workers involved face-to-face (not by email), or via a bulletin, why they failed to follow the rules. Were they not personally involved in the detailed planning? How far into the, presumably, voluminous safe system of work plan had one to delve to find relevant "how and when" details?
Between tunnels, place-of-safety prohibition notice
Network Rail's safety bulletin 20-01, issued on 30 January, followed a site visit with ORR inspectors to Dover Priory on 9 January. The objective was to observe TOWS (Train Operated Warning Systems) in Priory and Charlton tunnels. The inspectors were satisfied with the TOWS operations, the safety refuges, method of operation and staff training/briefing.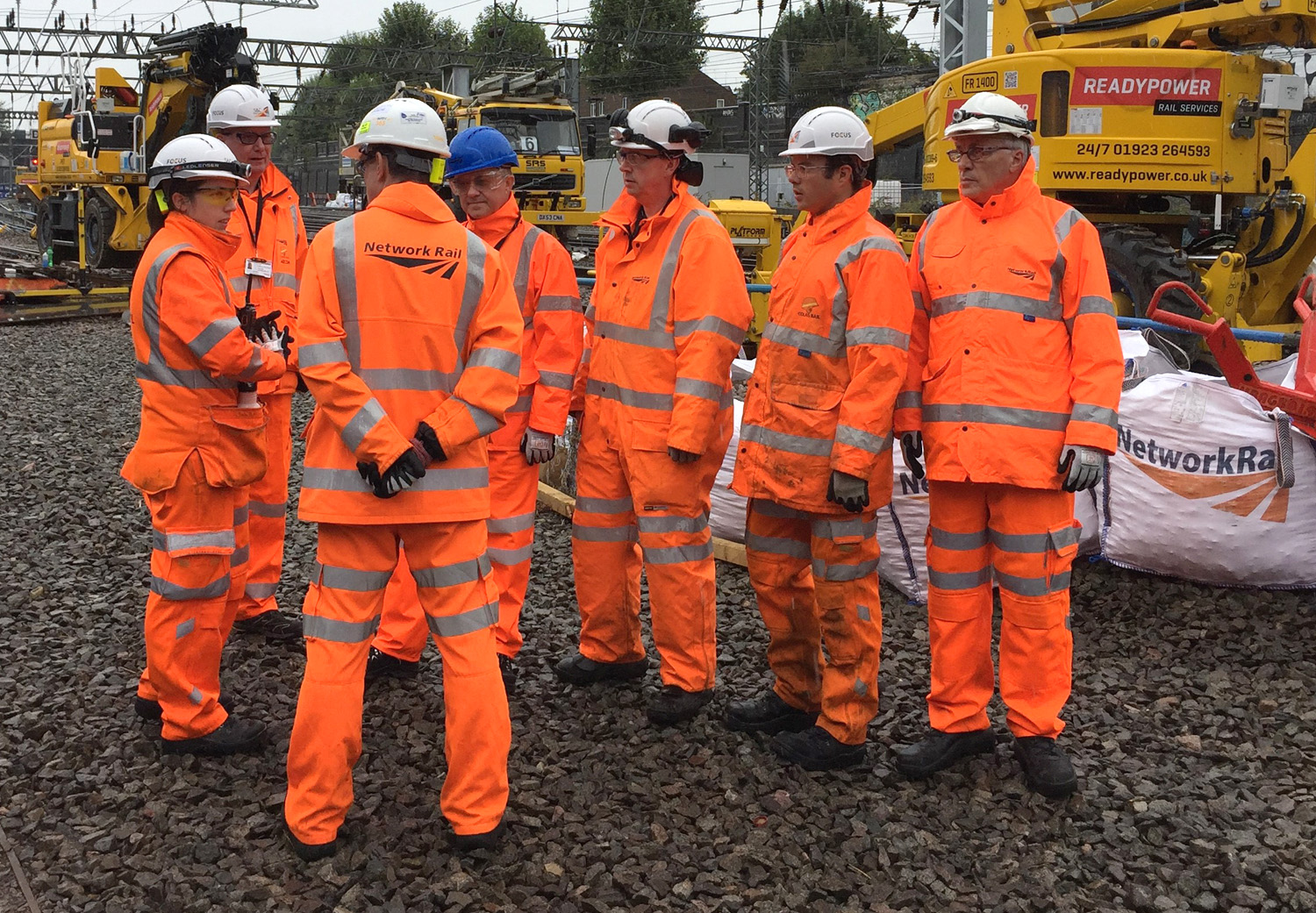 However, at the tunnel mouths and between the tunnels, the positions of safety were found to be limited by cess narrowness and vegetation growth! Consequently, a further site visit was arranged to take place during week commencing 27 January at which Network Rail demonstrated its compliance with the requirements of the Prohibition Notice with which it had been issued. Why had local staff members, managers, supervisors and local safety representatives not ensured that places of safety were adequately maintained?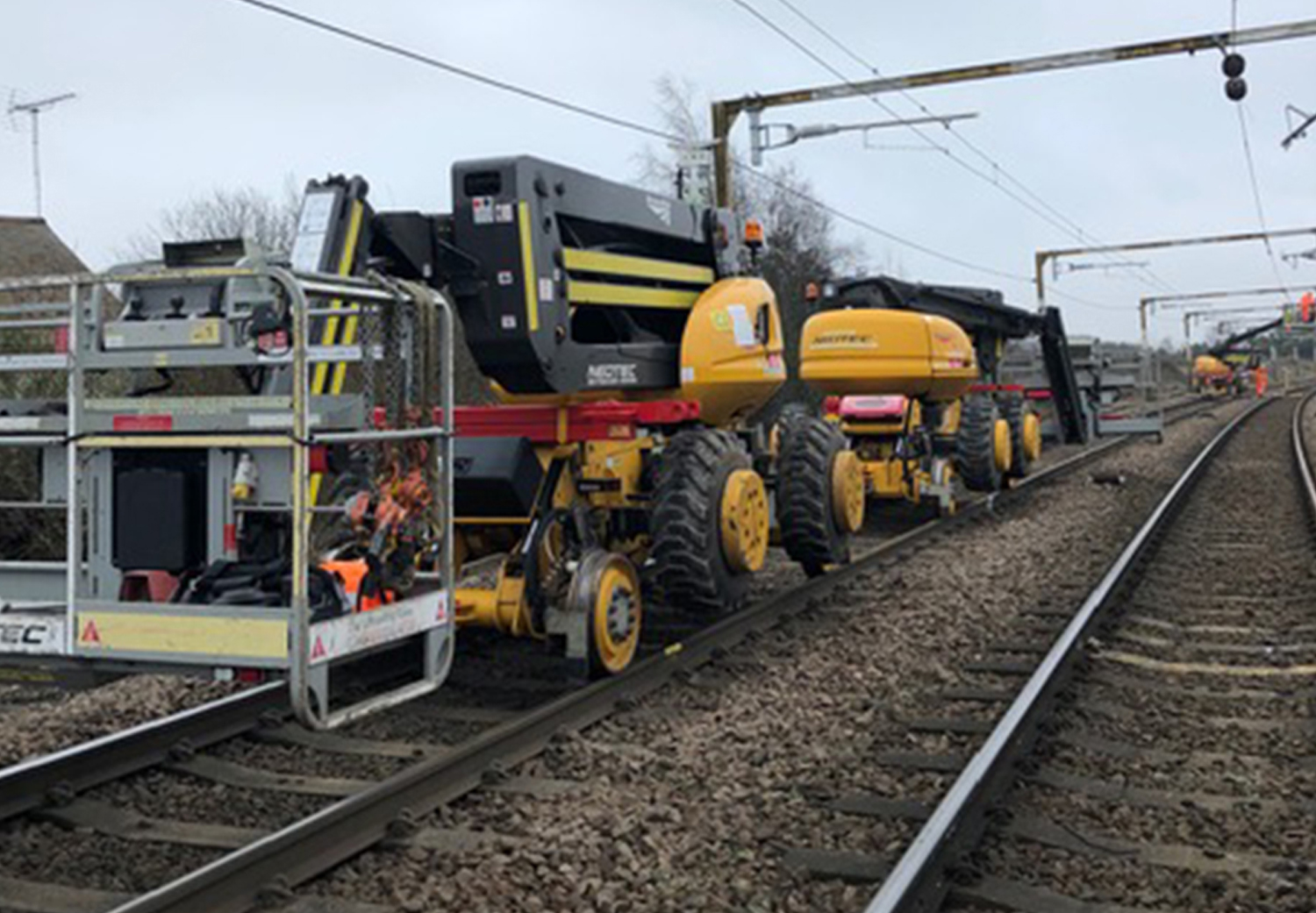 Face to face management, workforce involvement
Following graduation, my railway life began with a few months working on the shovel with a variety of track gangs. I believe it gave me a first-hand insight into the real world.
Recent visits to Network Rail's Safety Central website leave me concerned that today's methods of communicating are, in many ways, less effective than face-to-face open discussion, including listening! I believe that the rail industry needs technically and professionally qualified individuals to whom engineering responsibility and accountability is delegated.
I vividly remember the day when a regional deputy chief engineer joined the local track gang, of which I was a member, at lunchtime in a lineside cabin and listened to their concerns. During that time, I still remember the day when the chief permanent way inspector told me that getting injured by being hit by a train was very difficult, but being killed by one was easy!
Delegation and accountability
My experience of the inspection, maintenance and renewal of both track and structures included checking the skills and performance of track patrollers and bridge/structural examiners. I recall the use of a system for the selection of track patrollers which included inspecting and reporting on a section of line in an area remote from their usual places of work. Their reports were then checked against a report from an inspection the previous day carried out by the local engineer.
They need to have delegated authority to restrict or even stop rail traffic when justified. They must be personally responsible for their actions which will normally include identifying problems and recommending action – sometimes immediate, but usually early enough for remedial work to be fully planned after a qualified supervisor and/or engineer has agreed the details.
Safety of the line
I recall funding problems that resulted in the imposition of both speed and axle-weight restrictions. Such restrictions may produce reactions both from train operators and senior engineers.
Furthermore, I had personal experience of commercial and political pressure being applied when speed restrictions or closures became necessary due to restricted funding. I recall being challenged on my professional engineering judgement by commercially minded train operators who, when asked to sign a declaration relieving me of my personal responsibility for "the safety of the line", refused and backed down!
I also recall the support we gave to our patrollers, examiners and local engineers, as well as the backing we received from senior engineers based at head office. On one occasion, when a patroller was required to attend a court case after a serious accident, I was pleased that the judge agreed that my evidence on the suitability and quality of the trackwork was sufficient. This resulted in the patroller not being called to the witness box.
He was not disappointed.