Tim Dugher, who is standing down as chairman of the network certification body (NCB), looks back on his time with the company
Two years after joining Network Rail's fledgling Network Certification Body as a non-executive director, Tim Dugher took over as chairman. On the eve of his retirement, he met with Malcolm Dobell to reflect on the organisation's progress over that time.
In the April 2019 issue of RailStaff, Sam Brunker, managing director of the Network Certification Body (NCB), talked about the development of the company since 2012, when he became one of its first employees. Another early appointment was Tim Dugher, a 40-year veteran of the rail industry, who was recruited as a non-executive director with the remit of ensuring the company's independence and impartiality.
After two years, Tim became chairman of the company. Six years later, and he is standing down from his role as chairman. Has he accomplished his mission?
Looking back
In the early days of NCB the Interoperability Regulations and the Common Safety Method were new and, although Network Rail had taken the courageous step of setting up its own in-house but independent subsidiary, it was challenging both to build the company culture and to persuade potential customers that they needed NCB's (or some other certification body's) services if they were to comply with the new regulations. If you are not familiar with certification bodies, their role is summarised on page 19.
One of Tim's early roles was to set up and chair a board committee to ensure impartiality by making certain that NCB staff worked ethically avoiding conflicts of interest (by not marking their own homework!) and that NCB did not exploit its position as a subsidiary of Network Rail. This committee, said Tim, populated by well-respected industry independents (your writer is one of them), has proved invaluable to the company, throughout its development, in challenging some of the processes and practices which are in daily use.
Tim recalled the first year, always challenging for a new company, during which staff had to be recruited, work sought, and systems and processes set up and accredited. He said that it wasn't surprising that NCB made a loss that year, but he has been delighted to see the company grow rapidly to a turnover (2018/19) of almost £7 million with a workforce of 60 people and a healthy profit.
Possibly the biggest challenge, Tim recalled, was developing the culture required for an accredited certification company with a strong business ethic. Tim paid tribute to the board: "I have been very lucky to have a small but strong board of independent, shareholder and executive directors with a collective focus on driving the business culture needed to transform NCB from large parent department to independent subsidiary, operating in a competitive market place. I must mention James Collinson, the managing director for the majority of my tenure as chairman, for leading that challenge at executive level, and who was very ably succeeded by current MD Sam Brunker."
What does a certification body do?
The European Union Interoperability Directive required member states to develop legislation to promote standardisation of key properties of Europe's Railway. This legislation came into force in the UK in 2012. The key properties, or, in 'Europe speak', the essential requirements, are conditions relating to safety, reliability and availability, health, environmental protection, technical compatibility and accessibility. This applies to all elements of the UK's main line railway (approximately, but not exclusively, Network Rail's infrastructure and the trains that run on it). The legislation applies to significant new projects or significant alterations to existing projects. New stations, new trains and new signalling are clearly covered, whereas track renewal generally is not.
Significant projects must be authorised by the Office of Rail and Road (ORR), following the submission of a technical file demonstrating that the essential requirements have been complied with. This demonstration has to be certified, and this is the role of certification bodies.
There are three aspects:
• Notified Bodies (NoBo) that certify that essential technical requirements have been complied with. These are contained in the Technical Specifications for Interoperability.
• Designated Bodies (DeBo) that certify that Notified National Standards have been complied with. These are contained in Rail Group Standards issued and managed by RSSB.
• Assessment Bodies (AsBo) that certify that safety management has been appropriately carried out in compliance with the EU's Common Safety Method and that hazards/risks have been appropriately identified, assessed, managed, closed and/or transferred.
Certification Bodies themselves have to be accredited by UKAS, the UK's National Accreditation Service, and be notified by the Department for Transport.
NCB carries out all these functions and is also a Certifier of Entities in Charge of Maintenance – an activity currently required under EU legislation for freight vehicle maintenance that will soon be extended to locomotives and passenger vehicles if recent EU legislation is transposed into UK law.
Professional culture
Tim outlined a unique requirement. Staff involved with certification need to be experts in their field and must retain a professional distance from the projects they are assessing. This can become an issue for specialists, Tim said, as they need to "keep their hand in and avoid becoming professional markers of others' homework". He said that NCB has plans for this – more anon.
Moreover, the role of certification bodies is to assess compliance and, Tim added, this has the potential to cause conflict if the assessments uncover problems, especially if found late in a project lifecycle. Like audit, it is a necessary function that has to be paid for, but which sometimes has to deliver unwelcome news.
Tim said that he has been delighted to see how the company has developed this respectful, professional culture with complete integrity. It now has a strong business ethic that focusses on delivery for clients, together with making a profit and growing the company – quite different from being a department of Network Rail.
Tim added that a current focus is on encouraging project teams to engage certification services early, so that certification proceeds hand-in-hand with all forms of assurance, such as GRIP (Governance for Railway Investment Projects). To this end, he said, NCB is developing alternative products to add more holistic value to the compliance process around major projects.
Identifying an issue early in a project lifecycle, he stated, can lead to the problem being fixed quickly and with little cost. In this respect, he was delighted that NCB had won a contract with HS2 – in the face of strong competition – as this has resulted in being able to start working on this project from the pre-construction phase. "I'm particularly proud of the fact that the NCB team won the HS2 contract," he said. "It's such a tangible illustration of the maturity gained by NCB since start-up in 2012, and the fact that new customers value what NCB has to offer and its market reputation."
Tim also noted that, where certification services are purchased as a "bolt on activity" towards the end of a job, "issues identified during assessment have sometimes led to assets not being brought into service on time, causing extra cost and much embarrassment".
He then turned to some of the internal challenges and successes. He said that NCB is a 'people business' and it is a continuous challenge to recruit enough people with the right skills to meet market demand whilst maintaining a healthy order book and pipeline to keep them busy. He also highlighted the necessary but time-consuming work to achieve and maintain accreditation to the various requirements and standards that certification and assessment bodies must work to. There is also a day-to-day focus on competency, making sure everyone keeps up-to-date technically.
Peaks and troughs
As Network Rail is a major customer, NCB's workload, just like many other suppliers, tended to mirror Network Rail's work cycle. Thus, in the run up to bank holidays and the financial year end, workload tends to peak, with possibly more lean times in between. Keeping staff productive in these lean times is a challenge, but the sales and marketing department has developed robust plans to maintain a broad range of clients and projects, large and small.
Lean times are even more marked at the end of control periods – again, there is a peak on the run-up to the end with a lean time immediately after. With CP6 having an emphasis on maintenance and renewals rather than enhancements, Tim wondered aloud where the work to replace projects such as Thameslink and Crossrail might come from, hence the thoughts of diversification and an emphasis on doing a good job for HS2.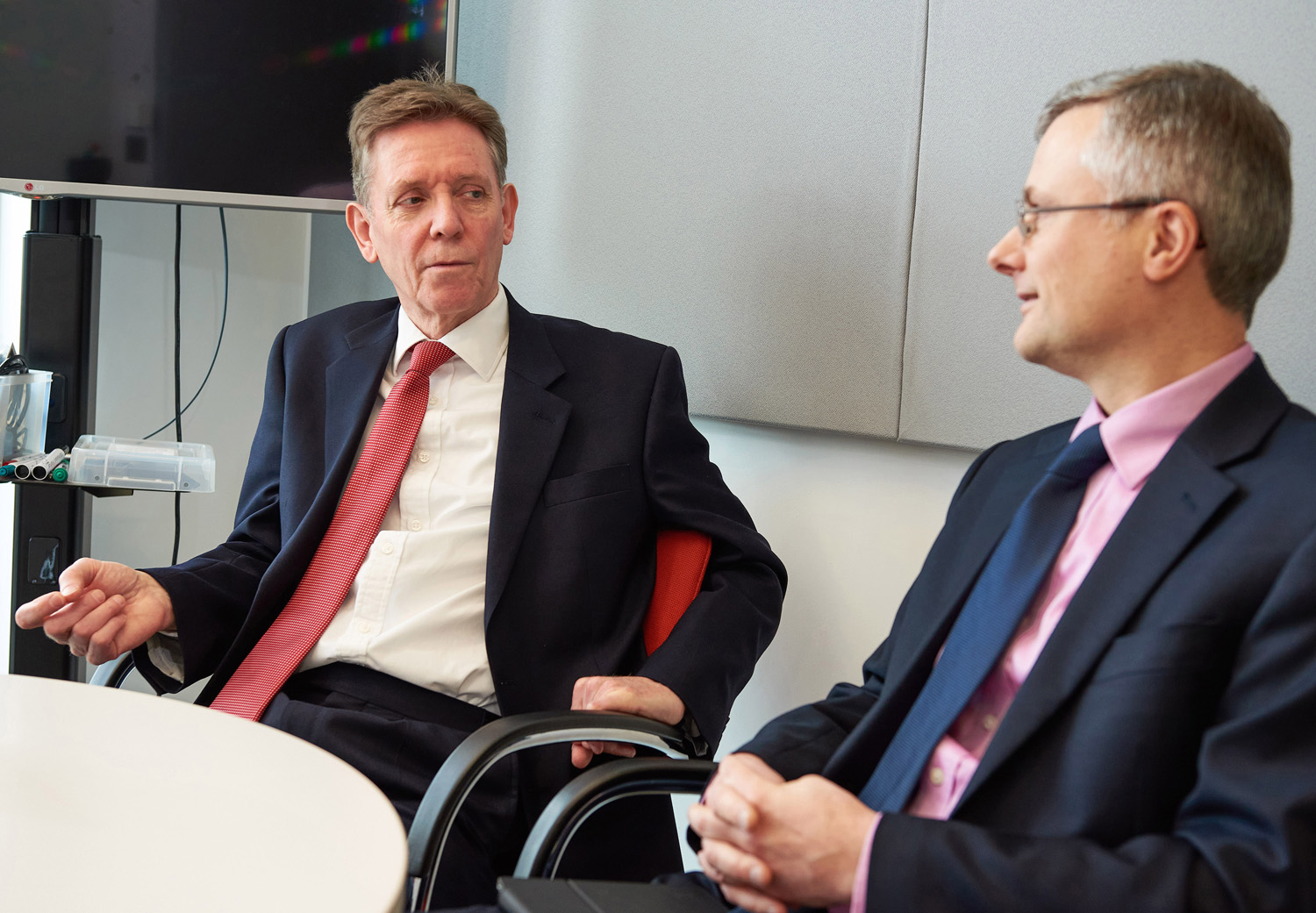 It was obvious that Tim has enjoyed working with NCB and, concluding the conversation, he said: "It's been a great pleasure to have been part of the evolution of the NCB business from its inception to its current position, where it's an established player in the certification market.
"I'd like to pay tribute to all the staff in the NCB team (past and present), who have played their part in making the business what it is today; they should all be very proud.
"I'd particularly like to thank the leadership team, with whom I've worked closely on the board over the last eight years, for embracing the challenges that have emerged along the journey. NCB is in good hands with Sam at the helm, and I wish him, and the whole team continued success as the company develops to meet market demands."
Tim Dugher's Career
Tim joined British Railways as an apprentice in 1977 and followed this with a three-year degree course at Aston University. Between 1984 and 1995, Tim carried out various roles within British Rail, managing rolling stock maintenance including being depot manager at Wembley and Oxley depots.
Privatisation saw Tim become head of projects at Angel Trains, later becoming its group engineering director and then chief operating officer. He retired from Angel Trains in 2011, having been involved in the purchase of a very significant number of new vehicles, including the large Desiro fleet leased to South West Trains (now South Western Railway) and Silverlink (now West Midlands Trains) and the Pendolino fleet leased to Virgin Trains (now Avanti West Midlands).
As well as his appointment as non-executive director and chairman of NCB, Tim has also been active in other non-executive roles including chairman of the Railway Division of the IMechE and chair of RISAS (the Rail Industry Supplier Approval Scheme). He is currently a non-executive director of Porterbrook Leasing.
Tim is a chartered engineer and is a fellow of the Institution of Mechanical Engineers.