330 railwaymen and women slept out in 9 stations to raise money and awareness for Railway Children
Railway stations and the railway network are like magnets, attracting vulnerable children and young people who may have run away from home or care and have nowhere else to go. Over 8,600 children were identified by British Transport Police as being at risk on the railways last year. Specialist charity Railway Children, which is working with Network Rail and others to combat this growing problem, recently held a sleepout event to draw attention to its work.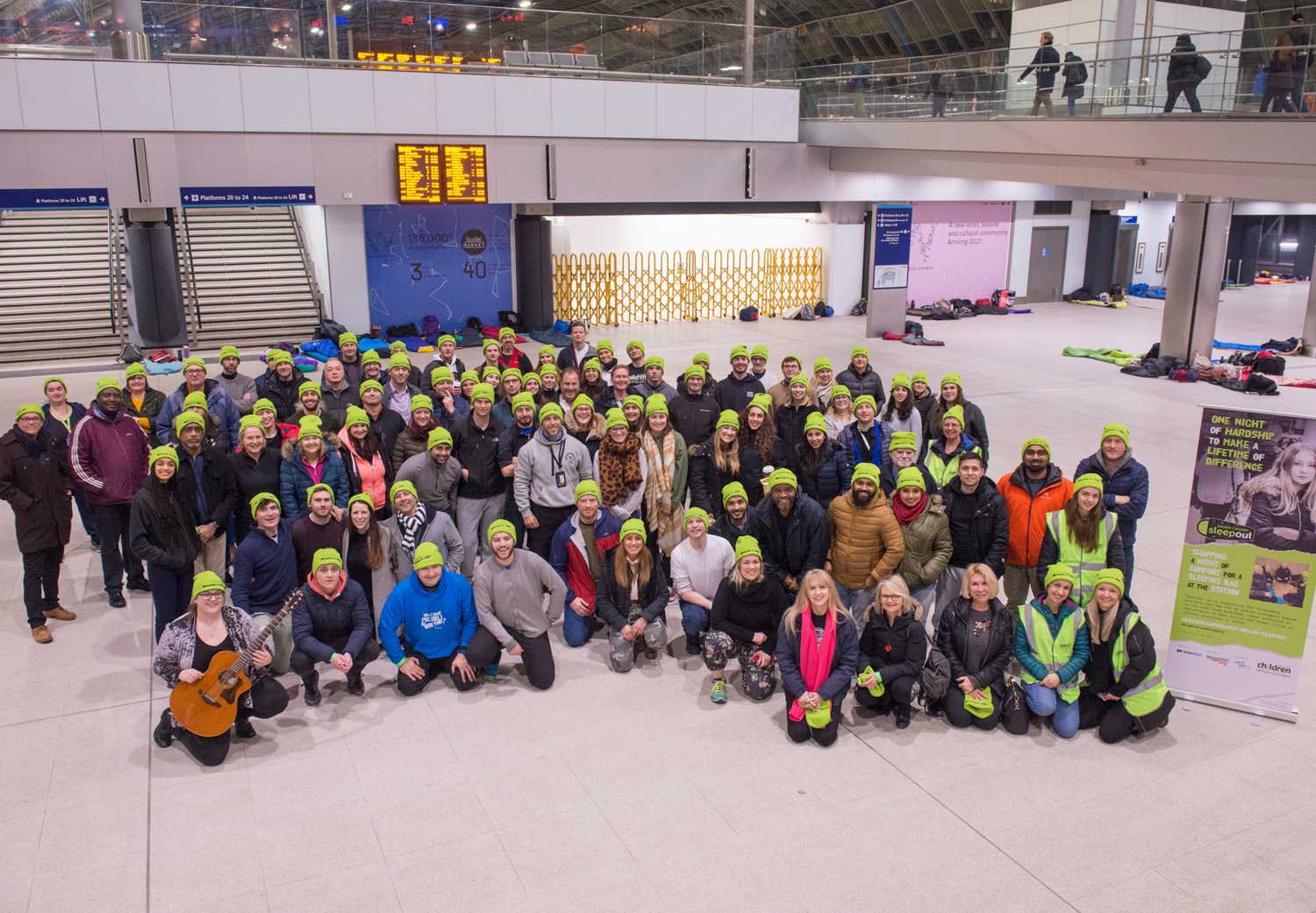 Stations are a natural attraction to those unfortunate enough to be on their own with nowhere to go. Enclosed and sheltered from the wind, they are mostly dry and, in some cases, heated. The crowds also tend to make 'loners' more anonymous and, of course, they are destinations to those travelling by train.
It's a problem across the country and for people of all ages. However, the situation is particularly problematic when it affects children and young people. In 2018, the British Transport Police (BTP) recorded that a third of the children that were identified as at risk had run away from home or care, while others had issues including sexual exploitation, abuse, substance misuse, poor mental health and suicide.
Often, these children end up in vulnerable situations either because they have slipped through the safety net and are not receiving statutory support, or because that support is not sufficient to address their complex needs. The Railway Children charity works in partnership with British Transport Police and with station owner Network Rail, aiming to connect with some of the most vulnerable children in the UK and, hopefully, turn their lives around for good.
Increasing numbers
As stations are known 'hotspots' that attract these young people, 330 people got involved as this year's Railway Children Sleepout took place in nine stations across the country on one night in January.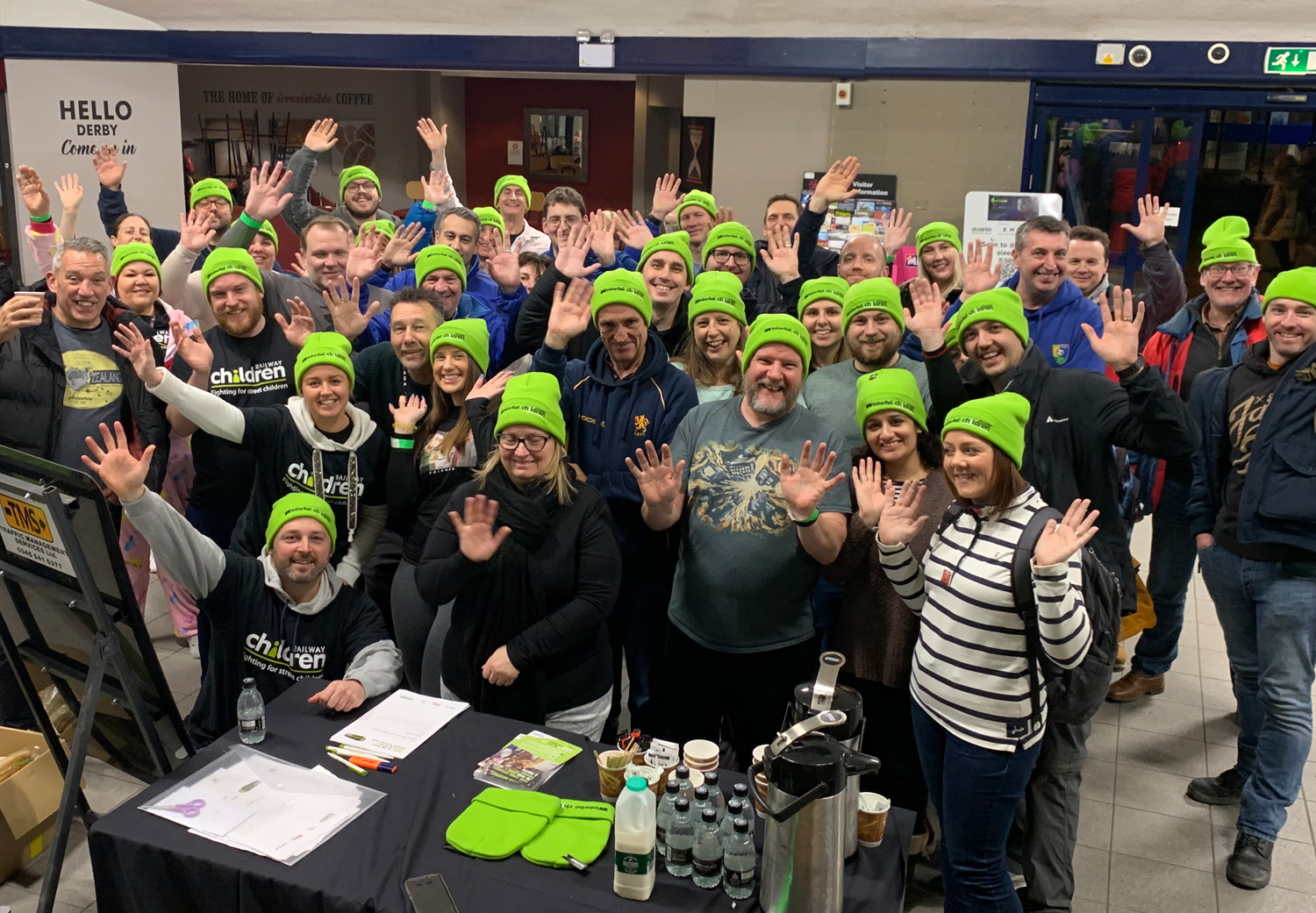 Railway staff chose to sleep 'rough' in Manchester Piccadilly, Birmingham New Street, Glasgow Central, Leeds, London Bridge, London Waterloo, Liverpool Lime Street, Milton Keynes and Derby stations to draw attention to the plight of children and young people at risk and also to raise money for the Railway Children charity. £135,000 was raised nationally with many senior industry figures involved. Mark Wild (chief executive, Crossrail) and Anna Delvecchio (commercial director, Amey) raised a very creditable £12,000 between them (pictured left). Both have been asked to act as Patrons for next year's event.
The second annual Railway Children Sleepout was sponsored by VolkerRail and supported both by Network Rail and food travel experts SSP UK. Temperatures were low but spirits were high as the participants gathered up and down the country to spend the night sleeping in one of the nine stations.
It was only one night of hardship, but having no bed, sleeping on hard and cold floors and having to deal with limited facilities gave the volunteers some insight into what runaways go through. Naturally, it was not a completely authentic simulation. There were some high-end sleeping bags, yoga mats and other forms of padding, thermos flasks and sandwich boxes in evidence. Still, 330 people gave up one comfortable night to sleep – or try to – in a cold station and they must all be given credit for that.
"We should all try to help and play our part helping vulnerable children and young people to turn their lives around," said Anna Delvecchio and Mark Wild from their spot at Waterloo station. "In our minds, it's absolutely the right thing to do.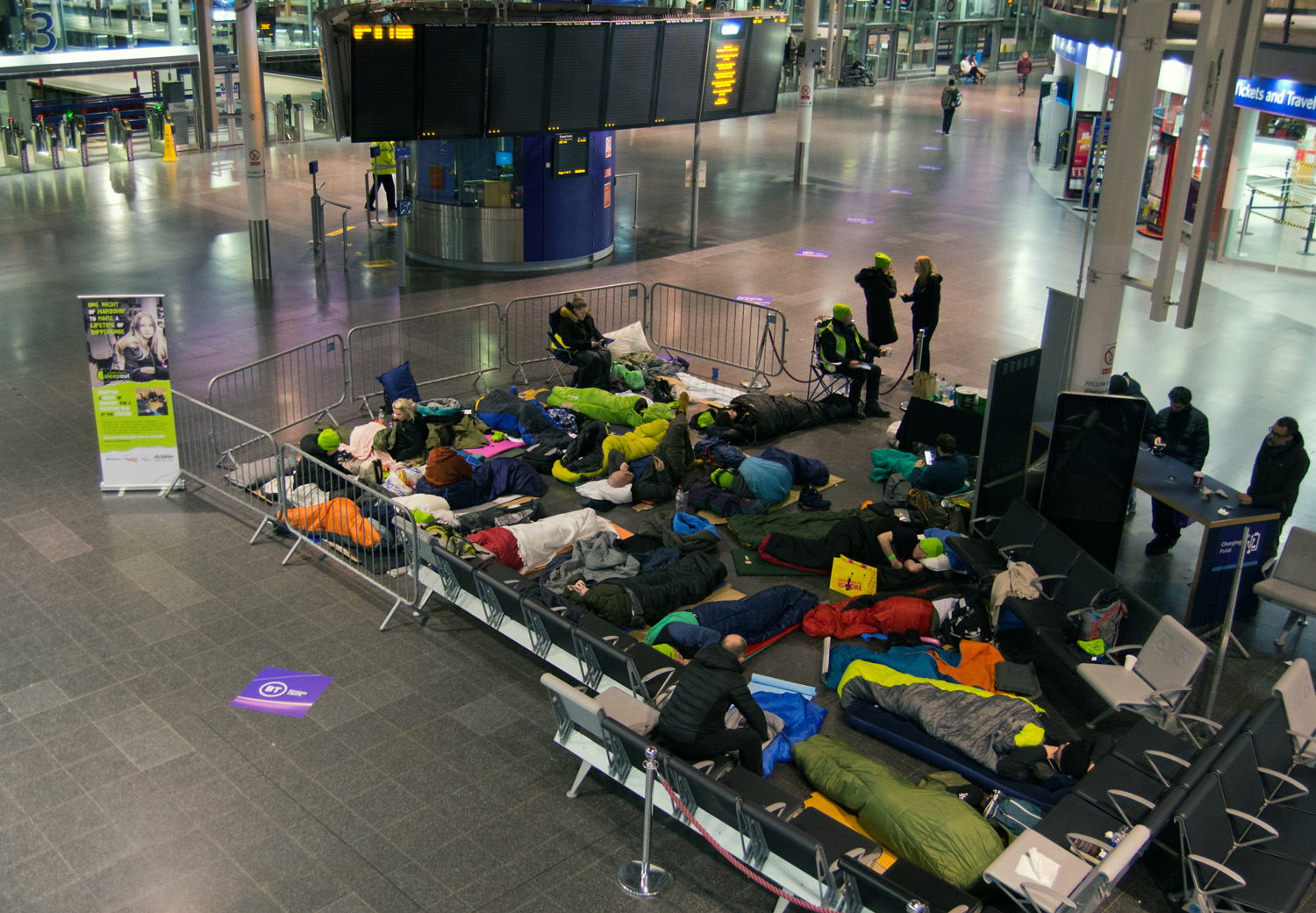 "Stepping in and giving the right support to a vulnerable young person can mark a turning point in their lives and the rail network provides a unique environment to identify and offer these life changing opportunities. This is what Railway Children do, in partnership with others.
"Railway Children's objective is to create a national safety network for vulnerable children at risk of violence, abuse and exploitation. They work in partnership with British Transport Police, enabling them to connect with some of the most vulnerable children in the UK."
Children at risk
Railway stations and the railway network attract vulnerable children and young people. BTP predicts that, this year, it will file nearly 9,000 reports of children at risk on the railways. Many will be running away from care or home and often they are trying to meet someone who has been grooming them online. But one area of concern, and one that is growing rapidly, is children being exploited by criminals, forced to transport drugs or money around the country for 'county lines' gangs. In response to this increasing concern, Railway Children has worked with BTP to develop a specific face-to-face county lines training module to enable railstaff who come into direct contact with young people to identify if they are being exploited.
It is essential to have trained eyes and ears on the ground to identify and support vulnerable children. The more children identified and reported to BTP, the more can be referred to Railway Children or other services for ongoing support when required. Railway Children also has other face-to-face and eLearning training modules that train and encourage railway, security, retail and office staff to be its eyes and ears and to support BTP by identifying children who are at risk.
Thanks to funding from BTP, Railway Children will be able to provide these new training sessions focussing on 'county lines' problems free of charge. Each session will run for one and a half hours and staff members from several train companies have already signed up to take part and learn more about how to spot the signs of county lines exploitation.
DS Gareth Williams from British Transport Police said: "Making safeguarding interventions with young people who are being exploited and coerced into this type of criminality is the best way to protect the vulnerable and tackle county lines offending."
Station plans
Network Rail, as owner of almost all of the UK's main line stations and manager of the 20 largest ones, is taking its own steps to safeguard children. In partnership with Railway Children and several other charities its forthcoming programme "Routes out of homelessness" is understood to focus on tackling the issue of homelessness through a series of local and national charity partnerships.
Railway Children will be part of this programme and will continue to work to improve the lives of vulnerable children and young people and prevent them from becoming the next generation of adult homelessness. Various fund-raising activities take place throughout the year, with the latest being the 'Yorkshire Three Peaks', a 39.2km circular hike that takes place on 15 May 2020 and climbs all three mountains in the stunning countryside of the Yorkshire Dales – Whernside (736m), Ingleborough (723m) and Pen-y-ghent (694m).
Then there will be the 2021 Big Sleepout – already being planned. As Patrons, Anna and Mark are hoping for an even larger turnout than this year. Will you be there?