Every child wants to be a train driver. Some still want to when they grow up, but what does it take to become one?
Train driver is a popular job – 1,100 people apply for every single vacancy. Southern runs a busy and well-established school for trainee drivers and RailStaff has been finding out how three successful applicants made the grade.
Changing jobs can feel like a milestone decision, even when you remain in the same industry. But for some of Southern Railway's newest train drivers, the leap from their previous roles has required a complete career overhaul and led to a dramatic lifestyle change.
And these roles are in high demand; the recruitment team at Southern receive an average of 1,100 applications for each available train driver role each time they are advertised.
A tough assessment process follows, helping to whittle down the applicants identified as having the skills required in the new trainees. There are many safety rules and precautions involved in train driving and the ability to remain focused and calm is imperative – this role holds a lot of responsibility, so isn't a job for everyone.
The varied skills required make the role attractive to a range of applicants, helping to diversify the culture of the driving grade. Former support paramedic Ben McKoy swapped ambulance driving for train driving, Claire Jackson started driving after cleaning trains for more than a decade, and Chris Laing switched from air travel to rail after many years as a flight attendant.
On average it takes 12-15 months of intensive training to become a fully qualified driver. The trio mentioned above have persevered through the assessment process, the challenging four-part interviews and months of intensive training, including six months in the classroom and clocking up 225 hours live driving experience with an instructor.
Their training culminated in a four-day initial competency assessment (ICA), allowing them to take on the tracks alone.
Ben's story
Ben McKoy, 33, worked for the NHS in an administration role and then as a support paramedic in south London for two and a half years – a highly pressurised job that was both stressful and rewarding – before he joined the driver programme.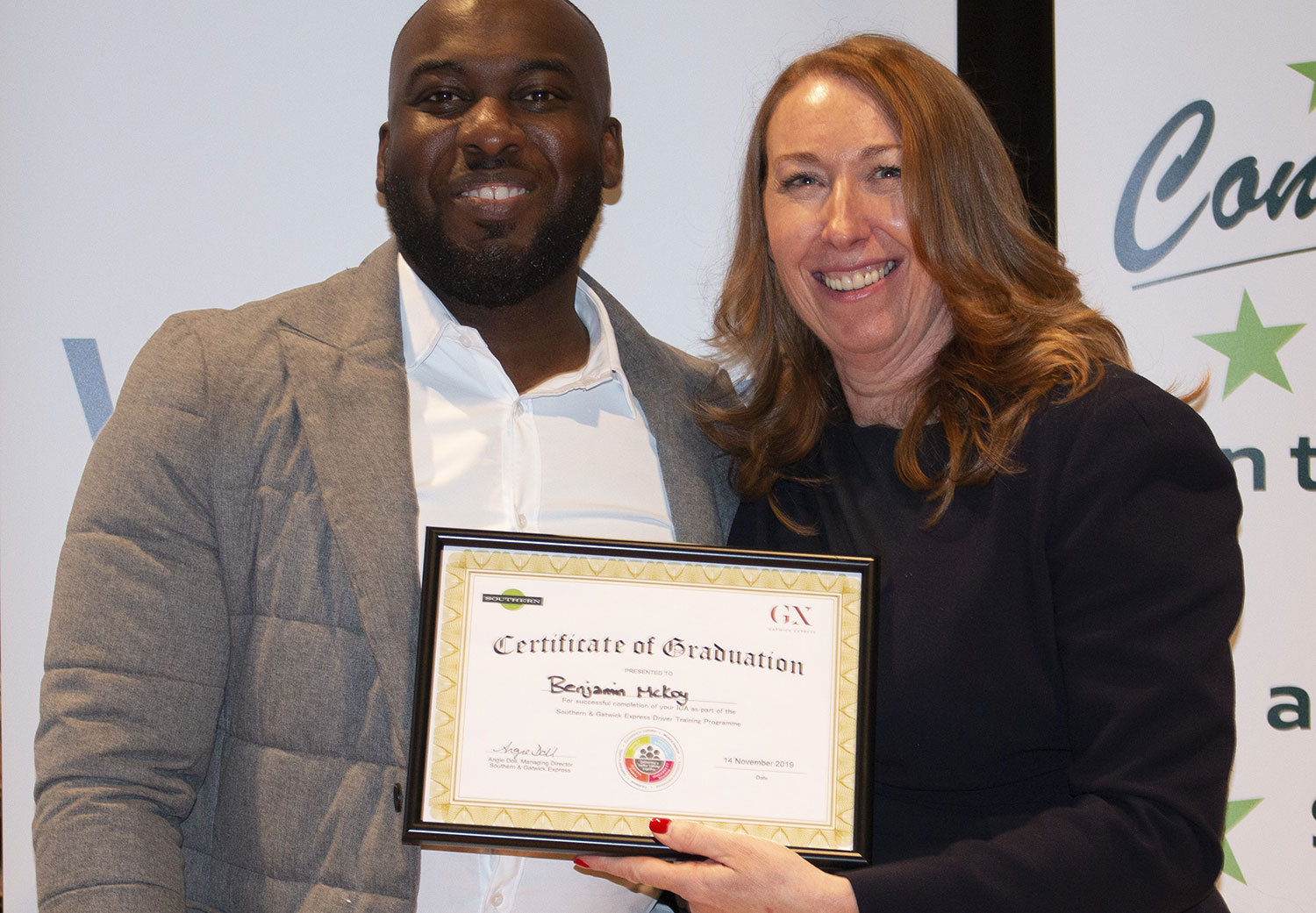 He was inspired to become a train driver after taking part in football matches in memory of a Selhurst conductor, who had been a friend of his brother-in-law. Ben got to know the other drivers through these annual charity football tournaments and, the more he learnt about their jobs, the more he thought it would be something that suited him.
He had been living in West Norwood and bought a house in Selhurst, just before he found out that his application for the driver programme had been successful. Ben, who now works out of the Selhurst depot as a driver for Southern, said: "The stars aligned. I got the house and then I got the job. I was over the moon. At the same time, my girlfriend also got a new job in East Croydon in healthcare, so for both of us it was all change."
Ben started the course in May 2018, taking about a year and four months to qualify as a driver. He said: "It was really in-depth training. They made sure every aspect of training was covered in great detail. It makes the job easier because you've already been through everything, so you're quite comfortable when you're out on your own."
Ben added: "The atmosphere in the railway is also quite different to anywhere I had worked before. I could call my trainers in the evenings, and we would exchange texts. I felt well-looked after; it was a good experience."
So how does driving a train differ from an ambulance? "When I looked at the job description of train driving and ambulance driving, it was almost like a carbon copy. It was about transporting people safely, following procedures, putting customers first and working under pressure," said Ben.
Although he wouldn't describe train driving as easy, he admits it's a lot less stressful than his old job, where 12-hour shifts could become even longer depending on the situation he was called out to. Ben said: "There's a much better work-life balance. Train driving is quite peaceful, as long as you don't encounter any issues! You feel like you have a sense of responsibility to take care of passengers and make sure everyone is safe and you have to remain professional throughout."
Claire's story
Claire Jackson is one of an increasing number of women to take up driver roles for Southern. To attract more women and young people to consider a career in rail, Southern and the wider Govia Thameslink Railway (GTR) franchise embarked on the industry's biggest rail recruitment drive. In 2018, 30 per cent of Southern's trainee driver roles were taken up by women, with the franchise working towards the goal of 40 per cent female trainee train drivers by 2021.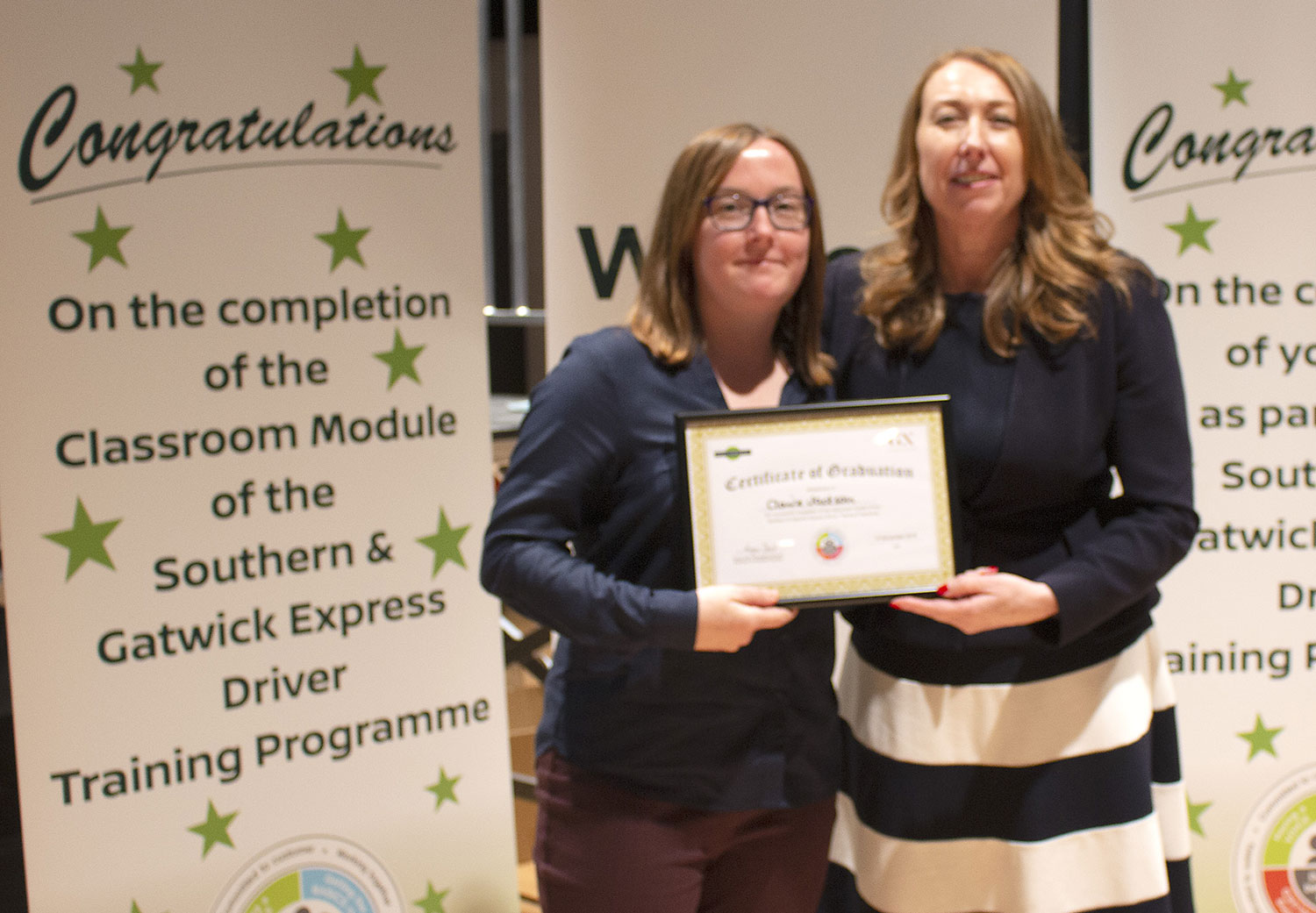 Claire had cleaned trains for 12 years on permanent night shifts prior to becoming a Brighton-based driver. She had followed her dad's footsteps into rail, cleaning Southern trains alongside him at Eastbourne, where he continues to work to this day.
Claire then became a cleaning supervisor – which included managing her dad – but, after a while, she felt it was time for a change of career. Her manager suggested she apply for the driver programme and, although Claire wasn't confident she would land a job as a driver, she worked hard when it came to the assessments and interviews and was successful.
In fact, it was a time of change, not just in her working life, but also in her personal one. Claire said: "At the time I applied, I was just about to get married and that pushed me to go for something different for the family benefit."
Claire applied for the driver programme in September 2016, got married in November that year, and continued cleaning until her training started in May last year. She said: "I was used to working nights, but, when I had my two weeks' holiday, people would say I looked a bit brighter. It's a lot nicer working during the day and I get a lot more days off than I did with cleaning, so you get to spend more time with the family. My wife thinks it's really good because you get a long weekend every three weeks."
Claire, 35, of Bexhill-on-Sea, continued: "When I first started driving, it was a bit daunting, but now I feel really comfortable in the cab. I'm definitely ready to be driving on my own."
Claire has just finished her driver instruction training and is now awaiting her four-day final assessment (although this was due to take place in May, it is currently postponed due to the Covid-19 pandemic).
She said: "I think it's a brilliant job so I would tell anyone interested in train driving to go for it. I didn't think I would get the job, but if you think you would be good at it, you should go for it. My dad's proud of me. He tells me every time he's had a couple of pints!"
Chris' story
Chris Laing, 42, switched from being a long-haul cabin crew flight attendant (right) to driving Southern trains after a 21-year career in aviation. In his previous job, he was flying all over the world, often given little notice of where he would be next. Although he enjoyed the job, the long night flights made for "an extreme version of shift work".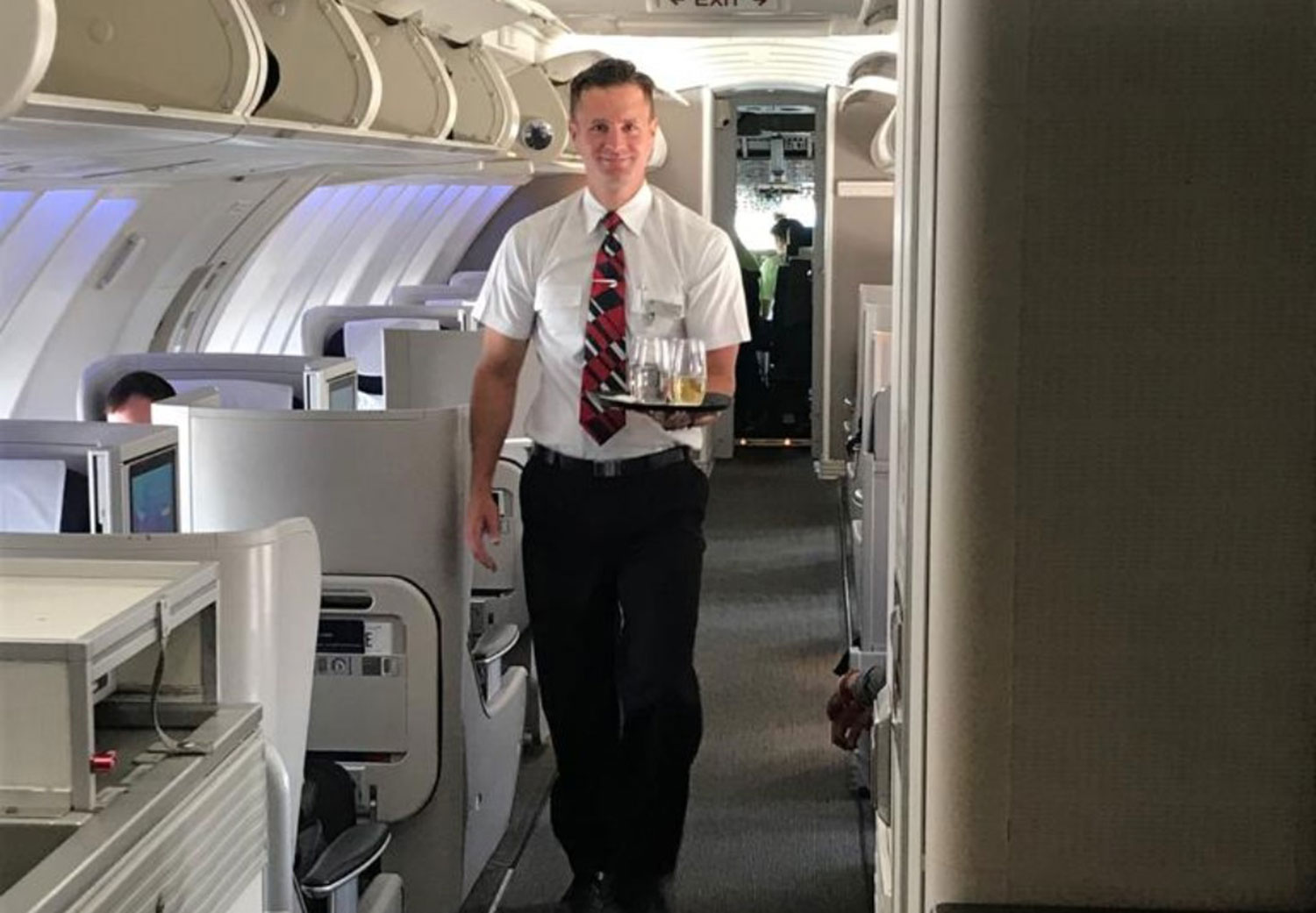 Balancing family life with this routine was challenging and Chris was ready for a change, but it was by chance that he stumbled upon the idea of applying to become a train driver. The father of two said: "Funnily enough, I was giving a guy a lift home from Heathrow and he said he had applied for a train driver's job. I thought 'why haven't I thought of that?' I put my name down for email alerts for train driver jobs and then one came up and I went for it."
Coincidently, Chris began to learn that he had a bit of family history in the railway too, finding out that his grandfather and great grandfather were both Brighton-based train drivers, which is where he now finds himself.
Chris made it through the four stages of "tough" assessments and started his training in January 2019, passing in the middle of November. He said: "It was amazing to get on the course; I really enjoyed it. Before the course, I had very limited knowledge of railway operations and I didn't really know what the inside of a cab looked like. It was a massive learning curve, but the training was really well paced."
Living in Brighton also cut Chris' commute to work to just 10 minutes, compared to the hour and a half it used to take him to get to Heathrow.
He has now been driving solo for about six months and is still thoroughly enjoying the job. He said: "I'm learning new routes and there's a nice mixture between route learning and driving. I still feel really lucky to be driving through the Sussex countryside. It's a massive change from flying; it gives me more time at home with the children thanks to the fixed roster – it's having that stability that's made a big difference to us.
"My wife still flies – she's cabin crew – so it's good to have one of us in the country!"