Continuing Network Rail's recent tradition, Swansea station has been lit up blue in honour and gratitude to all NHS staff and other critical workers who continue to battle the coronavirus crisis.
The blue lighting of the station was also in recognition of railway colleagues, who themselves are classed as critical workers, as they have ensured passengers who need to travel are able to do so, whilst enabling vital freight is moved across the country.
Opened in 1850, the station was built by the South Wales Railway, which amalgamated with the Great Western Railway in 1863. It has been renovated and extended several times in its lifetime, most notably in the 1880s, when the stone-built office block facing High Street, on the west side of the station, was added, and in 1925-7 when the platforms were lengthened.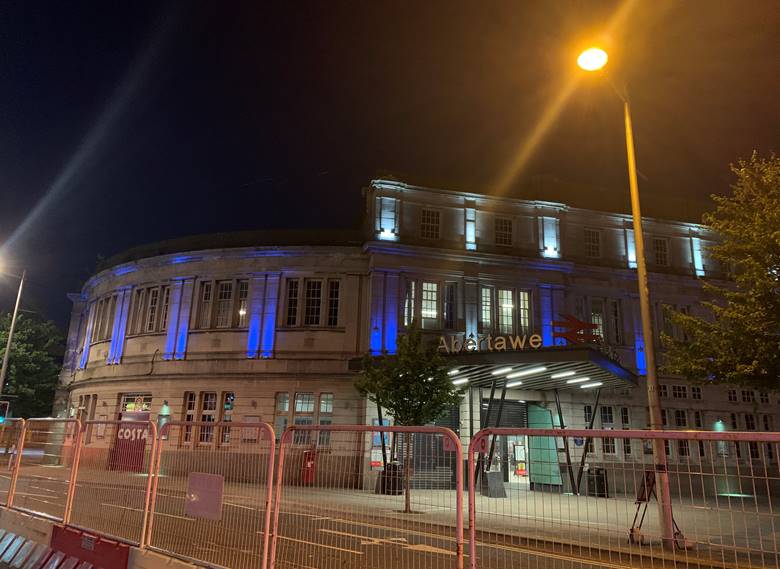 The present-day frontage block, facing Ivey Place, was completed in 1934. Nothing now remains of the original wooden station with its two platforms and galvanised iron roof.
It is the fourth-busiest station in Wales, after Cardiff Central, Cardiff Queen Street and Newport.
Bill Kelly, Network Rail's route director for Wales and Borders, said: "Every Thursday, for the last couple of months or so, we come together as a nation to pay tribute to all our critical workers who continue to work every minute of every day to keep us safe and to keep the country going. It is an absolute honour for the Wales and Borders route of Network Rail to be part of this weekly event that gives so much love and appreciation to our wonderful NHS workforce and indeed all critical workers, including our very own railway family.
"The lighting up of our infrastructure, which we do on a weekly basis, is a simple yet effective way of showing all our critical workers that we understand, appreciate and applaud all their efforts during this difficult period."