The Rail Accident Investigation Branch (RAIB) has released its 2019 Annual Report.
It was a busy year. During the period from 1 January to 31 December 2019, RAIB received 381 notifications of railway accidents and incidents from the industry. These resulted in 51 preliminary examinations.
As a result of the analysis of the information gathered, RAIB started 13 new full investigations and 10 safety digests. It also completed and published 17 full investigation reports.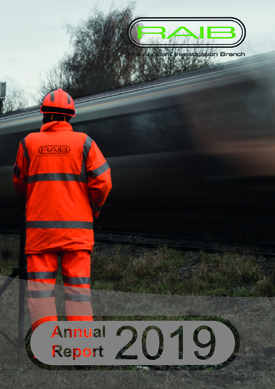 It was also a sad year. In his introduction to the report, chief investigator Simon French wrote: "I am sorry to report that 2019 saw some major setbacks on the path to improved safety for railway employees. In July, all of us at RAIB were shocked to hear that two track workers had been killed by a train at Margam in South Wales. Three men were undertaking routine maintenance activities on a main line that was still open to traffic, and none saw the approach of the train until it was too late. We immediately deployed a team to site and launched our investigation.
"Our role is clear, to provide an independent investigation of the factors that led to the accident and the underlying management issues. I am determined that RAIB recommendations will promote the changes that are needed to make track worker deaths a thing of the past.
"The year 2019 ended on another sad note with the death of a train driver who was caught between two trains as he walked between them at Tyseley depot in Birmingham on 14 December 2019. On 8 April 2020, RAIB deployed to the site of another tragedy, a fatal accident involving a track worker who was struck by a train near Roade, in Northamptonshire. Our investigations are currently underway.
"My thoughts are with all those affected by these terrible accidents."
While RAIB aims to publish reports and safety digests within 12 months of the date of occurrence, the length of individual investigations can sometimes extend beyond this because of the complexity and scale of the investigation, late notification by the industry or the need to address complex issues raised during formal consultation. In 2019, the average time taken to publish full reports was 10.7 months from the date of occurrence.
RAIB also issued one interim report, 10 safety digests and one urgent safety advice notice during the year.
The sole purpose of RAIB investigations is to prevent future accidents and incidents and improve railway safety. RAIB does not establish blame, liability or carry out prosecutions.