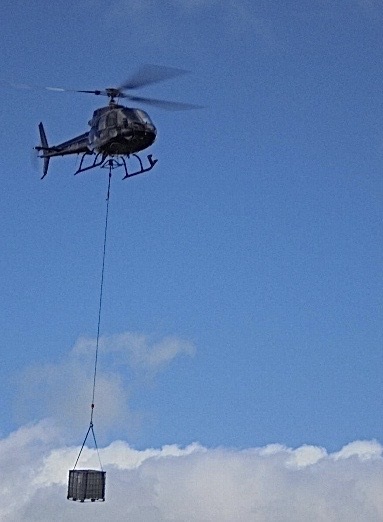 A historic Victorian railway tunnel between Clitheroe and Manchester through a hillside in Darwen, Lancashire, has been repaired using a helicopter.
Sough tunnel has two shaft turrets that protrude out of the Darwen moors. They help release air pressure created inside by moving diesel trains, maintaining air quality for passengers and preventing damage to the walls inside.
Being unable to access the land surrounding the site on the ground, Network Rail used a specialist helicopter team to transport five tonnes of bricks and materials to build a new 2.6-metre diameter metallic grille on top of the shafts.
Mark E Smith, scheme project manager at Network Rail: "As part of our putting passengers first programme, we've invested £150,000 to make Sough Tunnel safer and reliable for trains carrying East Lancashire residents between Clitheroe and Manchester via Blackburn and Darwen.
"While we were unable to access the site from the surrounding fields, we used a helicopter to help complete the safety repairs.
"It proved a cost-effective solution as we did not have to pay any landowner costs and, with the wet weather we have experienced, meant there was much less damage to the local area building access roads for heavy goods vehicles."
Senior contracts manager, Alistair Weir, at J Murphy & Sons, the engineering contractor which carried out the work, said: "It was a great collaborative team effort and we are delighted to use our skills to play our part in keeping Sough Tunnel safe and reliable."
Sough Tunnel is approximately 1842 metres long. Originally the shaft turrets were used as an outlet for steam trains. Today, they play a vital role releasing the air pressure through the 175-year-old tunnel caused by trains as they pass through.
The new brickwork inside the shaft turret and grille will keep the structure safer from trespass and help keep trains punctual and reliable.
Work started in February 2020 and completed this Spring. There was no disruption to services while work was carried out.