Health workers from St Thomas' Hospital no longer have to walk past drab brickwork as they walk under the railway on their way to and from work.
Artist Lionel Stanhope has been speaking with RailStaff's Rachel Groves about his commissions from Network Rail and community groups to brighten up railway infrastructure, and a few he has done on his own account.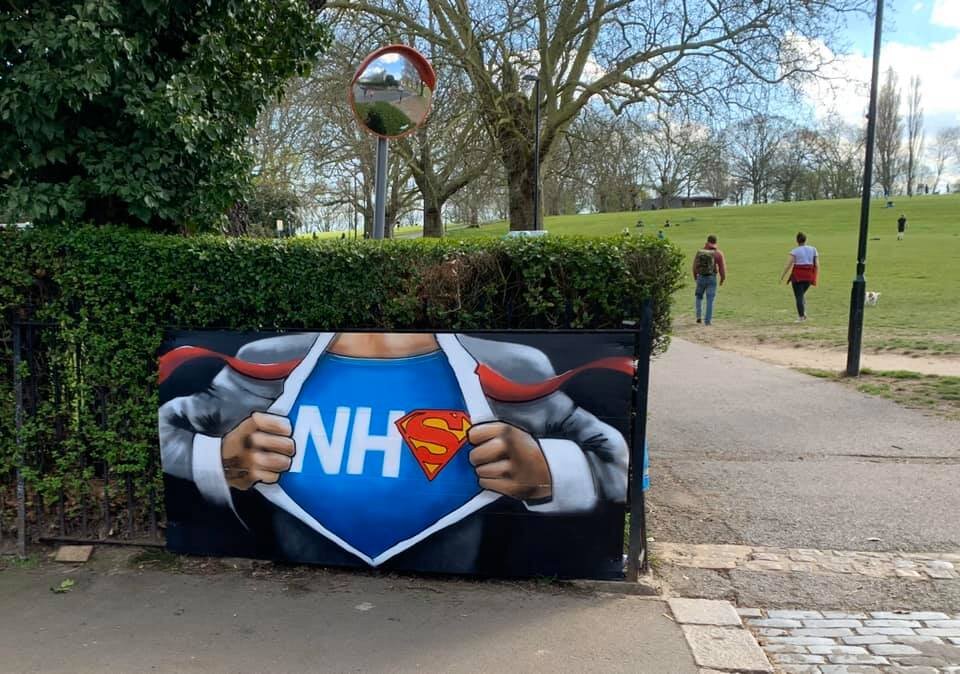 As nurses and doctors in the NHS have emerged as the superheroes of the nation amid the Covid-19 crisis, a tribute to their work by street artist Lionel Stanhope, 52, has materialised on one of the Cornwall Road railway arches under Waterloo railway station in Southwark. The iconic image appeared on Friday 1 May, around the corner from St Thomas' Hospital, depicting the NHS as the superheroes of our time.
There is no doubt that the image is powerful and the size and positioning of the work makes it more impactful, but there are some who do not consider a mural to be true art. Are murals graffiti and a blight on our fine railway heritage? Or does our railway infrastructure present a rich and rugged canvas for a more modern and expansive form of artistic expression?
As lockdown began back in March, the Brockley-based artist Lionel Stanhope, like many, found himself unable to continue his usual work. He was expecting to be out and about painting three pieces for Network Rail, but instead he found himself twiddling his paintbrushes. To avoid boredom creeping in, he got to work on some designs and came up with a small version of his NHS superman design on a board which he fixed up on a road in Hilly Fields, near where he lives.
"It got a great response. I was thinking I would love to tweak the design and make it a bit bigger, better, and stronger. So, I contacted Eddie Burton at Network Rail, to see if he had a suitable location.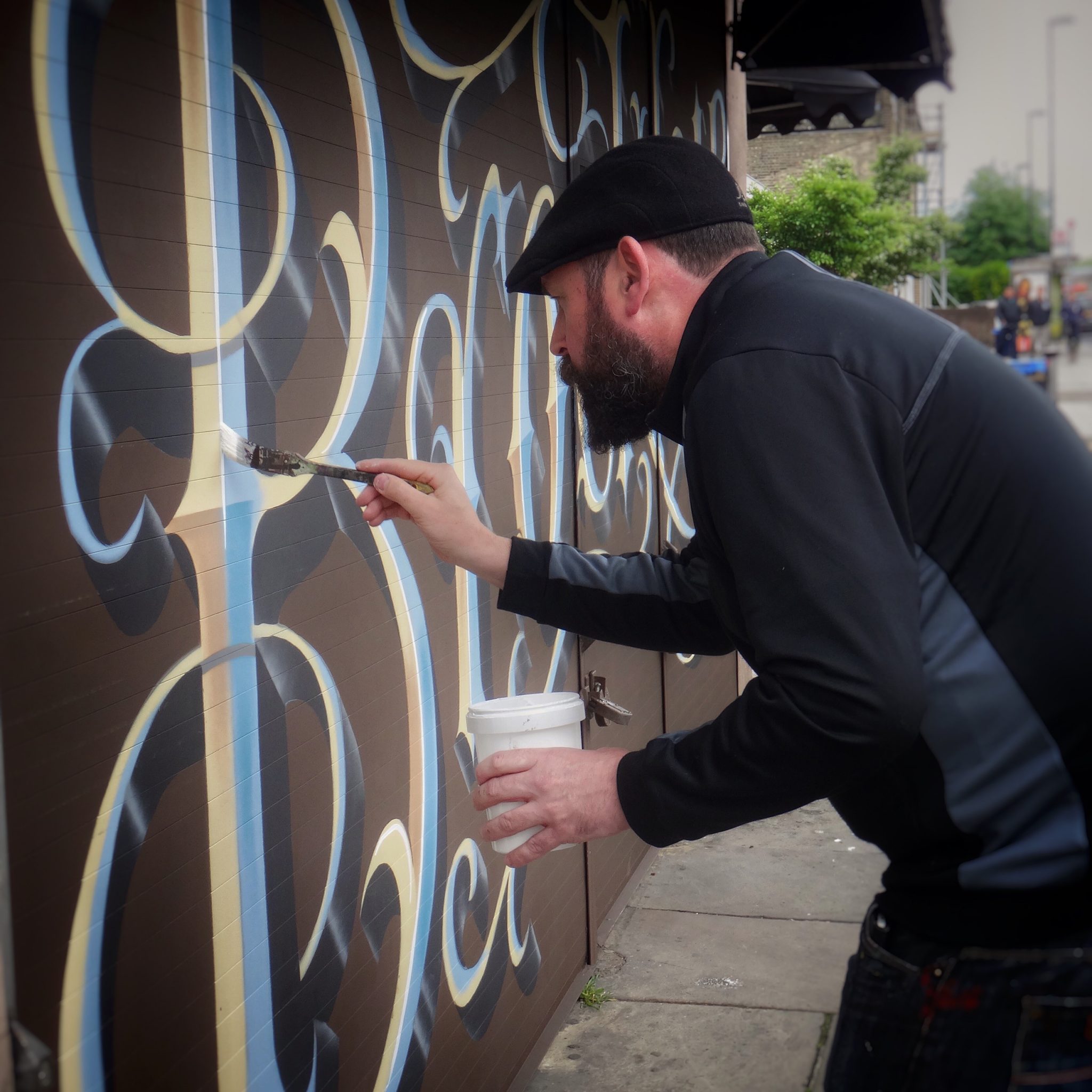 "He suggested Waterloo, which gave me the opportunity to do a much bigger version near to St Thomas Hospital to say thank you to all our incredible NHS staff. I did it for the thousands of doctors and nurses who are doing incredible work saving lives."
Eddie Burton, senior community engagement manager at Network Rail, has been instrumental in building the company's relationship with Lionel over the past five years, as well as championing the use of murals on railway infrastructure. He was able to find a suitable location, which also meant Lionel could comply with the government's social distancing guidelines.
He completed the piece in just five hours.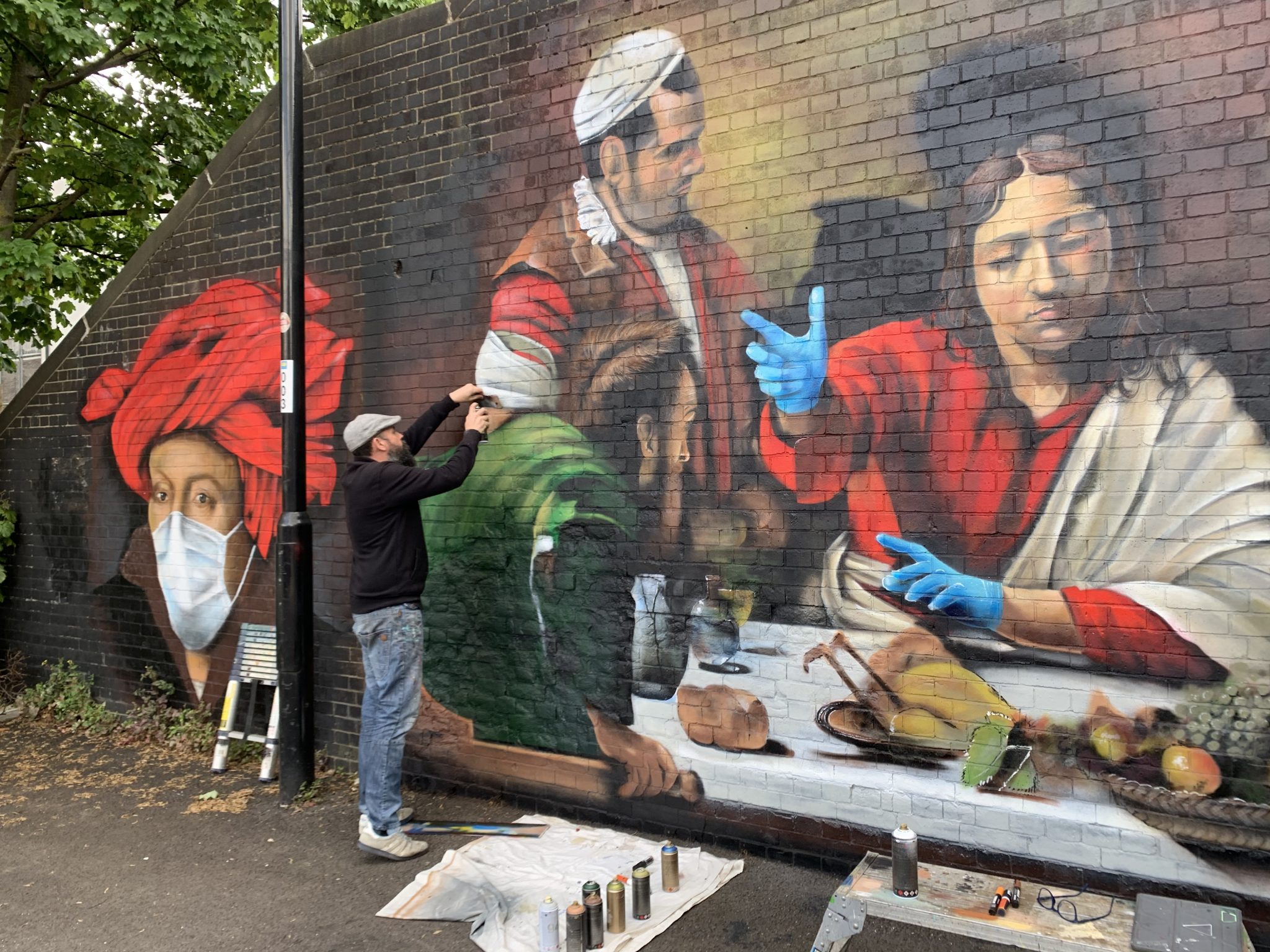 "I was able to do it quite quickly," he commented. "Like any job when you're doing it regularly, you learn how things work. I had the design ready and I have learnt over the years how to use certain little tricks to get the image scaled up quickly, so that I could complete the piece in a day."
But, unlike some of the other pieces of his work on railway property, this was not a commissioned piece. Lionel funded the paint himself as a tribute to NHS staff for everything they are doing during the Covid-19 crisis.
He saw the NHS superman and his next painting, an eye-catching copy of Caravaggio's 'The Supper at Emmaus', which depicts Jesus wearing disposable surgical gloves, as professional development and they are now his favourite pieces:
"Until now I have been known mostly for my typography, my lettering and stuff. I've only really, in the last year, started pushing myself to paint figurative work and I've grown to love it."
Early years
Lionel grew up in south London in Kingston on Thames. He left school at 17 and started his career as a sign writer under one of Margaret Thatcher's youth training schemes. As part of his training, he learned the art of painting lettering by brush – in the years before the industry moved to machine printed vinyl.
He moved from sign writing into painting theatre sets, which is where his work really began to take off, and he soon began to be in demand for sets for TV and films.
Fifteen years ago, he moved to Lewisham, in south east London, but it was only five years ago, in his local neighbourhood in Brockley, that his talent and passion for murals and street art emerged. It all started at a small street art festival when Lionel was asked to paint a small shop shutter and it went down well. From there he was asked by the community group at Herne Hill if he would do their signs, including his first one on Network Rail property.
Now he spends around 50 per cent of his time working on film and TV and 50 per cent painting murals and street art around the country. It's a balance he really enjoys.
Street art vs graffiti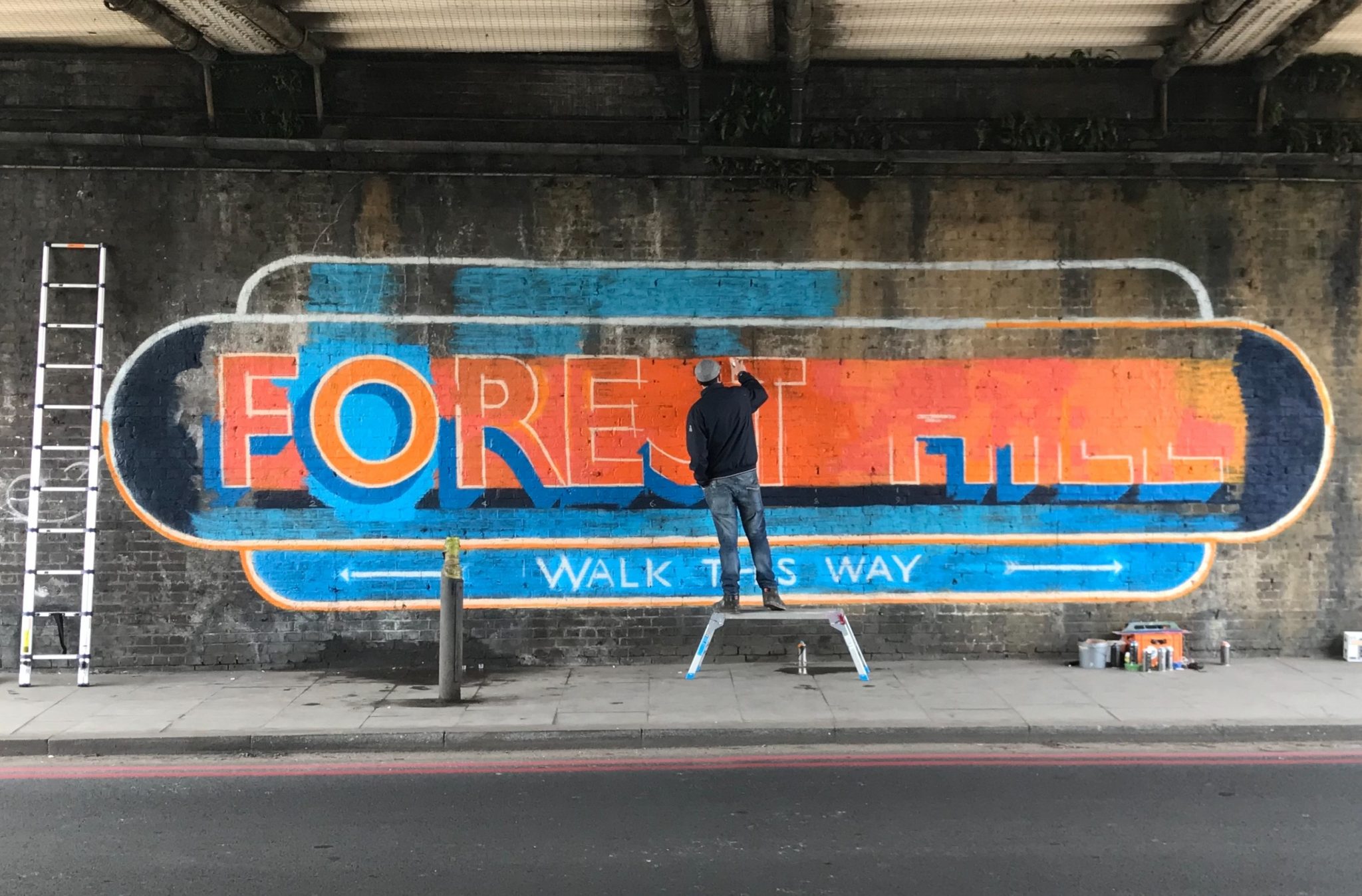 The past five years has seen a change in the way those who manage the nation's rail infrastructure perceive murals and much of this has been down to the vision of one man, Network Rail's Eddie Burton. In line with the Southern region sustainability strategy, Eddie is part of the stakeholder and community team, working with communities across the southern region and is a big exponent of using public art to improve railway arches, bridges, and other locations. He has been instrumental in shifting the company's views on murals and has been successful in showing how they can be used to enhance as opposed to blight.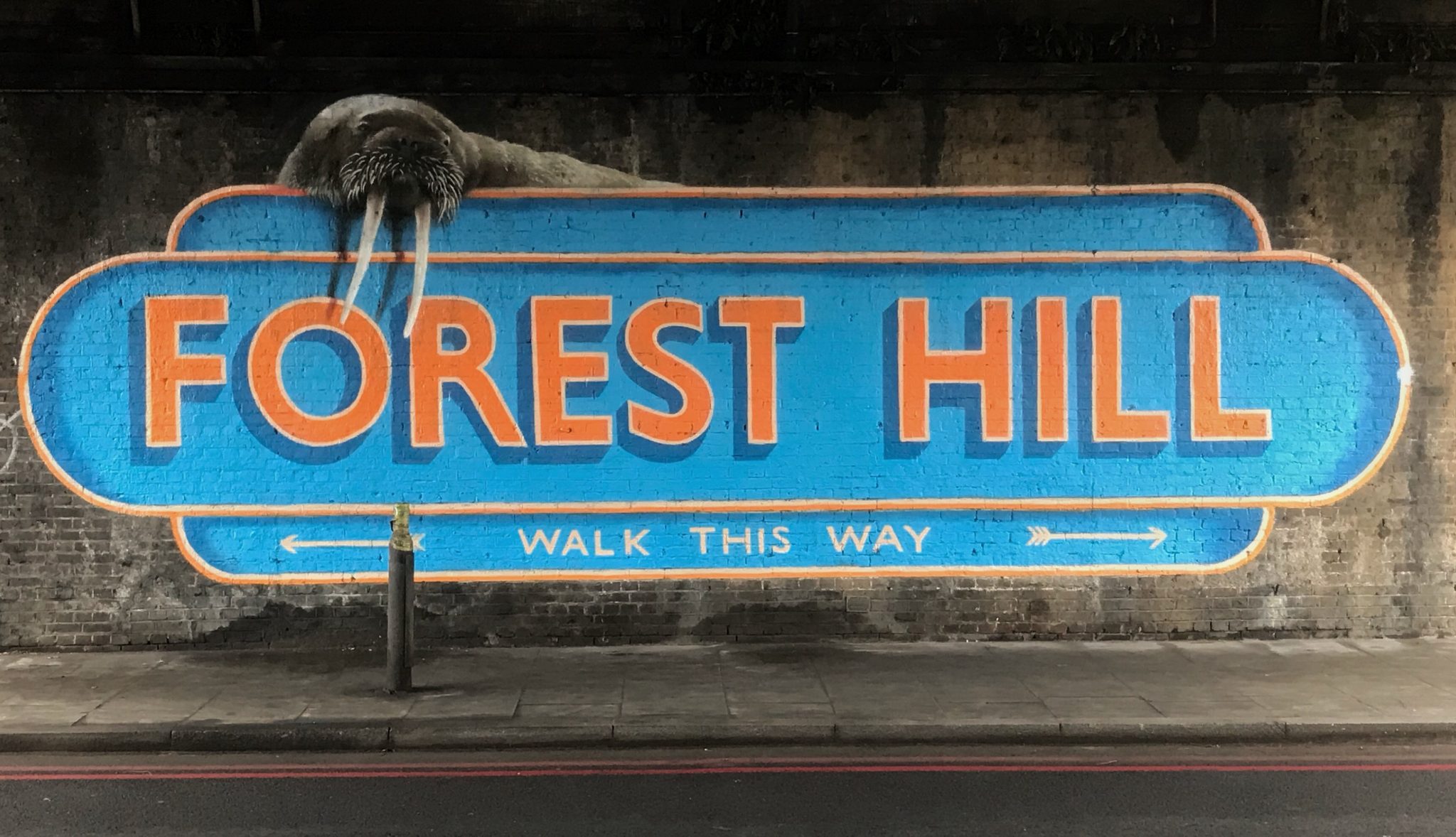 Through the years, the guardians of the railway have fought against trespassers who use its enticing architecture as an illicit playground and graffiti is rife. The current Network Rail policy is to leave graffiti unless it is offensive, as removal of all graffiti is cost prohibitive. Removing a single piece of graffiti can cost up to £1,000. But, given the role Network Rail plays in local communities, Eddie saw a better way of combatting some of the graffiti on his patch.
"It's partly about art and creating something which looks good for the community, but it's also about protecting our structures," he explained. "There's a general rule that people don't tag or graffiti over pieces of artwork, and any artwork we put on our walls is protected with an anti-graffiti coating. So, you end up with something which is potentially iconic in the area and also brings the community together."
In fact, the protective anti-graffiti coating, which is a sort of varnish, actually helps protect both the painting and the structure, as any tags can be easily washed off. And as the brickwork can still be seen through the murals, the structures can still be inspected in line with railway guidelines.
Network Rail now has 71 murals across the southern region and many of them were done in partnership with local schools, councils, and community groups. Only four of the murals have ever been tagged and, because of the protective coating, these were able to be cleaned off easily.
Lionel hopes that young people who see his work will be inspired to stop tagging and be more creative: "Often when I'm painting, people say it's a shame someone is going to paint over that or to tag it. But I say to them, that it's possible, but that's not a reason to not paint something nice.
"I'd like to think that some young artists may look at my work and think – I like that piece of work, I'd like to aim to be doing that kind of work. So, I hope it does inspire some people."
Community involvement
Following Lionel's first piece on Network Rail property, when he was working with a community group in Herne Hill, the relationship has gone from strength to strength. Eddie was instrumental in getting the community licence granted and funding agreed for this and a few other community funded signs over the next few months. Eddie saw the benefits of these community-led projects and approached his bosses for funding to implement a regional strategy and get similar signs painted on some of Network Rail's structures.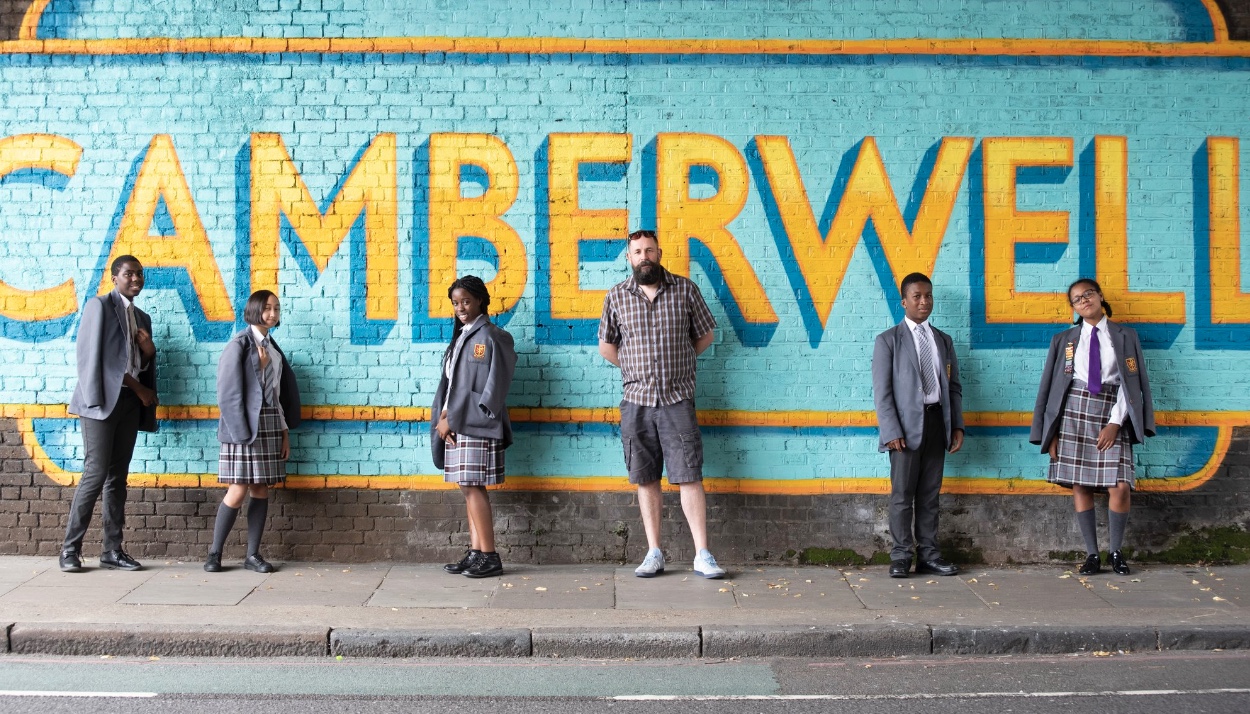 Lionel is currently responsible for over 30 signs and murals on railway structures across south east London, from Hither Green to Brockley and Forest Hill to his most recent sign in Charlton. 20 of these have followed the familiar 'hotdog' design signs on the route as well as 10 individually commissioned more pictorial images.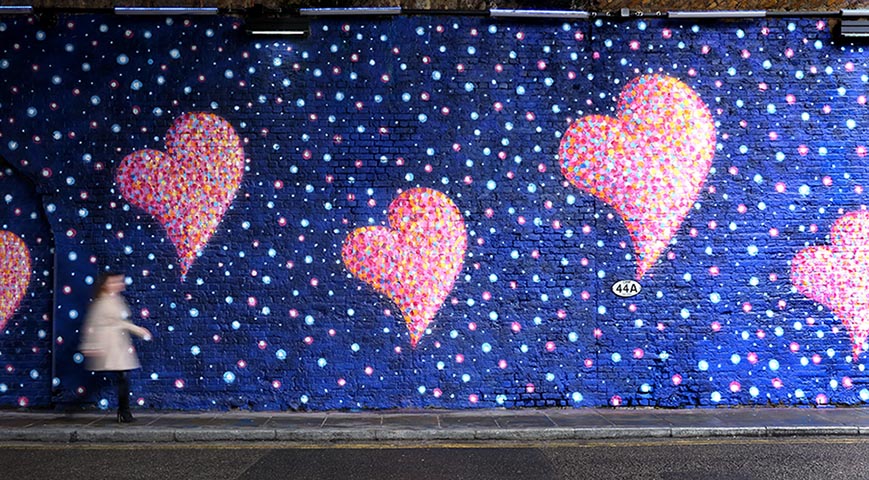 With four in Brixton, five in Lewisham, four in Borough Market, three in Hither Green, three in Brockley, two in Dulwich and pieces as far out as Brighton, Ashford and Pontypridd. It looks like the muralism will be brightening up old railway structures in more and more areas.
But Lionel in not the only artist Network Rail is working with. James Cochran AKA. Jimmy C, has done a few pieces, including a mural following the Borough Market terror attack with eight hearts representing the eight people who died.
In addition, Artmongers painted a long mural on Brockley footbridge which depicts the NHS rainbow.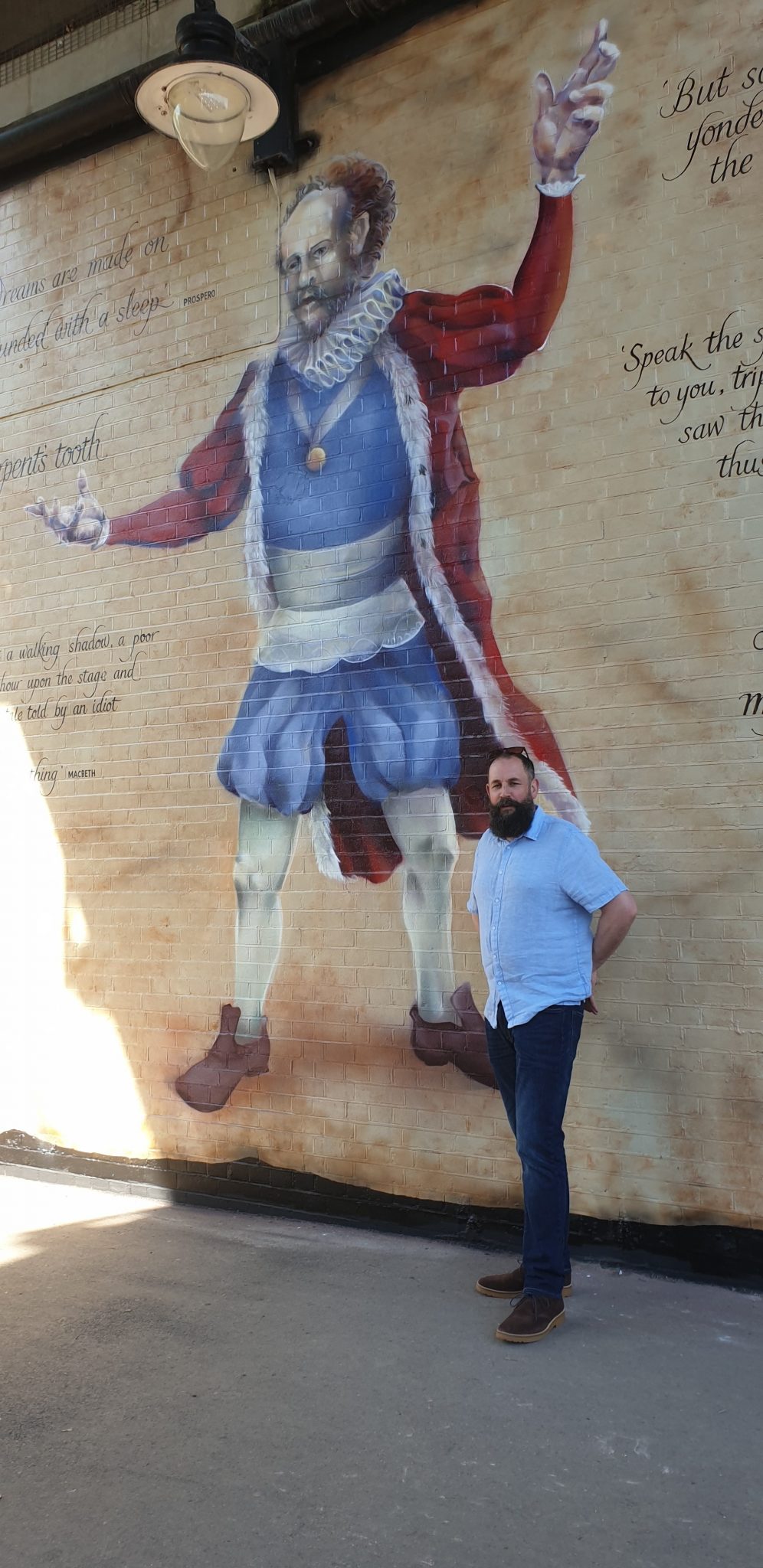 Eddie reports that the response from both the public and the executive team on the southern route has been positive and so he is hoping more money will be made available to create more artworks which act as signage, art and protection for the structures.
As Eddie says: "Not everyone initially sees why you would encourage murals, but, once I show them the sort of work that the likes of Lionel have been doing, they begin to be won over. I make them ask themselves what they want Network Rail to be remembered for, an iconic image or an old, leaky, mossy wall."
And so, as the lockdown begins to ease, Lionel will be picking up his paintbrushes once again and heading back to the railway where he will be painting murals, using his much celebrated typography, at both Eltham and Sutton and will be tackling something a little more funky in Dulwich.