The Scotrail HST, of the type shown above, was on the morning service from Aberdeen to Glasgow. It left at 06:38 with only a few passengers on board.
Early indications are that, south of Carmont, the train was halted by a landslip. The driver made his way to the rear cab and started to return to Aberdeen, going the wrong way on the Up line. At Carmont, the train switched over to the correct Down line.
However, the train then crashed at the site of a second landslip. Several coaches went down the side of the embankment. The driver and two other people were killed and six more required hospital treatment for non-life-threatening injuries.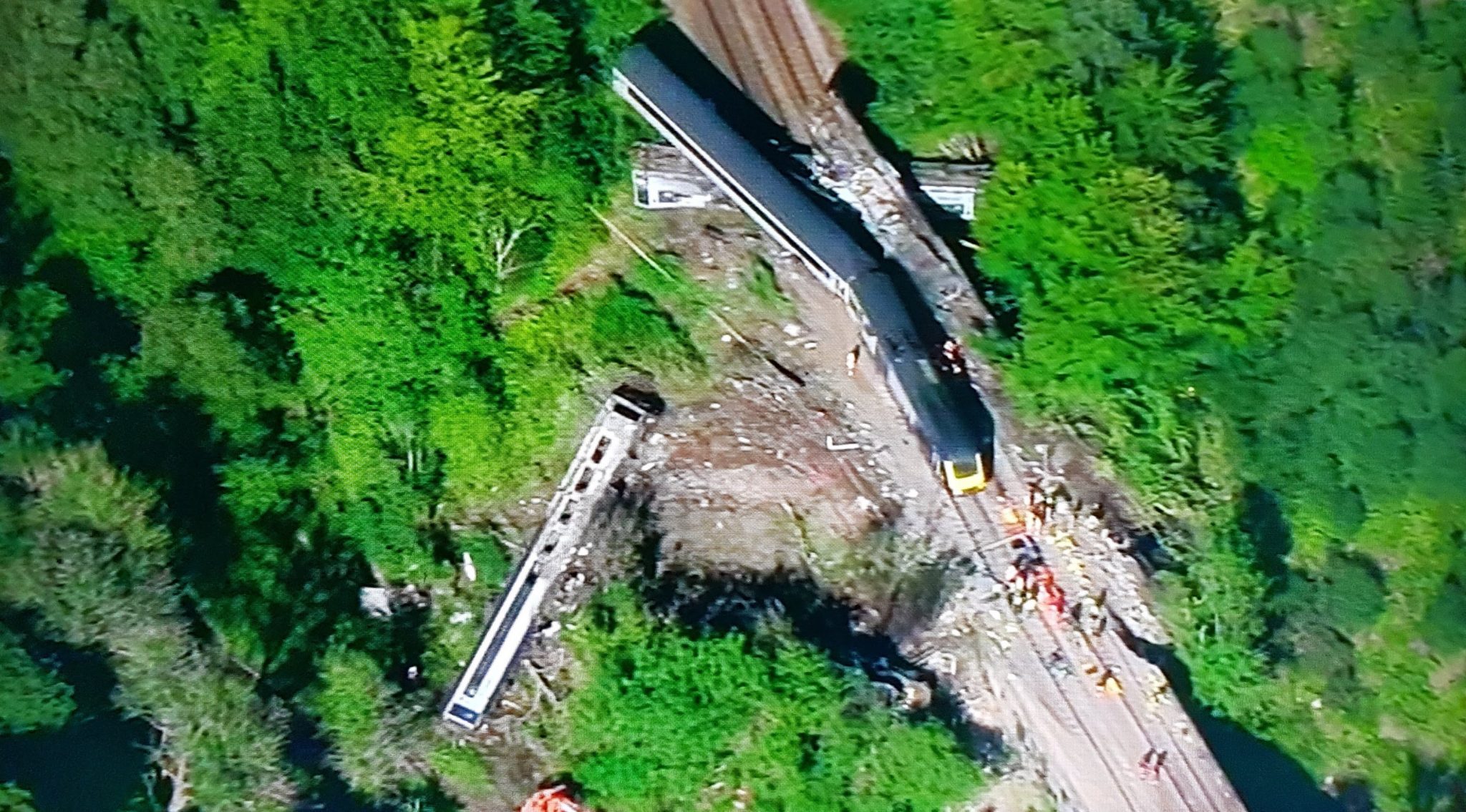 Chief Superintendent Eddie Wylie of the British Transport Police said: "This is a tragic incident and first and foremost our thoughts are with the families and friends of those who have very sadly died this morning.
"We remain on scene alongside our emergency service colleagues, and a major incident operation has been underway. I would like to reassure the public that this was not a busy service, and from CCTV enquiries and witness statements we believe all passengers have been accounted for. However, once the area has been made safe then a full and thorough search will be conducted, which is likely to take some time.
"I know many people will understandably have questions, and we will be working closely alongside the Rail Accident Investigation Branch and the Office of Rail and Road to establish the full circumstances of how the train came to derail."
Alex Hynes, managing director of Scotland's Railway, said: "We are working closely and quickly with the emergency services on the incident near Stonehaven.
"Our thoughts are with those who have been affected by this tragic event, particularly the families of those who have lost their lives. The railway in Scotland is often referred to as a family, and it's one that is hurting today.
"We have teams on site and we will do all we can to support everyone affected. We are working closely with all the relevant authorities to establish the cause of this incident."
HM Chief Inspector of Railways, Ian Prosser CBE, added: "We are saddened by today's incident and our thoughts are with the families and friends of those affected.
"ORR Inspectors are on site at Stonehaven, assisting in the preliminary investigation. We will work with other agencies, including the emergency services, to find out exactly what happened and identify the causes of this tragic incident."