The Rail Freight Group held its annual excellence awards event, albeit online this year, hosted by night John Smith, managing director of GB Railfreight (GBRf), and Simon Coppen of Burges Salmon.
The top award was Business of the Year, won by iPort Rail, with judges praising its outstanding vision for the future of the rail freight sector and for achieving excellence in customer care, environmental standards and innovation.
The judges said: "iPort Rail has spent years planning and investing heavily to build the first inland rail freight terminal to be open and operational for a decade. Now, as well as attracting six daily intermodal services from around the country, it has also proved that medium-distance rail flows are viable. In fact, this business has actually been instrumental in helping some of the rail freight flows cited in other award entries.
"The judges were all impressed by this business taking a vision for the future and then doing everything needed to implement it."
Direct Rail Services (DRS) won the Community and Environmental Responsibility award for its 'Zero Harm' campaign to protect employees, assets and the environment, the company's extensive work within the community, the ground-breaking use of its Class 88 bi-mode locomotives, modifying its Motherwell depot to reduce noise for local neighbours, and its work to help reduce emissions across the rail industry.
Chris Connelly, DRS' managing director, said: "We're absolutely thrilled to be recognised for our community and environmental work. DRS is committed to working within our communities and working to protect the environment.
"We're maximising the use of our excellent Class 88 locomotives, which has cut CO2 emissions by 25 per cent over the last year and produce zero exhaust emissions when running on the overhead lines, and are looking at a variety of ways to reduce our overall carbon footprint. Rail freight produces an average of 76 per cent fewer CO2 emissions when compared to road transport so it is a huge part of helping to protect our environment.
"I could not be prouder of all of my colleagues as this is their award and every single one of them has contributed. This is just the beginning and we will be doing all we can to continue this outstanding work."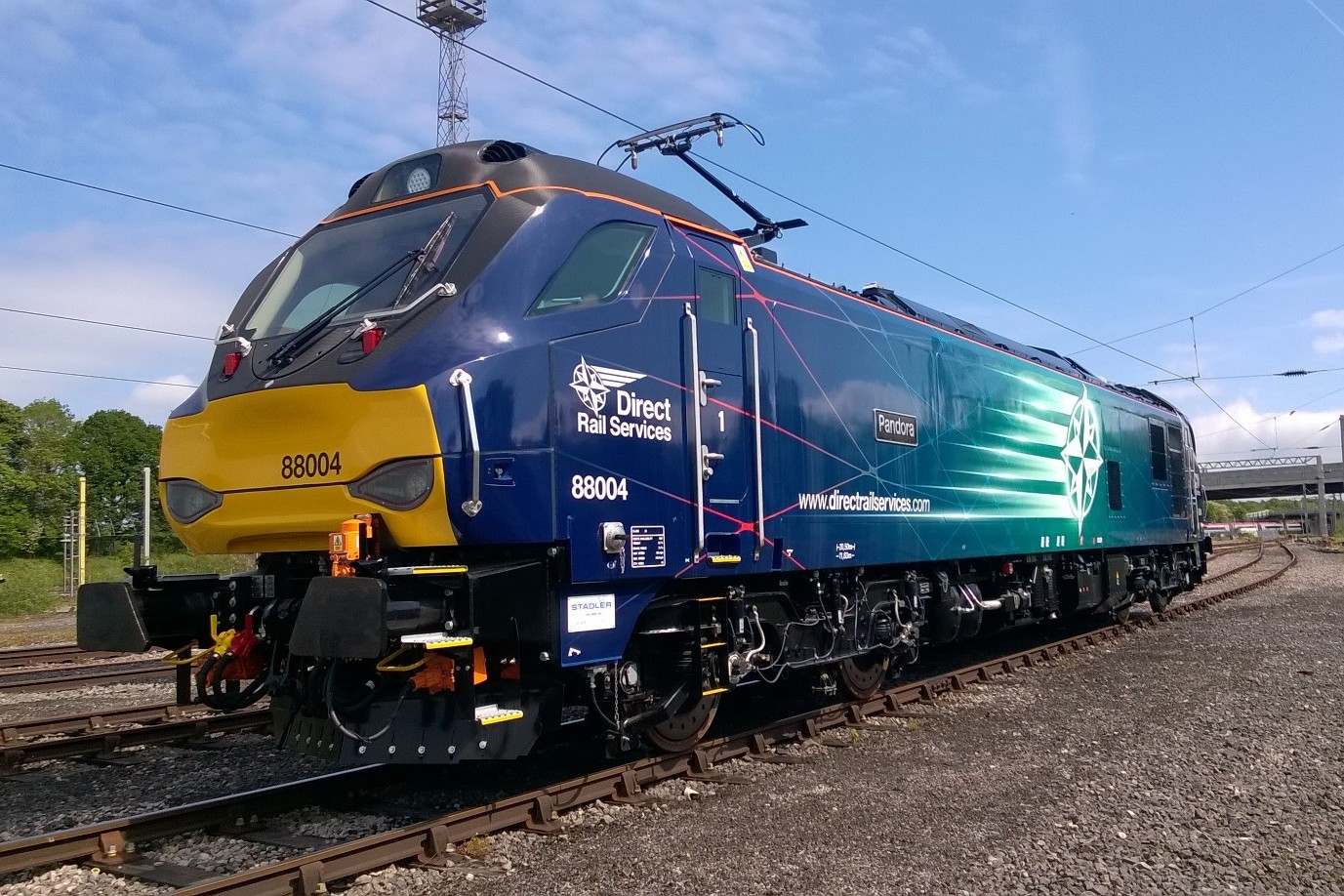 The full list of winners and runners up:
Customer Care
Winner – DB Cargo and Network Rail
Runner Up – Hutchison Ports, Felixstowe
Community & Environmental Responsibility
Winner – Direct Rail Services
Runner-Up – PD Ports
Innovation and Technical Development
Winner – Aggregate Industries
Runner-Up – DB Cargo
Rail Freight Project of the Year
Joint Winner – DC Rail and VTG Rail
Joint Winner – Network Rail and Brett Aggregates
Outstanding Individual Contribution
Hans-Georg Werner, DB Cargo
Young Rail Freight Professional
Winner, Fraser Stirling, Peter D Stirling Ltd
Runners-Up, Matthew Hurrell, Freightliner and Jordan Lynn, DB Cargo
Business of the Year
Winner, iPort Rail.
Despite being only online, nearly £2000 was raised for the Railway Benefit Fund (RBF) through a charity raffle.
Entertainment for these 13th RFG Awards was provided by magician Nick Einhorn, who wowed all the guests with his amazing and completely baffling close-up magic, and successfully doing it online was simply incredible.
Maggie Simpson, RFG director-general, commented on the evening: "With all the challenges we have had since the start of lockdown in March, it can be hard to forget about things that happened 'pre-Covid'.
"Our Awards offer us a chance to look back at all the positive events and developments that took place in the 12 months up to March, and the very real successes that we were seeing in our industry.
"And while that may feel a little bittersweet, I think it is those successes that actually stand our sector in a really good place for recovery and renewed growth. Our resilience, flexibility and adaptability, are the blueprint for our future."