Like many rail-industry events, Rail Week 2020 was threatened by Covid-19. YRP organisers therefore had to turn to the internet…
Rail Week, the brainchild of Young Rail Professionals, is an annual, pan-industry, collaborative effort, aimed at addressing the skills shortage in rail-related roles by educating young people on, and inspiring them to take-up, rail and engineering careers.
YRP successfully launched Rail Week in 2016 and is delighted that it has been a key event in the rail industry calendar every year since.
In October 2019, YRP's Rail Week saw over 30 YRP rail ambassadors collaborate with over 100 organisations from across the rail industry – donating their time and resources to give young people, parents, teachers and careers advisors the opportunity to learn about the brilliant projects, facilities and range of jobs in the rail industry. Events included a public open day at Siemens Mobility's Northam traincare facility, a tour of GTR's Selhurst depot, a Network Rail-led event at King's Cross station, train simulators, demonstrations and a talk on how engineers keep the London Tram system moving, all alongside a series of "Welcome to Rail" events hosted by YRP's regional committees.
In parallel, YRP created a dedicated Rail Week website, brimming with information about routes into rail, railway apprenticeships and how to become a YRP ambassador. There were also interactive educational games, videos and activity packs, made available by our collaborators.
As a result of this immense effort, YRP's Rail Week 2019 reached in excess of 3,500 young people.
Rail Week 2020: Strategy
Accepting of the fact that this year's Rail Week (5 – 11 October 2020) needed to take a different format due to COVID, but nevertheless unfazed by the challenge, YRP encouraged contributors and collaborators to bring the railway to kitchens and living rooms across the UK, by placing fresh emphasis on technology – supporters were encouraged to think along the lines of virtual depot tours, webinars, downloadable activities, engineering insights, Q&As, games and educational videos.
The tagline "Think virtual. Think online. Think live or pre-recorded. Think outside the box." was designed to drive innovation and new ways of bringing learning opportunities to members and other young people.
Due to the uncertainty around COVID, and the lingering hope that there might be a chance of running at least some in-person events, planning commenced much later than other years – stoking the pressure, and desire, to make Rail Week 2020 a success!
And it seemed to pay-off…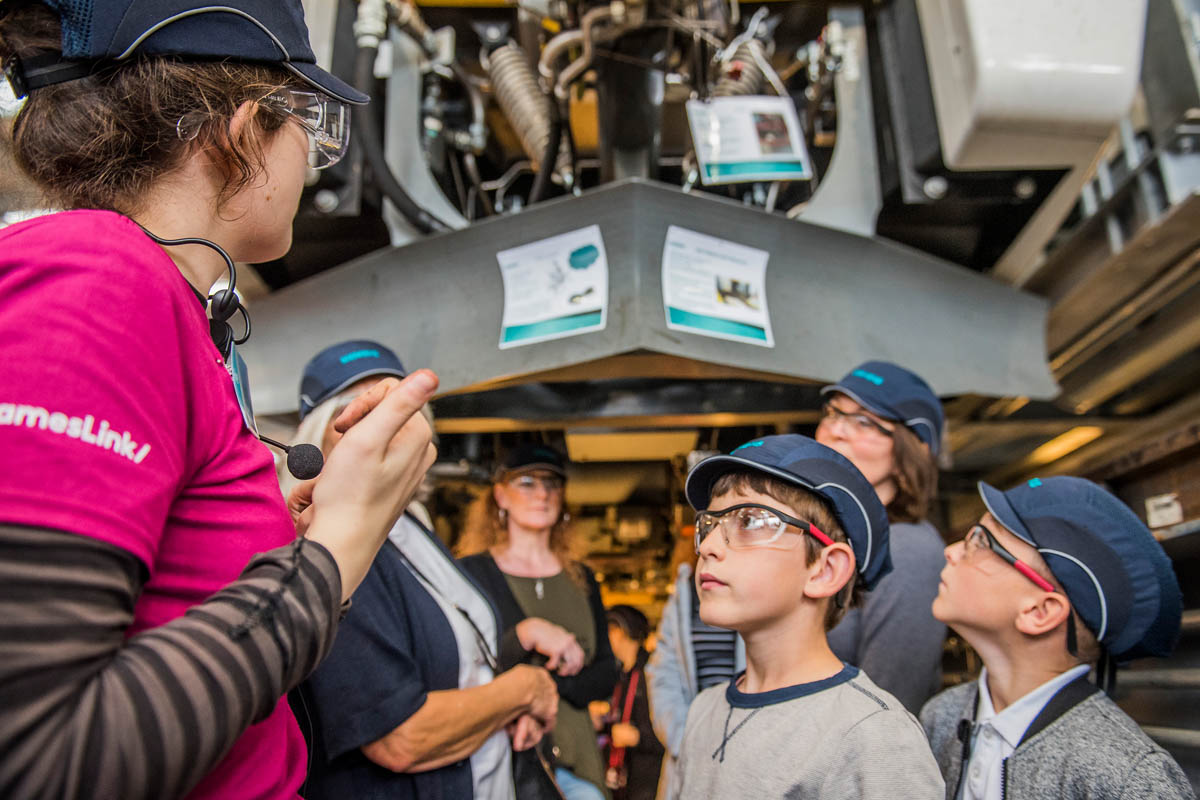 Rail Week 2020: Participants
At the time of writing, Rail Week 2020 was in full flow!
On top of the pre-planned events and activities, Rail Week was receiving incredible support (and, in some cases, spontaneous online event planning) from a whole host of companies and individuals in the UK rail industry.
It's impossible to name everyone, but among those who joined in and showed their amazing support were Network Rail, HS2, Rail Delivery Group, Telent Technology Services, Primary Engineer, STM Group, Systra, 3Squared, SVM Glasgow, Community Rail Lancashire, Xrail Group, We Are Railfans, DB Cargo, Dynamic Group, Freightliner Group, Jacobs, Redstone Rail, Redstone Training, Unipart Rail, Railway Benefit Fund, Exeter College Apprenticeships/GWR, Hitachi Rail, CrossCountry Trains, Sussex STEM and Kent Medway STEM, The National Skills Academy for Rail (NSAR), Women in Rail, Railway Industry Association, All About STEM, Rail Delivery Group, RailFreight.com, RPS, IET on Campus Strathclyde, Solent Stevedores, Hideaway Studios Group – Time-Lapse Systems, Gareth Dennis, Success at School, Ford & Stanley Group and Alstom!
Rail Week 2020: Programme
With the World Wide Web at YRP's fingertips, and with its previous online breakthroughs, the organisers knew there was scope for inventiveness, but nothing prepared them for the variety of events and activities that collaborators and supporters delivered.
To give a flavour, there were daily 'a day in the life of a Network Rail engineer' events; two virtual depot and freight train tours from Freightliner; webinars and panel discussions on equality, diversity and inclusion from Community Rail Lancashire, Jacobs, Railway Industry Association and Women in Rail; a 'routes into rail' discussion and a virtual hackathon with Rail Delivery Group; career insights in the form of podcasts and online case studies with DB Cargo; a session on working in rail and practising your faith (from new Rail Week participant, Muslims in Rail); and resource packs from Success at School, alongside various social media postings, profile contributions, videos and competitions.
A fuller description of the week's activities will be posted on the YRP website in the near future.
Hopes and Thanks
At the time of writing, it was too early to provide any 'hard statistics'.
However, Rail Week 2020 definitely feels like a resounding success – a display of resilience and positivity; a milestone in YRP's digital revitalisation; a revolution (forced upon us by COVID, but bringing benefits for the future) and a demonstration of togetherness within the rail industry family.
With the incredible support of its collaborators, YRP hopes it has:
provided and promoted some useful tools and insights to inform young people better about the roles and people in the rail industry; and
inspired young people to consider, and hopefully pursue, a rail career (with the eventual aim of closing the skills gap).
The organisers want to say a huge thank you to everyone who supported Rail Week 2020; without them, it simply would not have been possible.
Rail Week: What's next?
Rail Week will return in October 2021 (dates TBC).
Hopefully, this year's challenges will be a thing of the past. Equally, having now drawn on the power and potential of the internet and digital tools for this year's Rail Week, YRP is keen to develop a hybrid offering of online and in-person activities during future Rail Weeks.
Want to be involved in Rail Week 2021? Email Isabel[email protected] or [email protected].