Following a huge recovery effort, the central section of the Heart of Wales line has reopened after Storm Francis battered the line near Llandrindod Wells in August, causing multiple landslips and washouts with an estimated 3,000 tonnes of cuttings, embankments and track being damaged while ballast was washed away by flooding – forcing the line to be closed.
Since then, engineers have worked round the clock. They have replaced over 4,500 tonnes of material hauled in by train, restored half a mile of washed out track and ballast and fully reinstated the three landslips.
Network Rail also installed CCTV to monitor water levels, renewed three culverts, half a mile of fencing and over a mile of improved drainage in order to bolster the resilience of the line for future weather events.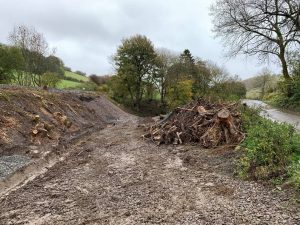 Weeks after Storm Francis caused the central section to close, a freight fire and derailment at Llangennech forced the southern end of the Heart of Wales line to also close. Work continues to recover the site ahead of that section reopening in the new year.
Bill Kelly, Network Rail's Wales route director, said: "I am really proud of our engineers who worked tirelessly to repair the damage and to reopen the Heart of Wales line as quickly as possible.
"They have completed a mammoth task, and we are extremely pleased to reopen the line and to begin serving all of the communities who rely on this route.
"In terms of Llangenech, we are continuing to work with Natural Resources Wales and Alan and Adler, our environmental specialist, to decontaminate the site and to minimise environmental impact."
Alexia Course, rail operations director, Transport for Wales said: "On behalf of everyone at TfW, I'd like to thank our colleagues in Network Rail for their hard work in repairing the Heart of Wales Line between Llandrindod and Craven Arms. The completion of the work has allowed us to reinstate a limited rail service from 2 November.
"I'd also like to thank customers for their patience while services have been disrupted and ask that they continue to check services online. We will continue to provide transport links using replacement buses between Swansea and Llandrindod. Our services in Wales are currently in place for essential journeys only, due to the ongoing 'firebreak' lockdown throughout Wales until Monday 9 November."