Pressure on the government to consider reopening the 'Northern Route' to Plymouth via Okehampton and Tavistock is mounting.
Tavistock Okehampton Reopening Scheme (TORS) is promoting a fully electrified line that will improve access to Plymouth, Exeter and beyond for communities in West, Mid and North Devon and North Cornwall in addition to Exeter and Tavistock, improving access to education and jobs.
The new route will also serve the growing leisure and tourism market and will also improve transport connectivity in Dorset.
By extending existing Waterloo-Exeter trains over the reopened railway to Plymouth, TORS argues that the connectivity and benefits would be higher than any previous proposals. The existing services from Plymouth to Gunnislake and Exeter to Barnstaple would be retained and enhanced, while express bus links to Torrington, Holsworthy, Launceston/Bude and Wadebridge/Padstow from the railway could provide faster public transport links in those areas than ever before.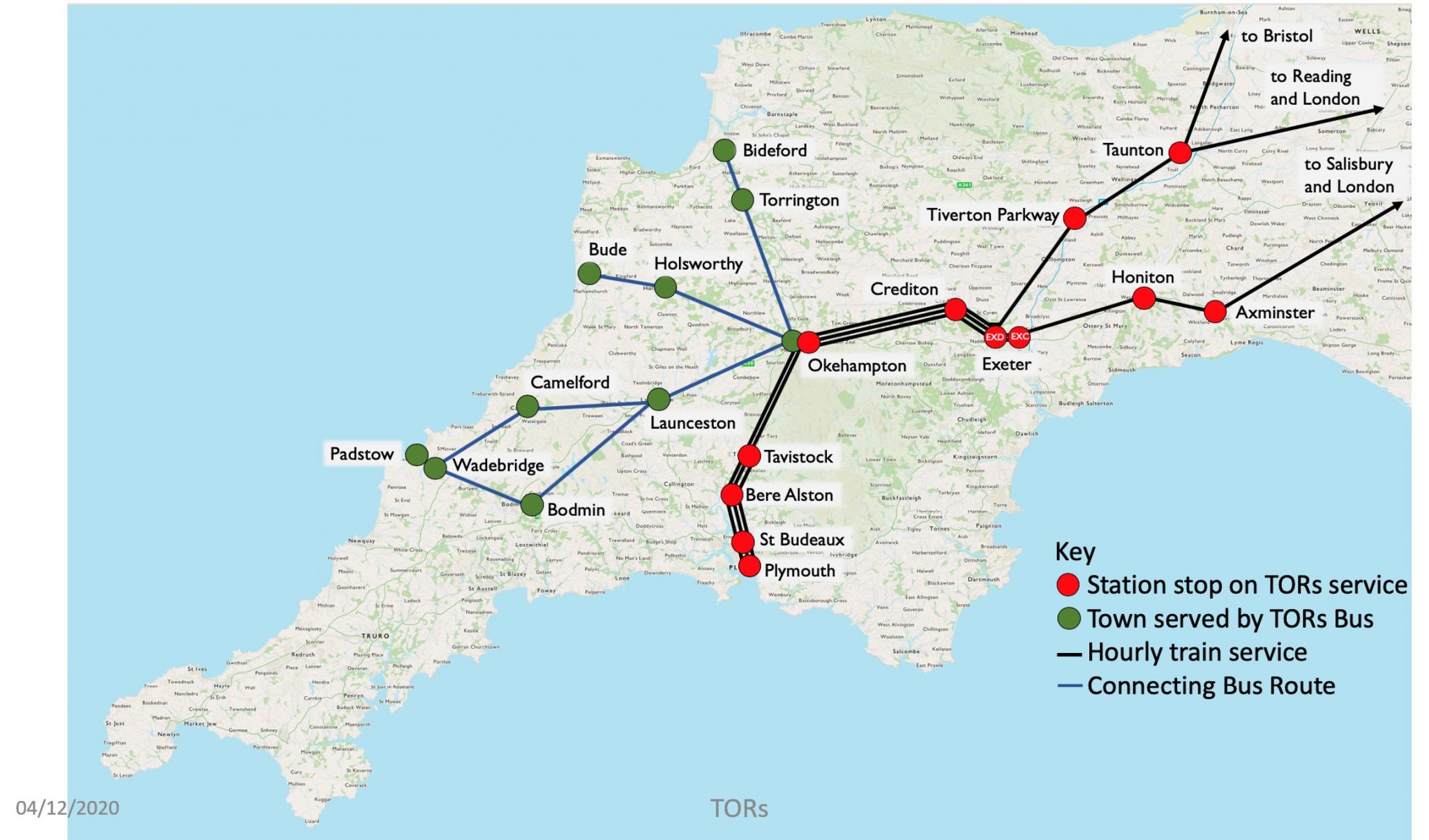 The 'Northern Route', or 'Dartmoor Line' as the section to Okehampton is being formally named, could also act as a diversionary route when the coastal main line via Dawlish is closed by extreme weather or for maintenance. This would also enable longer closures of this route for engineering works to take place, make Network Rail's wider resilience programme cheaper, easier and more effective.
There is also considerable potential, says TORS, for freight trains to take long-distance lorries off the roads by providing an all-weather route. Trains of supermarket products already run to Inverness, and the distances from distribution hubs to Devon and Cornwall mean similar trains could cut lorry miles and reduce carbon emissions in the South West.
TORS envisages that the existing Exeter to Okehampton and Bere Alston to Plymouth railways would be upgraded with double track and in cab signalling, with a rebuilt railway through Dartmoor and Tavistock. The route would be electrified throughout. Costs are still being determined, but TORS expects full reopening and route upgrades to be comparable with or less than other major transport schemes on a cost-per-mile basis. In 2014, Network Rail estimated the cost of a full double-track railway at £875 million, with a 66% contingency.
A two-stop journey time of 65 minutes is achievable on the electrified railway, with non-stop journey times of 59 minutes between Exeter and Plymouth. Journey times from Okehampton to Exeter of 22 minutes, Tavistock to Plymouth of 22 minutes and non-stop of 59 minutes between Plymouth and Exeter will boost a huge area of Devon and Cornwall, improve social inclusion, provide wide-ranging environmental benefits and many new jobs.
Support for the scheme is increasing. "This is a project whose time has come", said Greengauge 21 director Jim Steer: "it's essential to any concept of a resilient national rail network.
"The problem is climate change, and here it's for real. As sea levels rise, this is the most vulnerable rail connection we have. In Italy, along the Mediterranean coast, a new line has already been built inland. We need to do the same for the West Country."
The whole of Cornwall and South and West Devon – a huge part of England – has a single rail connection that is precarious. The railway along the coast (Dawlish-Teignmouth) is at risk from a combination of storms and high tides. The line was closed was for months in 2014, and the South West's economy suffered as a consequence. Climate change is raising sea levels and each year that passes makes disruption of services over this railway more common.
A particularly interesting part of their plans is that the TORS project is looking beyond rail service restoration and forward to designing a new connected public transport system for the area. Jim Steer explained: "Rail's strength is getting into cities without getting snarled in traffic congestion. But across such a large, remote area, and with an improved A30 trunk road, restoring railway branches that will be costly to run makes little sense.
"So, instead, this project is looking to over-turn the real tragedy in England's public transport system: the failure to properly join together rail and bus services with common high standards and a single fares system."
---
FEATURED IMAGE: While beautiful, Network Rail's belief that the Meldon Viaduct would need to be replaced is a major stumbling block for the reopening of the closed section of railway between Okehampton and Tavistock. (Photo: Northern Route Working Group)