New standards in at-seat rail technology have been set as Whoosh, the innovative software creator, launches Real-Time Journey Dashboard which transforms how real-time communication is enhanced at all stages of a train journey.
The established passenger entertainment and contact technology business is shaking up the rail sector with its new QR-enabled at-seat, real-time platform. The Real-Time Journey Dashboard significantly improves the customer journey experience while providing a multitude of train operator benefits including better duty of care, enhanced DDA compliance, and cost-saving and new revenue-earning opportunities while tackling the grumbles of rail travel for operators and passengers alike.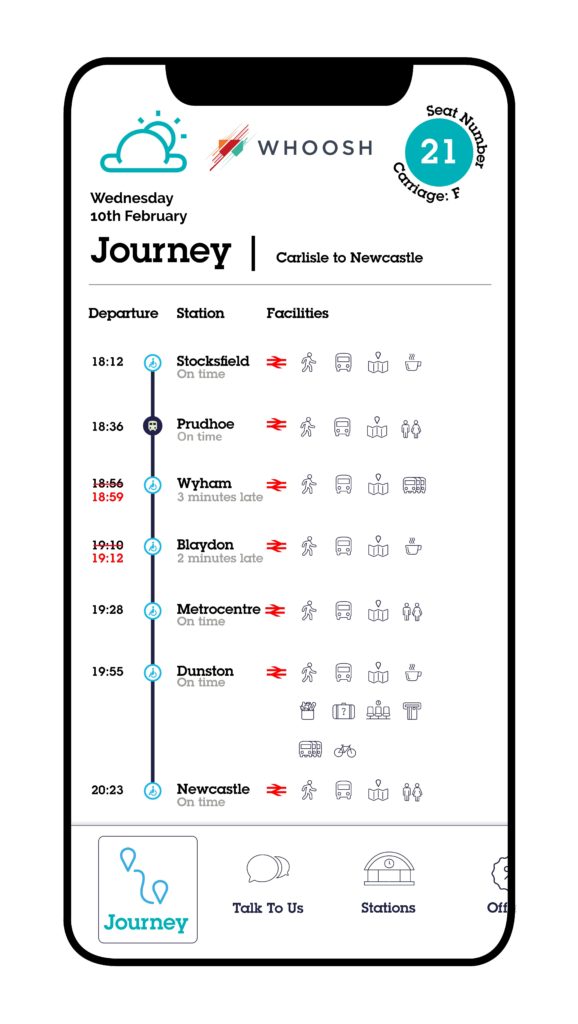 Champions for improving the rail travel experience in the UK and supporting efficiency, Whoosh's Real-Time Journey Dashboard is accessed by scanning a unique at-seat QR code that takes the passenger to the dashboard for bespoke journey information. Packed with service, station and onward journey information, passengers have all they need to ensure a smooth travel experience.
Not reliant on train Wi-Fi, the Real-Time Journey Dashboard also enables two-way communication between the operator and passenger based on the specific service, and the passengers can request specific station assistance or report any issues in the knowledge that they will receive a swift response and resolution. Its open API also means that operators can integrate existing, or future services such as delay repay, at-seat catering, news feeds or onboard entertainment in one simple, user-friendly place.
Edmund Caldecott, Whoosh CEO and founder, said:
"We're incredibly excited to launch the Real-Time Journey Dashboard. The platform will really shake up the rail industry and set the bar for customer support technology. From our roots in developing award-winning, at-seat entertainment, we saw the desire for a real-time information sharing, two-way communication enabling and ultimately stress-reducing platform. We're incredibly passionate about championing the good things about rail travel and working closely with operators to transform the passenger journey experience with the Real-Time Journey Dashboard.
"We've all seen a resurgence of QR use during the pandemic, and once a somewhat sidelined technology has really come into its own. Along with the rich capabilities and real-time information provided, it's the QR element of the Real-Time Journey Dashboard really makes it stand out by enabling bespoke live content access like no other platform."
Whoosh has been developing innovative consumer focused tech for more than a decade. Bespoke trials of the Real-Time Journey Dashboard are currently underway, with talks in place to roll out further with a number of the UK's major train operators.
For more information on the Real-Time Journey Dashboard and Whoosh, visit whooshmedia.co.uk/platforms.  
Featured photo credit: istockphoto.com