Without good communication, getting the safety message across becomes impossible.
In his first safety report of the new year, Colin Wheeler stresses the importance of good communication to make sure everyone is clear about what needs to be done, and how it should be done safely.
In 2021, we are living in a multi-cultural country. Safety-critical communication is of the utmost importance. Delightfully, standard English (whatever that now is!) no longer predominates even in offices – maybe it never did? Consequently, mandating the use of standard English protocols for railway operations, including work on the track, all too easily results in confusion and mistakes are made.
I advocate a return to "reaching a clear mutual understanding". Whether this is achieved in a different mother tongue from standard English or by the mutual use of a local dialect or heavily accented speech need not be a safety issue.
During my many rail working years, I recall learning and subsequently using half a dozen local phrases to describe food brought to work for consumption halfway through the working day (snap, bait etc) and a similar number for those who failed to get out of bed in time to get to work on time. Nonetheless we all understood!
More work for RAIB
How wrong can one be? After the spate of Rail Accident Investigation Branch (RAIB) published reports at the end of 2020, I thought there would be little more to say this early in the year. How wrong I was. Over-speeding, emergency speed restrictions and runaways, not to mention possessions, and level crossings continue to be reported on websites.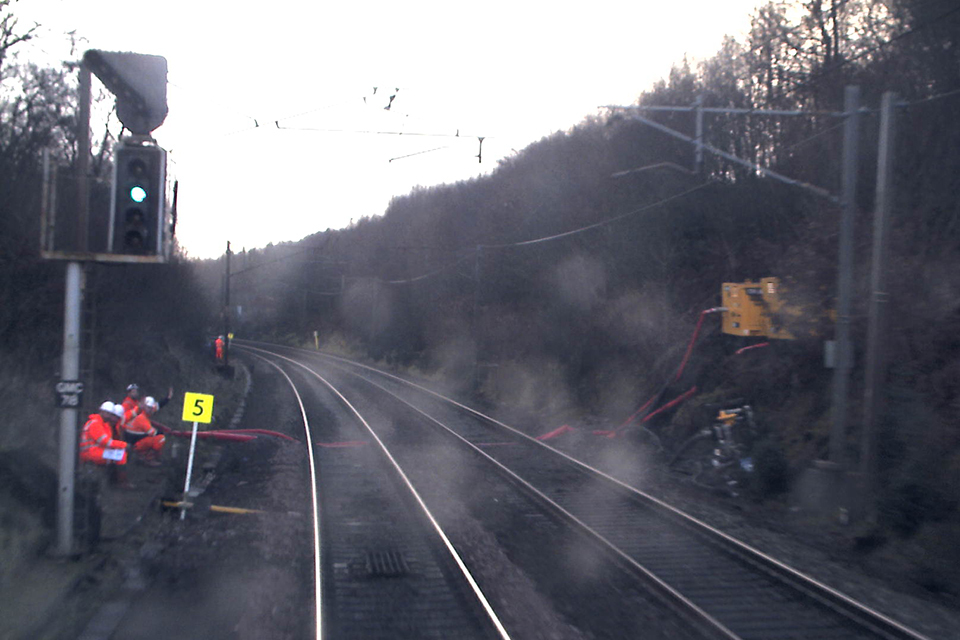 The most disturbing perhaps was the very near miss with a mobile operations manager as a result of vandal-like behaviour by youths.
Over speeding between Laurencekirk and Portlethen, Aberdeenshire
At around 06:35 and again at 07:40 on 4 December, passenger trains passed through an Emergency Speed Restriction (ESR) of 40mph at speeds described as being "up to 100mph".
The first train travelling north was from Dundee to Inverness, whilst the second was travelling south from Inverness to Edinburgh. The ESR's had been imposed as a precautionary measure in case the forecast heavy rain resulted in ground movements that affected track stability.
Neither train driver was aware of the ESRs. Network Rail's signaller noticed how quickly the second train passed through the area. Subsequently, the first over speed was then identified, using electronic train movement records.
RAIB found no evidence of other trains failing to observe the ESRs that day, but, after the second over-speeding, trains were stopped and reminded of the reduced maximum speed before they reached the restricted area. RAIB has indicated that its investigation will consider the processes for advising drivers of ESRs.
I remain of the opinion that all driver cabs should be equipped with the technology that a satnav uses to give warnings when motorway traffic is disrupted by an incident or accident.
Over speeding near Beattock, Dumfries and Galloway
At 12:25 on 20 December, the Glasgow to London Euston passenger train entered a 5mph ESR at 45mph. The ESR had been imposed due to an earlier embankment failure. The RAIB has carried out a preliminary examination and will publish a Safety Digest "in the next few weeks".
"Clear Possession Communications"
This is the title of a timely Safety Bulletin from the Head of Workforce and Delivery (Shared Learning) Safety Scotland issued on 23 December last year. The date of the incident is not given but it happened on the Down Polmont to Grahamston line. The driver of a freight train travelling from Polmont to Carlisle North Yard was authorised by the engineering supervisor (ES) to proceed to a worksite marker board a mile distant and be ready to leave the possession worksite. The marker board was on the approach to the Protection Limit Board and adjacent to the detonator protection.
The report states that "the possession protection arrangements were adequately communicated". However, the driver drove at a speed above the limit permitted within a worksite, failed to stop at the marker board and ran through it and the possession limit board before coming to a stand 20 metres beyond the possession exit and protecting signal. The bulletin sums the incident up stating: "The recognised protocols to facilitate understanding and confirmation of safety critical information were not robustly used by either the engineering supervisor or the driver prior to the incident."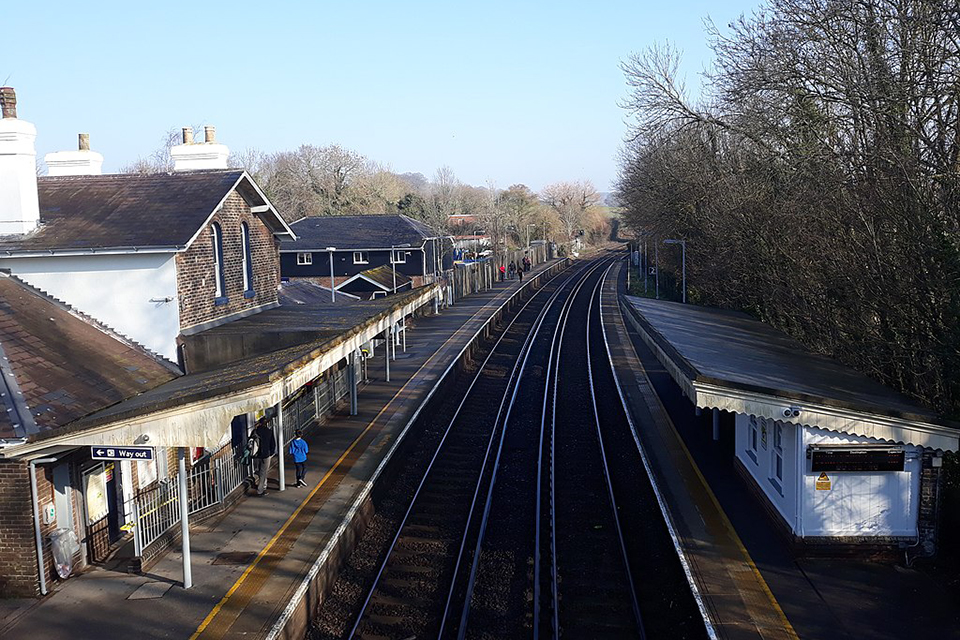 Near miss at Rowlands Castle Hampshire
The lines through all the stations on the Wessex route require a line blockage before anyone goes onto the track, according to Network Rail's Safety Central website.
On 19 December, a mobile operations manager (MOM) was responding to a report of a bag of rubbish having been thrown down onto the line by vandal youths. Rowlands Castle is between Petersfield and Havant. The MOM did not request the stopping of trains or contact the signaller at Havant signalling centre, which controls the area including Rowlands Castle.
Instead, he contacted Petersfield signal box, which controls the adjacent area on the approach to Rowlands Castle, to check whether any trains were approaching. After an unsuccessful attempt to retrieve the bag of rubbish whilst sitting on the platform edge, the MOM jumped down into the four-foot but then saw the lights of an approaching train. He got back onto the platform one second before the train passed.
Both the MOM and the train driver were distressed by the incident, which occurred in the early evening after darkness had fallen at 19:14. RAIB is investigating.
Runaway and derailment at Clitheroe
RAIB's report 16/2020 was published on 23 December last year. At 08:16 on the morning of 9 March, a loaded wagon ran away from a siding at Hanson's cement works. It travelled for three quarters of a mile on falling gradients before being derailed at Horrocksford junction, where the freight-only branch line connects to the main line.
As it ran away, it broke through the works gate and went over a level crossing on a public road where two cars were forced to stop for it!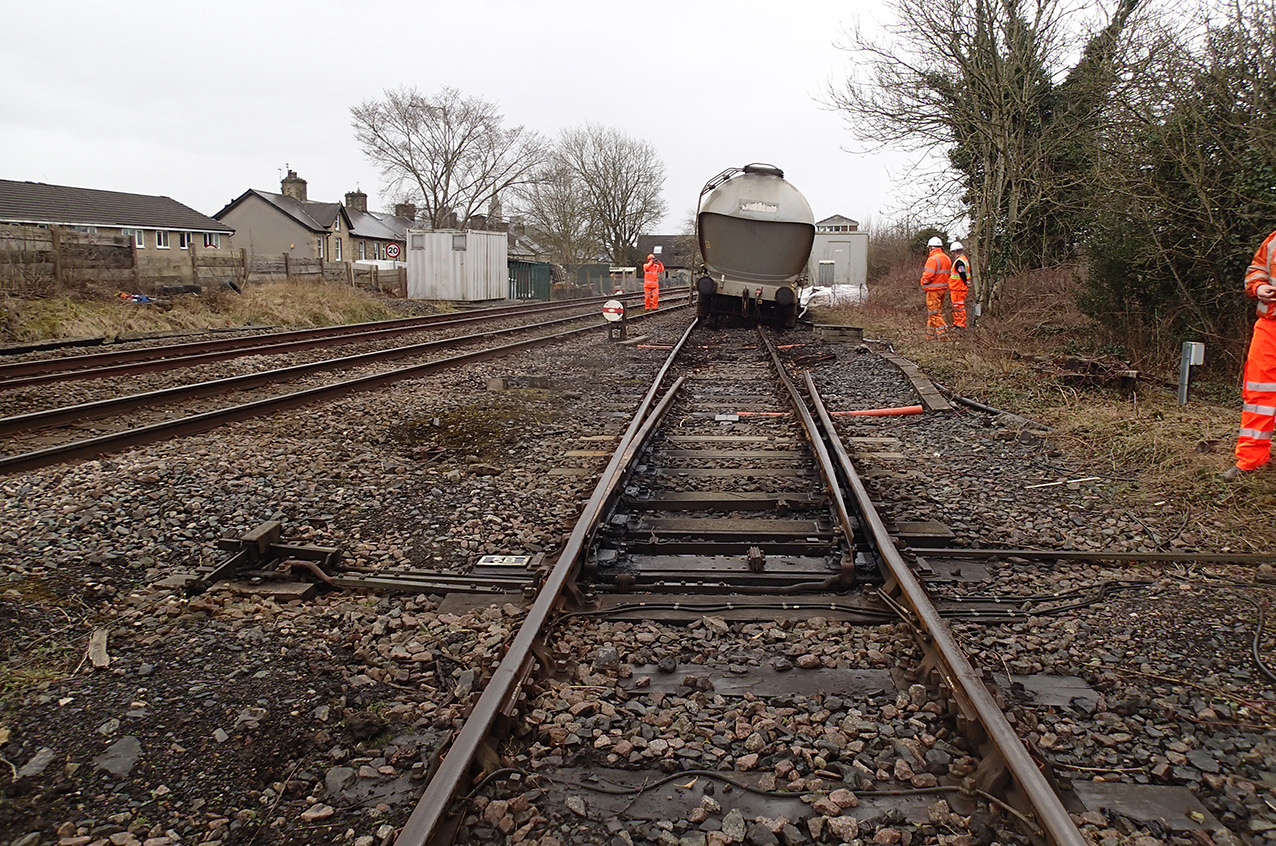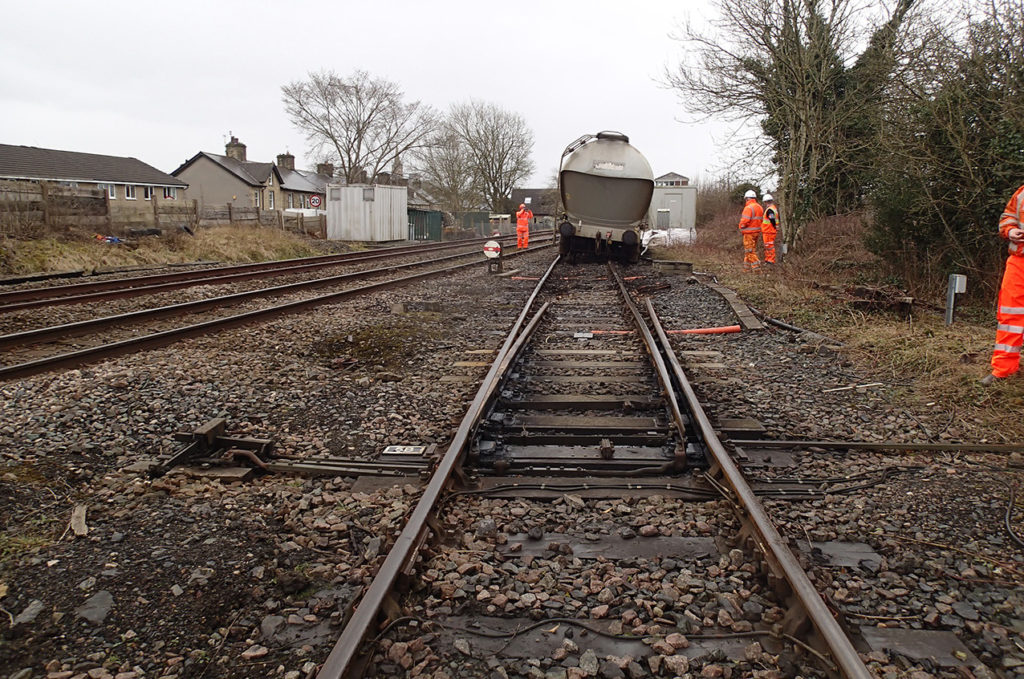 It then crossed over a private road to a chemical works. On reaching Horrocksford junction, it was derailed clear of the main line by the protecting trap points. There were no injuries and little damage to the wagon, but the track was damaged by the derailment.
The wagon handbrake had been applied but was insufficient to hold the loaded wagon on the gradient. The RAIB report says that "staff who stabled the wagon did not know the brakes would not hold the wagon in place". It adds that "over time, the air in the brake system leaked away until the air brake was released".
In the report, both those operating trains at the cement works and Network Rail are criticised.
Runaway at Dereham Station
At 15:52 on the afternoon of 10 December, a rail coach was being off-loaded from a heavy haulage trailer onto the railway at Dereham station on the Mid Norfolk Railway. During the unloading, the vehicle became detached from its winch rope (see picture) and ran away.
It collided with and broke through the crossing gates of the nearby level crossing before coming to rest across a public road. RAIB has indicated that it will be publishing a Safety Digest.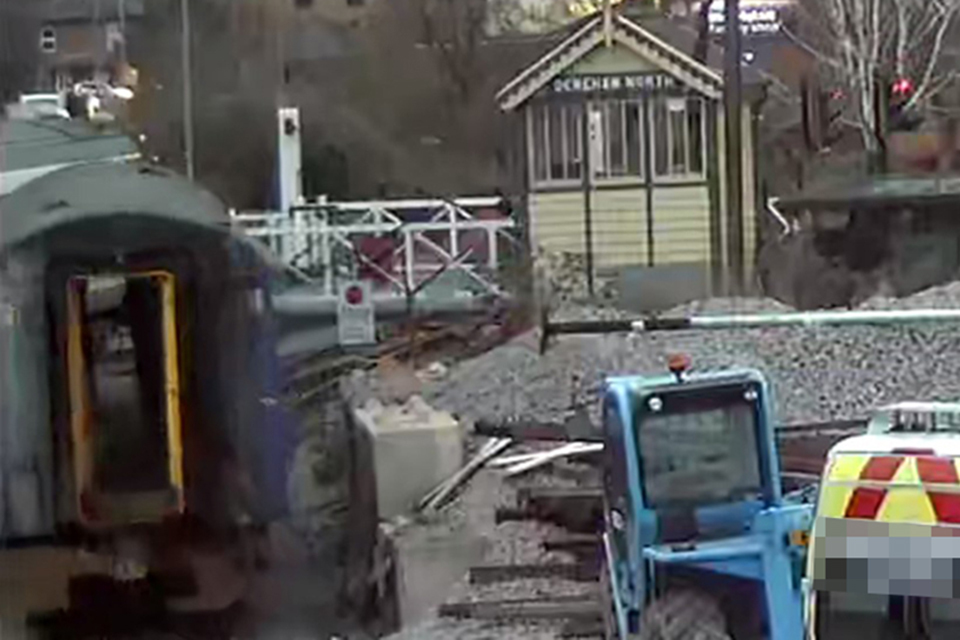 Problems with signalling at Sheffield
The potential consequences of signal testing irregularities can be enormous. I still have my copy of Anthony Hidden QC's Clapham Junction Railway Accident Investigation report dated 27 September 1989.
A Safety Advice available on Network Rail's Safety Central website from 23 December is worrying. Following the derailment at Sheffield on 11 November last year, work was undertaken on 17 November to plain line two sets of points. The issue's Safety Advice says: "Signalling alterations were made which introduced a wrong side failure that could have allowed the signaller to set conflicting moves. The alterations were commissioned, introducing the risk of train collision at the junction, but this was discovered and safely mitigated."
I congratulate those involved on taking the decision to share their experience. Doing so is not only good for ensuring safe signalling it may be seen as a good example of safety awareness.
Drugs and Alcohol – post-incident testing
Also, on Network Rail's Safety Central website, the Health and Wellness team issued advice on post-incident testing on 2 November last year. It states: "A number of recent investigations have raised concerns that post-incident drug and alcohol incident testing is not always taking place when it is required."
The advice adds: "Drug and alcohol tests shall always be undertaken where there are reasonable grounds to suspect that someone is under the influence of drugs and alcohol." It also refers to "testing due to an incident". It is aimed at "accredited contractors".
I suggest that the phrase "the recognised protocols to facilitate understanding and confirmation of safety critical information were not robustly used" in effect identifies one of the current problems. Professional train drivers, engineering supervisors and those who work on our railway focus on doing a good job and I would argue that the best way is to leave them with the responsibility of reaching a clear understanding rather than using forms of words composed by safety professionals sitting in offices.
Unannounced testing and safety audits
Equally worrying is the drugs and alcohol testing advice on Network Rail's Safety Central website. Its implication is that suspicion of being under the influence should be a primary requirement before testing is carried out.
Conversely, I recommend unannounced random checks. I recall my astonishment when an unannounced mass testing was begun without warning on one of my bridge repair worksites. It was early afternoon and a number of contract workers (who I later surmised had spent lunchtime in a nearby hostelry) quite literally made a run for it to avoid being tested.
Unannounced random testing and possession protection audits, carried out at unusual times, have often uncovered poor safety arrangements. Are the Office of Road and Rail and Network Rail doing enough of them?
In some places, regular scheduled mass safety tours are carried out. Equally limited in value are the unannounced safety tours, carried out around midnight. I recall making useful site visits a couple of hours before dawn or a couple of hours after a prearranged safety tour to discover what was actually happening – I recommend it!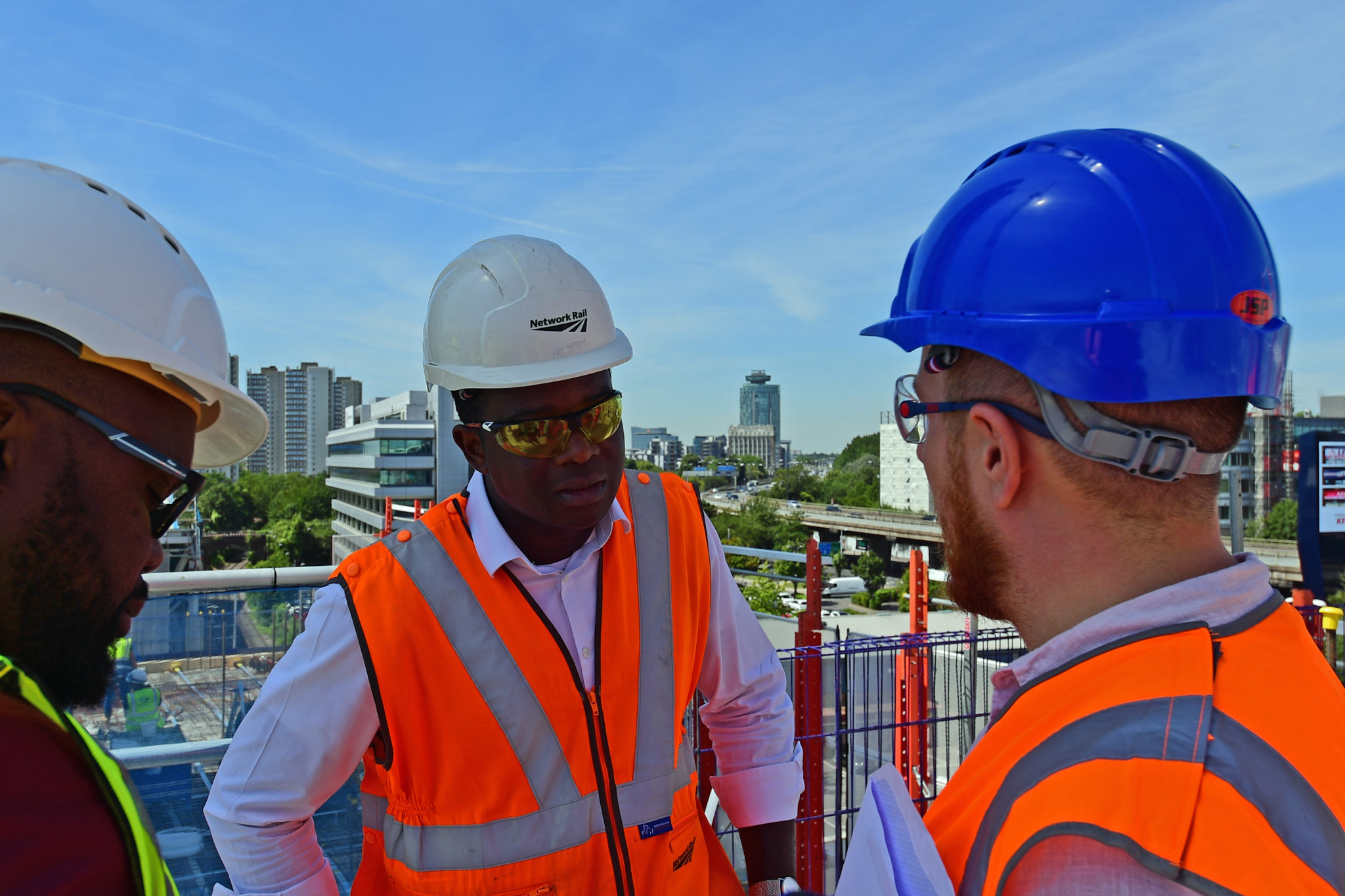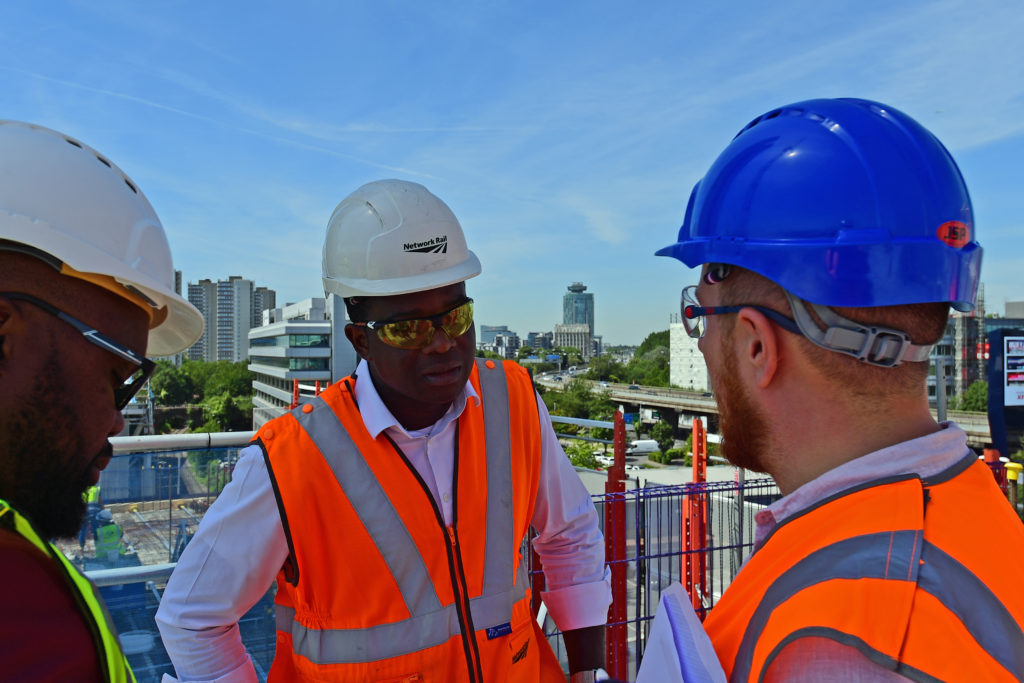 Report by Colin Wheeler