This spring marks the second anniversary of the Million Hour Challenge, encouraging rail staff to come together and donate their time and support TO Samaritans and improving mental health and wellbeing.
The challenges that people face up and down the country have been felt even more acutely over the last year, given the profound impact of the pandemic on the nation's mental health.
Research from Samaritans reveals over a fifth of calls for help to the charity have been related to coronavirus in the past year, although volunteers indicate that the pandemic has affected all callers in some way. This includes the knock-on effects of the pandemic such as social isolation, relationship breakdown, loss of income and other financial worries.
"At Samaritans, listening to our helpline callers, we know that the pandemic has had a huge impact on people's mental health and has magnified many worries they might have faced before, such as finances or loneliness. As we start to look beyond lockdown, the long-term impact is concerning with pressures likely to continue for some time" says Julie Bentley, Samaritans' CEO.
"That's why we're so grateful for the rail industry's support and commitment to Samaritans, to not only help the charity to be there for everyone who needs us, but also in recognising the need to look after the industry's own wellbeing right now too."
After a challenging year for so many, Samaritans is calling on rail industry staff to take part in the Million Hour Challenge.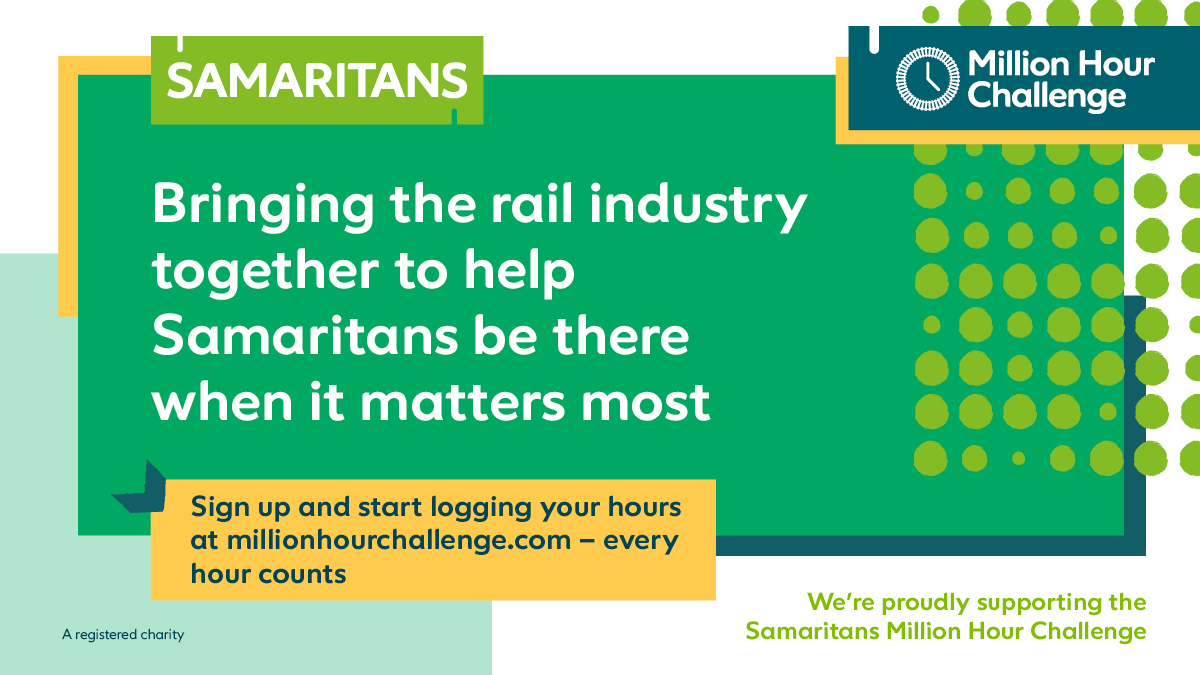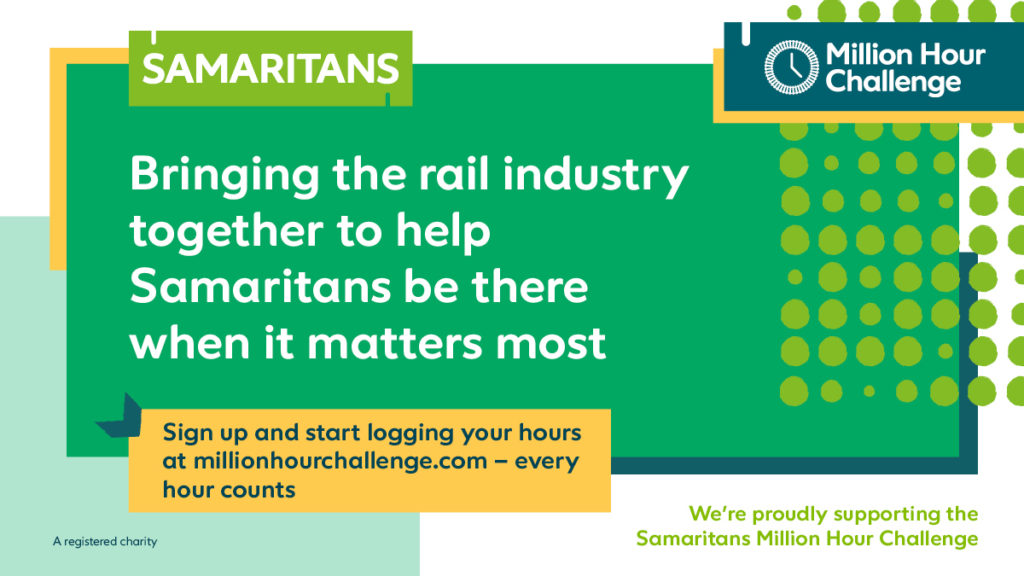 This volunteering initiative builds on Network Rail and the rail industry's partnership with Samaritans to reduce the number of suicides on the railway and support those affected by them.
"The Million Hour Challenge is a great opportunity for the rail industry to make a real difference to those who may be struggling to cope. The past year has seen so many people pushed to their limits, that's why we want to get out and help, so please get involved!" is the rallying cry from Andrew Haines, chief executive of Network Rail.
There are several ways staff can get involved, simply by signing up to the Challenge's website and logging their chosen activity hours contributing to the ambitious one million target. Volunteering options include:
Organising or taking part in fundraising activities – such as Samarathon, a challenge to run, jog or walk a marathon within a month
Organising awareness events or workplace tea events including Brew Monday to support staff's mental health and wellbeing
Sharing and raising awareness of Samaritans' services on social media
Online training including Samaritans' 'Wellbeing in the Workplace' and 'Managing Suicidal Contacts' course
Possible volunteering opportunities with local branches – including training to become a listening volunteer or admin and support roles
Giving Back
Research shows that volunteering and the power of giving back and helping others also has benefits to improving mental health and wellbeing.
In a survey of Network Rail employees who have used their volunteer leave days to volunteer for a charity, over three quarters of respondents said the main reason they decided to volunteer was to benefit the community and a third said to improve their health and wellbeing.
Ian Prosser, HM Chief Inspector of Railways, ORR said "I've seen and felt the impact of suicide on a personal level and understand the importance of the work the Samaritans does. We launched the Million Hour Challenge to support the industry's long-standing partnership with the charity, whose care and support is vital. Over the last few years, this has benefitted the health and wellbeing of our staff by volunteering their time to undertake training, fundraising or listening and help Samaritans with increasing demand for their services."
The Million Hour Challenge is open to the entire rail industry and to date 30 rail partner organisations have pledged their support with an opportunity for around 165,000 of their staff to support Samaritans' efforts.
Find out more and sign up to begin logging hours at: www.millionhourchallenge.com