As part of National Apprenticeship Week 2022 (7-13 February), Transport for London (TfL) is showcasing the range of apprenticeship opportunities on offer across the organisation and its supply chain.
TfL's award-winning apprenticeship programme supports people of all ages, helping them to learn new skills for a future career whilst in employment. Starting from September, 143 apprenticeships are available across the organisation with a further 25 to start in January 2023. Applicants can choose from a range of roles including 74 apprenticeships across various disciplines in London Underground, 19 positions in IT and software development and 15 roles in project management in TfL's major projects.
These range from Apprenticeship Levels 2 to 6, with a Level 2 apprenticeship being the equivalent of 5 GCSEs, while those on a Level 6 apprenticeship would earn a degree while gaining invaluable work experience.
In the past 13 years, around 10,000 apprentices have been taken on by TfL, through its supply chain or through the London Transport Museum and Crossrail. All of whom have gained experience and new skills while working on a vast range of projects which help shape London including the Elizabeth line, major road improvements and communication systems for staff working on London Underground.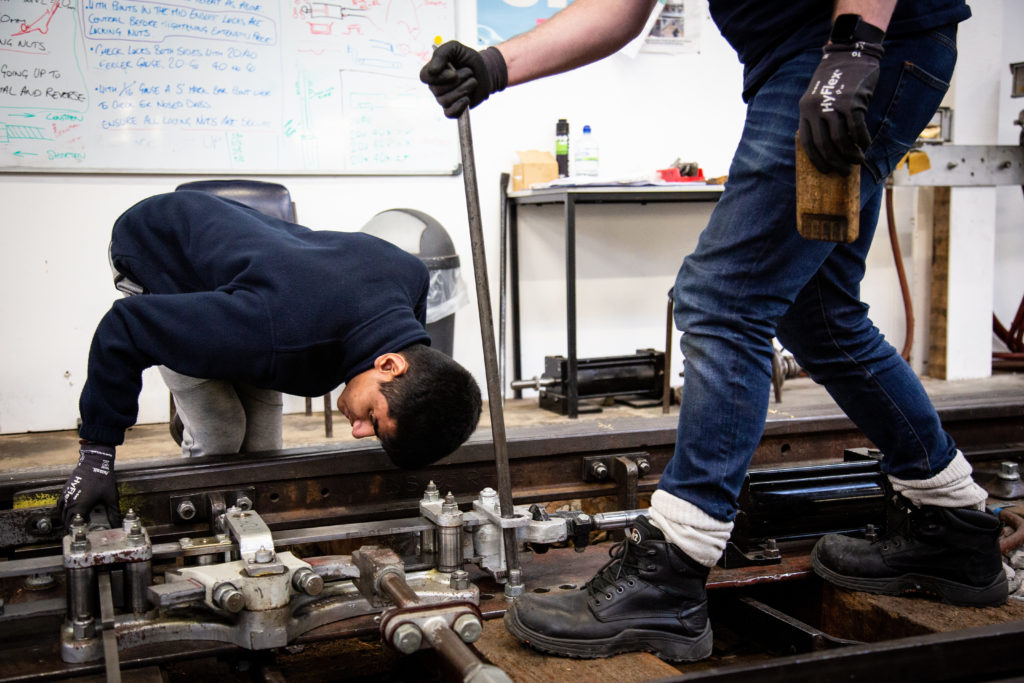 TfL is committed to improving diversity across the transport industry and is working to bring more women and people from ethnic minority backgrounds into roles at all levels. In recent years TfL has worked to introduce more women into STEM careers. Through its work to encourage women to consider engineering roles, TfL has taken its Level 3 Engineering Apprenticeship scheme from no representation of women in 2018 to 27 per cent in 2021. Furthermore, the London Underground Fleet Engineering Level 3 apprenticeship achieved gender parity for the first time in 2021. By bringing a variety of people into transport, TfL is helping to future-proof the wider industry, encouraging fresh thinking, and making it more sustainable in the long term.
Speaking of his experience, Kieran Prashar, Third Year General Management Apprentice, TfL said: "Apprenticeships are a great way to get professional experience while still learning. You get to see different areas of the business that you didn't even know existed.
"I'd advise anyone applying to have an open mind. You're going to be doing things you've never done before – things that are completely new to you – but you're working with experts in their field. You'll come across lots of new and interesting challenges so it's good to be adaptable.
Sophie Rand, Commercial Development Apprentice, TfL said: "Joining TfL on the Commercial Property Degree Apprenticeship Scheme has involved managing my own arches and lettings portfolio, involvement in Asset strategy and projects to help the organisation use more use more digital ways to get better results. I feel this is providing me with the highest level surveyor experience whilst learning and still shaping the future of London.
"The opportunity to undertake a Bachelor's degree in Real Estate, studying towards the completion of the Assessment of Professional Competence (APC) in becoming a Chartered Surveyor and working for an organisation like TfL is a great opportunity. While being at TfL I am seeing first-hand how it is an inclusive working environment which is rightly recognised for supporting their employees. I feel supported and as much part of the team as my colleagues so I believe it is a great place to be an apprentice and start your property career".
Nina Honey, TfL Apprentice currently working on the Elizabeth line, said: "I've always had an interest in rail and growing up next to the Central line a job at TfL was always something I'd considered. I enjoy practical, hands-on work and my role working with maintenance and fault technicians on the Elizabeth line provides me with a way to learn that I enjoy.
"In the future I want to gain all the competencies I need to be a full technician, and further on from that I want to apply for more senior positions in this field, eventually becoming a principal or senior technician. I encourage anyone who applies to go for any opportunity that arises – make the most of your placements and gather as much knowledge as you can"
The apprenticeship and training programmes on offer with TfL and its wider supply chain are testament to the investment in London's transport and the global economic benefits of TfL's supply chain. Following a particularly difficult two years, TfL is proud to continue working with companies across the UK and internationally to keep the capital's transport network running as smoothly as possible. TfL continues to be uniquely placed as the major transport provider for the nation's capital to help continue the UK recovery, in line with Government's direction for a more sustainable city.
Tricia Wright, Chief People Officer at TfL said: "Apprenticeships are a fantastic way for people to earn while they learn the skills necessary for future careers. I'm proud to say that our apprenticeship programme has seen hundreds turn their passions into lifelong careers and that many are continuing to bring fresh thinking to help us and our partners here in London, and across the country, find new ways of working. Apprenticeships aren't just for school leavers but anyone looking to learn new skills in their chosen industry and I encourage anyone looking to see how they can help shape the city to work with us and be part of the UK's future."
As well as apprenticeships, TfL has a successful Construction Skills programme which, in partnership with Skills Centre and the London Legacy Development Corporation (LLDC), has helped more than 900 people from all walks of life learn new skills so they can find new careers in the construction industry including carpentry, surveying and construction management. Many of those trained through the programme are from ethnic minority backgrounds and a growing number of women are being trained and going on to have successful careers across London and further afield. These trainees are not only helping to build London, but also improving diversity within the built environment industry and showing that there are jobs in construction for everyone.
TfL's supplier skills programme also looks to connect existing and future apprentices with roles across its UK-wide supply chain, helping people looking for an apprenticeship potential role among companies in all corners of the country as well as London. By doing so, apprentices not only gain the vital skills needed to keep transport running but also can help support a wider economic recovery right across the UK.
Photo credit: TfL