There have been a number of successful prosecutions recently, resulting in big fines and legal costs far exceeding the expense which would have been incurred by ensuring the safety of the working environment. I have been shocked and dismayed to read the details. The time delay between the accidents and the court trials is also a real concern.
Crushed worker permanently disabled
One accident happened back on 19 September 2018, on a 19-mile stretch of track between Crewe and Chester. A worker was crushed between the conveyor of a 25 tonne 'Superboss' ballast distributor and a Kubota people carrier. The injured worker suffered life changing catastrophic injuries to both his legs and spine. He has lost 12cm of bone in his left leg and 4cm from his right. Tendons and nerves in his right leg were irreparably damaged resulting in permanent disability. A second worker suffered minor injuries to his wrist and shoulder.
The prosecution following an investigation by the Office of Rail and Road (ORR) was under the Health and Safety at Work Act 1974. Network Rail pleaded guilty on 11 May in Chester Magistrate's Court and was fined £1.4 Million. ORR found failings in Network Rail's management of the worksite, poor planning, inadequate supervision, poor communication at all levels and a "failure to provide adequate information, instructions and training to safety critical staff".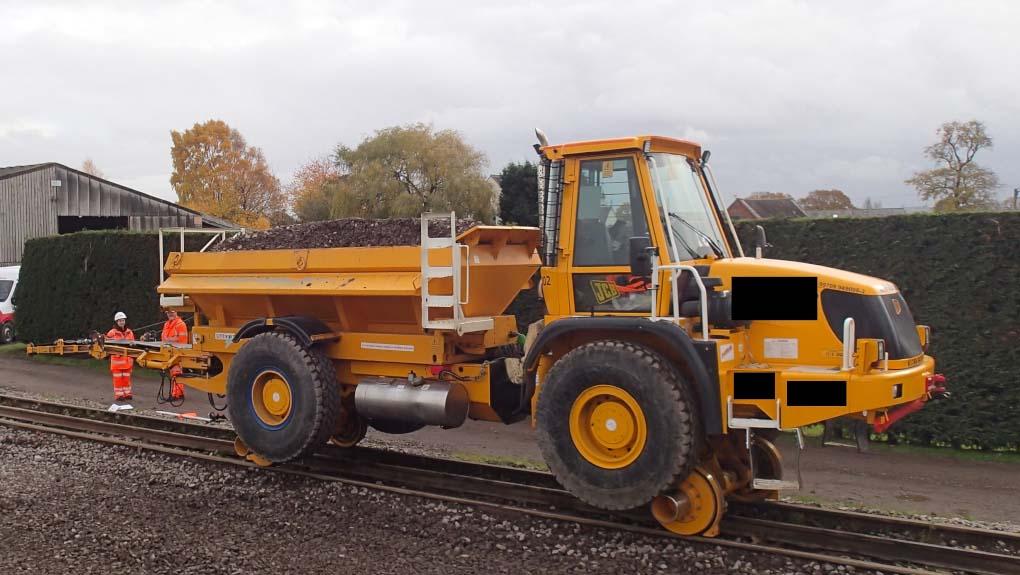 Following the judgement by District Judge Sanders, Ian Prosser, chief inspector of railways at ORR commented that: "The incident was caused by totally inadequate supervision of tasks at all levels. Nobody was making sure that those under supervision had been following safe working practices, which led to this incident that could easily have been avoided."
Burnt out substation at Godington
On Wednesday 14 April Network Rail was fined £696,666 and ordered to pay costs of £33,647.45 at Folkestone Magistrates Court. ORR's investigation of this accident found that the condition of the DC Substation at Godington that burnt out was well known and unsafe.
Network Rail failed to prevent water from leaking in and dehumidifiers had not been maintained. The temperature inside was described as being "like a sauna". The result was an electric arc resulting in a fire while Network Rail staff were working inside the substation on 20 December 2018. One employee was seriously injured, receiving third degree burns.
After the judgement, Ian Prosser, HM Chief Inspector of Railways at the ORR, commented that: "Network Rail knew of the water leak at God Minton for nine months and, despite the concerns raised by staff and contractors, the required work was repeatedly delayed. This was a known risk and the failure to deal with it effectively led to staff working in unsafe conditions resulting in serious injuries to one employee."
Trench collapse at Stoke-on-Trent
Another prosecution brought by the ORR was heard at Stoke-on-Trent Crown Court. Volker Rail was fined £550,000 after pleading guilty to an offence under the Health and Safety at Work Act 1974 and was ordered to pay costs of £85,415.94.
The accident happened on 6 July 2014 when the contractor's employee was working in a trench near to Stafford Station. The unsupported wall of the trench collapsed, burying the worker who suffered injuries including a broken pelvis and broken ribs. He underwent surgery on his pelvis, stomach, and lungs. By 2021 he was still in pain and no longer able to work full time.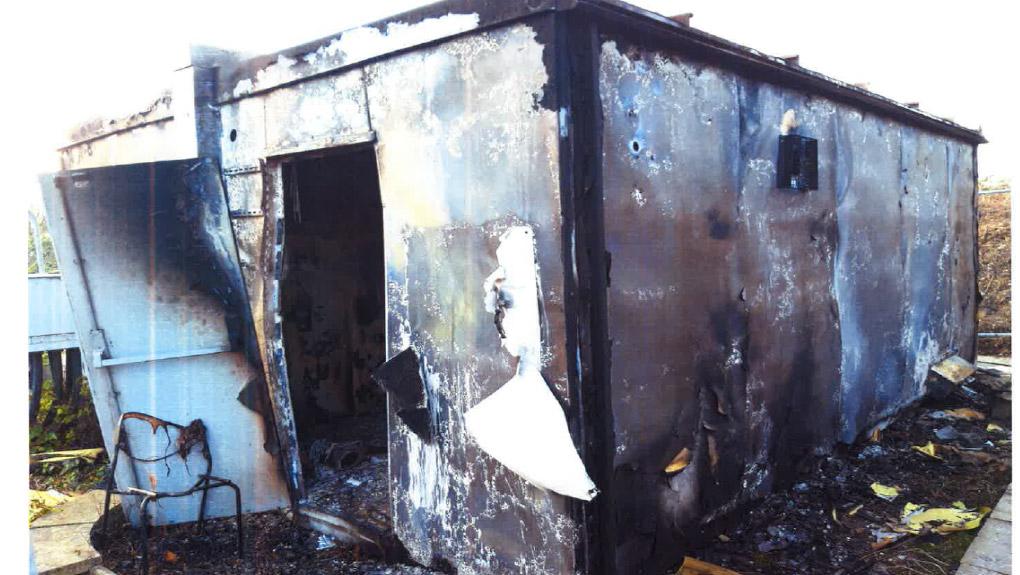 The ORR investigation found that the construction team were not adequately briefed and were not following their own methods. Poor management meant that failings were not corrected and complaints were not fully acted upon. In his remarks at Crown Court, Judge Smith said trench supports had been delivered to site but were not used, and proper consideration was never given to the use of temporary works. He also said that concerns were raised during the work and, while some steps were taken following these concerns, the methodology was not fully adopted.
MEWP runs away with valve open
Given the importance of gaining acceptance of the findings of Rail Accident Investigation Branch (RAIB) investigation, the year-long gap between the accident at Belle Isle in north London on 16 May last year and the publication of their report 04/2022 this May is perhaps acceptable. At around 03:30 a road/rail vehicle (mobile elevated work platform or MEWP) ran away while being on-tracked at a road/rail access point. The machine travelled for 600 metres before coming to rest in a tunnel. The brakes failed to work because a valve in the braking system had been left open following maintenance of the machine.
The report states that the possibility of the valve being left open had not been recognised during a risk assessment of the braking system, nor during operation and regular in-service testing. No damage was caused and nobody was injured. The area was under possession for maintenance work at the time and no train services were running in the vicinity of the runaway. Braking system maintenance was carried out on 2 March including the monthly braking test. A further brake test was done on 8 April but the early May brake test had not been done. Between 2 March and the incident, the steepest gradient on which the machine had been used was 1 in 99.
Test before touch on the OLE
On 9 May, Network Rail's own safety website, Safety Central, issued a "safety bulletin", titled "Test before touch on the OLE", following an incident at Wolverton in the early hours of 14 May 2021. Track renewal contractors were working on a Network Rail managed worksite, checking and adjusting the overhead line electrification (OLE) infrastructure so that a temporary speed restriction could be lifted. A work group using a MEWP unknowingly strayed outside the area of the isolation. A lineperson touched the live OLE when using a tool to take a measurement and received burns from an electric shock of up to 25 kV. The bulletin repeats the "test before touch life saving rule" to be implemented whenever anyone works less than 600mm from the OLE.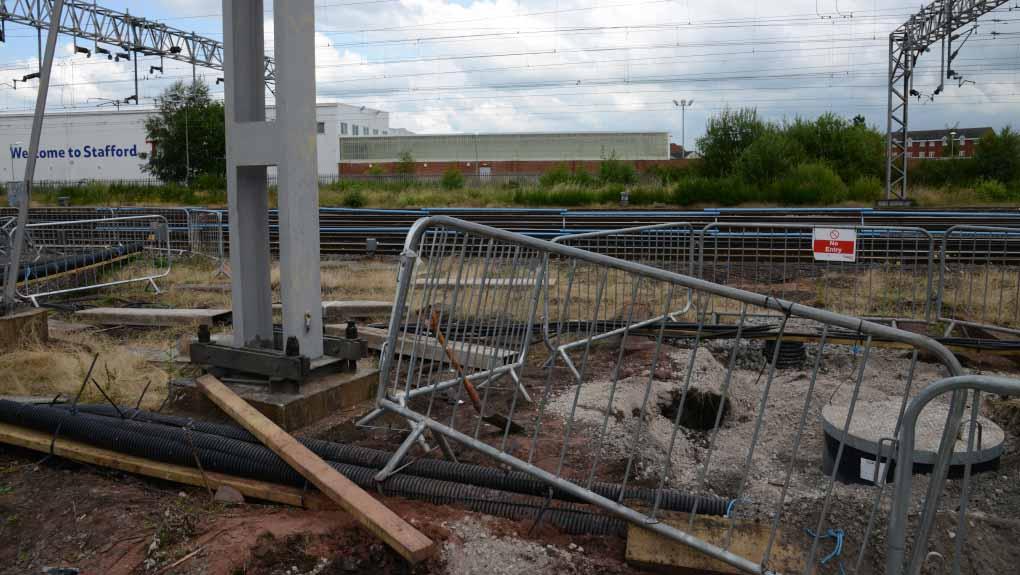 Safety barriers with gaps
On 11 May, Safety Central issued a safety advice about rigid worksite fencing used to protect workers, relating to a fatality that occurred on 8 April 2021. Network Rail's own investigation found that the safety barriers were not put up correctly. The barriers had gaps, "more than required for safety refuges which meant workers could get onto the running lines too easily". The track worker was walking between two of these gaps when he was struck by a train.
Track worker hit by underground train
At 09:31 on Friday 15 April this year, a London Underground track worker was struck by a train near Chalfont and Latimer Station sustaining injuries requiring hospital treatment. The train was a Metropolitan Line Underground service travelling between Baker Street and Chesham. It was travelling at 25mph on track used by trains running in both directions. The maximum permitted speed is 35mph and at the location of the accident there are also two other lines.
The injured track worker was one of a group of three undertaking a scheduled track inspection. The work had been planned to take place whilst the lines were open to rail traffic, "with a system in place intended to keep staff away from moving trains".
RAIB says its "investigation will identify the actions of those involved, the planned system of work, the management and competence of track workers, and any underlying factors."
Passengers thrown from their seats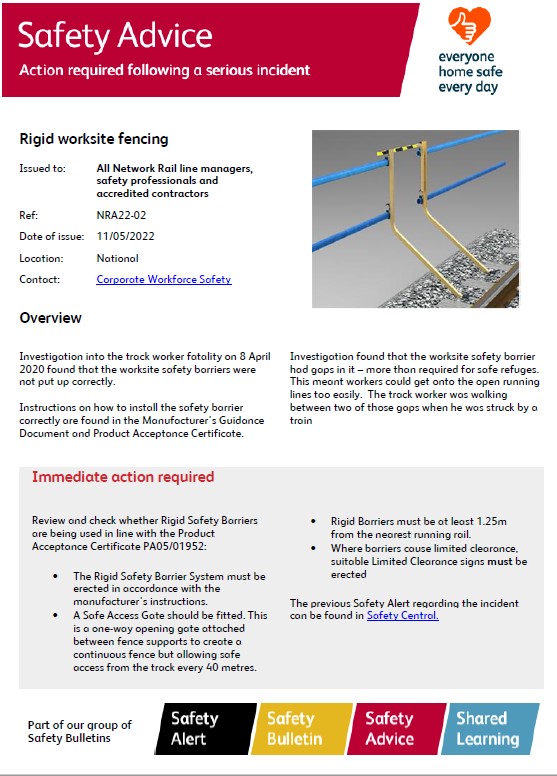 On 11 May, Network Rail announced its investigation of an over speeding incident that occurred at Peterborough Station on 17 April. At around 10:20, the 08:20 Newcastle to Kings Cross Lumo train service passed over three sets of points at the north end of the station at 75mph. The maximum permitted speed for the points is just 25mph. The train suddenly lurched sideways as a result. Some passengers were thrown from their seats and luggage fell from the overhead storage areas. Minor injuries were sustained by passengers. The train came to a stand at the far end of the station and was not derailed.
The train was not due to call at Peterborough and had approached the station on a fast line before being routed onto a slower line via the points where the overspeed occurred. The route onto the slower line was being displayed on the signal at the approach to the points.
RAIB's investigation will consider how the train was driven, factors influencing its driver, condition of the signalling at the time, reported injuries, and underlying management factors.
Responsibility and accountability
I recall the early days of the 1974 Health and Safety at Work Act when responsible managers and supervisors were classified as being safety critical staff who could, should an accident occur, be held personally responsible for their actions. I recall uncomfortable interviews were carried out by local inspectors from Her Majesty's Railway Inspectorate that could result in personal prosecutions. Even at headquarters levels the need for professional indemnity insurance was discussed.
Nowadays, companies who operate, maintain, and renew our railways, including Network Rail are prosecuted, rather than individuals. Is the current process the best way forward? As the format for the Great British Railways of the future is developed, I recommend a review of the underlying responsibilities and accountabilities. The total fines referred to in this article amount to £2,646,666 plus costs being paid by Network Rail and a contractor. Would the prosecution of responsible individuals be more effective? Presumably, when budgeting, organisations are including financial provision for the payment of fines!