Malcolm Dobell
We caught up with TfL's Howard Smith, to discuss the challenges of completing the Crossrail project and managing the
Elizabeth line.
Much has been written about Crossrail, both before and after being named 'the Elizabeth line'. There was much praise for the civil engineering construction work but much criticism of the delays and budget overruns. All this was mostly forgiven on the day the line opened in May 2022 and since then it has introduced through trains to all destinations together with a peak service of 24 trains per hour in the central section. Daily ridership has been up to 700,000 and even in the August holiday season is around 600,000 – ahead of forecasts. So said Howard Smith OBE, TfL's Director of the Elizabeth line during a wide-ranging discussion in August 2023.
Route to success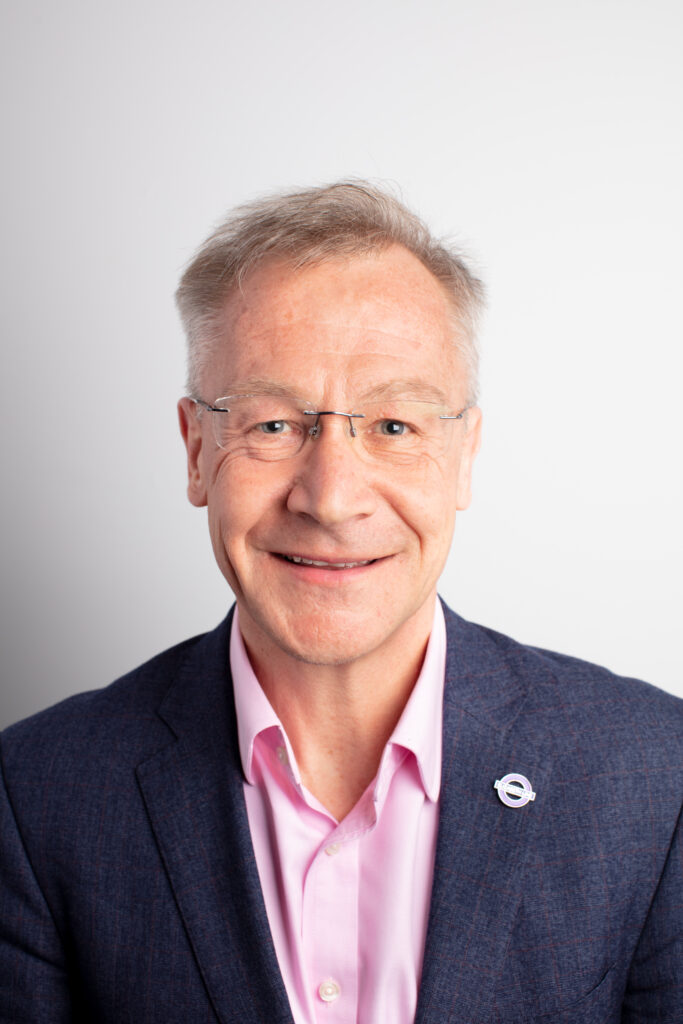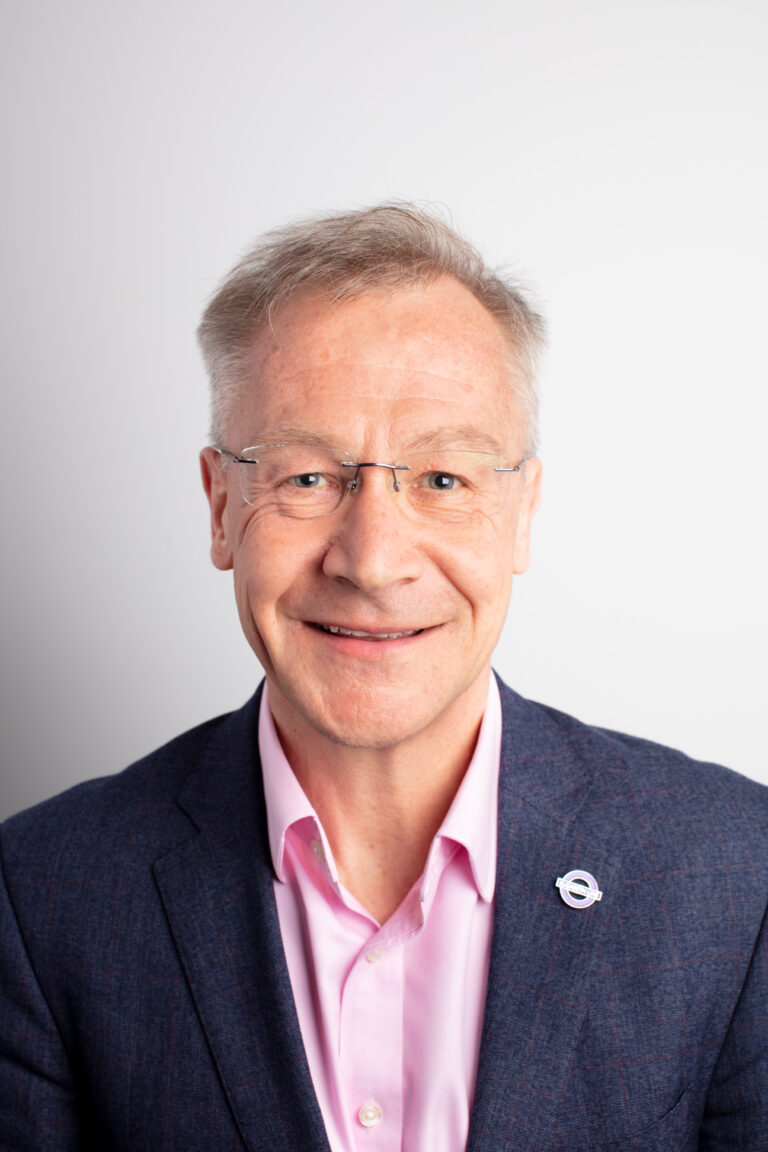 To start, we chatted about Howard's career to date. He is a career railwayman having joined British Railways (BR) as a management trainee in 1986 with a degree in Economics from the London School of Economics. His first two jobs were as a station manager, first at Balham and then for a group of stations around Richmond. BR's station managers had responsibility for track and signals in the area unlike the situation today, providing the opportunity to gain experience of all aspects of railway operations.
Next was a position in RailFreight Distribution to develop freight services for the Channel Tunnel, where he was involved with the sale of freight companies to Ed Burkhart's English Welsh and Scottish Railway. He led some joint ventures with the French and Belgian national railway companies SNCF and SNCB for international freight/car trains, before joining Docklands Light Railway (DLR) where he established a strong working relationship with Ian Brown, its managing director at the time. At DLR he built the cases for a number of the DLR extensions, such as Lewisham, and City Airport.
In 2004, after Transport for London (TfL) was formed, Ian Brown became managing director of TfL's London Rail and Howard its chief operating officer. Howard sat on the Crossrail Sponsor Board from 2004 helping to pilot the Crossrail Bill though parliament and, along the way, Ian and Howard transformed one of the most unloved operations in the country – Silverlink Metro on the North London Line – into the wildly successful London Overground operation. After the 2012 Olympics, Howard was interviewed for the Crossrail operator lead role and he recalled being asked whether he'd stay until the line opened in 2018. Ten years on and he's still there with no plans to move!
Howard observed that he's never had a career plan and, in fact, few of the posts he's held could have appeared on a plan as they didn't exist at the time his plan would have been prepared. The lesson for those who like to plan their careers is not to set the plan in stone.
Howard was chair of the Chartered Institution of Railway Operators from February 2020 to September 2022, where his proudest moment was in October 2020 when the Institution was awarded its Royal Charter.
Clearing the hurdles
Completing the Crossrail project and getting the Elizabeth line to its current position brought a number of challenges. Howard observed that there were a lot of contracts, which was a sensible strategy as the contracts had to be big enough to attract the top contractors, but not so big that only a couple of huge contractors could take them on. Having separate contracts for many of the architectural or electrical and mechanical systems was also sensible but required an excellent client organisation to integrate their activities. However, the organisation had been set up with largely civil engineers with a tunnelling background and generally they didn't have the right skills for the integration task. Mark Wild, chief executive from 2018, with his systems background and Andy Byford as TfL commissioner, who demanded openness and honesty and in return gave encouragement, support and some challenge, made such a difference, Howard said.
Howard's extended team had to accept and then learn to use, operate, and maintain all the assets created by the project team during a lengthy period of trial operations, while software was being de-bugged and some of the infrastructure was still being completed. But it was a proud moment for everyone involved, Howard said, when HM Queen Elizabeth II officially opened the line on 17 May 2022, in what turned out to be one of her last public engagements.
Some of those systems are fiendishly complex (e.g., three signalling systems). Howard's team has some really experienced people working in his team but it was mostly a case of new people learning how to use new assets with new rules – a significant challenge.
Many of Howard's team and those working for the Train Operating Concessionaire, MTR Elizabeth line, were not just new to the Elizabeth line but new to railways. This learning was potentially complicated by the way in which the Elizabeth line is organised, with a number of parts of TfL involved together with two regions of Network Rail, MTR Elizabeth Line, and Heathrow Airport, not forgetting other passenger and freight operators which run over the lines east of Stratford and west of Paddington.
Even though there had been extensive test running, as is often the case, new problems emerged when passengers started interacting with the system. For example, the protective edges on the platform screen doors were sometimes dislodged when passengers tried to beat the closing doors.
Ironing out the creases
Howard says that there are still weaknesses that need to be fixed. Train reliability is still not good enough and some of the issues arise when dual redundant systems do not change over properly when one of the two elements fails. There continue to be issues with CBTC kit which he is expecting to be fixed with upcoming software tweaks.
There are also issues on the western Network Rail section. Although it has had a lot of investment, such as electrification, it must be remembered that the electrified section between Paddington and Airport Junction is older and, in some ways, less robust. That said, Howard was full of praise for Network Rail Wales and Western's Marcus Jones, along with colleagues who understand the issues and are working hard to fix them. Howard is delighted to see how staff use all their skills to help improve the line, citing a Service and Infrastructure Manager who is an enthusiastic software engineer in his spare time. He has developed a tool for the Line-wide Overview Display in the control room to monitor the Public Performance Measure score as well as trains that may be stopped between stations and how long they've been stopped for, and showing staff on-call at that moment in time. Another team member has developed a tool for helping controllers to identify which drivers are where at times of disruption.
I asked how the large his team was and how the large number of organisations involved in operating the Elizabeth line are managed.
Howard said that his team is about 500-strong, the majority of whom are in the maintenance team. Others include control staff in the Romford Control Centre, the concession management team, and the rolling stock and depot team. There are also a small number of staff completing some outstanding projects. The infrastructure team led by Stewart Mills is learning how the assets degrade and what interventions will be necessary. An example of this is the first weekend closure to enable rerailing in the Connaught tunnel on the Abbey Wood branch which will take place later in 2023.
On the issue of working with Network Rail, Howard explained that as Duty Holder, MTR carries out day-to-day liaison with Network Rail. Given that TfL owns the brand and the relationship with customers, Howard focuses on the longer term/strategic relationship.
Challenges on the horizon
Howard and I discussed the expected future challenges that will emerge as the railway develops.
Most obviously, Howard said, is the HS2/Old Oak Common station development and the impact on the Elizabeth line of the significant delay to the HS2 Euston link. This may require most of the trains that currently terminate at Paddington to be extended to Old Oak Common, and TfL is currently in discussion with Government with a view to obtaining additional class 345 trains.
Howard is also exploring adjustments to the timetable including reviewing stopping patterns west of Paddington and whether the small number of trains that terminate/start from Liverpool Street high level should be diverted into the core section in the medium term.
For customers, Howard is expecting 4G/5G mobile coverage to be available through the central section by spring 2024. Perhaps more of a challenge will be the extension of ETCS from Airport Junction to west of the site for Old Oak Common. This will mean that every train to/from Reading will have to negotiate two extra signalling system changeovers between ETCS and AWS/TPWS, something that will need to be thoroughly tested.
RailStaff thanks the Elizabeth line team and particularly Howard Smith – a railway manager who is clearly enjoying the task of leading the line to truly excellent performance.