Innovations were showcased, knowledge shared and friendships renewed at Railtex 2019 – the 14th such show. Organised by Mack Brooks Exhibitions, the biennial show is the industry's biggest for rail suppliers and this year took place between May 14-16 at the NEC, Birmingham.
There were more than 400 exhibitors at the 2019 show, and they enjoyed a steady footfall and made some quality connections.
And the show certainly attracted a number of high-profile guests. From the political sphere there were keynote speeches from rail minister Andrew Jones and shadow transport secretary Andy McDonald. Export and trade minister Baroness Rona Fairhead was expected to open the show but those plans were cancelled at the last minute after she resigned from the government.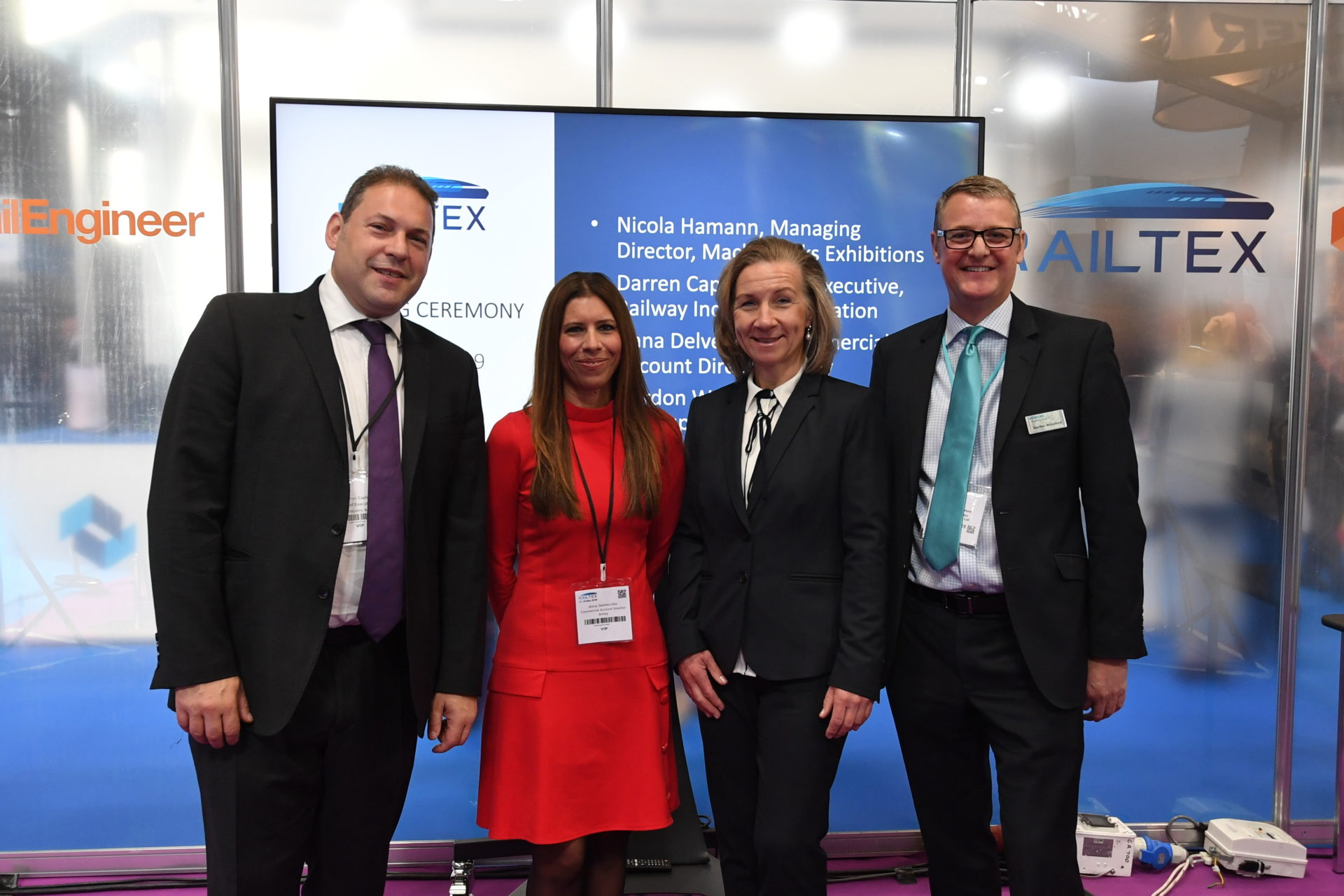 Opening panel
To a packed Seminar Theatre on the first day, Mack Brooks managing director Nicola Hamann began proceedings.
"Many of the exhibiting companies will be presenting cutting-edge innovations and technology as part of a huge showcase of rail infrastructure, rolling stock and supply chain solutions," she said. "We are here at a time when the industry is looking forward to the undoubted opportunities that Network Rail's CP6 offers, aided by the largest financial investment in the railways since the Victorian era."
Nicola was joined by: Darren Caplan, chief executive of the Railway Industry Association (RIA); Anna Delvecchio, commercial account director at Amey; and Gordon Wakeford, chief executive of Siemens Mobility, on the opening panel.
UK PLC
Darren reminded the audience of rail's importance to the national economy and how the sector is much bigger than previously thought.
Instead of the reported 240,000 people that rail employs, that number is closer to 600,000, and rather than having a gross value added (GVA) of £10.4 billion, the annual GVA supported by rail-related demand is actually around £36.4 billion.
But it wasn't all positive from Darren, who reminded colleagues about the uncertain times we live in. He said the four factors contributing to this uncertainty are: the start of a new control period, the impact of Network Rail's 100-day plan, the Williams Review, and Brexit.
Whether a deal is agreed upon for Britain's exit from the EU or not, Darren said it will create a challenge around standards, trying to establish frictionless trade and access to a skilled workforce – 46 per cent of the rail workforce south of Derby comes from the EU. The chance to strike up new trade deals and export more goods and services is one opportunity, however.
Darren added: "Linked with the uncertainty is the possibility of a general election this year. We could be having elections this year, next year, 2022. Whatever happens, that will bring back debate about nationalisation versus privatisation and, again, uncertainty. That's the world that we live in, the world we have to plan for and try and grow in."
Gordon told delegates that the show is "always a highlight" when it comes around. Anna, who worked with Gordon on the Rail Sector Deal, was equally as upbeat.
She added: "I stand proud to open Railtex today. Why? It's a show that I've come to for 10 years. I started rail at the age of 19 and to be standing here today, to be opening one of the best exhibitions, for me, as a woman in rail, I stand so, so proud."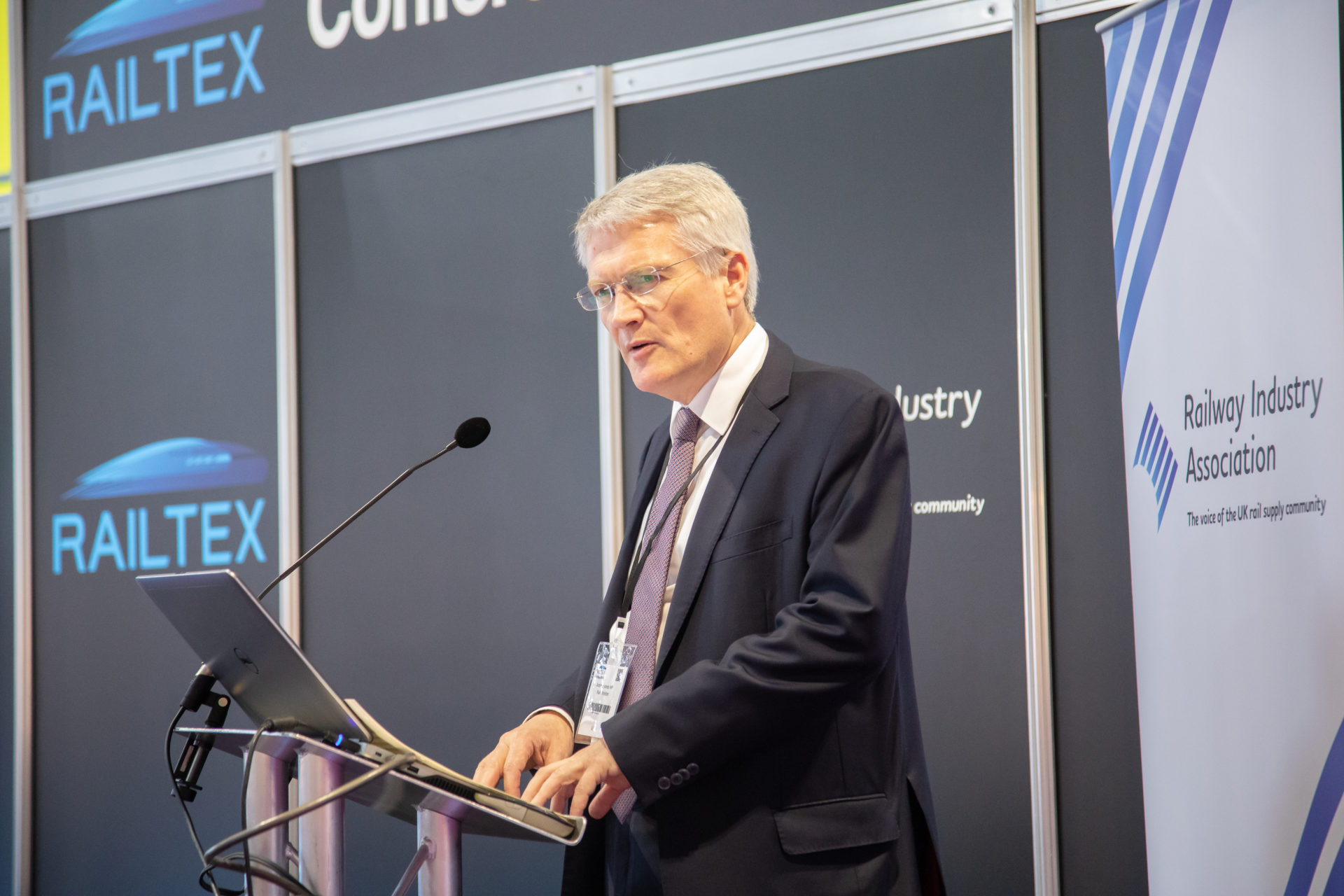 Azuma launch
While Nicola, Darren, Anna and Gordon were finishing their speeches, 100 miles south rail minister Andrew Jones was busy launching the first Azuma train from King's Cross station.
The following day, however, Andrew made the trip to Birmingham to provide the keynote speech at RIA's 'Future Focus Conference'. During his presentation, the rail minister re-capped the industry's challenges and gave a confidence boost to the rail supply chain by reaffirming that the government will support and invest in it.
During the session's Q&A segment, RIA chairman David Tonkin asked whether Department for Transport officials and politicians have come to understand the damaging impact of 'boom and bust' funding. Andrew said they had, and reassured the audience that publishing the 'Rail Network Enhancements Pipeline' – the new approach to enhancements – will help to create a rolling programme of investment.
Labour's plan for rail
On the afternoon of the final day, shadow transport secretary Andy McDonald brought a close to proceedings in the Seminar Theatre – one of three dedicated conference spaces at the show.
He said that urgent reform was needed and took the opportunity to outline Labour's proposals for the country's railways. This includes: plans for a rolling programme of electrification; extending control periods to seven years and turning them into rolling periods, so they reset two or three years before they expire; and the creation of a 30 to 40-year vision to provide "longer term certainty" for the industry.
There was also one more major change Labour would make.
"You'll be pleased to know that Labour will create a unified rail company which will provide a guiding mind to the entire railway, bringing train and track together," said Andy. "This will be more at arm's length from government than the present system and will draw strongly on devolution, since we believe that local expertise can best develop our rail service, while securing national and strategic oversight to secure the best connectivity possible. The unified rail company will include high-speed rail, which is so important for the whole country.
"The steps I intend to take will redefine the role of the Department for Transport so that it is only concerned with strategic oversight, working in partnership with a unified publicly-owned railway that has the professional freedoms to deliver the rail services travellers need and deserve."
Andy concluded his speech by saying that Railtex highlights "the fantastic potential of UK rail" – a statement I'm sure even his political counterparts would agree with.
---
High street attractions
In a way, Railtex's aisles are comparable to a town's high street and its stands to shops. Here, a high footfall means nothing if it's not converted into visitors and then visitors into customers.
In an effort to drum up stand interest exhibitors tried all manner of tactics. Cable manufacturer Tratos returned with its all-day offering of Italian food, industrial battery firm Hoppecke gave away teddy bears in exchange for a charitable donation and Hitachi Rail gave out hundreds of branded shopping bags.
One company whose efforts stood out for trying something quite unique was Harting, a company which develops electrical products, for filming an MTV Cribs-styled walkthrough video of its stand for social media.