The room falls silent. Bums occupy the edges of seats while the audience's gaze locks onto the presenter's lips as he prises open the envelope and announces: "And the winner is…"
Suddenly, a roar of applause erupts from the crowd as an unassuming member of staff gets to their feet and, overwhelmed by the spectacle, begins the triumphant walk to the stage.
Gliding past the roaming photographer, who captures the raw emotion of the moment, they step onto the stage and into the limelight. The category judge greets them and after posing for another picture, hands over their trophy. Still in shock, they glance up and see a room of 1,000 people, from cleaners to CEOs, united in celebrating their achievements. It's a moment of recognition, of great pride and emotion. A moment to remember.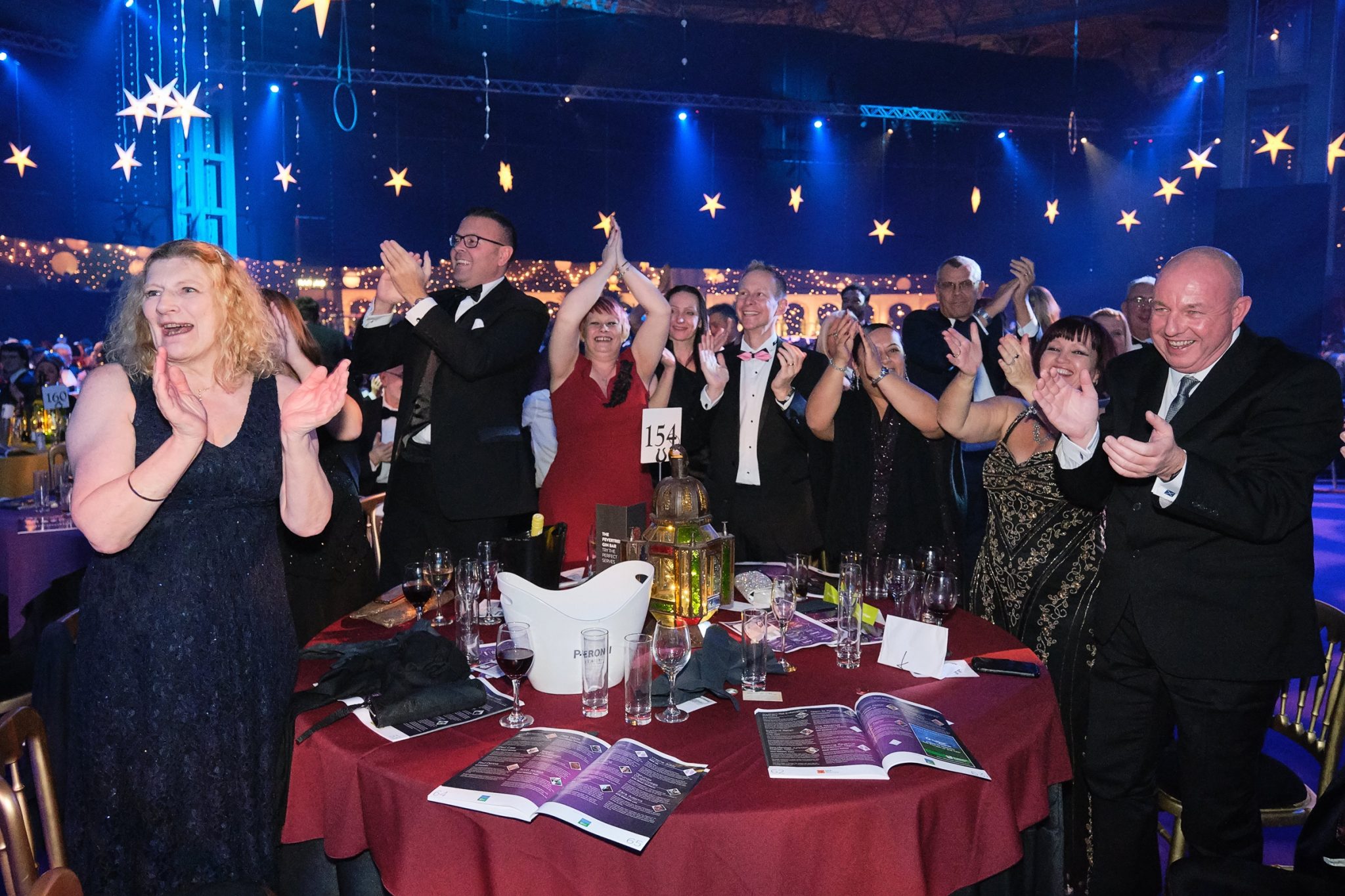 Recognition
The only awards ceremony to solely celebrate rail workers, the RailStaff Awards is blessed to have 20 of these special moments each year.
On November 28 at the NEC, Birmingham, a new cohort of unsung rail industry heroes was announced in a mesmerising Moroccan themed celebration, and their stories are detailed in the pages ahead.
If that wasn't enough, guests were also entertained by jaw-dropping aerial performers, live music from Fully FunKtional, a fairground and the return of host Richard Salkeld.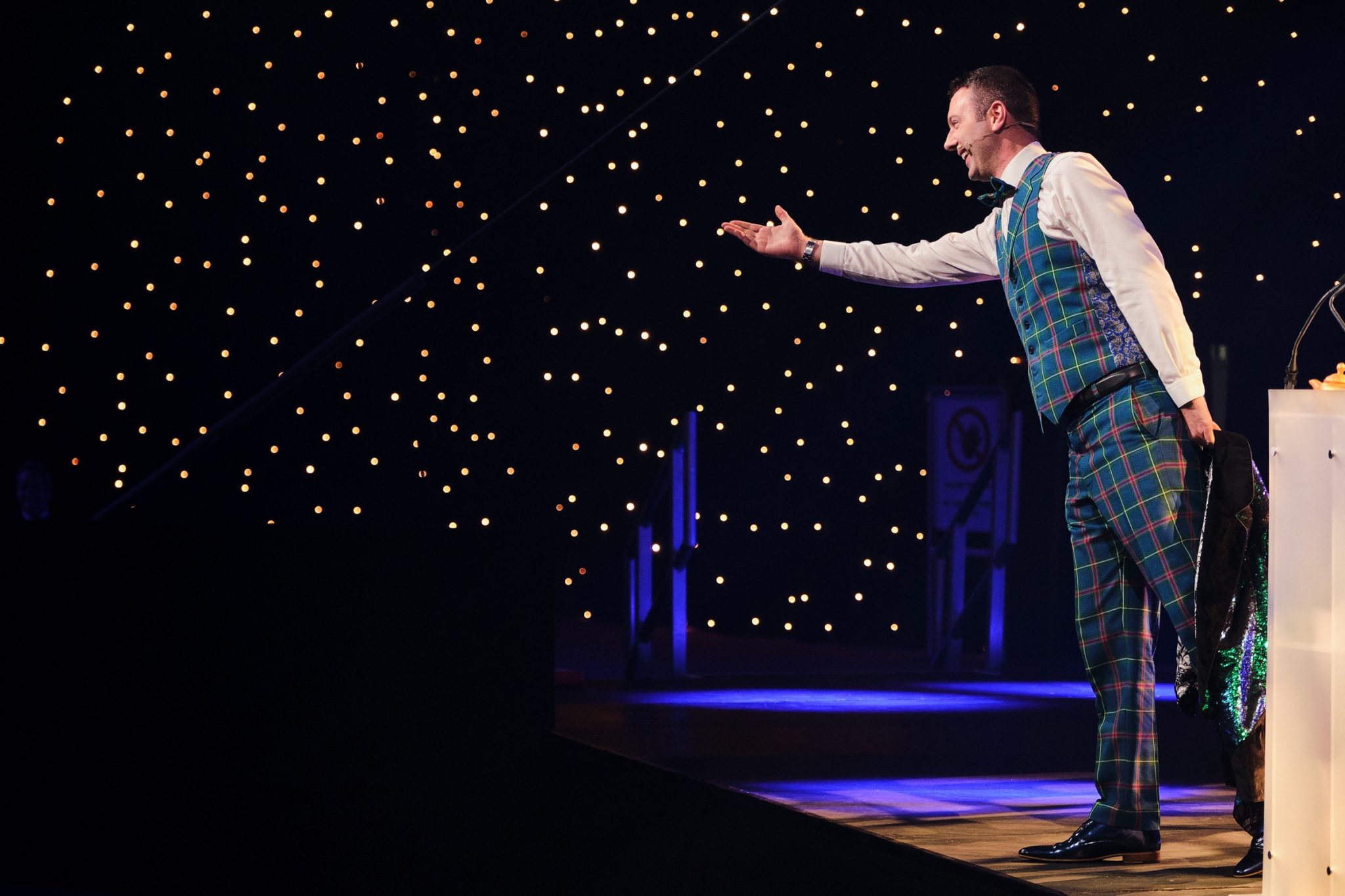 Thank you
The RailStaff Awards takes the best part of a year to organise and would not be possible if it weren't for a few very special groups.
First of all we'd like to express our gratitude to the nominators, thanks to you some 760 rail workers have been made to feel special by your recognition and appreciation of their hard work.
Second of all, a huge thank you to those who've engaged with the awards process, whether that's through judging, voting or attending the ceremony, your support makes it all possible.
And last, but by no means least, thank you to our sponsors: Bollé Safety, Colas Rail, Connect 4 Voice & Data, G&W (UK/Europe Region), Govia Thameslink Railway, Great Western Railway, Heathrow Express, Intertrain, Jacobs, Land Sheriffs, Matchtech, PTM Design, Pulsar, RailwayPeople.com, Samaritans, telent Technology Services, Total Rail Solutions, Traffi, Transport Benevolent Fund CIO and Westermo Data Communications.
Event organiser Gemma King said: "And so we bring a close to yet another memorable RailStaff Awards night. We hope you all enjoyed exploring the Moroccan Kingdom and congratulations, once more, to the winners. You've all earned your place in the RailStaff Awards hall of fame."
Information on all of the finalists, as well as pictures and videos from the night, will be available by going to: www.railstaffawards.com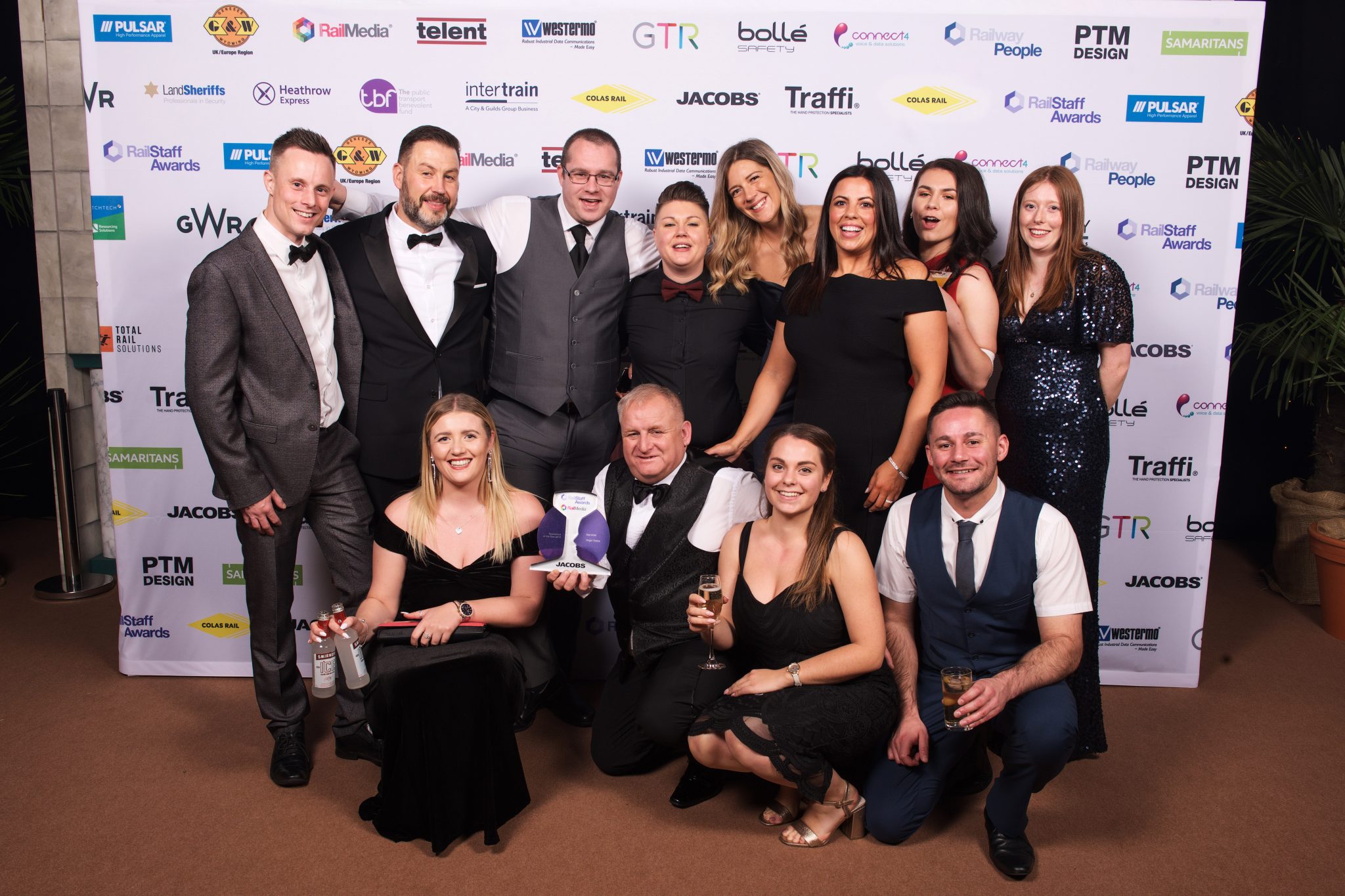 One to watch: Apprentice of the Year – Zoe Auld, Virgin Trains
Zoe is the most driven and professional apprentice with such huge talents, according to one nominator.
"Zoe is so diligent, agile and organised she is amazing," added another.
"She's a fantastic asset to Virgin Trains and has a great career ahead", said a third.
Not only were Zoe Auld's co-workers blown away by her contribution to Virgin Trains, but so were the RailStaff Awards judging panel, who named her 'Apprentice of the Year'.
The Manchester Metropolitan University student is completing placements around the business as part of her higher-level degree apprenticeship and has left behind a trail of success.
At the age of 18, Zoe became the youngest qualified route controller in the organisation and at a busy Christmas period she helped frontline staff by learning to dispatch trains during industrial strike action.
She also played a key role in the launch of the company's 'Back on Track' staff app. As part of staff training, she took the time to explain to each individual how the app works and how they can interact with it, making sure to spend enough time with those that weren't as tech savvy. She even went out of her way to compile a list of colleague recommendations and to liaise with the developers to enhance the system.
On top of all of this, during her placement Zoe even re-located from Scotland to Birmingham, such is her determination to succeed, all while studying and getting top grades in her degree.
Zoe was unable to attend the awards ceremony but afterwards she said: "I found out I was the winner whilst I was in New York City celebrating my 21st birthday. I was shopping and looked at my phone and had loads of texts and calls from colleagues who were at the event.
"I was completely shocked, I forgot about the time difference and didn't realise the event was on, I felt emotional and ran to my family in another shop to share with them the amazing news. I couldn't have been happier."
The Apprentice of the Year category was sponsored by Jacobs. Such is the size of the professional service leader's portfolio of domestic and international projects, and the subsequent demand for technical and scientific minds and natural leaders, that Jacobs provides enriching development opportunities for all levels of staff to attract and retain the very best talent.
Highly commended: Magda Taranowicz, Jacobs; and Shaun Jones, Network Rail.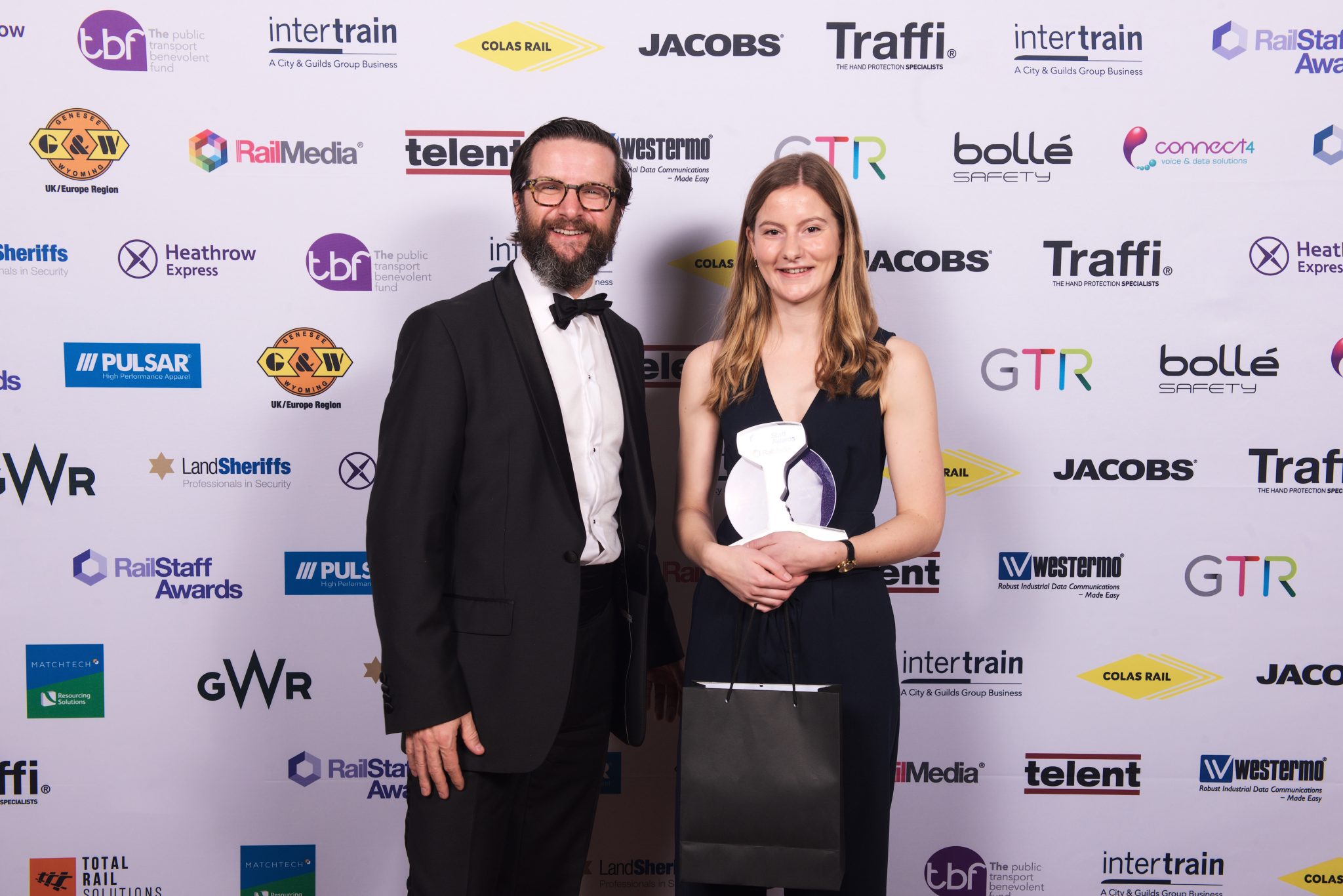 Rising stars: Graduate or Newcomer Award – Evie Barrett, Jacobs
Another one of rail's rising stars is Evie Barrett, a graduate engineering geologist based in Leeds, who was praised for her work supporting the construction of a multi-billion-pound high-speed railway in California.
Evie is a member of Jacobs' tunnelling and ground engineering (TGE) unit and, from the other side of the globe, has been a key player in developing the geotechnical database needed to allow construction to go ahead. As "a single source of truth," this database has vastly improved efficiencies and quality on the project.
Evie was part of the team that took ownership for delivering geotechnical engineering data reports in 2018 and then took the significant step up to lead the delivery of geotechnical baseline reports – a move that saw her work above her grade.
She is now responsible for liaising with the Jacobs teams in the USA and managing four teams of engineers in England, Scotland and Poland to ensure the consistent delivery of these reports.
One nomination for Evie read: "She has demonstrated great maturity, composure and technical ability to ensure that the reports are being delivered on time and to a high standard."
Evie has also worked on other rail schemes, such as the Transpennine Route Upgrade, Calder Valley Journey Time Improvement and the West Ruislip Northolt Corridor projects since joining Jacobs in 2015.
Her enthusiasm for geology has also seen Evie return to the University of Leeds, where she completed bachelor's and master's degrees in the subject, to mentor post-graduates. At present she is also leading the production of a Jacobs TGE work experience booklet, to ensure students benefit from their time with the company.
On November 28, Evie pipped the competition in a hotly contested category to scoop the Graduate or Newcomer Award, which was sponsored by Govia Thameslink Railway (GTR).
Ian McLaren, chief financial officer at category sponsor GTR, said: "It's really important to recognise young people coming up through the organisation. We're a massive industry and we've got to show progression for people new to the sector and show they can actually achieve amazing things at such a young age."
Highly commended: Miraan Jothinath, Network Rail; and Aisha Mughal, Colas Rail.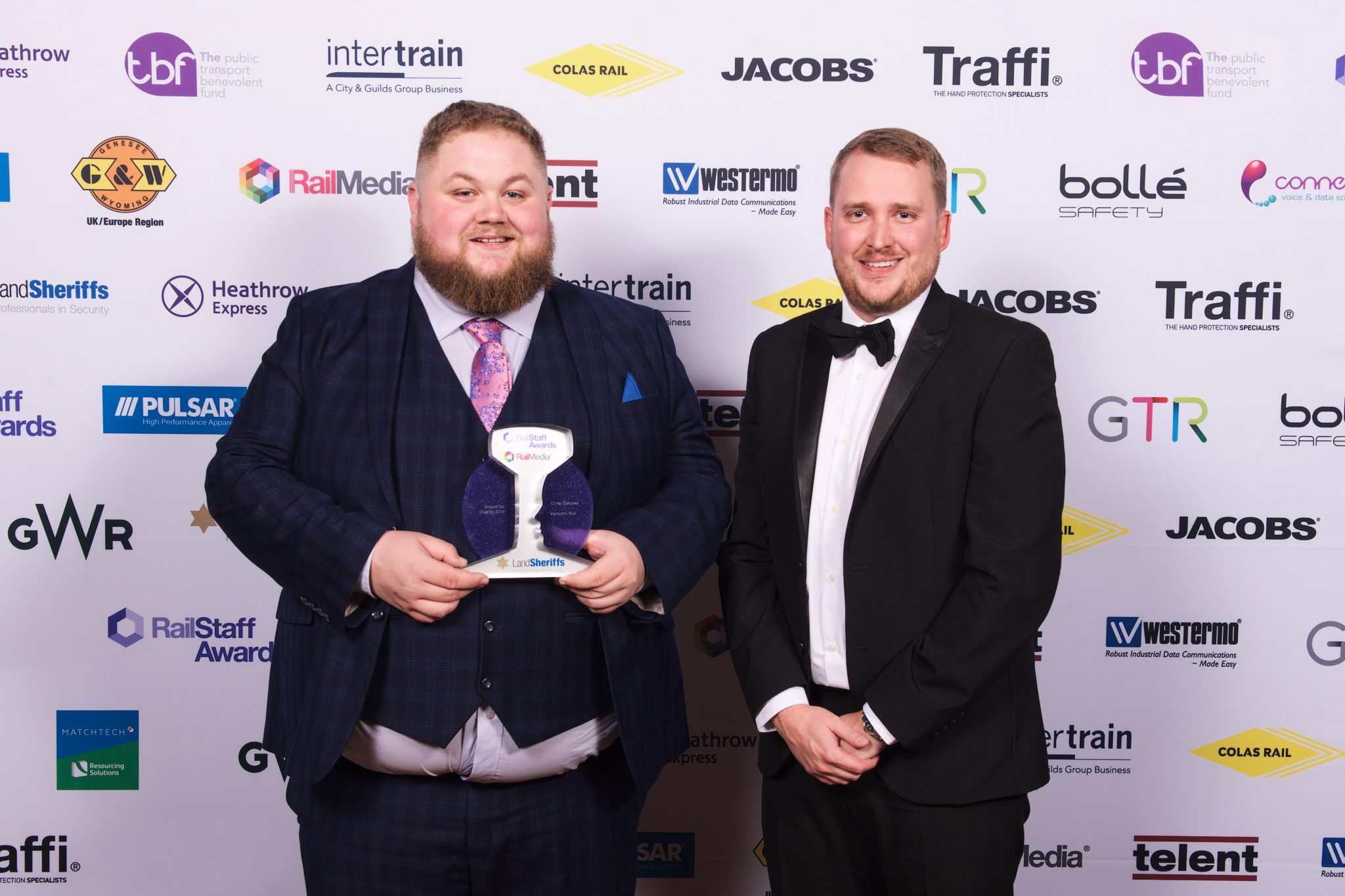 Humanity at its best: Award for Charity – Chris Conway, Network Rail
A selfless signaller who dedicates his spare time to helping the homeless was celebrated by industry colleagues on November 28.
Chris Conway, known as "the big man with the big heart," leads a team of volunteers who support rough sleepers in Blackpool.
In 2018 he started weeknight community street walks, where up to 40 volunteers decked out in 'United Blackpool' hoodies give their support to the homeless, and has since helped over 30 people get off the streets and into accommodation.
He also works with Blackpool charity Amazing Graze to run the local soup kitchen three nights a week and has presented to schoolchildren to raise awareness of homelessness.
Over the last year, Chris' altruism has been increasingly recognised within and outside of his employer Network Rail, where he works as a relief signaller at Bamber Bridge, near Preston. He is now the North West & Central region's charity ambassador, providing his expertise to station teams and railway staff about how to break the stigma around homeless people and the best way Network Rail can help.
Working with Network Rail and Northern, he organised a 'sleep out' fundraiser at Blackpool station and is trying to arrange for a sleeper train to be used as a homeless facility in January.
For his relentless work, Chris took home the Award for Charity at the RailStaff Awards.
Chris said: "I've spent the last few weeks reading everyone else's nominations and just thinking: 'I've got no chance!' So I'm over the moon."
He thanked Network Rail for the support given to him and, when asked what drives him, said he was "just born like it".
Chris added: "I do it because now I'm at an age where I'm earning enough money to be able to give back. I can't think of life any other way."
Professional security firm Land Sheriffs, which predominantly works across the South East and Anglia rail network, was the sponsor of the Award for Charity.
Tyler LeMay, managing director of Land Sheriffs, said Chris stood out from other shortlisted entrants because of the leadership skills he displayed in developing the charitable initiatives.
He added: "Chris' work is very close to that of my business; we do a lot of work with the homeless through a charity called St Mungo's. Hearing Chris' story about what he's doing and selflessly helping the homeless is commendable."
Highly commended: Jason Weetman, Network Rail; and the Crewe 'All Change' Project Team, Virgin Trains.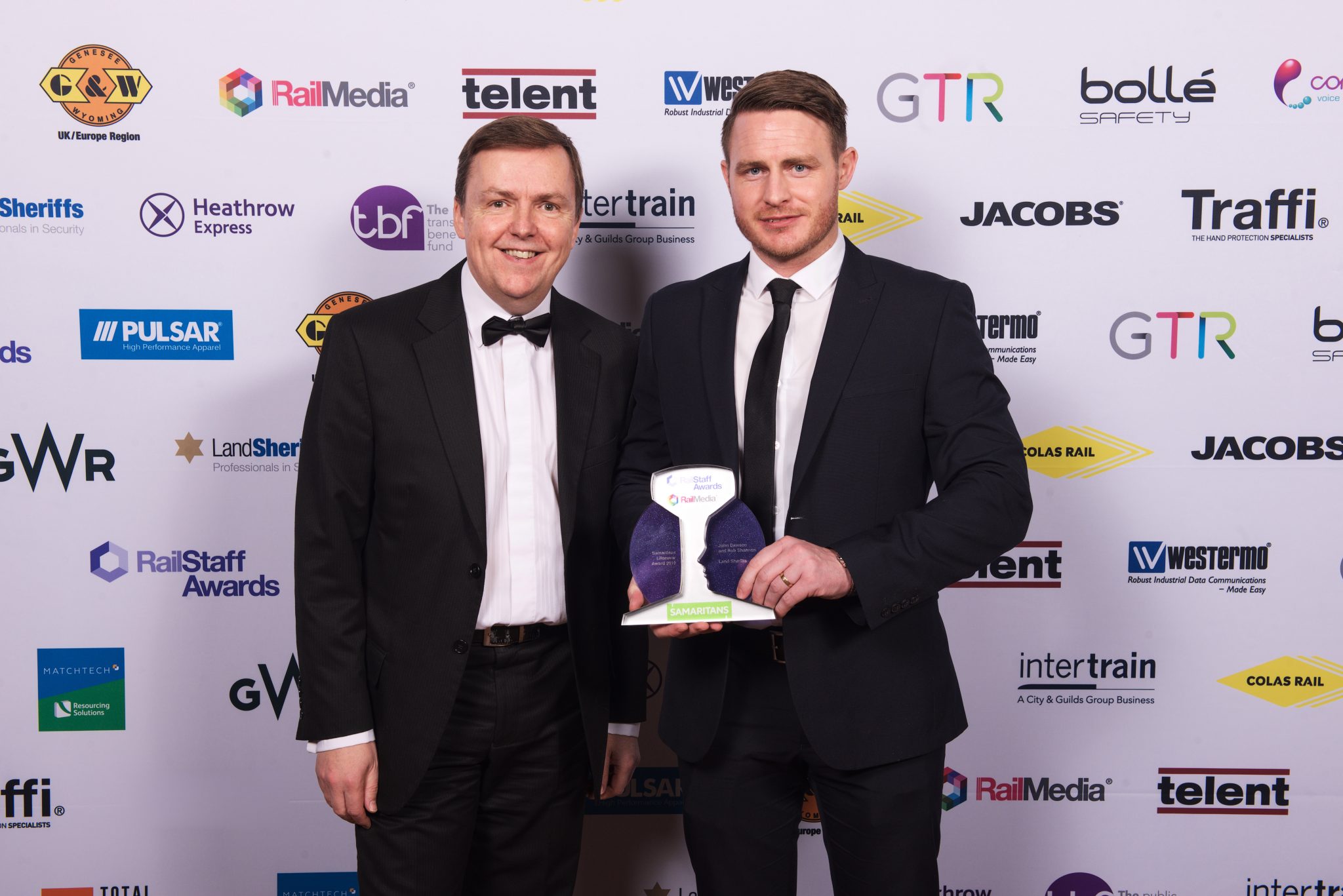 Small talk saves lives: Samaritans Lifesaver Award – John Dawson and Rob Shannon, Land Sheriffs
The Samaritans Lifesaver Award is one of the most difficult categories to judge. Not only is it a tough task because of the subject matter, but because there are so many deserving winners.
For their compassion, sensitivity and confidence to engage in small talk, Land Sheriffs' John Dawson and Rob Shannon were awarded this year's trophy.
While on patrol as one of the company's 'safer station teams', the pair noticed a woman wandering around St Pancras station who appeared upset but was not looking to board a train.
They approached her but she was initially reluctant to talk so John and Rob gave her some space. However, she soon re-engaged with them and admitted she intended to end her life.
John and Rob spoke with her to keep her calm and away from platforms and crowds, as this seemed to be making her agitated. They took her to the station coffee shop for a hot drink to warm her up and chatted away to keep her calm. In all they sat with her for over two hours while waiting for the emergency services, who were extremely stretched on the night, to arrive.
The police were the first to arrive on the scene but their presence caused the woman to become agitated, so withdrew and left her with John and Rob.
A short while later an ambulance arrived. The Land Sheriffs walked the woman to the ambulance, however, as soon as she stepped into the vehicle, she became aggressive.
She was let out but, with the assistance of John and Rob, she was convinced to get back in. As the female was still slightly agitated, the duo offered to go with her to the hospital which both she and the paramedics were grateful of.
Chris Gough, operations manager, Land Sheriffs, accepted the award on behalf of John and Rob. He said: "Every day is different for John and Rob. They receive Samaritans training and use this to approach vulnerable persons and, on this occasion, they saw a vulnerable person, they approached her and, by doing so, prevented the unthinkable and gave her the help that she needed."
Steve Tollerton, Network Rail training officer, Samaritans, added: "We're very proud of these guys. The training is so important, but it's not the training itself, it's the guys stepping out of their comfort zone and approaching a suicidal person and saving someone's life. Ultimately, its takes courage and confidence to do that, which is a credit to them."
Highly commended: Gary Campbell, Virgin Trains; and Nathan Stockman, Great Western Railway.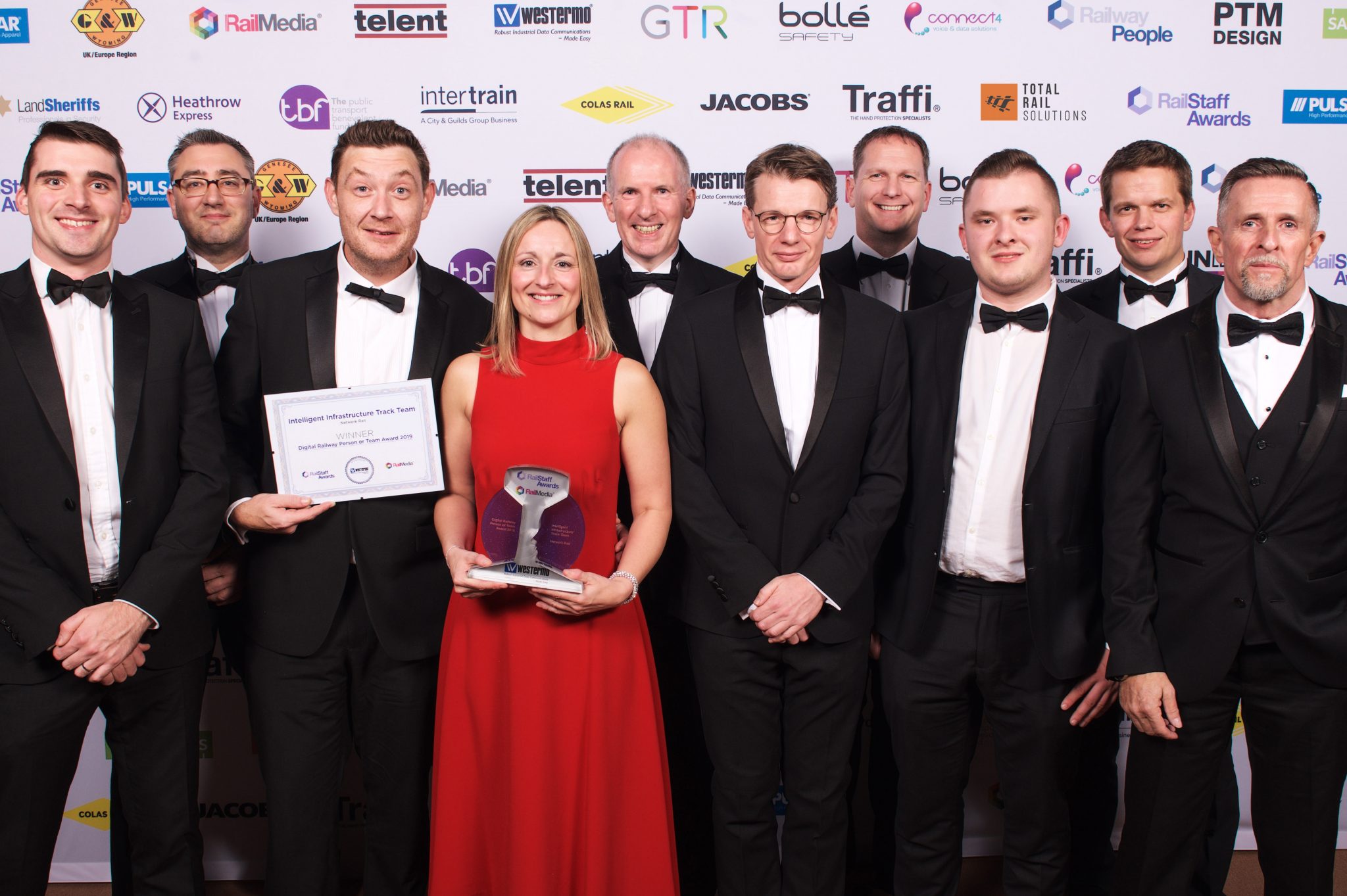 Digital champions: Digital Railway (S&T) Person or Team Award – Network Rail's Intelligent Infrastructure Track Team
Network Rail's Intelligent Infrastructure Track Team has designed a digital tool that will revolutionise the way teams carry out maintenance work.
Commencing at the start of CP6 on April 1, 2019, the Intelligent Infrastructure programme has developed a tool which looks at the infrastructure and predicts future faults so they can be fixed before they cause any delays on the railway. It has been developed in six months and is now out with customers for comment, trials and testing.
For the first time, track teams in the routes will be able to access all the information they need, from one digital source, to carry out the right work, at the right time, in the right place.
Referred to as the Track Decision Support Tool, it will shift Network Rail from century-old 'fix on failure' regimes to 'predict and prevent' regimes – allowing work to be planned ahead while also reducing speed restrictions and delays for passengers.
The team, which picked up the Digital Railway Award, is a collaboration of Network Rail colleagues from engineering, business change and analytics disciplines, working with Atkins – Network Rail's partner and systems integrator.
Programme manager Martin Mason, of Network Rail, said: "It's the first time in the traditional railway sense that we've started to use intelligent data to predict and prevent faults.
"As an industry we've always been very data-rich but not data-intelligent. Now we're moving from a situation where we're not a reactive organisation but a proactive organisation."
The Digital Railway Person or Team Award was sponsored by Westermo Data Communications. A long-standing ally of the RailStaff Awards, Westermo is a Swedish company that manufactures robust data communications products for mission-critical systems.
Phil Mounter, transportation sales manager at Westermo, said: "Teamwork was what stood out more than anything, and collaboration, which is producing excellent results after such a short time."
Highly commended: Trevor Wheeler, telent Technology Services; and Abdul Rehman Savant, Amey Consulting.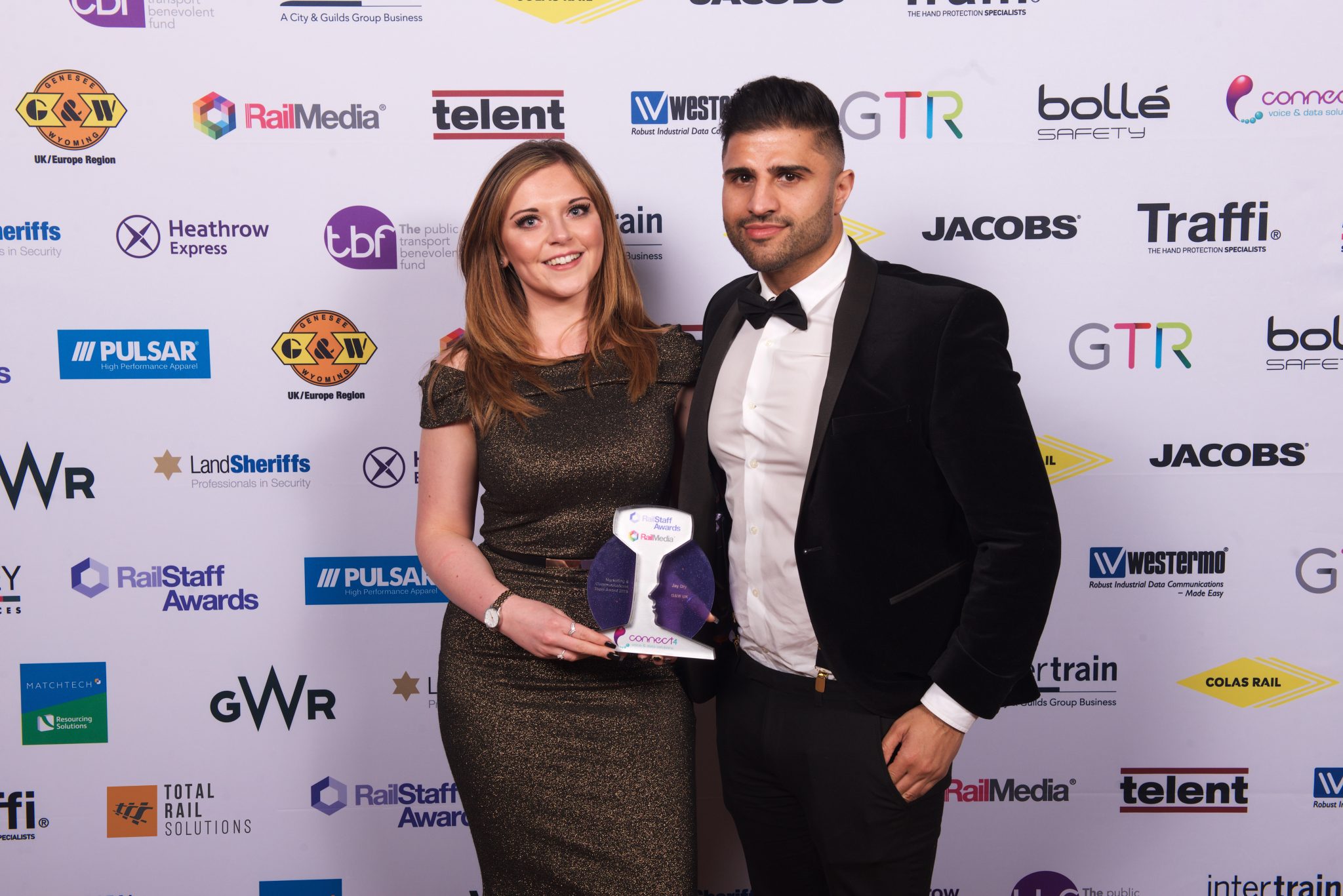 The voice of an organisation: Marketing & Communications Team – Jaye Dry, G&W UK/Europe
Jaye Dry is the voice of Freightliner's social media and is responsible for creating and protecting the company's brand and image.
Connecting with CEOs, employees, competitors, customers, potential customers and enthusiasts, it's a role she undertakes with great care and compassion.
With a talent for engaging with audiences through social media, Jaye was picked out by Freightliner train driver Heather Waugh for being an "incredible asset" at the company.
"A woman with the kindness, commitment, and empathy that defies her young age," said Heather. "She, along with others in Freightliner, have made me feel more valued than at any other time in my career. She has inspired me to do more to encourage others into the rail industry, and freight in particular."
Heather highlighted Jaye's empathetic response to a transgender train driver who described some of her issues in the industry and her diligent response to a video which appeared to show a Freightliner loco making an unusual noise as examples of her exceptional work.
After picking up the Marketing & Communications Award, Jaye said: "As a group, we are trying to make rail more human and to appeal to a wider audience."
On the subject of Freightliner's new branding, she added: "As a team, there are just two of us, we're trying to make that one big family – "orange is the new green" is the hash-tag – but its business as usual really, just adopting the same culture and moving forward with safety and customers as the main focus."
Communications specialist Connect 4 Voice & Data was the sponsor of the Marketing & Communications Team Award.
Bobby Singh, managing director of Connect 4, said: "I think marketing communications is key to any business. Jaye has worked with her team and individually and her entry highlighted how good she is in her role."
He added: "The RailStaff Awards is just fantastic. This year has even topped last year."
Highly commended: Track Safety Alliance Team, Network Rail; and Northern Marketing, Northern.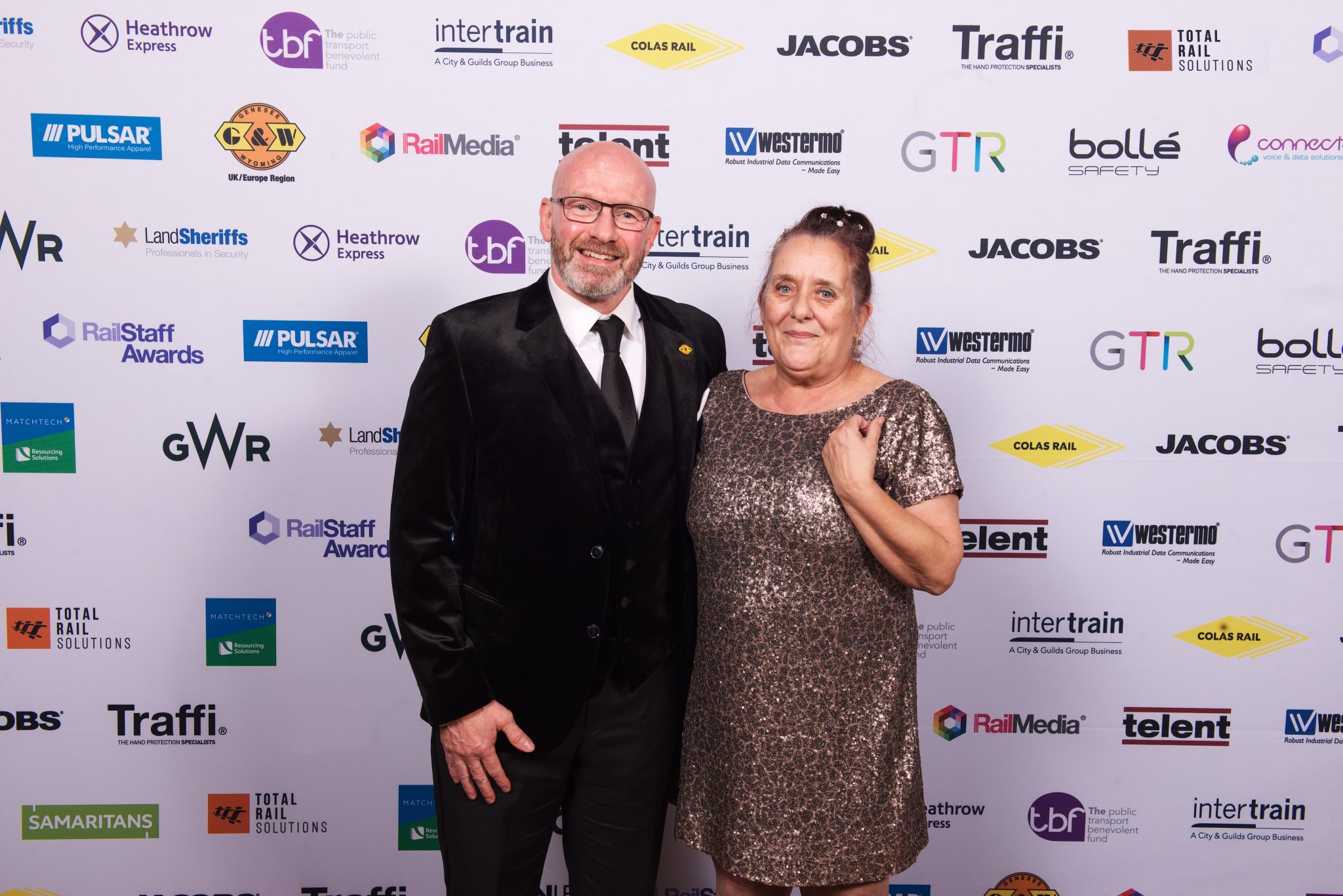 Frontline heroes: Customer Service Award – Margaret Capps, Southeastern
After receiving an extraordinary 31 nominations, Southeastern's Margaret Capps was awarded the top prize for customer service.
Margaret runs a station in leafy Etchingham, Sussex, and has very much become part of the fabric.
She has brought colour to the village station with floral displays, keeps a box of confectionary at the counter for customers and has even created a fairy garden to entertain children.
Such are the efforts Margaret goes to that one customer, who nominated her for a RailStaff Award, said they can get to London quicker via other stations but they choose Etchingham because of Margaret.
Using her expert knowledge, in times of disruption she ensures everyone is safe, understands what's going on and knows how best to get to their destination and she even helps customers to organise lifts with each other if necessary. Calm, professional and equipped with a 'can do' attitude, she copes well under pressure.
One nomination perfectly summarised what an asset Margaret is to Southeastern and the rail industry as a whole: "I never thought buying a ticket at the start of the day to commute to London could be so enjoyable!"
Margaret, whose trophy will take pride of place at Etchingham station, said: "I would expect the same treatment that I give to customers from anyone else. I know people say it's your job, but if you don't enjoy your job, don't do it, walk away. I do actually love my job – but don't tell the managers! But I actually do, my station is really, really good.
"My customers are going to be really pleased because they adore me and I really adore my customers."
The Customer Service Award was sponsored by Genesee & Wyoming UK/Europe Region. Group companies include Freightliner; the UK's largest intermodal rail freight provider, and Pentalver, a leading UK container logistics provider.
Neil McNicholas, managing director of rail from G&W UK said: "For me, this is the award of the night because without customers none of us would have any business whatsoever. I'm in freight, we need our customers, it's our lifeblood, it's the same with passengers. Without any of that, none of our businesses would exist. And this is the key award of the night and well deserved."
Highly commended: Danielle Henshaw, Virgin Trains; and Donna Taylor, Merseyrail.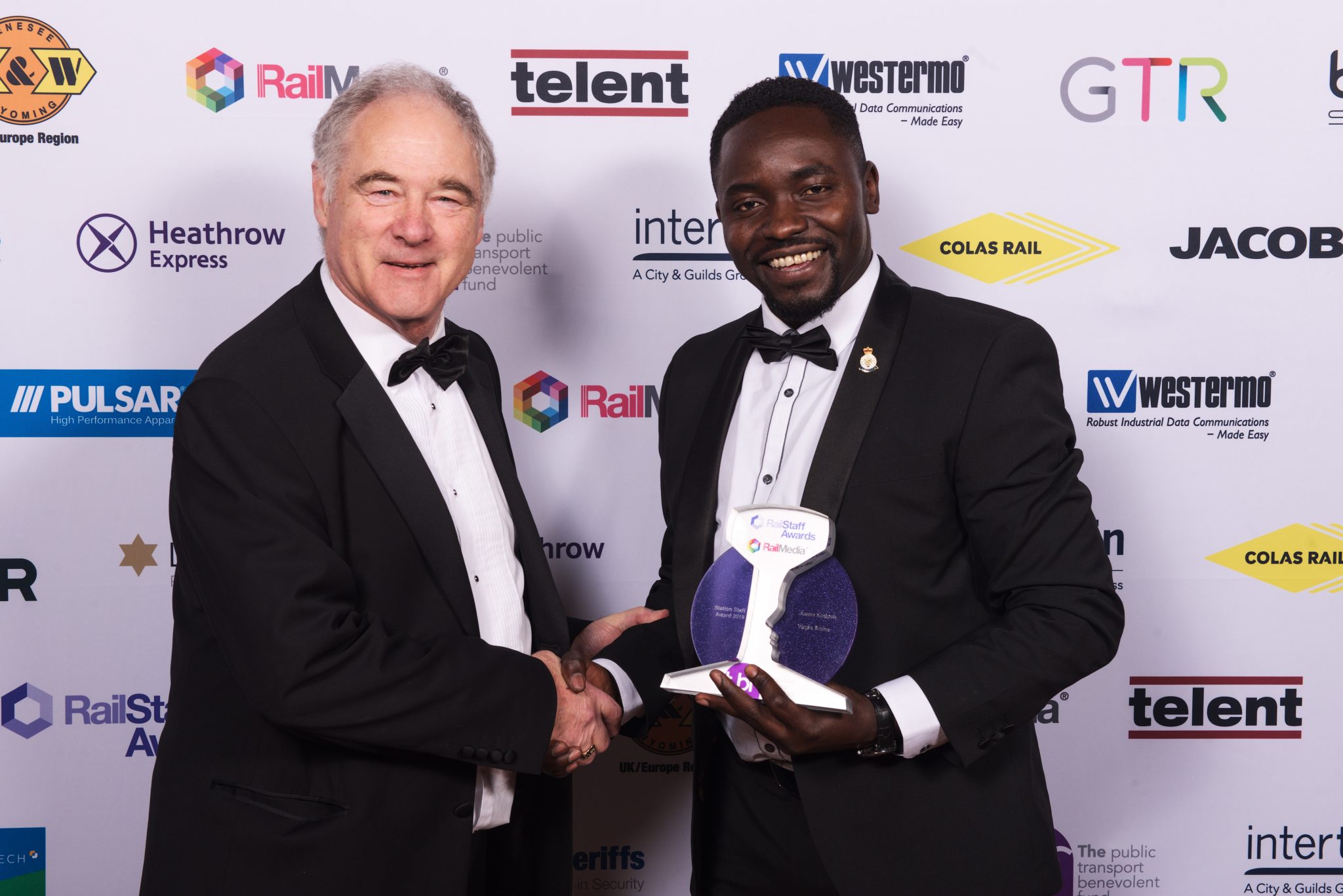 A ray of sunshine: Station Staff Award – Aaron Koduah, Virgin Trains
Aaron Koduah brightens up passengers' journeys with his self-penned motivational messages on the announcement board at Crewe station.
For more than four years the Virgin Trains welcome host has provided a ray of sunshine for customers on even the dreariest of days with his contagious smile and often topical thoughts of the day.
At first he was nervous about doing something differently, but with his message board becoming synonymous with Crewe, and celebs such as Paul 'The Sinnerman' Sinha from gameshow the Chase taking snaps of his quotes, Aaron now takes great pride in the impact he's able to make to customer's days.
He has also channeled his positive energy into publishing a book: Developing A Strong Mindset, which features a collection of his favourite quotes.
Aaron, who works on the gateline, received 17 submissions from customers and colleagues during the nomination process, and for having such an impact on the customer experience at Crewe, he was recognised in the Station Staff Award category.
The former soldier's outlook is even more remarkable considering he and his partner were hit with tragic news last year when their son died shortly after he was born.
Aaron said: "I just feel like life changes so, when you are in a bad situation you have to keep holding on because you don't know what the future holds."
The Station Staff of the Year Award was sponsored by the Transport Benevolent Fund (TBF) CIO, a membership charity that offers a wide range of financial, health and welfare benefits to public transport workers should need, hardship or distress arise.
Such is the size of the charity's backing that in 2020 it will pay out almost £3 million in benefits to its members.
Chris Sullivan, chair of TBF, said: "These awards are important, we need to encourage more young people into this business… We need to encourage more people and people like Aaron with his attitude towards the work, they're the people that will drive the railway forward it's not the big money that's being invested. It's all about the people, just like TBF."
Highly commended: Antonia Ugbaja, South Western Railway; and Mohammed Tohow, Proactive Rail.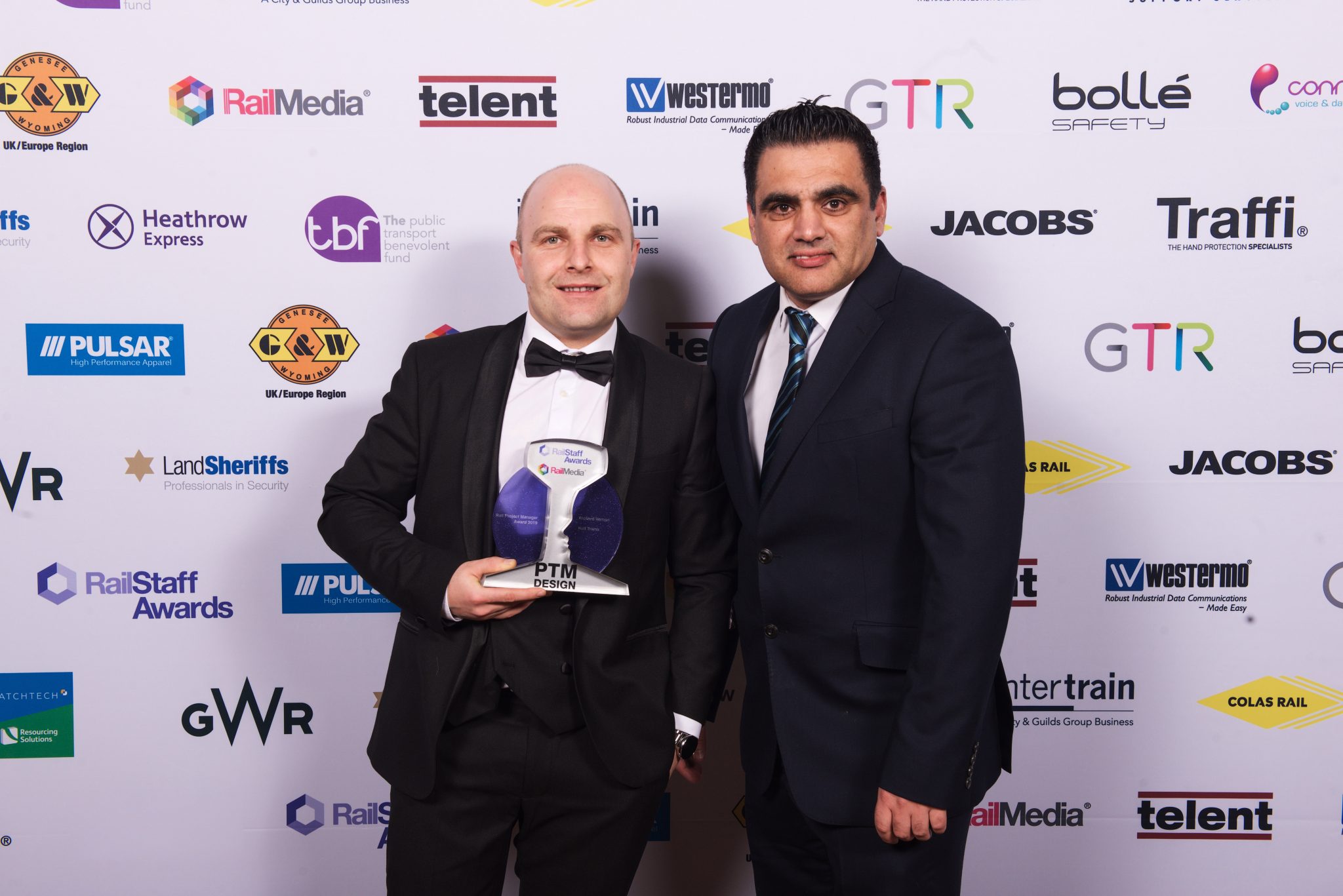 Overseeing success: Rail Project Manager Award – Richard Vernon, Hull Trains
Over the last three years, fleet engineer Richard Vernon has worked tirelessly on the introduction of Hull Trains' new £60 million 'Paragon' train fleet.
Built using "bullet train technology" by Hitachi in Japan and Italy, the first units from this new five-train fleet were recently rolled out during a ceremony at Hull Paragon station. The entire fleet is expected to enter passenger service by early 2020.
Since joining Hull Trains in February 2016, Richard has risen through the ranks to lead this milestone project for the open access operator. He has been the primary interface between Hull Trains, fleet owners Angel Trains, manufacturer Hitachi as well as other key partners such as Network Rail. This has involved regular visits to Hitachi factories in Kasado, Japan, and Pistoia, Italy, as part of quality checks.
It is through those continual checks that Hull Trains has been able to sign off the trains at each stage to the schedules determined in the contract. Considering the issues with its existing fleet – including mechanical failures and an onboard fire – delivering these new trains on time has been even more important for customers.
In addition to his instrumental work on the Paragon fleet, Richard has also led smaller projects, such as: the introduction of an on-train passenger information screen to improve accessibility, installation of a driver advisory system and the introduction of on-train wi-fi.
On the night of the RailStaff Awards, Richard said: "It means a lot to receive this award and I'm really grateful to have been given the opportunity to work on such a key project for Hull Trains.
"Managing this project gave me the opportunity to travel to Japan and Italy, as well as improving my understanding of design reviews, contract specifications and the train production and manufacturing process. I enjoyed learning about the train's design, refining the train interiors and working with Hitachi Rail and Angel Trains to bring the vision to life for our staff and customers.
"It was a compliment to be given such a big project but it's one I'm really pleased to have led."
PTM Design, specialists in rail and fleet livery, vehicle wrapping, wayfinding information systems and interior installations, sponsored the Rail Project Manager Award category.
Ajmal Akram, head of business development at PTM Design, said: "There were a lot of good entries in the category but, knowing that, of the rail operators, Hull is quite a small operation, this entry stood out for having someone take on the challenge of the implementation of the train. That's what stood out."
Highly commended: Catherine Lough, Colas Rail Ltd; and Neil Workman, Network Rail.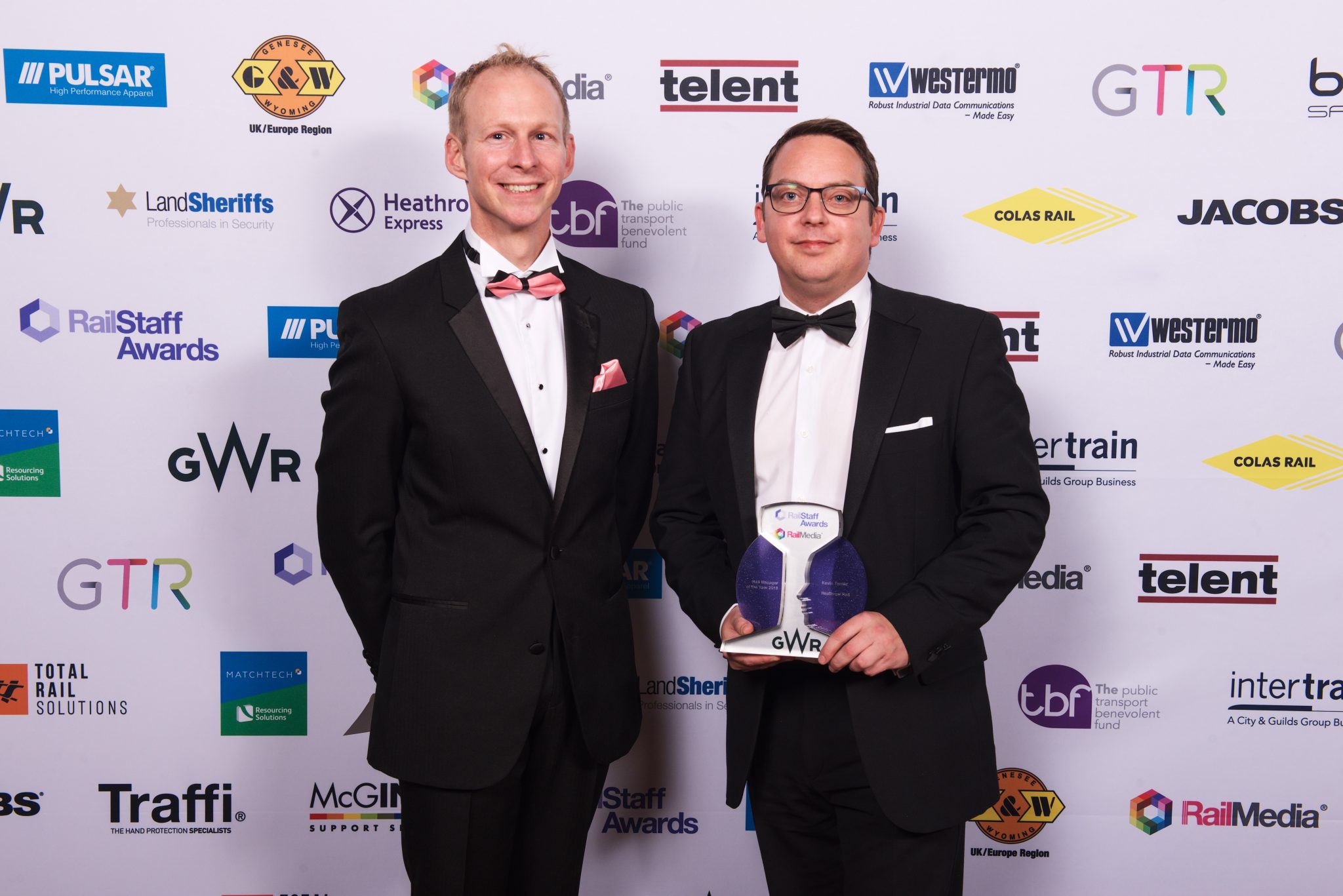 Managing change: Rail Manager of the Year – Kevin Tarrier, Heathrow Rail
For achieving so much in such a short space of time, Kevin Tarrier pipped the competition to the 'Rail Manager of the Year' gong.
The Heathrow Express employee began as the control room manager last year whilst the team was going through its biggest change since the airport rail link launched in 1998.
In a nomination, colleague Philip Tweedie said: "You might say all businesses go through change but this was no easy task as the team were in the middle of agreeing TUPE conditions and right around the corner was the implementation of a brand new tunnel control system and control room revamp."
Kevin got to the bottom of concerns and issues, ensured they were resolved and organised the move to the back-up control room.
With an increase in the number of staff, Kevin also had to implement a new roster, which hadn't been changed since 1998. Kevin ensured there was a fair consultation by getting the controllers' input while addressing any concerns.
He also helped to arrange an away day with the controllers for team building and leadership training.
Colleague Philip added: "Kevin will probably say he does not deserve all of the credit for our achievements this year and a lot of it should go to the team. To an extent yes but without his leadership and direction it certainly would not have been possible."
After stepping on stage to receive the award, Kevin said: "You never think you're going to win these things, especially when you read the write-ups of the other guys and girls on the shortlist so it's quite a surprise but very nice.
"I started my career in the army where you learn to be quite personable with people and throughout my career I've tried to stay true to myself and remember that most people come to work to make a difference."
Ashley Bray, head of HR operations at category sponsor Great Western Railway, added: "The key thing for us when we were judging is that we were looking for those that are putting their people first, thinking about individuality, are engaging with their people and really being an inspirational leader that thinks about the individual rather than the collective. From what we were looking for Kevin was the clear winner."
Highly commended: Wales Cheung, AECOM; and Frankie Lynch, Southeastern.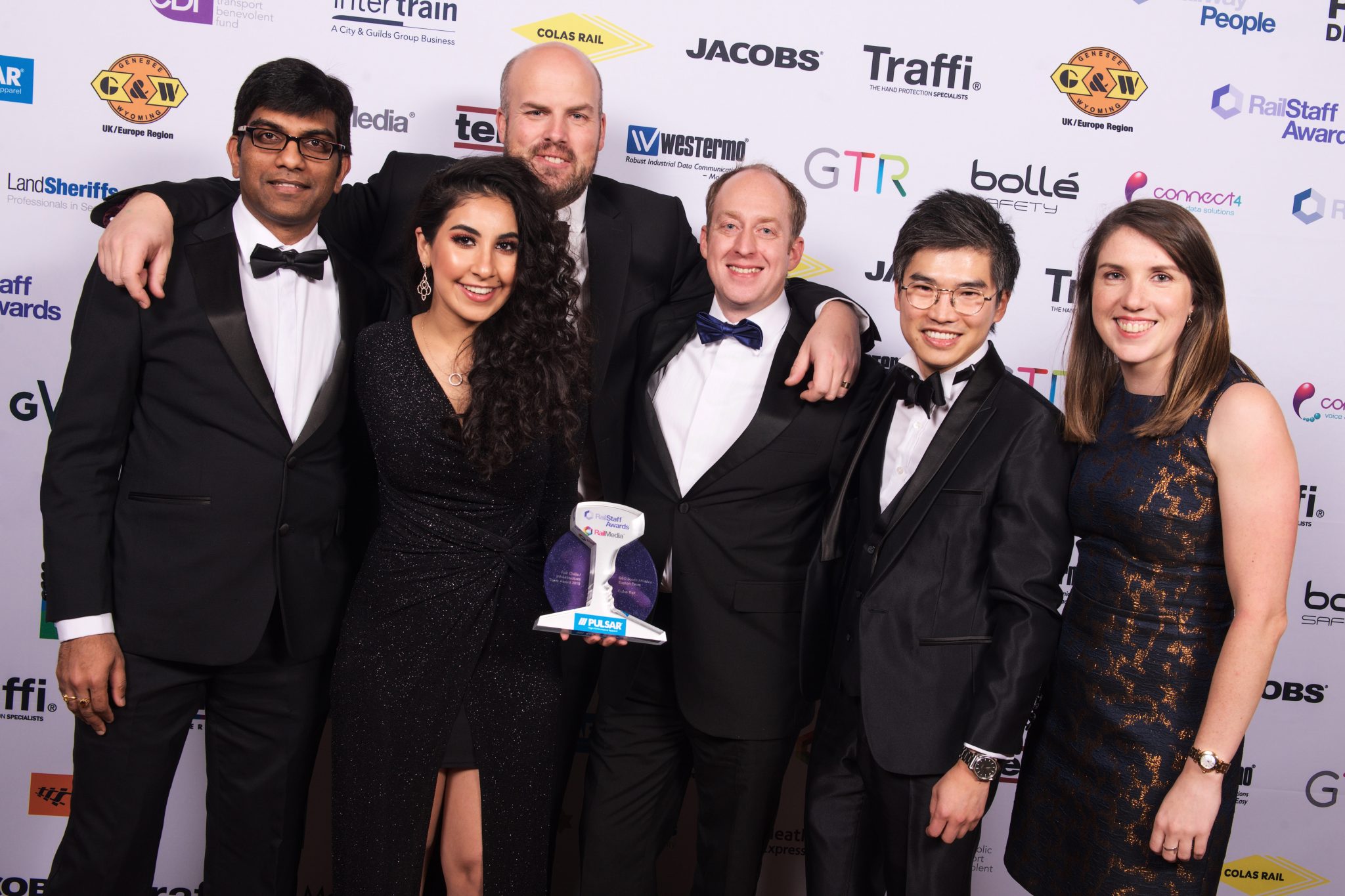 Engineering excellence: Rail Civils / Infrastructure Team Award – The S&C South Alliance's 'Euston Team'
The S&C South Alliance's 'Euston Team' won the Rail Civils/Infrastructure Team Award for delivering a crucial programme of enabling works for HS2 ahead of the May 2019 timetable change.
This challenging programme of works took place on the critical path to enable the construction of the new HS2 terminus at Euston on a short time scale. The successful delivery of this project was only possible through collaboration, commitment and teamwork by the alliance partners Network Rail, Colas Rail and AECOM.
Focussing on these principles, the team developed positive working relationships with the many stakeholders from the LNW route, train operators, third parties and the local maintainer.
The core works for this programme were delivered in an area of central London where there is opposition from some residents. Mitigating against this required careful stakeholder engagement.
Throughout the project, the team went above and beyond to put the passenger first. This was evidenced by the team assisting to get passengers off a stranded train in the Euston Throat when competent railway staff were required at short notice. The team also undertook litter picking, de-vegetation works and graffiti clearance.
Alliance spokeswoman Cate Lough, of Colas Rail, said: "It wasn't just the work we delivered, it was everything that went into it. We were working in a really sensitive area, we went above and beyond with the local community, we changed our programme of works to affect them as little as possible while building a good relationship with the train operating company and infrastructure operator."
Stuart Jukes, managing director of category sponsor Pulsar, added: "Everybody had worked incredibly hard, as a lot of the other entries had as well, but the S&C Alliance Team really stood out and I can't commend them enough.
"For such a small team to go out there and do it is just phenomenal."
Highly commended: LNE Construction Team IP Signalling, Network Rail; and Three Bridges to Brighton Project Team, Network Rail and GTR.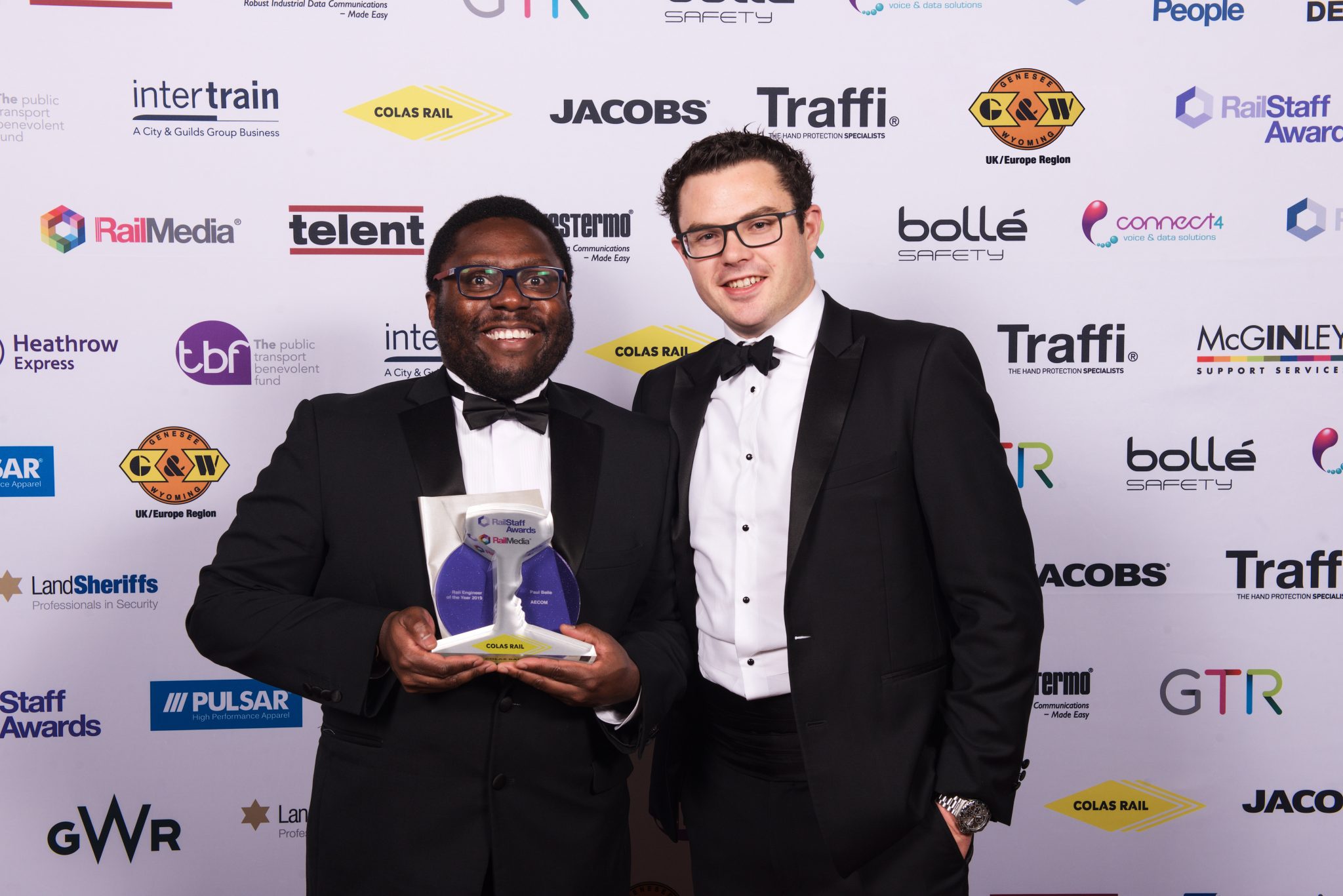 For the greater good: Rail Engineer of the Year – Paul Belle, AECOM
Colleagues describe Paul Belle as a great ambassador for rail engineering.
He is passionate about making a difference, maintains high standards in his work and is, as a result, well-respected by his team, peers and clients.
He has a great in-depth knowledge of railways and, in particular, multi-disciplinary integration and coordination. Combining this stunning ability with his direct communication skills, he is able to overcome concerns before they become issues.
Paul led the development of the GRIP 1-3 feasibility studies for the Rail Systems Alliance South (formally S&C Alliance) in the East and has achieved class leading standards of delivery through his understanding of stakeholder requirements and applying his technical and pragmatic expertise.
In a RailStaff Awards submission, one colleague said: "I truly admire his passion and drive doing the right things, providing solid and pragmatic engineering solutions, considering all stakeholders' interests as well as whole lifecycle of the railway engineering works."
Talking about his passion for rail engineering, Paul added: "I always wanted to do something for the greater good, I wasn't interested in getting a job and making money for the sake of making money, it was all about doing something for the greater good, for society.
"When I was a third year student at Exeter University, I remember being stood on the platform at Exeter St David and everybody there was slagging off the railway. The Voyagers were coming in and they were taking away the standard HST sets. Half the train at twice the frequency, they said, but it was half the train, twice as delayed, and people were slagging engineering.
"As an engineering undergraduate, at that point I decided I am not going to have that. I had the skills so I got in the game."
"What drives me now is about leaving a legacy for the next generation. Doing the right thing for the right reasons."
But he was keen to stress that he wouldn't be where he is today without the help of others.
"I am only as good as the individuals that have invested their time into me," he added.
Highly commended: Dan Reilly, Atkins, part of the SNC Lavalin Group; Paul Hooper, Atkins, part of the SNC Lavalin Group.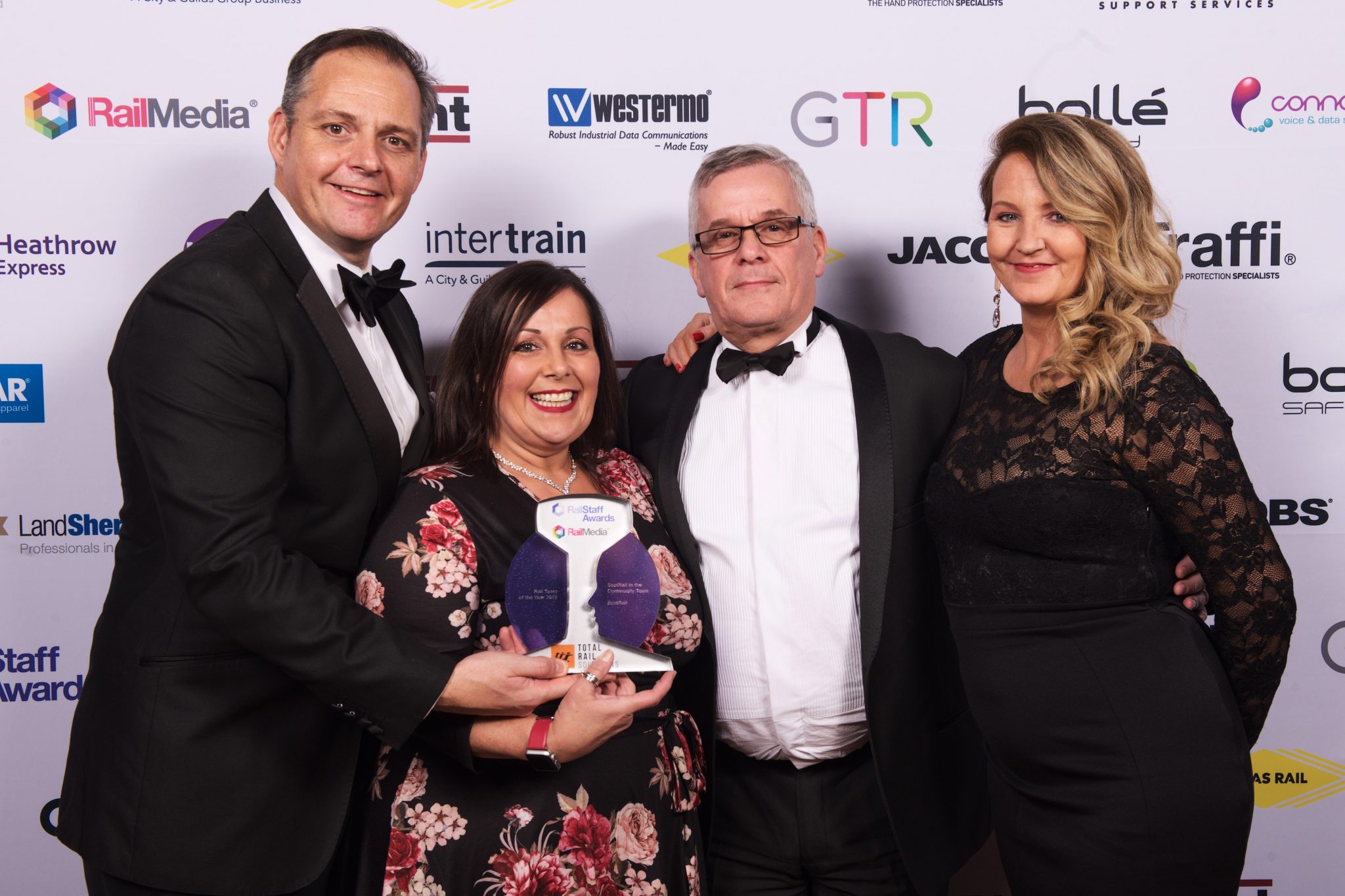 Going above and beyond: Rail Team of the Year – ScotRail in the Community Team
Community heroes from ScotRail were crowned 'Rail Team of the Year' for their contributions to building the "best railway Scotland has ever had".
The ScotRail in the Community Team has successfully delivered a number of community rail, regeneration, transport integration, accessibility and charitable schemes over the last year.
This includes high-profile events such as hosting the Association of Community Rail Awards in October 2018, which was attended by close to 500 people – an event record.
There have also been smaller changes that have had a big impact on people's lives. Grace's Signs, a more inclusive toilet door sign for people with invisible disabilities, has been introduced to all stations. It is named after 13-year-old Grace Warnock, who has Crohn's Disease and who came up with the idea after facing criticism from strangers when she used accessible toilets.
In a nomination bursting with success stories, there were also mentions of: a comprehensive programme of cycling initiatives; reducing the notice for passenger assist times to only two hours from April 2019; and increasing ScotRail's 'Adopt a Station' programme to 75 per cent of its stations while reducing overall costs by 20 per cent.
James Ledgerwood, head of economic development and communities at ScotRail, said: "I'm so pleased for the team, because that's the key thing. I work with a wonderful team, they've worked so hard since Abellio won the franchise to really change what the railway's about.
"They've changed it from being just about getting from A to B to being much more about the community and this is just a small reward for the work the boys and girls have done.
"Community rail is at the forefront of what the franchise is all about. Railways are going to be so important in the future, they're going to be at the heart of communities, whether it be for getting people to education, work or for tourism, it's about connecting people to opportunities."
The Rail Team of the Year Award was sponsored by on-track plant hire specialists Total Rail Solutions (TRS).
Paul Bateman, chief executive officer at TRS, said: "What can I say, another fantastic evening showcasing the rail industry and the people who make it happen.
"For a second year we have chosen to sponsor the Rail Team Award as I firmly believe it takes a team effort to deliver success and this is certainly the philosophy at TRS. So much so we have already agreed to continue our support at the 2020 awards."
Highly commended: Community Ambassadors, South Western Railway; and Fast Trackers, Network Rail and Mott MacDonald.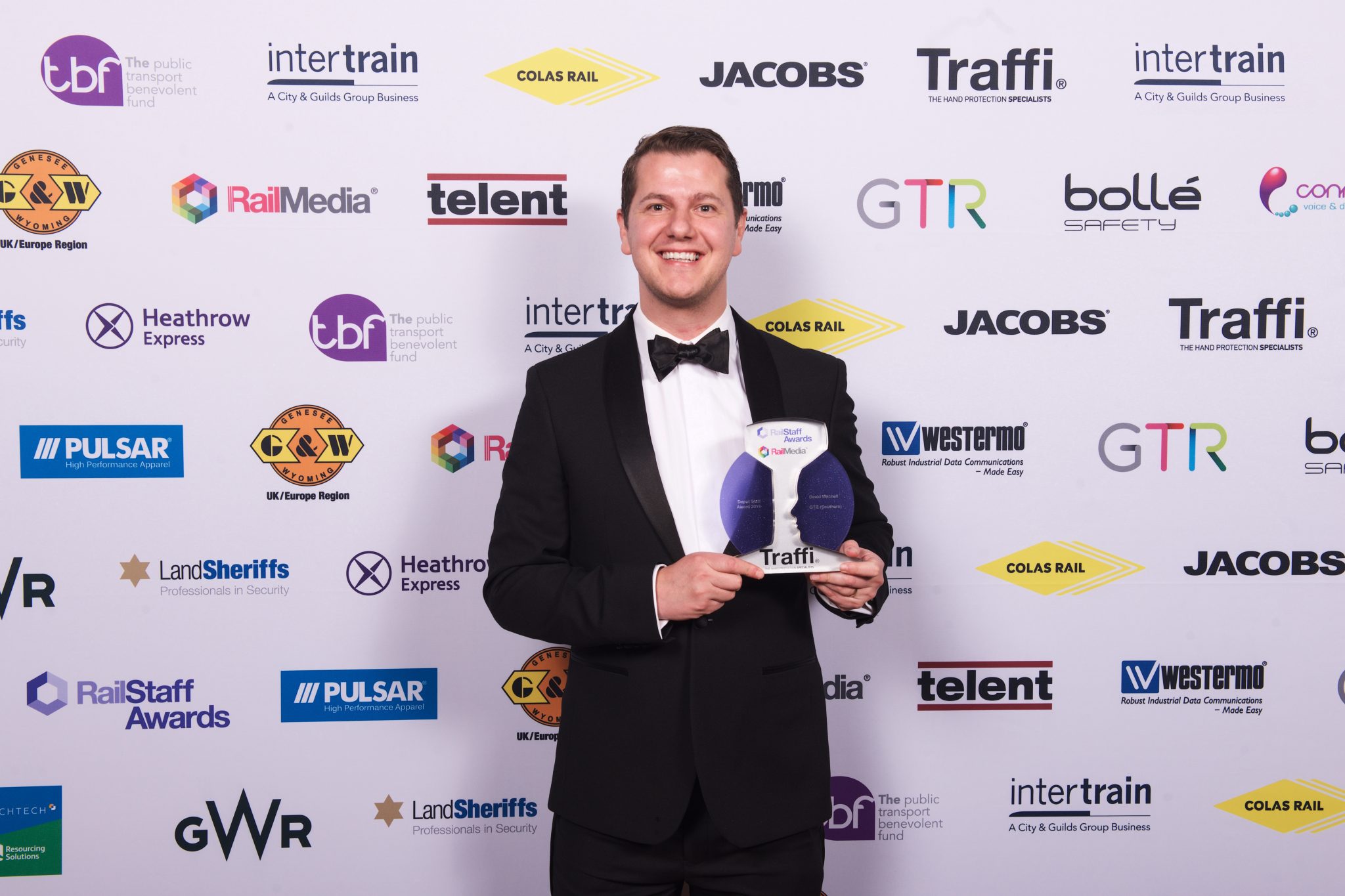 From Disneyland to a train depot: Depot Staff Award – David Mitchell, GTR (Southern)
A Southern employee has been praised for leading the push to introduce time-saving software at some of Govia Thameslink Railway's depots.
David Mitchell took on the initiative to roll out the chat-based digital workspace Microsoft Teams at East Croydon. As a result, the level of communication and engagement between management and the team increased tenfold. The move has given staff access to information they previously had to request and has also brought the depot closer to becoming paperless.
Following the productivity uplift from the initial rollout, David spent time visiting other on-board supervisor depots to help them set up the scheme.
His enthusiasm for new technology was an important factor in teams adapting to the technology, which has transformed the way on-board supervisors work and communicate.
Workmates said they were inspired by David who not only works tirelessly for his team and takes the time to share his knowledge of the on-board supervisor role but has also found time to raise more than £1,000 for Great Ormond Street Hospital.
A former Disneyland Paris performer, David is driven by a desire to push customer service standards even higher, which was another contributory factor in his awards success.
"I started off as a conductor down at Brighton for Southern and have always thought I could make a difference with my background," he added. "Times are changing. It's not always all about safety. It still is a massive part but people are paying £6,000 a year [on season tickets], they want to see where their money's going. And it's not just me, there's a massive culture change in Southern."
Traffi, an industry-leading designer and manufacturer of PPE safety gloves, sponsored the Depot Staff Award.
Dean Cracknell, head of marketing at Traffi, said: "Traffi has strong links to the rail sector and has enjoyed keeping hands safe among wearers for 10 years. We were delighted to sponsor 'Depot of the Year' and hope to continue to support the RailStaff Awards in 2020."
Highly commended: Nigel Moody, Network Rail; and Ian Parr, Merseyrail.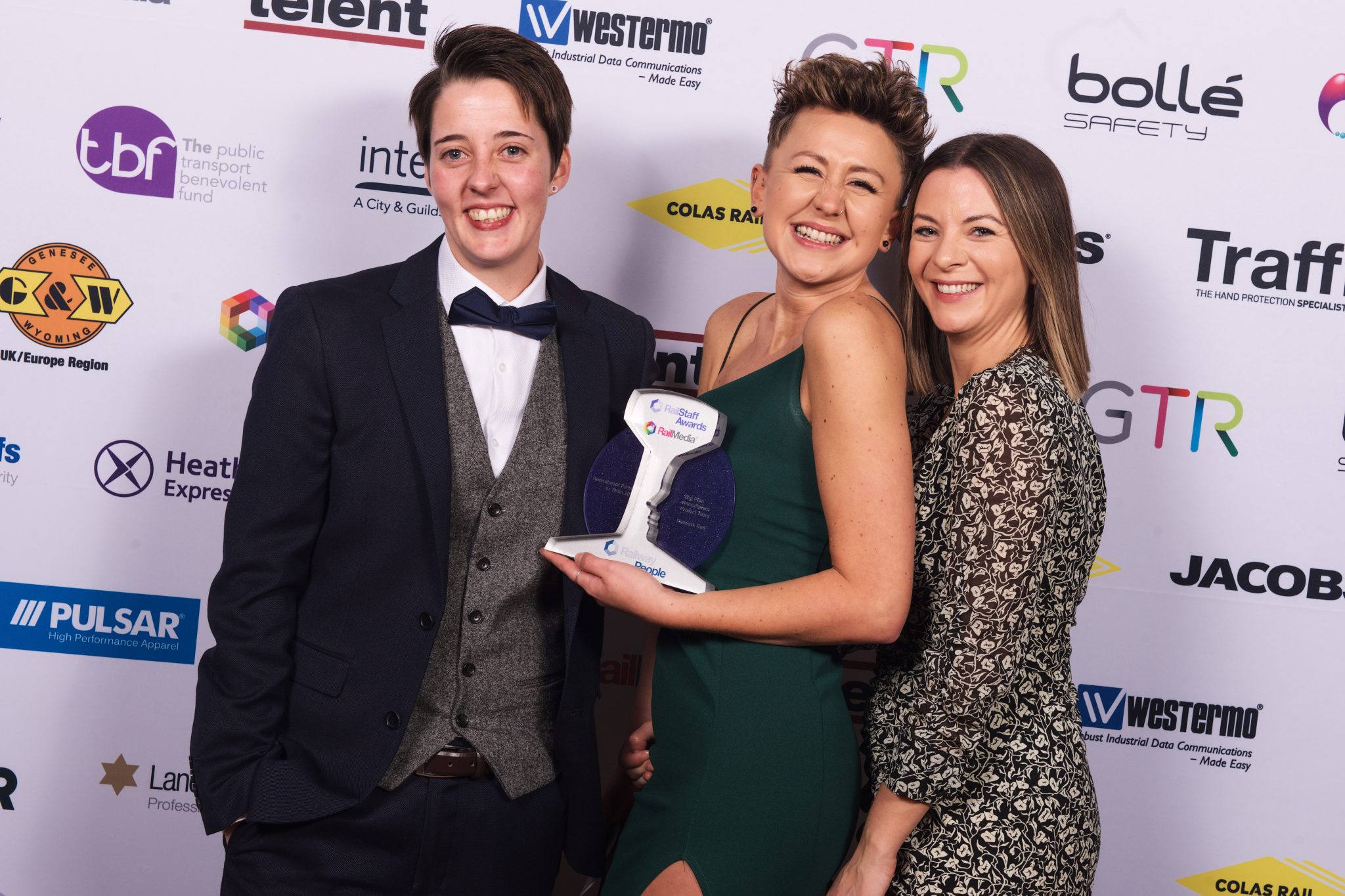 Innovative thinking: Recruitment Person or Team – 'Big Plan' Recruitment Project Team, Network Rail
Network Rail's human resources team on the South East route changed the way hiring is carried out through a series of innovative measures for the Thameslink Resilience Programme – known as the 'Big Plan'.
Sarah Saliba, Lethea Booyens and Chloe Bertenshaw were tasked with working alongside the Thameslink programme team to identify the requirements for a scale of recruitment that had never been done before.
Following a successful consultation, 216 new maintenance posts for various roles were created across Kent and Sussex. But, to ensure fast, effective results, the team had to do things differently.
They worked with key stakeholders, hiring managers and unions to develop a phasing plan, which ensured they kept on track each period, helped identify risks and enabled them to confidently hold the business to account when actions were incomplete.
The trio also developed a control board that focused on outstanding and imminent actions, thereby ensuring transparency and professionalism in their dealings with stakeholders.
The project was such a success that the route's recruitment team have rewritten the recruitment strategy to focus on four workstreams to enable them to consistently deliver a platinum level of service:
• Resourcing for the future;
• Process and communication;
• Attract and retain;
• Induction and onboarding.
Resourcing business partner Chloe Bertenshaw said: "With Thameslink Rail we had to introduce 216 posts within the maintenance world, so into the infrastructure.
"This huge number meant it was a challenge. We were basically given a year to put everything together, from attraction to advertisement to early engagement and looking at the external market."
Chloe explained that there is a huge shortage of technicians and that her team developed a structured development plan to allow operatives to progress to this critical level in one rather than three years.
Mark Smith, interim HR director of Network Rail's Southern region, said: "Recruitment in and around greater London is extremely competitive. We were seeking a specific group of technical employee types against many of the same players in the industry.
"This team created a very specific way of programmed recruitment campaigns with aggressive targets set with a detailed plan and definitive requirements to enhance the numbers in the candidate pool.
"Not only have targets been met, we have seen a very positive impact on our community in the more deprived areas of London. We have used this as a way of promoting our ever-increasing inclusive employee base and raising the positive profile of Network Rail. Because of this, we are rolling out this programme to the whole of the South East route.
The Recruitment Team of the Year Award was sponsored by RailwayPeople.com.
Highly commended: Recruitment Team, South Western Railway; and Simon Kishore, Resourcing Solutions.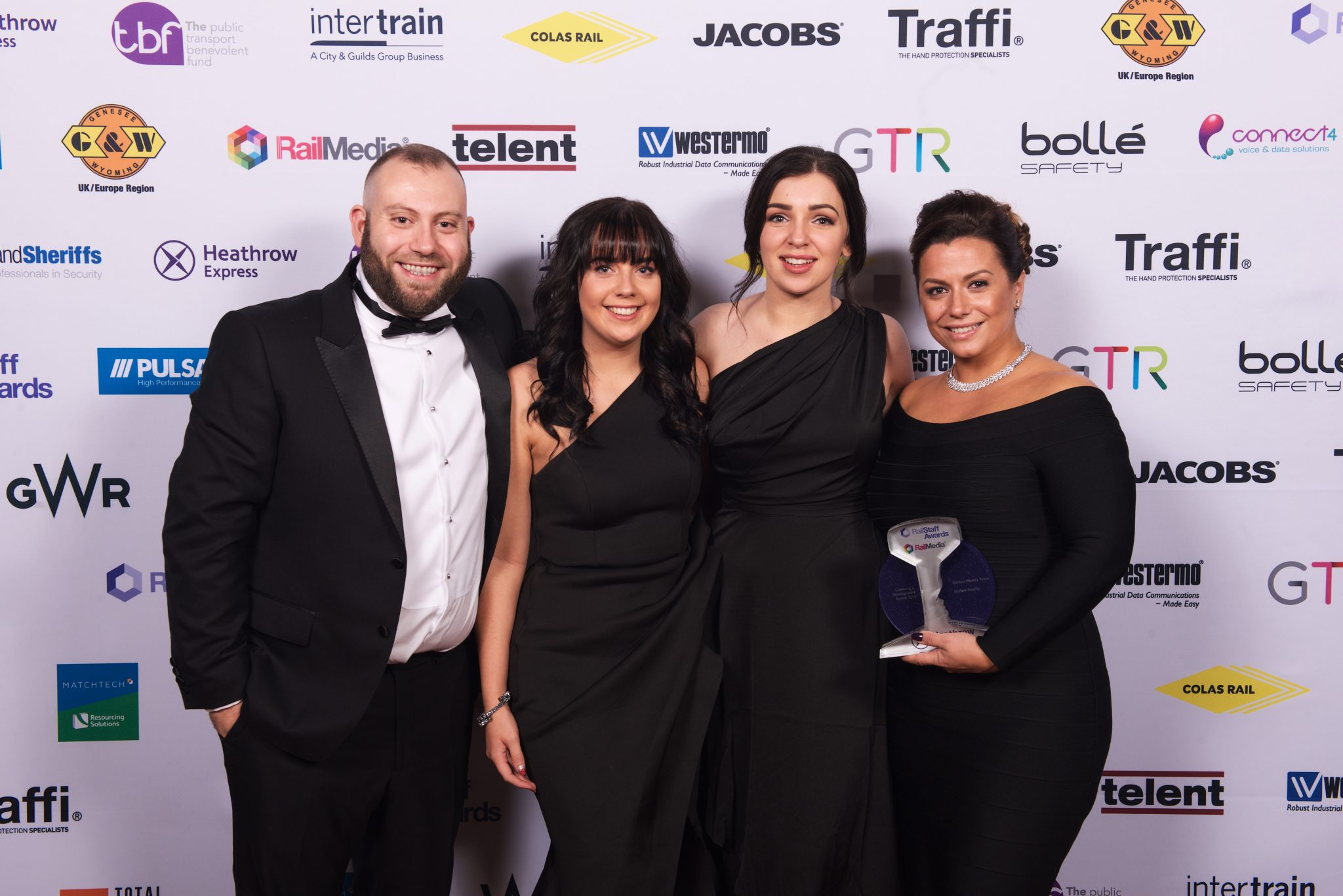 Building a virtual railway: Learning & Development Award – Motion Reality
Motion Reality, the not-for-profit arm of engineering firm Motion Rail, tours schools and Big Bang Fairs with its specially designed virtual reality (VR) software that raises awareness of the dangers of playing on the railway through 'gamification'.
Users have to strap their head into a VR headset and grab two controllers that allow them to move around in the virtual world. One simulation sees the user presented with a typical scenario at an automatic half barrier level crossing. When a train begins its approach, the barriers begin to close and the user has to follow the right sequence of tasks. If they decide to cross as the train passes, it hits them but doesn't result in any gore.
Although the impact of the Motion Reality programme on trespass and incidents has yet to be known, the University of South Wales assessed rail safety knowledge in children pre and post training. Following the training, knowledge and retention improved by 42 per cent on average.
Although, working in partnership with Network Rail, it's now used to educate youngsters throughout the communities it works in, it was originally developed to give office staff a greater awareness of the railway and the associated hazards so they could support the site teams more effectively as well as to help train lookouts and COSS's.
Plans are now in place to take Motion Reality to railway stations as part of the Samaritans Million Hour Challenge to hold sessions around mental health awareness, educating people on how train drivers feel when a person is struck and the devastating ripple effect it has on individuals, friends and family.
Since the beginning of 2018, more than 300,000 people have used the system, which scooped the award for Learning & Development – sponsored by airport rail link Heathrow Express – at the RailStaff Awards.
Emma Dymond, group chief executive at Motion Rail, said: "Everybody thought we were mad wanting to build a virtual reality railway two years ago so getting recognition for this crazy idea is absolutely overwhelming – I don't think there's a better word for it."
Highly commended: Learning and Development Team, Network Rail; and Iain Thompson, TXM Plant Limited.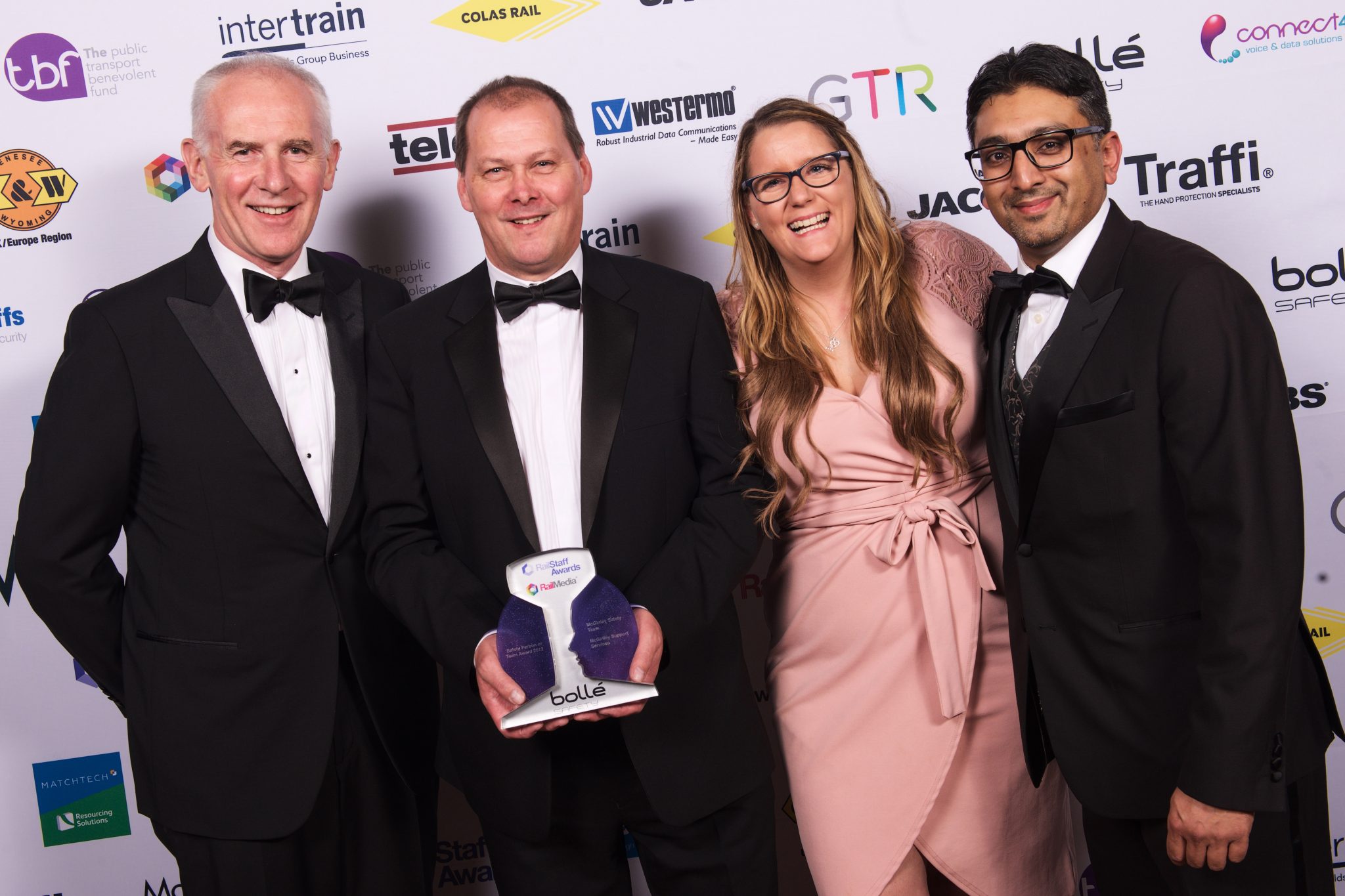 Safety first: Safety Person or Team Award – McGinley Safety Team
As one of the founding members of the Track Safety Alliance, the McGinley Safety Team works tirelessly with peers to create a safer railway environment.
It is also the driving force behind the innovative mobile reporting app 'Safety at McGinley', or SAM for short.
In its current form, SAM is a bespoke multi-platform designed to give users a 'one-stop' safety experience and knowledge base. It allows them to report close calls and receive and give safety briefings anytime, anywhere.
As one of the first of its kind, SAM enables live safety feedback from site directly to the McGinley Safety Team as well as ensuring the successful implementation of railway safety briefings.
Initially the idea for the app was brought about through a collaboration between the internal health and safety team, safety representatives and frontline workers.
Each worker reporting a close call through SAM receives an email to thank them and outline actions that may be taken. This confidential, personal touch has been key in changing worker perceptions on close-call reporting, which have risen by 70 per cent since SAM launched in April 2018.
John Jebson, HSQE director of McGinley, said: "It's taking mobile platforms to the next level. It's not one dimensional, it's taking a communication that we want to give to the workforce and then receiving an equivalent communication back. So we can brief things in real time, get feedback and we can get worker participation a lot easier than just sending a one-way message. Everybody carries a smartphone these days, we don't want to carry reams of paperwork around."
Premium eyewear manufacturer Bolle Safety was the sponsor of the Safety Person or Team Award.
Highly commended: Principal Designers Team, Jacobs; and HSQE Advisors, Kelly Rail.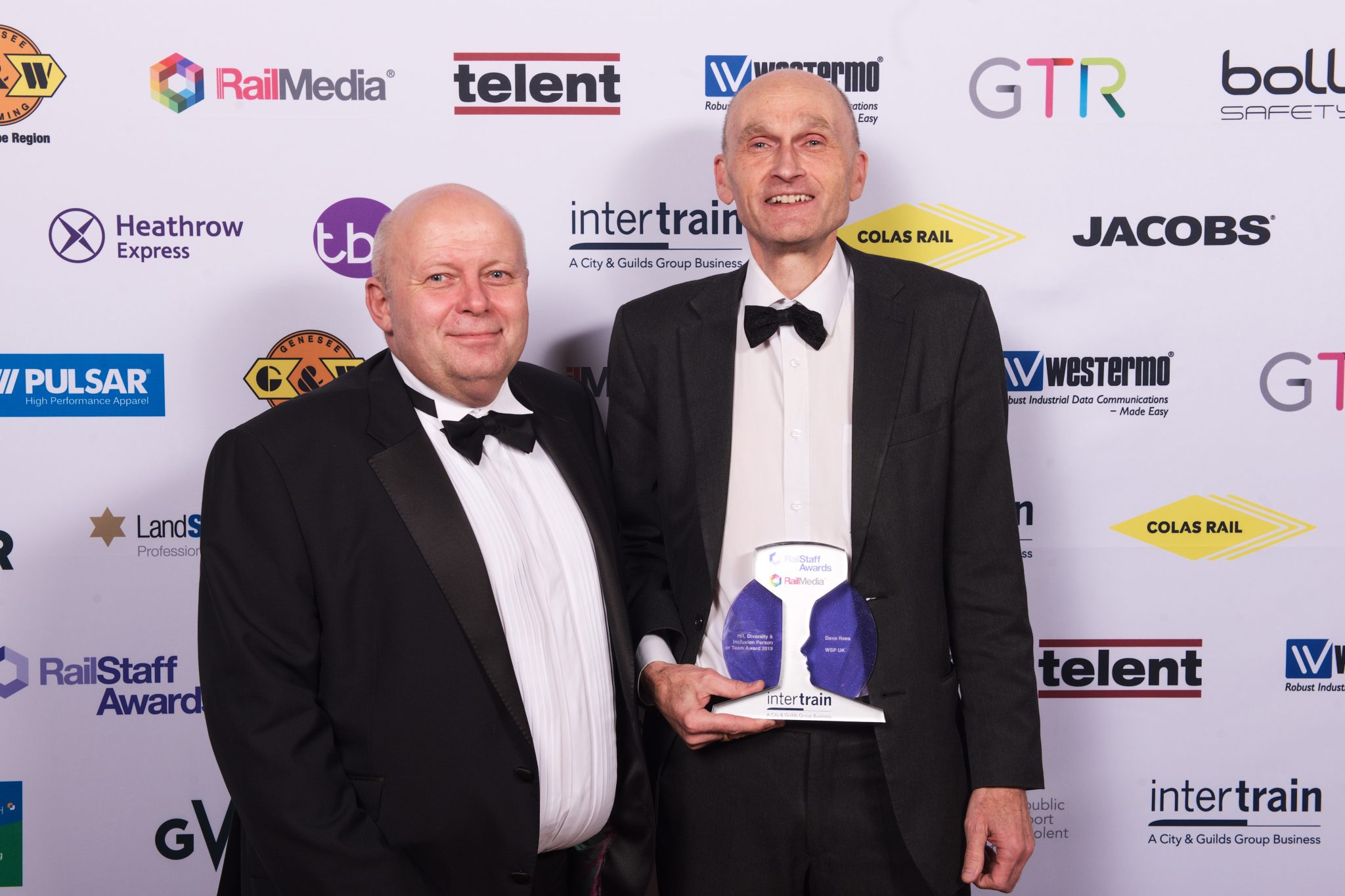 Attraction and retention: HR, Diversity & Inclusion Person or Team Award – David Rees, WSP
WSP has witnessed a transformation in its HR support over the last decade. Under the guidance of Dave Rees, who joined in 2008, WSP's UK rail business has engendered a culture of equality, diversity and inclusion while growing its headcount from around 250 to 760.
His practical approach has helped deliver exceptional results for WSP and put it in a strong position to achieve its ultimate objective of being Britain's first gender-balanced engineering consultancy.
Dave's insight, drive and industry knowledge have supported WSP UK Rail's aim to become the 'employer of choice', attracting and retaining the most talented rail people in the industry. As a result of his work, WSP's attrition rate has fallen from 17 to seven per cent. A key element of his work was to identify, and target, post-chartership staff as the group most at-risk of leaving.
As well as training the senior leadership team to see things from a people perspective, he has overseen the roll-out of unconscious bias training to almost all senior rail staff to ensure they make the right decisions when recruiting or recognising progress.
Dave has also been an active member of the rail trailblazer scheme to introduce a new apprentice standard to the industry.
As HR business partner, Dave has worked with team leaders and recruitment teams to promote greater female representation and the per cent of female graduates in the rail division has risen from 12 per cent in 2015 to 43 per cent in 2019.
Picking up the award for HR, Diversity and Inclusion Person of the Year, Dave said: "I'm fairly modest about what I do. I feel I'm just doing my day job, but other people see something I don't – thinking outside the box, trying to bring a different view into what the business tries to achieve – and hopefully it works and we improve our inclusion, our diversity, the way we do things."
The HR, Diversity and Inclusion Person of the Year Award was sponsored by Intertrain, one of the UK's leading training providers for railway infrastructure that has recently been taken over by City & Guilds Group.
Martin Hottass, group director, technical training, of City & Guilds Group, said: "We chose to sponsor the HR, Diversity and Inclusion Award as it fits with the City & Guilds Group's purpose as a charity: to champion all members of the workforce to enable them to develop their skills for growth.
"As always, the RailStaff Awards was a brilliant occasion to come together with different organisations from across the industry, to witness how the sector celebrates its people and the vital work its unsung heroes do on a daily basis."
Highly commended: Rebecca Bartlett, Network Rail; and Brighton and Hove PRIDE Steering Group, Govia Thameslink Railway.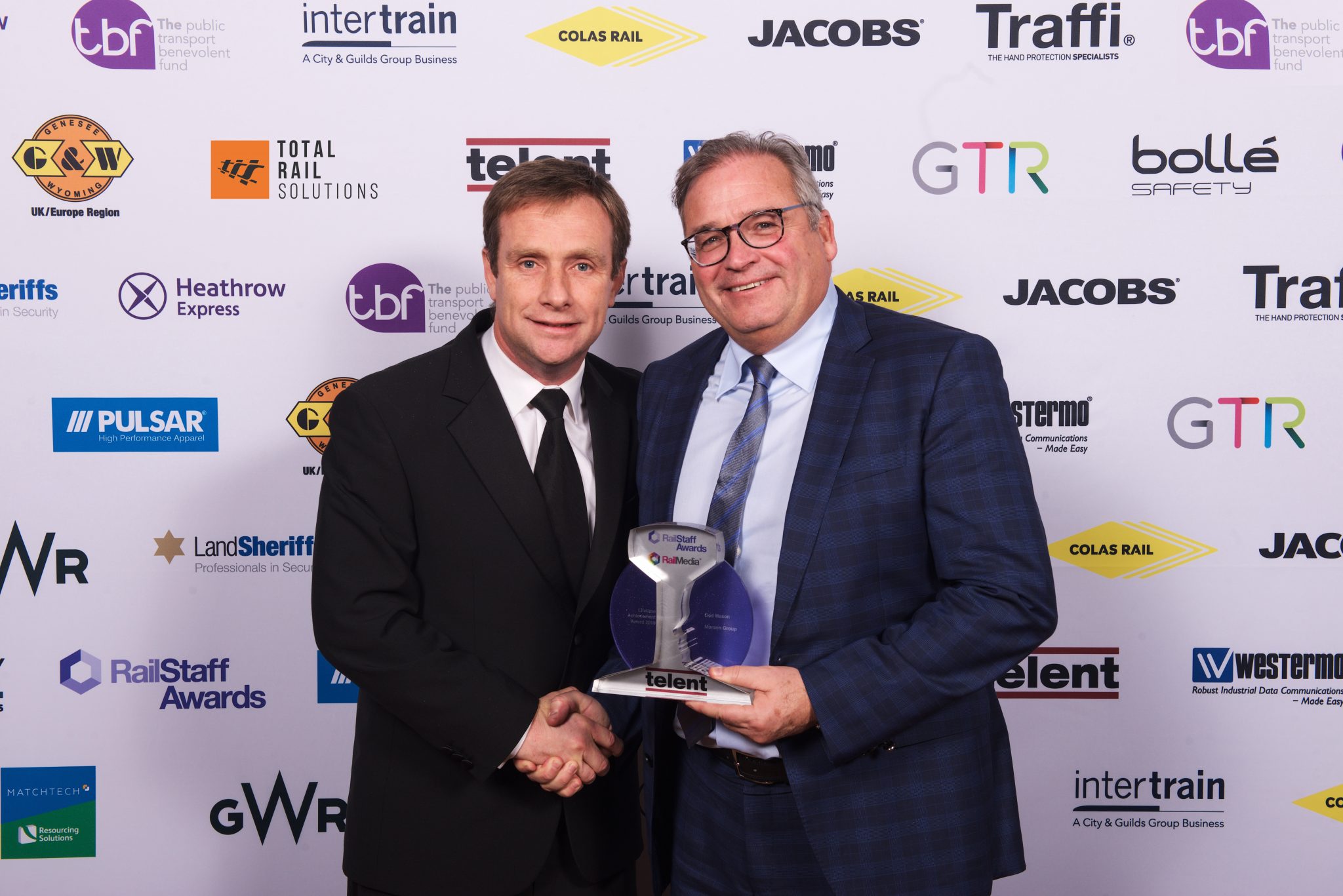 A stalwart and a superstar: Lifetime Achievement Award – Ged Mason, Morson Group
Ged Mason is the chief executive of specialist recruiter Morson. He joined the company in 1986, stepped up to become the managing director in 1999 and to his current position in 2005.
As he's risen through the ranks, Ged has embraced the firm's family values – it was, afterall, founded by Ged's father Gerry in 1969 – by using his position to help others.
In his drive toward global growth, and as it nears £1 billion group turnover, Ged has accelerated the company's integration of technology, setting the tone for Morson and the industry for years to come.
Amid escalating competition for talent, Morson is working to discover new candidates from previously untapped areas, tackling diversity challenges and opening doors for fresh talent.
As the mastermind behind this ambitious drive, Ged uses diverse platforms – networking events, awards, social media – to encourage others to make similar pledges. He has also spearheaded a partnership with The Girl's Network to empower young women from disadvantaged Salford communities to connect with leading female role models.
A key extension of the Group's company values is the provision of extensive training to senior management in the area of equalities, diversity and inclusion. Combatting unconscious bias through training, blind auditioning and CV anonymisation is also part of this.
For these selfless qualities and the impact he has had on business performance since joining the company, Ged was given the award for Lifetime Achievement.
Asked what he is most proud of doing in his career, Ged said: "Bringing in new talent and seeing them being mentors for the new generation coming through. You have to look to the future for the talent and the apprenticeship programme. I'm very proud of bringing new blood into the industry which is vitally important, of course."
The Lifetime Achievement Award was sponsored by telent Technology Services, a supplier and maintainer of mission-critical communications equipment.
Stephen Dalton, managing director – transport, telent, added: "What Morson have done is they have constantly reinvented themselves, they have done everything from software applications to supporting companies like ourselves. As the railways have moved, they have moved with them and, in many cases, got ahead of the curve. They bring in ideas from other areas and they offer solutions."
Highly commended: Chris Davis, Network Rail; and Andrew Fairbank, South Western Railway.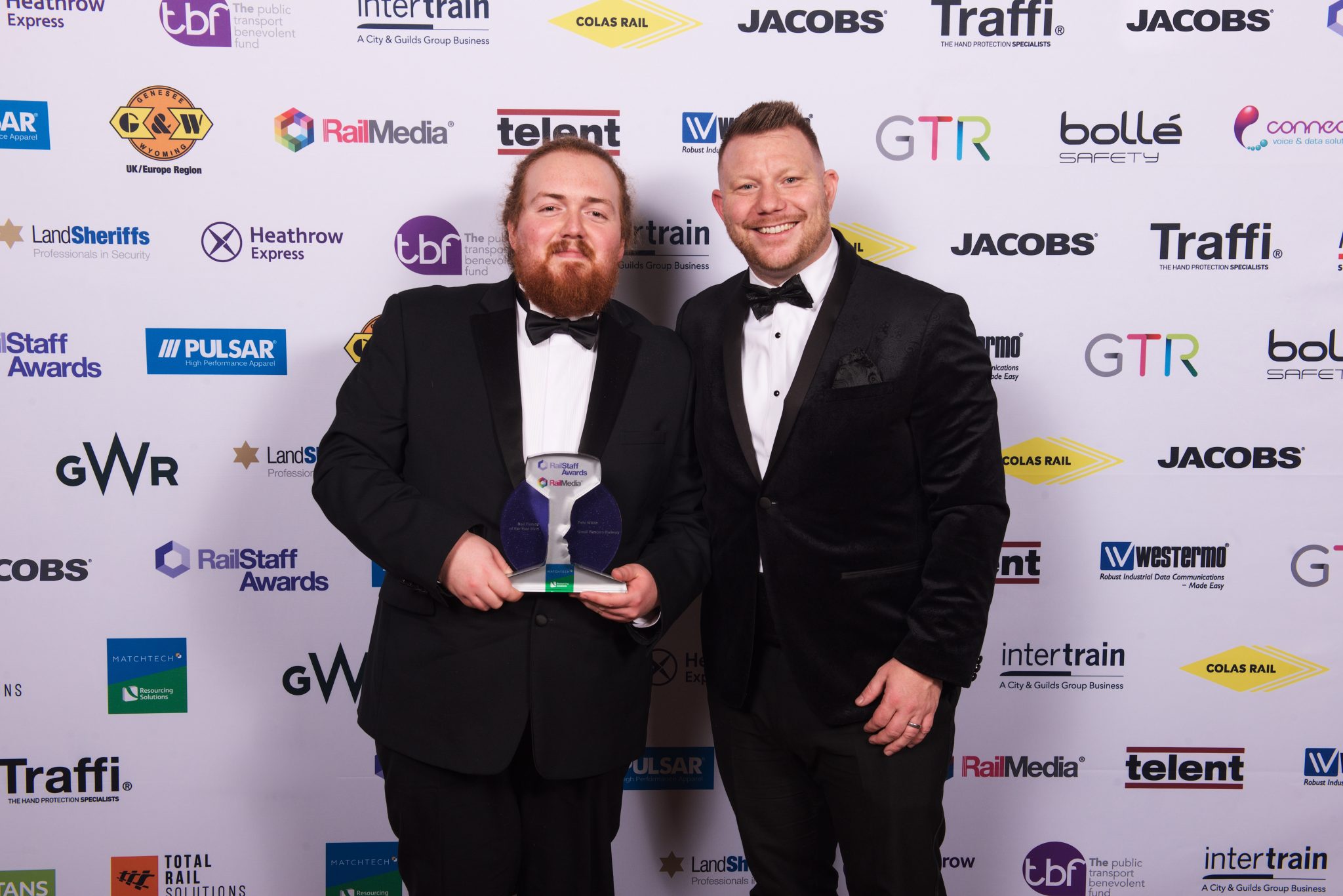 A rail industry hero: Rail Person of the Year – Pete White, Great Western Railway
Great Western Railway's (GWR) Pete White is always going the extra mile for customers or taking time out to support youngsters coming through the Prince's Trust programme but it was for his actions when a train he was working on became stranded that he was nominated for a RailStaff Award.
With heavy snow falling across the network, Pete was on duty one evening when his train came to a halt with around 20 customers on board, including children. Concerned about morale, he spoke to each of the customers several times to build up their spirits, keeping them calm and reassured.
As the train was still stranded come 22:00, and with customers having been onboard for nearly five hours, Pete took it on himself to make the situation more bearable for customers.
After struggling through snow, Pete returned from a local shop with food and drink for customers and fellow staff members.
Later on that night he was contacted by his line manager at 23:30 who informed him that Network Rail and the local police would be unable to help for several more hours.
Pete spoke to every customer informing them of the current situation, despite facing some challenging conversations. He also took the name and numbers of all passengers so GWR could contact them at a later date.
The points were cleared at approximately 01:00 and the train was finally able to transport most of the customers back towards home but it again became stuck at frozen points. A few customers were still on board and Pete again did his best to keep them up-beat and they eventually arrived back at around 03:30.
Pete had by this time been on shift for 14 hours, all of that time taking care of his customers with a smile, reassuring them with his fantastic customer service and looking after them at risk to himself.
For going above and beyond, Pete was awarded the 'Rail Person of the Year' trophy at the RailStaff Awards.
He said: "We all do a tough job on the railway – anyone in my position would have done the same thing.
"I just come from a slightly different background, that's all, and made a success of it.
"I went from being long-term unemployed to having a lifelong career ahead of me – from being jobless for as long as I was, that's not all that common."
The Rail Person of the Year Award was sponsored by Matchtech and Resourcing Solutions. Spokesperson Kenny Burton added: "I'm a firm believer in 'you can teach anything to anyone'. But what you can't teach is the attitude towards anything. The right attitude outweighs talent any day of the week and, if you're talented as well, it's a win-win situation."
Highly commended: Paul Case, CPC Project Services LLP; and Scott Nickels, West Midlands Trains.
---
The full list of winners was as follows:
Apprentice of the Year – Zoe Auld (Virgin Trains)
Award for Charity – Chris Conway (Network Rail)
Customer Service Award – Margaret Capps (Southeastern)
Depot Staff Award – David Mitchell (Southern)
Digital Railway (S&T) Person or Team Award – Intelligent Infrastructure Track Team (Network Rail)
Graduate or Newcomer Award – Evie Barratt (Jacobs)
HR, Diversity & Inclusion Person or Team Award – David Rees (WSP)
Learning & Development Award – Motion Reality
Lifetime Achievement – Ged Mason (Morson Group)
Marketing & Communications Team Award – Jaye Dry (G&W UK/Europe Region)
Rail Civils / Infrastructure Team Award – S&C South Alliance – Euston Team (Colas Rail)
Rail Engineer of the Year – Paul Belle (AECOM)
Rail Manager of the Year – Kevin Tarrier (Heathrow Rail)
Rail Person of the Year – Pete White (Great Western Railway)
Rail Project Manager Award – Richard Vernon (Hull Trains)
Rail Team of the Year – ScotRail in the Community Team
Recruitment Person or Team – 'Big Plan' Recruitment Project Team (Network Rail)
Safety Person or Team Award – McGinley Safety Team
Samaritans Lifesaver Award – John Dawson and Rob Shannon (Land Sheriffs)
Station Staff Award – Aaron Koduah (Virgin Trains)