RULES ARE TO BE OBEYED. BUT ARE THEY ALL GOOD ENOUGH? ARE THERE TOO MANY? WHY DO TRACK WORKERS DECIDE NOT TO FOLLOW THEM?
RailStaff's track-safety expert Colin Wheeler once again delves into the depths of the Rail Accident Investigation Branches reports and Network Rail's safety bulletins. He pulls out eight examples of incidents that should never have occurred – but they did. Errors, missed opportunities and sheer carelessness meant that one worker was badly hurt, but it could have been far worse.
On 26 May 2020, the Rail Accident Investigation Branch (RAIB) published its report of an accident last year at Corby in Northamptonshire, when a passenger train ran into material that had been washed out by flood water from a cutting slope onto the line.
At 15:53 on Thursday 13 June, about a mile north of Corby, the northbound 14:34 London St Pancras to Nottingham HST with eight coaches was travelling at 40 mph when it ran into debris (sandy gravel and soil) on the track.
It had been diverted from its timetabled route due to "an incident near Leicester". It did not derail. The driver reported the incident and then discovered more material had been washed down and the rear of his train was also trapped. All 191 passengers were later transferred to a southbound train, the 13:59 Sheffield to London St Pancras, an HST with six coaches. However, this shorter train was already carrying between 450 and 550 passengers and it also became trapped with rising flood water both in front of it and to its rear.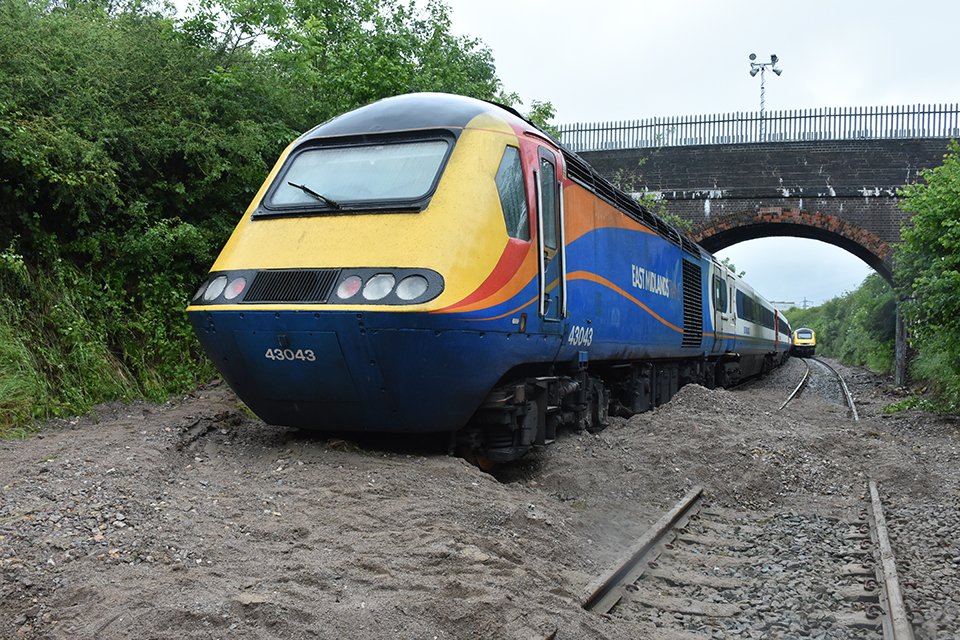 It took until 23:14 (over seven hours) for passengers to be taken off the train and conveyed to nearby stations at Corby and Kettering. A Temporary Speed Restriction was in place due to the condition of track in Corby Tunnel. The report says the rescue and evacuation of passengers was significantly delayed, and a factor in this was the lack of equipment for transferring passengers from one train to another.
RAIB's report says that the cutting slope was not designed for the volume of water that had accumulated at its crest. The source was two adjacent storage ponds that were overfilled due to a blockage beneath a bridge over a brook. It was nearly four weeks since the ponds had last been pumped down. The bank of the pond closest to the railway was a low point and excess water had spilt into the field between the ponds.
The report states clearly that the "exceptionally heavy rainfall was not a factor in the incident". Instead it identifies other underlying causes including "lack of engagement between various parties responsible for the flood management system at this location and the potential for it to cause flooding on the railway".
Alarms from water level monitoring equipment were not received. A train on the Up line reported at 12:43 that there was standing water between the rails over a 40 metres length, but no sign of water flowing onto the railway. Network Rail's maintenance team visited site at 13:10 and reported high water levels in the ponds. At 14:15, telemetry equipment monitoring water levels in the aqueduct channels issued an alarm when the 75 per cent threshold level was exceeded. Control Room staff did not receive this message.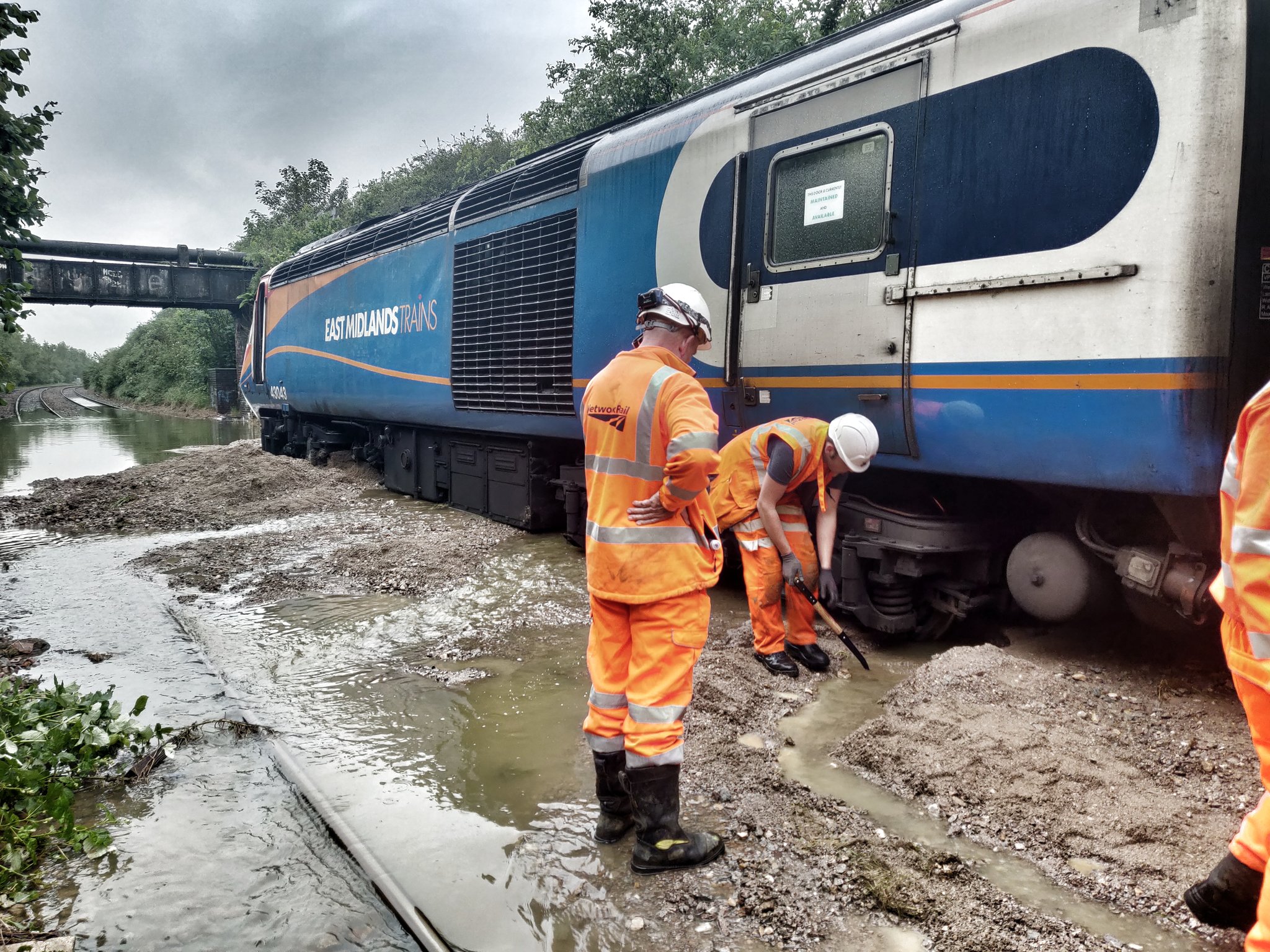 During its investigation, RAIB accessed correspondence between British Rail (and later Railtrack), Corby Urban District Council (later Corby Borough) and the steelworks owners dating from the 1960s to the early 2000s. This showed that "engagement between the parties was often adversarial, seeking to apportion blame and recover costs". Network Rail held meetings with the Environment Agency in 2015 to discuss the flooding of the railway. "These meetings did not result in any actions to address the flooding problem."
SPAD in West Yorkshire 
The RAIB website reports a Signal Passed At Danger (SPAD) that happened around 09:54 on the morning of 7 May. The freight train came to a halt 250 metres beyond Croft West junction and damaged a set of points by doing so. The red signal the train passed was at Hare Park Junction.
Following a preliminary examination RAIB has decided to publish a Safety Digest "in the next few weeks".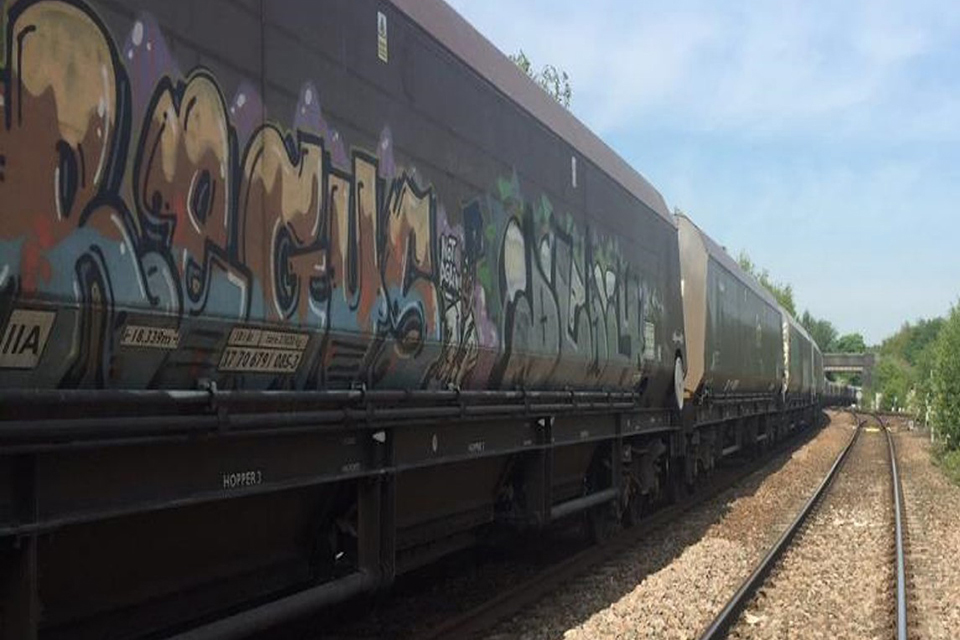 OLE struck by scissor lift
At 10:50 am on 9 April a member of Newcastle Central station's staff reported concerns about the use by painters on Platform 2 of a mobile elevated scissor lift that was close to the overhead line equipment (OLE).
The work was immediately stopped but, as the scissor lift was being lowered, it made contact with the earthed part of the lower cross span wire on one of the OLE structures. A train on Platform 2 was cautioned and maintenance staff checked the OLE before it was returned to service.
Interestingly, the Safety Bulletin discussion points include the following question, " Have COVID-19 changes made to signing in arrangements due to social distancing reduced the effectiveness of site briefings?"
Paddington fall and injuries
Although Safety Central's safety bulletin 20-04 was issued on 1 May, it relates a serious accident that happened last Christmas – it was issued to as "shared learning".
On Platform 11, a worker fell from a mobile scaffold tower and suffered fractured vertebrae, ribs and collar bone. The work was planned for a day shift but was transferred to night shift without any handover arrangements.
The work team had signed in with the COSS (Controller of Site Safety) who was doing unrelated work. They started work despite having been instructed by the COSS not to do so. No Form C had been issued to confirm OLE isolation and the testers would have been out of the COSS's line of sight.
The person in charge had not been involved in planning the work, and no one in the group was competent to use the scaffold tower, which had been left at site by a different team three hours earlier and not there for this task. The tower should have been tagged and labelled as incomplete as it had been disassembled and reassembled multiple times over the course of the day, the last time leaving it incomplete.
Wooden pole across the railway
Safety Bulletin 20-06 was issued on 5 June 2020. It gives no details of the location but reports that "a passenger train recently hit a wooden pole that had fallen onto the line."
As can be seen in the picture, the rotten pole had fallen across two lines. The main rot was near the base and the removal of the redundant lighting pole had been recommended several times due to its condition.
Surely somebody must be at fault for not removing the pole before it fell? The bulletin does make the point that "ownership of these assets may not be clear in all cases".
Hopefully now others will be checked and, where necessary, removed!
On-Track plant derailed
Shared Learning bulletin NRL20-06 was issued on 8 June but, surprisingly, relates back to a derailment on 25 November last year.
A Komatsu PC 138 had lifted and was carrying a 20-foot long track panel over a set of points at Worcester Shrub Hill station sidings when it derailed. Baseplates and securing bolts were damaged.
Due to a fault in the machine's axle control system, the machine was "travelling in an unsafe mode". The machine operator knew about the fault, which allowed the machine to travel without its rail axles being fully deployed. The bulletin adds that the Crane Controller and "On-Track Plant Operations Scheme Representative" both failed to notice that the machine was being used in an unsafe mode and that the RCI indicator light was showing the machine was in a non-lifting mode".
One reason for the delay in publishing this bulletin could have been that those involved failed to follow the correct procedures and actions following the event, so evidence of the cause was not preserved. This hindered the investigation, so the information had to be gained from the data logger download and by carrying out a re-enactment.
"Possession irregularity"
The details of this incident, which took place at Slochd on the Highland main line, are to be found on Network Rail's Safety Central website, having been posted on 3 July. On 22 April, a worksite was set up outside the limits of a booked possession!
The planned possession was from Tomatin Loop South to Milburn Junction Inverness. The worksite was correctly specified as being between 94 miles 1,200 yards and 96 miles 500 yards. Planning meetings took place at five and ten weeks before the planned possession but these "failed to reveal that the worksite mileages were not covered".
Astonishingly, no PICOP (Person In Charge of Possession) meeting was held and neither the PICOP or ES (Engineering Supervisor) realised that the worksite would not be covered by the possession. The bulletin reveals that there was no system check or visual representation of the plan highlighting worksite mileages in the paperwork.
PICOP meetings are both mandatory and of primary importance. I believe the PICOP should always be involved directly in possession planning, given the responsibilities of his or her work.
On the night, a signaller at the Highland workstation in Inverness reported receiving a SPAD (Signal Passed At Danger) alarm on signal HS346 at Slochd Summit. The work group, which had triggered the SPAD alarm, consisted of three individuals, working with a road/rail vehicle and trailer, on the unprotected line!
Communications on the night had failed to uncover the planning error to either the PICOP or ES. I wonder whether or not every other possession that night involved PICOPs who had attended and contributed to possession meetings? Being ingrained in the culture ought to render stressing that they are mandatory irrelevant.
Leighton Buzzard near miss
Working for a principal contractor, two sub-sponsored contractor's staff undertook a survey at Leighton Buzzard for de-vegetation work. Their work had been planned and a safe work pack produced. But there had been no agreement for the pair to access the track and carry out their survey.
One crossed over four lines of the open-for-traffic West Coast main line. They then began walking, one in each cess, using cameras to record the vegetation (see picture) with one of them having passed the limited clearance signage of an overbridge.
A passenger train travelling at line speed passed through, causing one trackworker to press himself flat against the abutment to avoid being struck. There was nowhere to stand two metres clear. The train driver was so shaken by the incident that he had to be relieved at the next station. Both Network Rail and the RAIB are investigating.
"The railway is like a family with a distinct culture all its own" are the words used in RAIB's annual report, as featured on page 24 of this issue. My experiences over decades of employment as a railway civil engineer have convinced me that aptitude, interest (leading to a degree of dedication) and job satisfaction are all important individual traits found in the best staff, whatever their skills.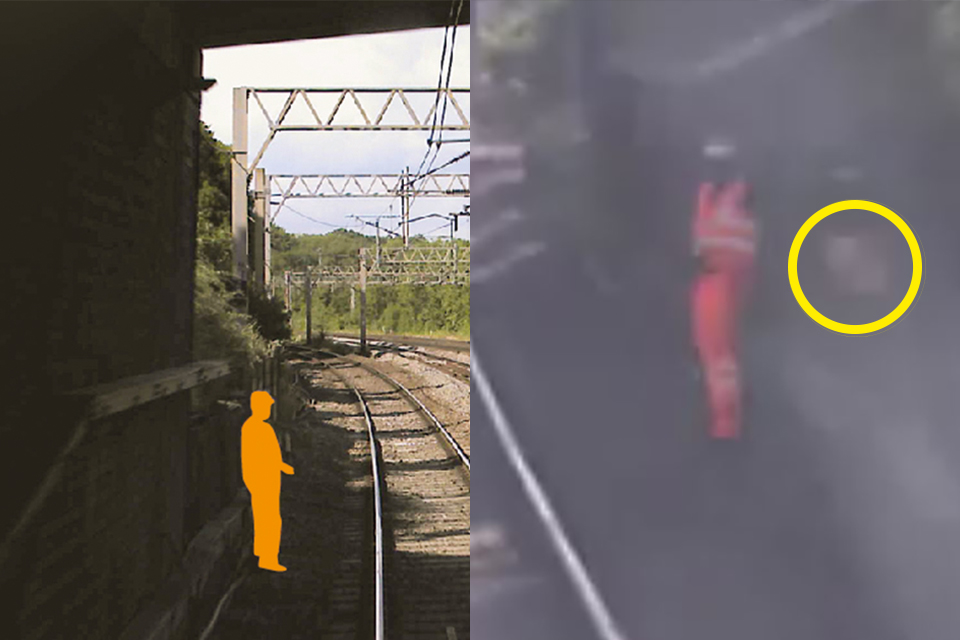 When groups work together regularly, in a short period of time they evolve their own take on the details of how they work best to do the job easily. The use of their individual expertise and understanding of each other's strengths and weaknesses then results in significantly higher productivity and safety.
"Juggling to make ends meet"
I note Simon French's comments about self-employed individuals "juggling jobs to make ends meet". This results in more accidents and lower productivity.
If a local, skilled team works together regularly and is led by an individual with knowledge and personal skills that are respected by team members, the result will be safer and more productive.
Provided these criteria are satisfied, the details of employment contracts may not be a concern. The worst situation is when working groups from a variety of sources come together for the first time on the night when the job starts. Even a single substitution, perhaps due to illness, may, and probably will, have an adverse effect.