London Victoria station is staging a pop-up exhibition to commemorate the 100th anniversary of the journey and burial of the Unknown Warrior, after national COVID restrictions meant planned live events had to be scaled back.
Displayed on the main station concourse, a series of panels, created with the National Army Museum in Chelsea, explains to passengers the story of the Unknown Warrior, 100 years after his body was carried through the station on his way from the Western Front to his final resting place at Westminster Abbey.
With substantially fewer passengers currently travelling due to the latest government guidelines, Network Rail Southern Region will also be telling this story through its Twitter feed @networkrailse on 11 November. Anyone who is still travelling can visit the exhibition on the concourse until 16 November. Anyone who does so is pleased asked to respect social distancing and remember "Hands, Face, Space".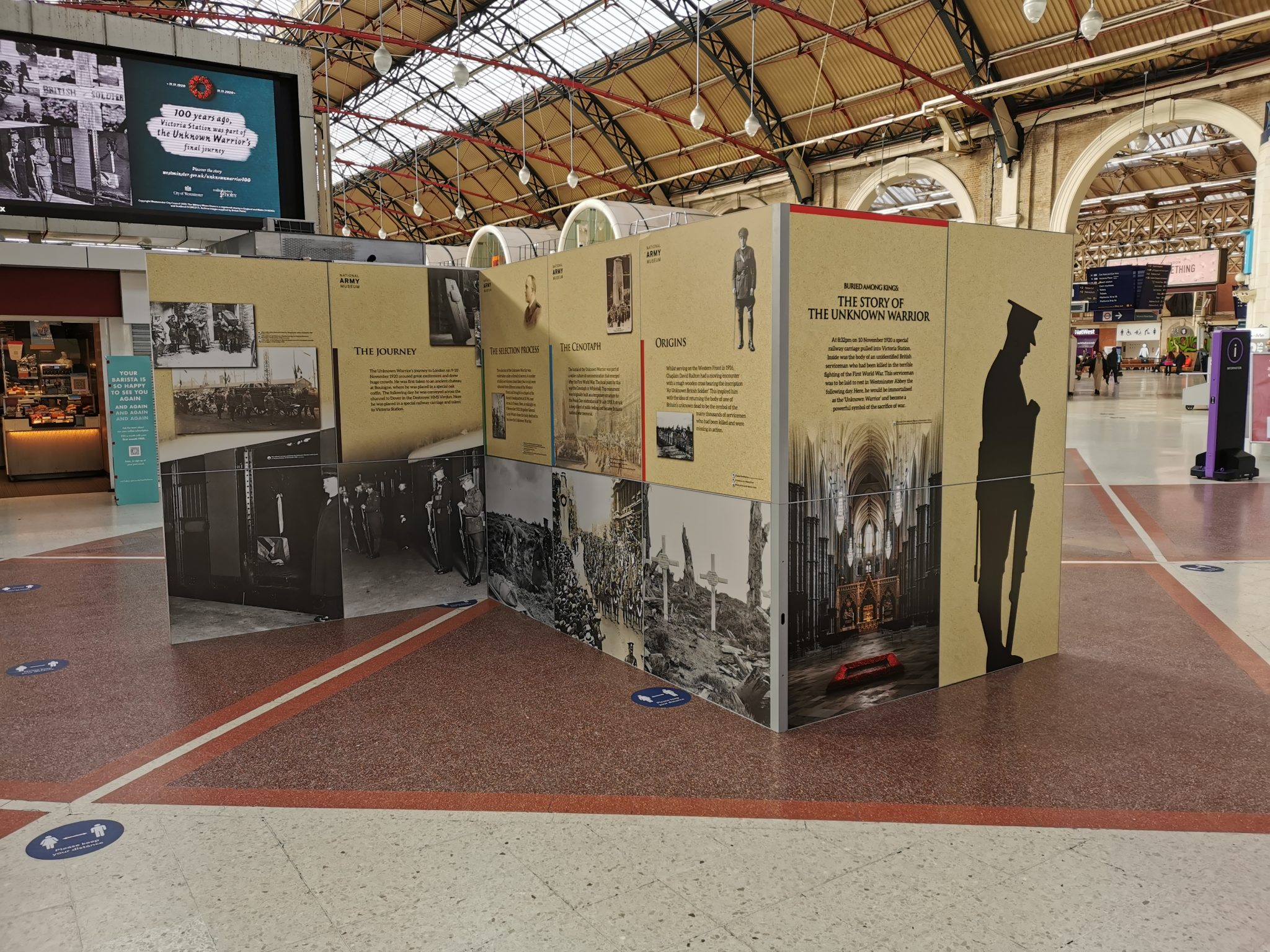 Nicole Cohen-Wray, station director for Network Rail Southern region said: "It's a great shame that we have not been able to see the crowds which originally accompanied the Unknown Warrior on his original return to Britain, but we are honoured to be able to support the National Army Museum in this small way so that passengers passing through Victoria Station may be able to stop briefly to understand the story and memory of the Unknown Soldier."
Justin Maciejewski DSO MBE, Director at the National Army Museum, said: "Despite current restrictions on travel, we were determined to tell the story of our Unknown Warrior to all those that need to use Victoria Station at this time. We hope that rail travellers are able to pause for a few moments at our poignant exhibition and reflect on this monumental story of national remembrance, thanksgiving and healing as they pass the place where he arrived by train into London."
"We are pleased that Network Rail are able to host this exhibition to the Unknown Solider at Victoria Station. It's a shame that the pandemic has meant we've had to downscale our commemorations, but we hope people who do absolutely need to travel during this lockdown period are able to see and reflect at this small exhibition."