Bonnie Price
As the chairwoman of Young Rail Professionals (YRP), I am acutely aware of the impact that recent news in the railway industry has had on young people.
Over the last eight weeks, there have been several significant developments. Let us delve into those most notable and explore how each will impact the future generation of railway enthusiasts, engineers, and specialists.
Opportunities and challenges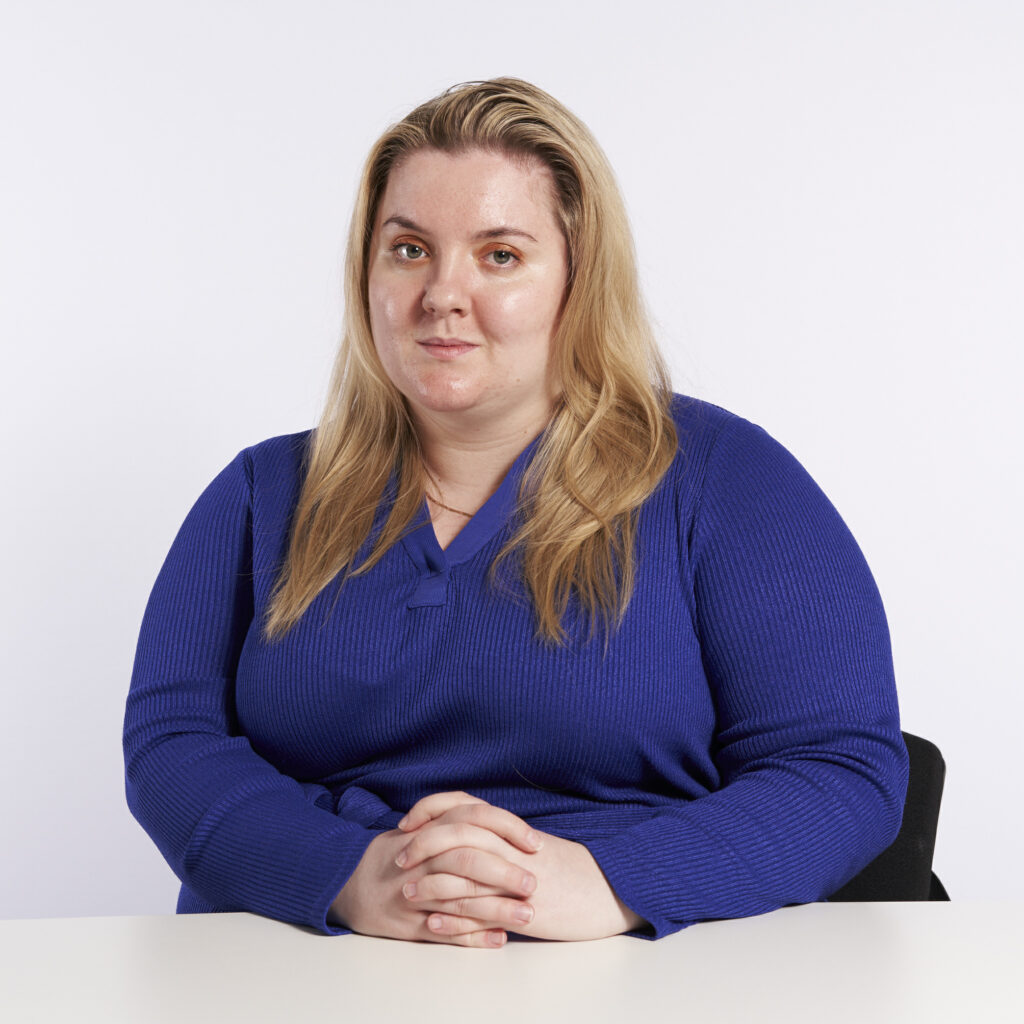 Perhaps the most significant news to emerge in recent weeks has been the publication of the government's Integrated Rail Plan (IRP). This plan sets out a vision for the future of the UK's railway network, including proposals for new infrastructure projects and changes to the way that the industry is managed. For young rail professionals, this plan represents both a potential opportunity and a likely challenge.
On the one hand, the proposals for increased investment in the rail network could create new job opportunities for young people entering the industry. As the government seeks to deliver on its ambitious plans for rail infrastructure, there will be a need for talented young professionals to help design, build, and manage these projects. This is an exciting prospect for those looking to make a career in rail, and one that we should embrace wholeheartedly. However, there are also challenges that must be addressed if we are to fully realise the potential of the IRP. One of the most pressing of these is the need to ensure that the industry can attract and retain the best talent.
This means not only offering competitive salaries and benefits, but also creating a working environment that is supportive, inclusive, and rewarding: the type of working environment people want has radically changed since Covid. If we are honest with ourselves, the railway has a self-created problem due to a lack of investment in young people: in terms of time, money, and training.
Future of HS2
Another key development over the last eight weeks has been the ongoing debate around the future of HS2. This high-speed rail project has been a topic of much discussion and controversy in recent years, with some arguing that it represents a vital investment in the future of the UK's transport infrastructure, while others question if it is the best use of public funds. For young rail professionals, what becomes of HS2 is of particular interest, as it will have a significant impact on the direction of the industry in the years to come.
If the project goes ahead as planned, it will create new job opportunities for young people in a range of roles, from engineering and construction to project management and operations. However, if the project is cancelled or scaled back, this could have a negative impact on the industry, particularly if it leads to a reduction in investment in rail infrastructure more broadly.
Strike action
Another issue that has been making headlines in recent weeks is the ongoing dispute between the government and rail unions over pay and working conditions. This has led to a huge number of strikes and disruption to rail services, which have had a significant impact on passengers and those working in the industry. For young rail professionals, these strikes and disruptions are a reminder of the importance of ensuring that the industry can attract and retain the best talent.
If we are to deliver the ambitious plans set out in the IRP, we will need a motivated and engaged workforce. This means not only offering competitive pay and benefits, but also creating a culture of respect and collaboration between employers and employees. A Q1 UK poll from Ipsos finds support for striking railway workers at 32% while 60% support nurses, 58% support ambulance workers, and 51% support junior doctors.
Personally, I am surprised it is that high- the rail industry at all levels struggles to accurately communicate with the public about the nuanced issues it faces.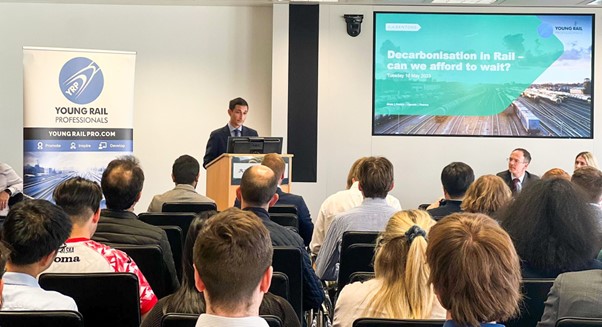 Evolving industry
As the railway industry undergoes rapid change, so too must its workforce. Companies are recognising the need for a diverse and inclusive environment to foster innovation and adaptability. YRP's event – Transport Inclusion – Getting Everyone Onboard – kindly hosted by PWC, is set to be an interesting look at the bi-annual Transport Inclusion Index, based on extensive research from the professional services provider. This is set to be an interesting take on inclusivity from both sides of the track, so to speak.
The global push towards a greener future is evident in the rail industry too. Major players in the sector are investing in research and development to minimise the environmental impact of rail operations. For example, Alstom's hydrogen-powered Coradia iLint train has been successfully tested in various European countries and is expected to enter commercial service. During summer 2023, the Coradia iLint is expected to carry passengers along the St. Lawrence River, between Parc de la Chute-Montmorency and Baie-St-Paul. It will be powered by 'green hydrogen' produced at Harnois Énergies' Quebec City site. I am personally excited to see this project lift off the ground and wish them every success.
This focus on sustainability offers young professionals the chance to develop expertise in cutting-edge technologies, such as hydrogen fuel cells, electrification, and energy-efficient design. Our 'Decarbonisation in Rail' event with Dentons showcased the strong interest our members have, with a capacity crowd in attendence. Let us be frank, there is a reason climate anxiety is listed in the Lancet research paper 'Climate anxiety in children and young people and their beliefs about government responses to climate change: a global survey' (December 2021)2. The paper's results show that respondents across all countries were worried about climate change (59% were very or extremely worried and 84% were at least moderately worried).
As the industry evolves, it will require skilled professionals who can drive these innovations and integrate them into existing rail systems. I am sure, dear reader you will not find this shocking when I say that we in the UK have a long way to go on the journey to a sustainable mass transit future.
Interconnected and intelligent
The ongoing digital revolution has not spared the rail industry. In recent weeks, we have seen a surge in the adoption of advanced technologies such as artificial intelligence (AI), the Internet of Things (IoT), and automation. Examples include the successful testing of autonomous track inspection vehicles and the introduction of AI-based predictive maintenance systems.
This digital transformation presents young rail professionals with the opportunity to develop skills in data analysis, software development, and systems engineering. Equally, it also vastly increases the immediate needs to up- and re-skill the current workforce. As the rail sector becomes more interconnected and intelligent, there will be a growing demand for professionals who can harness the power of these technologies to improve safety, efficiency, and customer experience.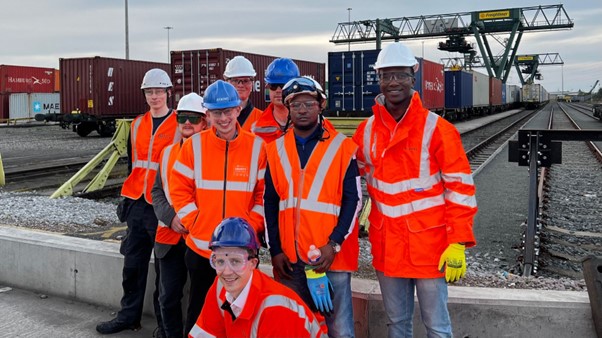 Out and about
Here at YRP, we've been all go. We had an excellent day at RailTex where we held a series of panels about the topics closest to us. We were kindly supported by an array of speakers from our corporate members, including: the Digital Asset Management Director Martin Vallance and Design Director Chris Davies from EGIS; a keynote speech from Matt Wragg CEO of Gattaca PLC; Liam Henderson of the Rail Innovation Group and many more. On each of these panels we had a member of YRP's leadership. I feel it was so important for YRP to have space amongst our industry experts to give their input.
If you like what you are reading and would like to get more involved, please look at our website and sign up as a member. It has always been free to become a YRP member and always will be.
Alternatively, if you would like your company to be a corporate member, please follow the directions on the website and we will be in touch.
Until next time, YRP continues to deliver on the needs of the young people in our industry.