As 2023 flies by, the RailStaff Awards creep closer and closer. On Thursday 30 November, the great and good of the rail industry will descend on Birmingham's NEC to honour the achievements of its exemplary employees. And while they're the individuals we'll all be celebrating, there are a few more important people to mention.
We present to you, your host for the evening and the RailStaff Awards Judges!
Professional presenter
This year's ceremony will be hosted by none other than TV and Radio Broadcaster, Gethin Jones.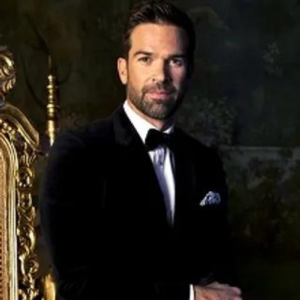 A family favourite, Gethin started his career on Wales' S4C before taking on an iconic role as a Blue Peter presenter. Gethin's stint on the time-honoured show saw him break four world records, complete three death-defying tasks, and fulfil the ambition of a lifetime by flying with the Red Arrows. In his three years as a presenter he visited 32 countries before deciding the time was right to move on.
Since then, Gethin has appeared in countless high-profile shows including Strictly Come Dancing, where he reached the semi-final in 2006, BBC1's Morning Live, as well as the One Show and Celebrity Masterchef.
In 2022 he presented coverage of the first visit of King Charles III to the Welsh capital, Cardiff.
Gethin made his radio debut on BBC Radio 5 Live in 2008 and has gone on to present shows on Heart FM, The Hits Radio, and BBC Radio Wales.
A self-confessed rugby anorak, he hosted a Welsh language rugby-themed quiz show in 2019, as well as the official podcast for this year's Rugby World Cup.
The Judges
The rail industry covers countless job roles which are all represented at the RailStaff Awards and individuals at all levels are eligible in the event's 18 categories. The task of deciding on the winners goes to a judging panel of 12 individuals, plucked from throughout the industry. The panel includes:
Glynis Appelbe – HR Director, G&W UK/Europe Region/Freightliner
Glynis Appelbe joined G&W UK/Europe region in March 2016 as HR Director – UK/Europe. Prior to this she was the Head of HR for a FTSE listed global diversified mining company.
Julie Bentley – CEO, Samaritans
Julie has been a charity CEO for over 19 years. She has led some of the UK's most well-known charity names including Action for Children, Girlguiding, Family Planning Association and the Suzy Lamplugh Trust.
Fiona Brunskill – Chief People Officer, Transport for London
As Transport for London's Chief People Officer, Fiona's focus is on making sure that TfL is a truly great place to work, for everyone.
Karl Gilmore – Rail Infrastructure Director, Transport for Wales
Karl is responsible for delivering the South Wales Metro programme and other infrastructure projects across Wales.
Jo Gretton is Telent's Chief Executive Officer responsible for leading the company to deliver excellent customer service, continued growth and ensuring that Telent is a great place to work.
Edward Hodson – Chair, IOSH Railway Group
A Chartered Member of IOSH, Edward has experience of working in rail, manufacturing, and law.
Amy 'Bessie' Matthews – Rail Person of the Year Winner 2022
Amy 'Bessie' Matthews is a Shunt Driver for Freightliner and our Rail Person of the Year Winner 2022!
Rob Morton – Managing Director Route Services, Network Rail
Rob is Managing Director Route Services at Network Rail. He specialises in leading, growing and delivering turnaround in large operational buisnesses for private and publicly funded organisations.
Bonnie Price – Chairwoman, Young Rail Professionals
Bonnie is a consultant for Egis in the UK and the Chairwoman of Young Rail Professionals. She has experience with Southeastern, TFL, Crossrail/MTR, Chiltern railways, and Network rail.
John Sheehy – CEO, Transport Benevolent Fund CIO
John joined TBF in 1998 and loves working in the charity sector. He knows the help and support that TBF provides to public transport workers and their dependents makes a significant difference in times of need, hardship, and distress.
Richard Thorp – Director of Engineering & Sustainability, High Speed 1 Ltd
Richard is a Chartered Engineer, with over 25 years' experience in delivering and developing asset management capabilities for both UK main-line and high-speed railways.
Alan Wilson – Managing Director, Train'd Up
Alan joined Train'd Up as Managing Director in June 2022. Responsible for managing multiple teams within the organisation, he knows how important well managed teams are in driving standards and achieving success.
Save the date
The big event draws closer but it's not too late to book your ticket or nominate a RailStaff Superstar.
Visit www.railstaffawards.com for more information. We'll see you on the dancefloor!
---