From a nervous start, with 30-life-long competitors gathered in the same room as their major customer, the commercial directors' forum became a vibrant working community.
Just before Christmas 2020, Network Rail held its last National Commercial Directors' Forum (CDF), bringing one of its most successful engagements to a close and passing the baton of future CDFs to the devolved regions. Stephen Blakey, commercial projects director at Network Rail, provides a review of the journey, CDF's key achievements and points to some important ongoing themes.
Launched in 2011, the Commercial Directors' Forum, or 'CDF' as it quickly became known, set out with a brazen aspiration; to drive industry change across the rail sector and establish collaborative working as the dominant approach within the rail supply chain.
It began with some 40 delegates from Network Rail's Tier 1 capital works suppliers attending a conference centre in Westwood, and initially met something of a luke-warm reception. There was a blend of caution, curiosity and pockets of cynicism, with some expecting they would be told how things should be done, not asked.
But the emphasis was always about having a conversation, seeking to understand the issues that inhibit collective success and, through dialogue and collaborative effort, to deploy ways of doing things better.
It was also about role modelling the right behaviours in the belief that those behaviours would be a catalyst for collective change and strengthening of relationships. The aspiration was to establish a crucible for change and an environment of transparency and trust that would be the platform from which to commence our collaborative journey. And, indeed, it was the arena from which we committed to a collaborative strategy for our capital works portfolio and to pursue independent accreditation of our collaborative capability through achieving BS11000 by 2012.
Delivering key outputs
To ensure it wasn't a 'talking shop' it was important to identify key issues and deliver tangible change. This was achieved, in the first instance, through a focus on improving the speed of payments from Network Rail to Tier 1s and in turn from Tier 1s to Tier 2s. The output was a Fair Payment Charter (FPC) that committed signatories to pay suppliers within 28 days and to cease the use of retentions. Whilst the FPC was voluntary for the Tier 1 suppliers, Network Rail formally changed the payment terms for its capital works contracts from 56 to 21 days and abolished the use of retentions.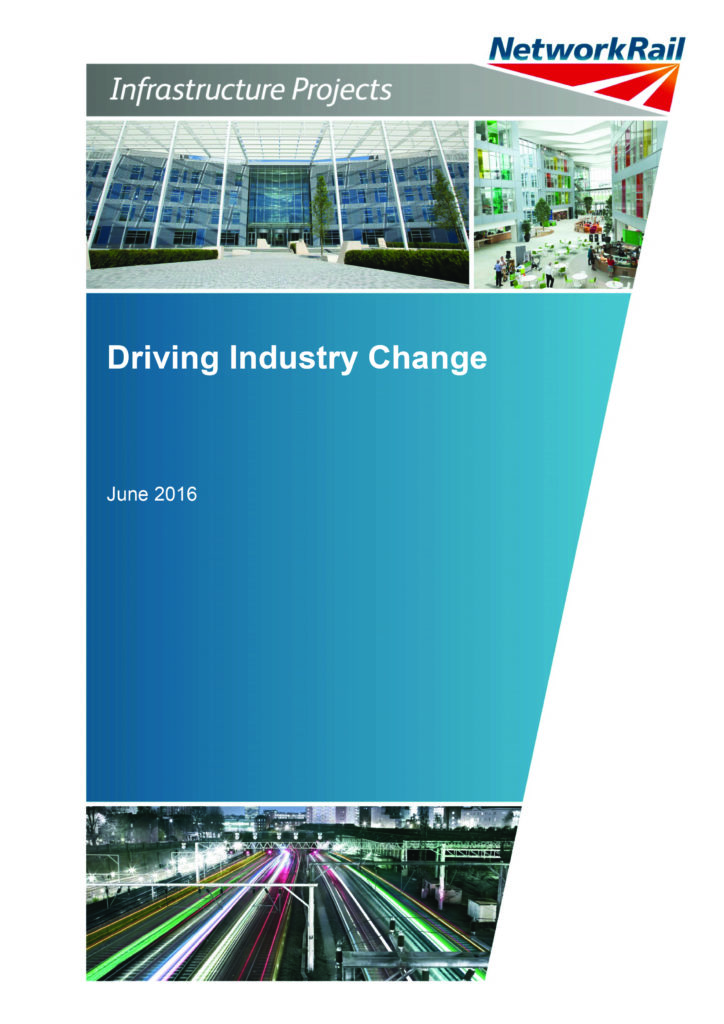 As a result, by 2012 the CDF was seen as a serious undertaking and, in addition to burgeoning attendance from key suppliers, professional institutions and industry stakeholders began to enrol as regular delegates.
Convening every six months, each National CDF established several working groups to address a range of thorny issues – from safety and sustainability through to change control, claims management, benchmarking and efficiencies. These working groups comprised volunteers from within the CDF, who defined the problem and proposed outputs via a 'quad of aims' – a simple chart that helps to ensure every team member understands the project and what they expect it to deliver. They would then develop a solution which, once validated by all CDF delegates, would be deployed and adopted across all CDF organisations.
It took a lot of collective effort amongst the members to maintain momentum and two facets are acknowledged as being fundamental to CDF's success – the building of trust through open and honest exchange and the concept that the 'price of participation, is participation'. The latter not only set the expectation of delegates whilst attending each two-day CDF, but also applied to their active participation in a number of working groups tackling a set of priorities agreed for each year. With the working groups meeting two to three times between each CDF, membership represented a serious personal commitment.
But the delegates kept coming and the appetite to participate grew to the point where numbers had to be capped at 80.
Extended engagement
Over the years, the forum faced several challenges from finding the optimum 'drum beat' and format to maintaining a manageable number of working groups. Importantly, the forum had become mature enough to regularly take stock, reflect and challenge itself as to how to do better. It also now included delegates who were 'Agent Provocateurs', included specifically to act as critical friends and constantly provoke and test our approach.
One such challenge was how to extend the engagement to Tier 2s and Small to Medium Enterprises (SMEs) without becoming unwieldy and deconstructing the relationships that had been built over the years. The answer, which unwittingly was the precursor to future CDFs in a devolved structure, was the 'Franchise Model'.
This model established regional and asset-based CDFs across the country, with the majority of delegates drawn from the regional supply chain and an emphasis on Tier 2 and SME representation, supplemented by relevant Tier 1s. These regionally led CDFs focused on local priorities, with Network Rail's regional commercial directors ensuring working group continuity and alignment. It proved to be a highly effective model and a blueprint for the future.
By 2016 the strength of empowerment and advocacy across the regular delegates reached its height and CDF was widely recognised as market leading, with a number of industry awards to prove it.
More importantly, the forum had delivered a range of industry-changing improvements including:
A rail sector Fair Payment Charter – an industry first;
A rail sector Sustainability Charter – an industry first;
A minimum 5% tender weighting for Sustainability – an industry first;
BS11000 certification of Network Rail, with key suppliers following suit;
Significantly shortened payment terms (from 56 to 21 days) and the removal of retentions;
An improved approach to assessing safety competencies during the tendering process;
Joint development of a consistent framework for collaborative behaviours;
The use of NEC3 (a family of contracts offering a complete end-to-end project management solution for the entire project life-cycle) with some of our long term frameworks;
Review and collective adoption of Rail Method of Measurement (RMM);
The publication of a range of best practice guidance notes on issues such as disallowable costs and fees, change control and claims management.
Many of the above aspects, first tackled at CDF, went on to mature and become 'business as usual' for the rail sector. For example, key elements of the Fair Payment Charter are now enshrined in Network Rail's standard terms and conditions, along with many of the best practice guidance notes and, of course, the use of a standard commercial taxonomy for capital works, the Rail Method of Measurement.
National CDF continued to inform the collaborative agenda, outputs and publications right up to 2020, including:
Network Rail's accreditation as one of the first six organisations from around the globe to the International Standard for Collaborative Working, ISO44001;
Published guidance on the 12 key enablers to successful Alliances and the use of NEC4;
An industry-wide survey of commercial practitioners' perceptions and challenges;
Further best-practice guidance and improvements to our standard terms and conditions;
The creation and roll out of Dispute Avoidance Panels (DAP);
The publication of the first standard form of subcontract for rail (NR22).
TTT
Perhaps one of the most valuable outcomes from the National CDF wasn't so much 'a thing' but the creation of four successive cohorts of a working group called Tomorrows Talent Today.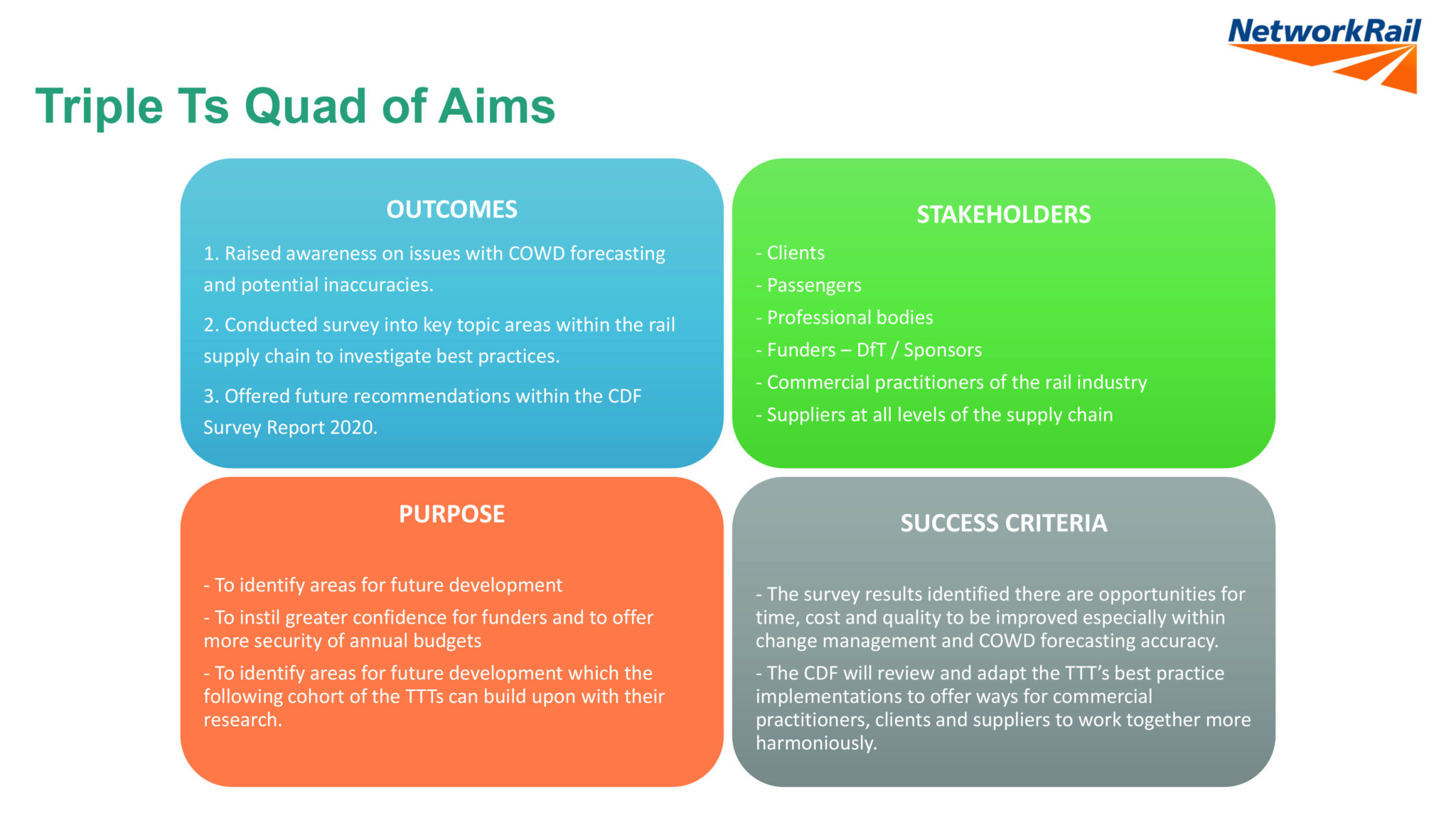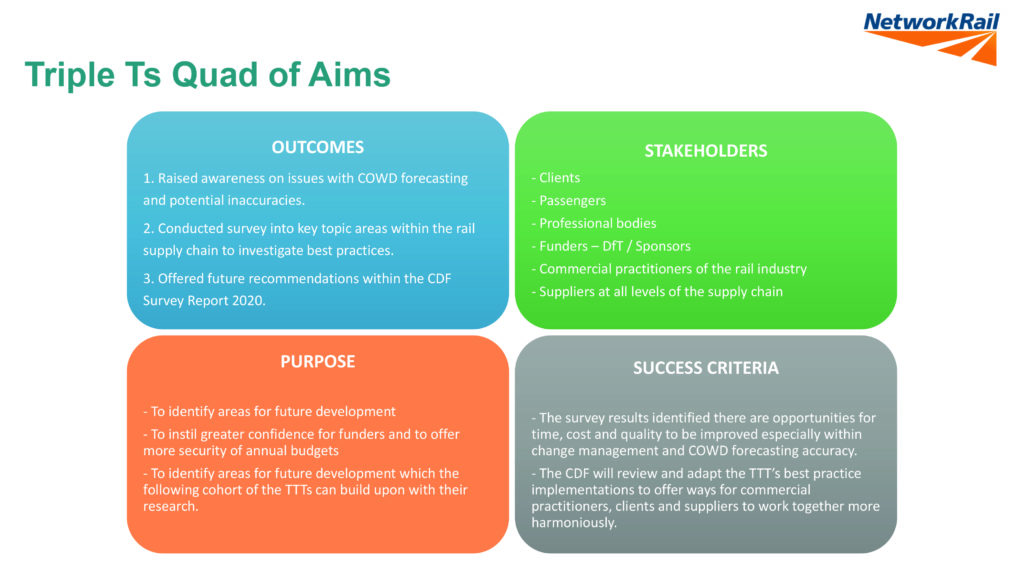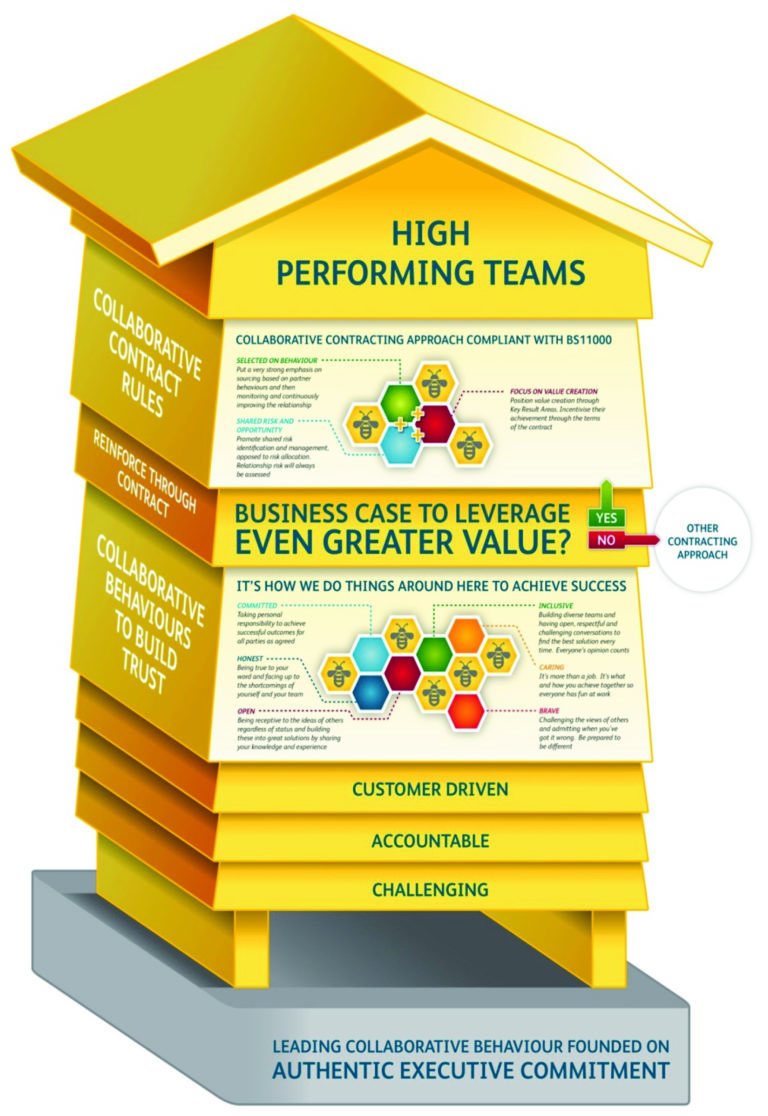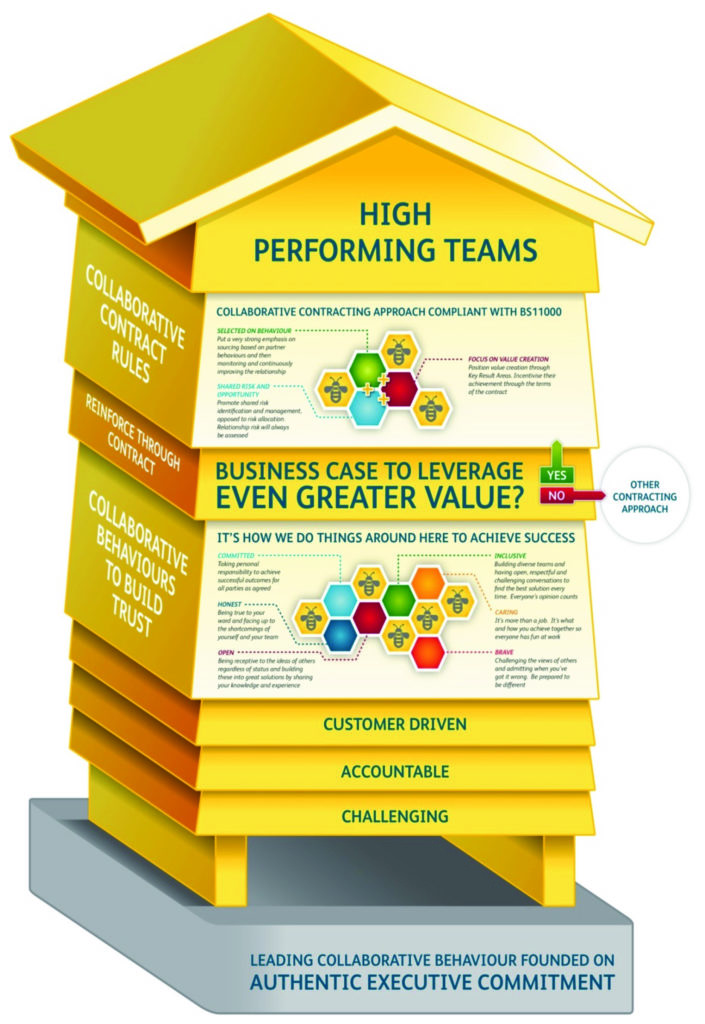 Known colloquially at the 'Triple Ts', these successive groups comprised high-potential commercial practitioners (seen as potential commercial directors of the future) with a remit to bring a practitioners' perspective to the forum. In addition to informing areas of focus, validating proposed solutions and being CDF/rail industry ambassadors, they were charged with holding the CDF to account and testing sentiment and awareness of outputs via an industry wide commercial survey.
The credibility of the Triple Ts has gone from strength to strength and the value of being part of a network of high potential practitioners and commercial directors is obvious. In addition to positive feedback from the 40 plus participants, Tier 1 commercial directors confirm that participation is valuable enough to warrant inclusion on CVs.
Advocacy from suppliers as to the value of the Triple Ts is strong and is perhaps best summarised by Alasdair Reisner, chief executive of CECA, in his executive summary to the latest Triple T commercial survey, published in December 2020:
"One of the things that the Commercial Directors' Forum can be most proud of in its history is its decision to set up the Tomorrow's Talent Today (Triple Ts) working group. Over the last 10 years, more than 40 future leaders from CDF member businesses have played an active role in both the working group and forum. But Triple T members have not only been participants. Through their industry surveys, they have also provided a vital resource, developing real data on how the CDF has changed the way our sector operates."
Sentiment and advocacy from longstanding as well as more recent delegates is very strong with regards the Triple Ts, as well as CDF, both being cited as a 'force for good' and highly effective models for driving a collaborative agenda directly with the supply chain.
Devolved to the regions
In December 2020, National CDF was brought to a close with the baton being handed to the devolved regions. In its final forum, the following was offered up to delegates and the regions:
Working collaboratively has meant that our industry responded very well to COVID;
Collaboration, whilst more relevant and prevalent than ever, must flourish after the pandemic;
The Triple Ts issued a very credible commercial survey for the regions to take forward;
The future's bright, the future is CEMAR (a cloud-based contract management system);
Suppliers should consider how to support the Conflict Avoidance Coalition and The Pledge;
RICS (The Royal Institution of Chartered Surveyors) sees Network Rail as a 'Gold Standard' client in the pursuit of conflict avoidance through its deployment of Dispute Avoidance Panels (DAP) and associated conflict avoidance and mitigation processes;
The launch of the first standard form of subcontract for rail (NR22), developed through a CDF working group and with a follow-up form now planned for April 2021;
The collaborative journey continues and it's time for CDF to be devolved to the regions;
There are some recurring themes to be considered, ranging from safety and sustainability through to efficiency and benchmarking.
Each region is well placed to take advantage of its own previous experience and the blueprint of the 'Franchise Model' and draw from the items above as it feels appropriate. And, in addition to the inherent agility and focus a regional approach will bring, the regions will also be able to immediately harness the strength of sentiment from those suppliers that are advocates of the CDF model.
First out of the blocks is Northwest and Central Region, which held its first Regional CDF in January and has already picked up the thread on several key themes, including improving safety, collaborative working, improved efficiency and benchmarking and vitally, the establishment of the next cohort of Triple Ts.
Our collaborative journey has taken us from opening a dialogue and asking questions at that first CDF to delivering tangible changes on matters important to our suppliers and industry. In doing so, we've established the rail sectors' collective credentials and have shown the power of collaborative working.
There's more to do and many a challenge ahead, but the experience and appetite is in place for the regions to continue the collaborative journey, deliver a collective aspiration to drive industry change and leave a lasting legacy.
It's a journey that I have found personally and professionally to be one of the most rewarding aspects of my career.