Richard Sabin, managing director of Biotecture, explains how living walls create a healthier environment at stations
Rail has long been one of the most eco-friendly ways to travel, but for the benefit of both staff and passengers there is still much to do when it comes to cleaning up air quality, both on and off the train.
Studies have shown that when diesel trains are idling inside enclosed train stations, the air quality is of particular concern for station staff and passengers alike.
Funded by the Department for Transport, the Stations Air Quality Monitoring Network (AQMN), launched a new programme in 2021 to monitor air quality at stations across England and Wales.
Some proactive rail operators are already taking action by adding innovative new elements to station interiors to help make them safer and more attractive for staff and passengers. Stations such as Portsmouth Harbour, Weymouth, Southampton, Birmingham New Street, and more, are installing living walls to create a healthier environment for people to work and spend time in.
Studies have shown that in the UK, we spend around 80-90% of our time indoors. There's significant evidence which shows the benefits of adding plants and living walls to our workplaces and indoor spaces, from schools and stations to hospitals and offices.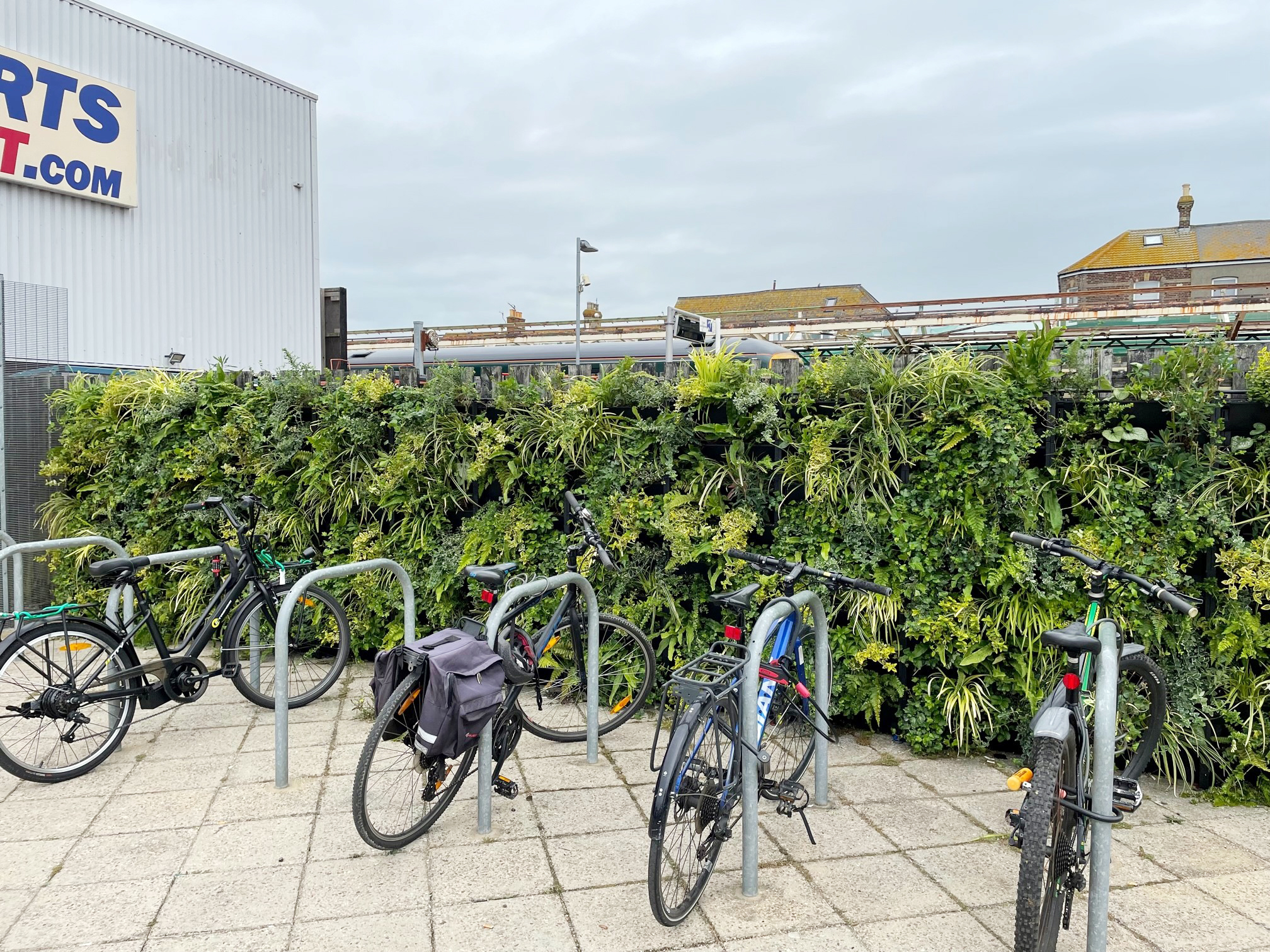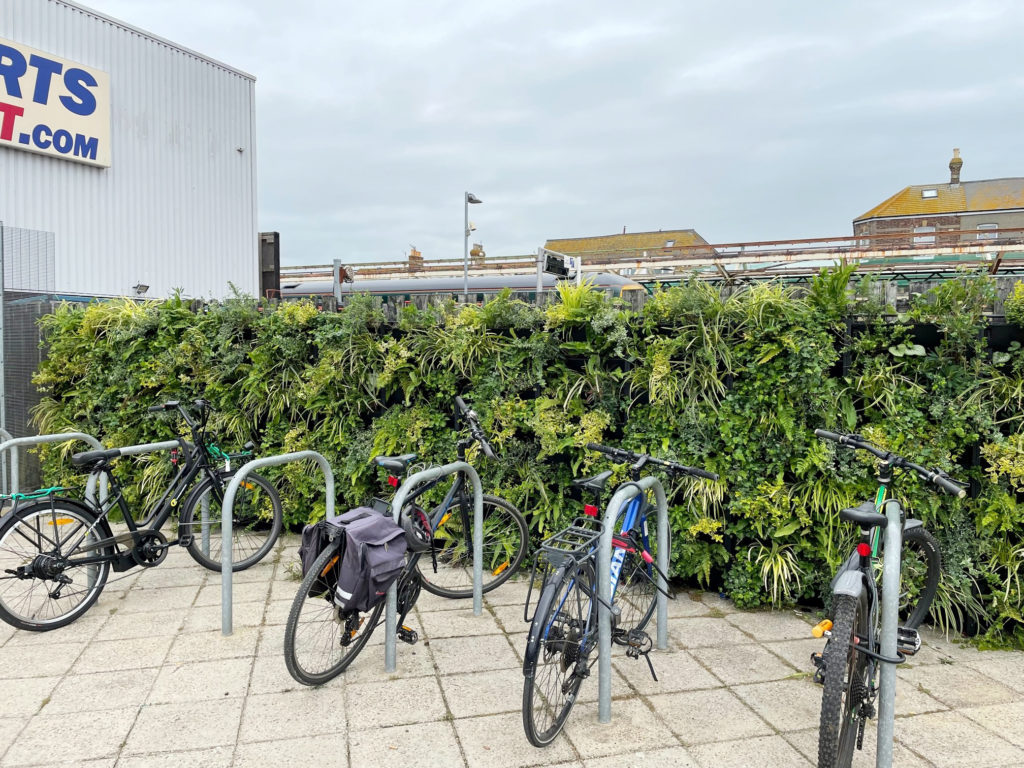 Air quality
Measurable Indoor Air Quality (IAQ) is a key indicator which shows the health and safety of our indoor spaces. There is substantial evidence demonstrating the ability of plants to remove volatile organic compounds (VOCs) from the air. In fact, plants can cut CO2 levels in indoor spaces by a quarter.
Living walls provide the opportunity to put large quantities of toxin-reducing plants into stations without taking up any valuable floor space. What's more, they produce their own fresh air, so as well as improving working conditions, well-designed living walls can even save on energy consumption and ventilation costs as fewer air changes are required.
Wellbeing
The installation of living walls boosts staff and passenger wellbeing in several ways. Studies show that being surrounded by plants is good for our mental health, while cleaner air means fewer headaches and better overall health.
Adding more greenery into the station makes staff and passengers' surroundings more relaxing and aesthetically pleasing, encouraging more people onto the rail network and enhancing both employee and customer satisfaction.
Living walls also reduce noise within the station by absorbing, diffracting, and reflecting sound. This works particularly well in spaces with hard surfaces such as marble walls, exposed concrete, and stone floors such as those found in many stations. Reducing noise and improving acoustics within the station will lead to lower stress levels in both staff and commuters.
Better working environment
Many studies have shown that when people can see greenery whilst they work, their creativity, productivity, and concentration levels all increase.
In a report by Echo Research, employees said their motivation levels would increase by 62% if their employers took steps to improve their surroundings. They also estimated that they would be 30% more productive as a result. Factors such as greenery, ventilation, and natural light were cited as the most important factors for greater workplace satisfaction.
Additionally, the British Council for Offices reported that 45% of employees would change jobs for a better working environment, even if their salary, role, and benefits remained the same.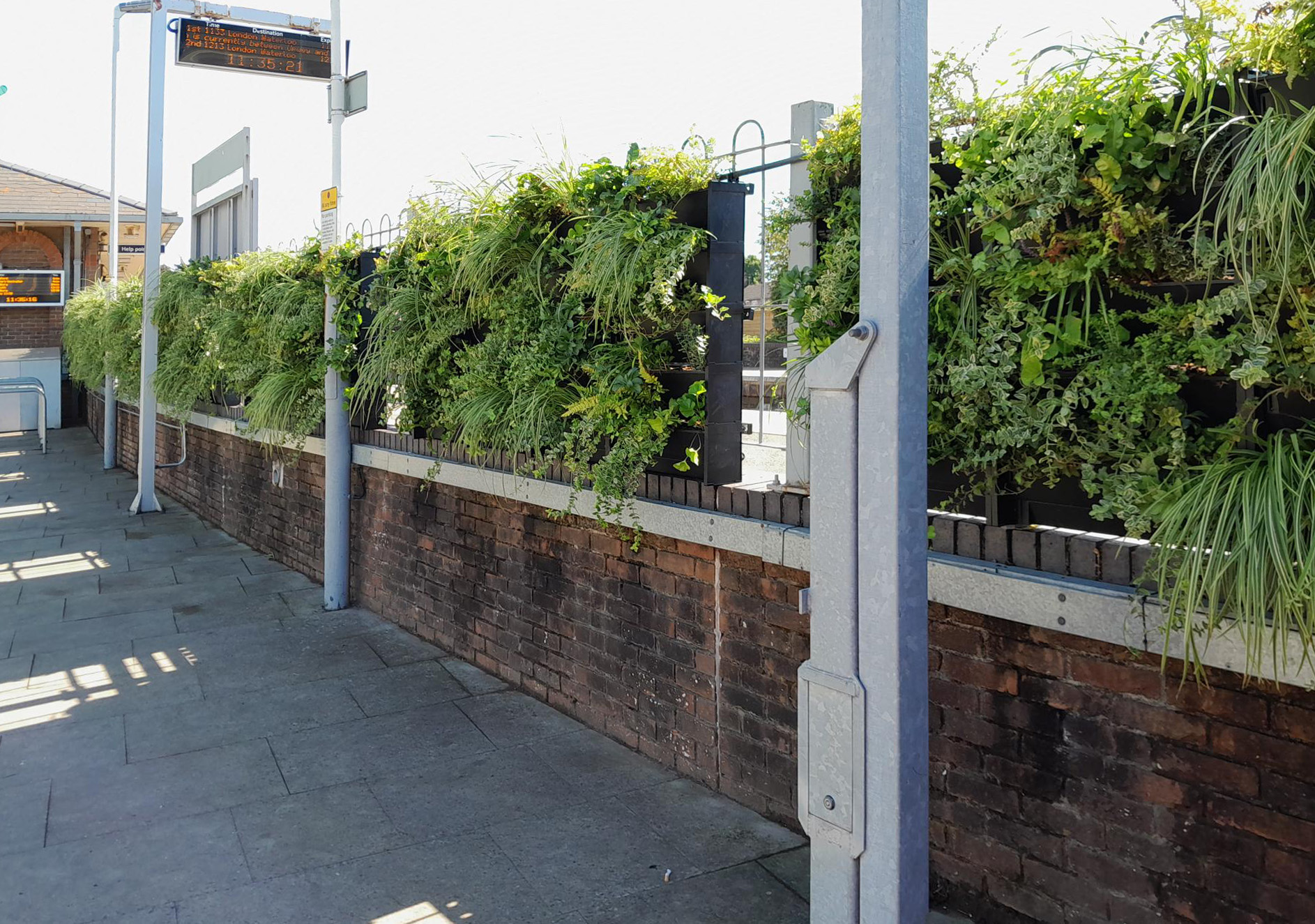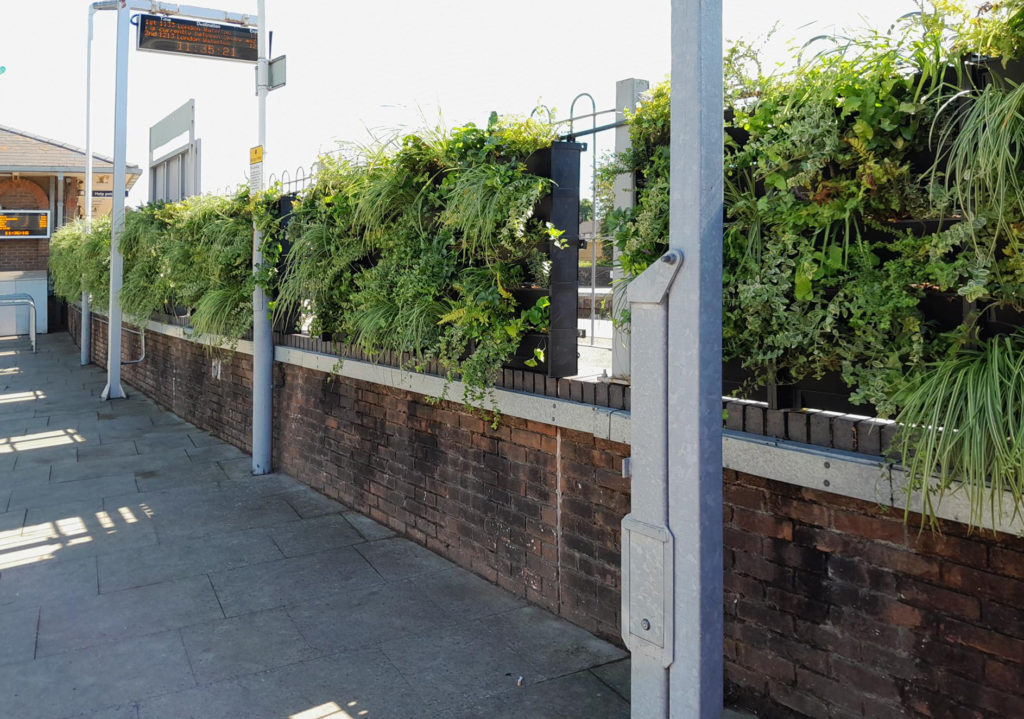 A pleasant and relaxing environment
South Western Railway commissioned Biotecture to design and manufacture a number of living walls at three stations across the South West, as part of a wider strategy to improve the public realm, increase biodiversity and tackle air pollution.
Living walls have now been installed at Weymouth, Hampton Court, and Portsmouth Harbour stations with more to follow. The living walls were created using PlantBox, a stackable, modular living wall system which is ideal for smaller projects.
The UK-manufactured PlantBox system is made from 100% recycled materials and, because it's modular, it can also be dismantled and reused in other locations in the future, making it an extremely sustainable choice.
Biotecture's installation team worked with the station managers to assemble PlantBox on site, quickly and easily. The troughs had been pre-planted in their West Sussex Nursery and were then transported to site to be installed.
Each living wall features a simple, yet clever, irrigation system which can be connected to a tap for easy, low maintenance watering. The result is a series of beautiful, eye-catching walls which enrich the environment for both staff and passengers, whilst cleaning the air by removing harmful toxins.
"At SWR, our mission is more than simply getting people from A to B," said Amy Dickinson, head of sustainability at South Western Railway. "We're passionate about helping to support the communities we serve, including making them greener and more sustainable. By improving air quality and providing a safe home for all sorts of wildlife, this brilliant new Living Wall at Portsmouth Harbour Station does just this."
This project is a great example of how living walls can make a huge statement about an operator's commitment to sustainability, whilst making an even bigger difference to the health and wellbeing of the people who use its stations. South Western Railway is not alone in adopting them.
For example, the 77-metre-long living wall on the link bridge at New Street Station in Birmingham, welcomes travellers from all over the country to the centre of the city. With its 16,600 plants, it creates a pleasant promenade of calming, green infrastructure within the built urban environment.
For more information on Biotecture's living walls, including more examples of how they are being used to transform urban spaces, visit www.biotecture.uk.com.