The HS2 project is hoovering up talent as it rolls up the country at growing speed. It's also providing countless opportunities to the communities it touches and is creating a skills legacy that will last for years.
With the first phase of HS2 progressing at pace, the project currently supports close to 30,000 jobs, and with the work in its entirety due to continue over the next two decades, HS2 and its contractors are continually recruiting for hundreds of new roles. RailStaff took a closer look at how the project is attracting graduates and apprentices, creating opportunities for residents of local areas, and attracting workers from outside the rail industry to its ranks.
Best and brightest
Seeking sharp minds, new perspectives, and an abundance of enthusiasm, each year HS2 welcomes a new influx of graduates and apprentices into the business. Indeed, just last December the company launched its annual search for graduates, offering talented individuals the opportunity to join its coveted two-year placement programme, and the chance to play a part in Europe's biggest infrastructure project.
The 2023 graduate programme is set to be the largest yet and includes the chance for engineering graduates to aid with delivering the stations, tunnels, and viaducts along the route of the new railway. There were also opportunities to join HS2's Environment, Hybrid Bill, Project Management, Procurement and Commercial teams.
"With all three phases of HS2 now live, we increased the number of places available on our graduate talent programme," says Karen Davis, HS2's head of talent and development. "As a result, 2023 will mark our biggest annual intake of new graduate talent into our offices and construction sites. It's a unique opportunity to earn and learn while working on the country's flagship levelling-up project, and we look forward to welcoming the next generation of rising stars."
In order to capture the imagination of those currently studying, HS2 offers undergraduates the opportunity to sample life working on the project and get paid for the experience. An example is BBV's West Midlands undergraduate summer scheme, which gives students the chance to earn and gain vital work experience in their specialist subject area during the summer holidays. The scheme began in 2022 when BBV took on 30 students from across the region. Two students went on to secure full-time employment, with BBV paying the remainder of their university fees so they could continue their studies whilst working.
The 2023 programme, which begins in July, will include placement opportunities at BBV's construction sites and offices in South Staffordshire, Birmingham, Coventry, and North and South Warwickshire. Open to candidates studying a broad range of subjects, the placements offer opportunities in civil engineering, quantity surveying, environment and sustainable delivery, and business support, to name just a few.
"With a two-decade long construction programme ahead, HS2 provides long-term career prospects to students who live or study in the local area," says Julie Venn-Morton, HS2's senior legacy manager for the region. "A summer placement is a great way to get your foot in the door, and hopefully marks the start of an amazing career journey on Britain's new railway."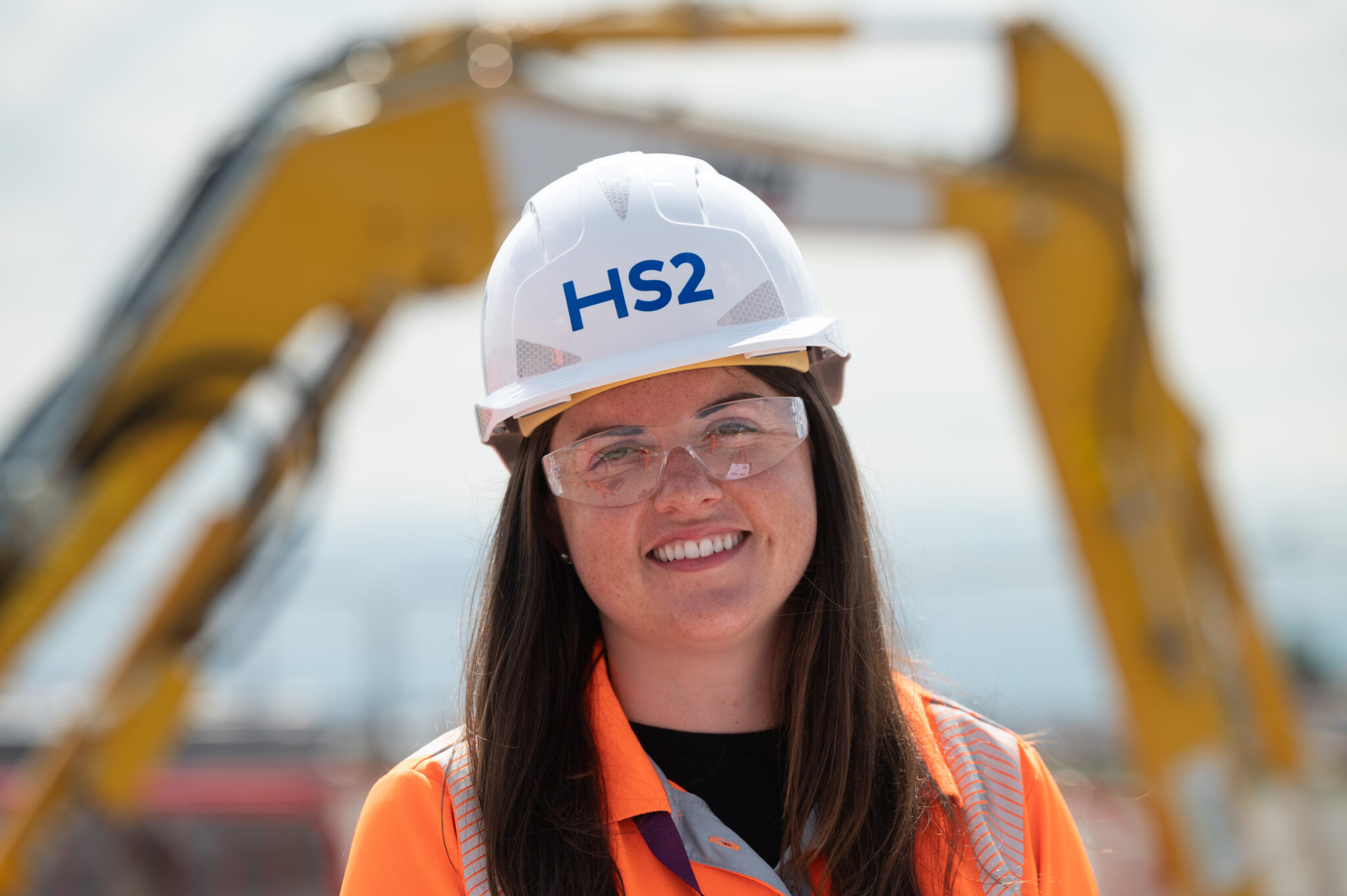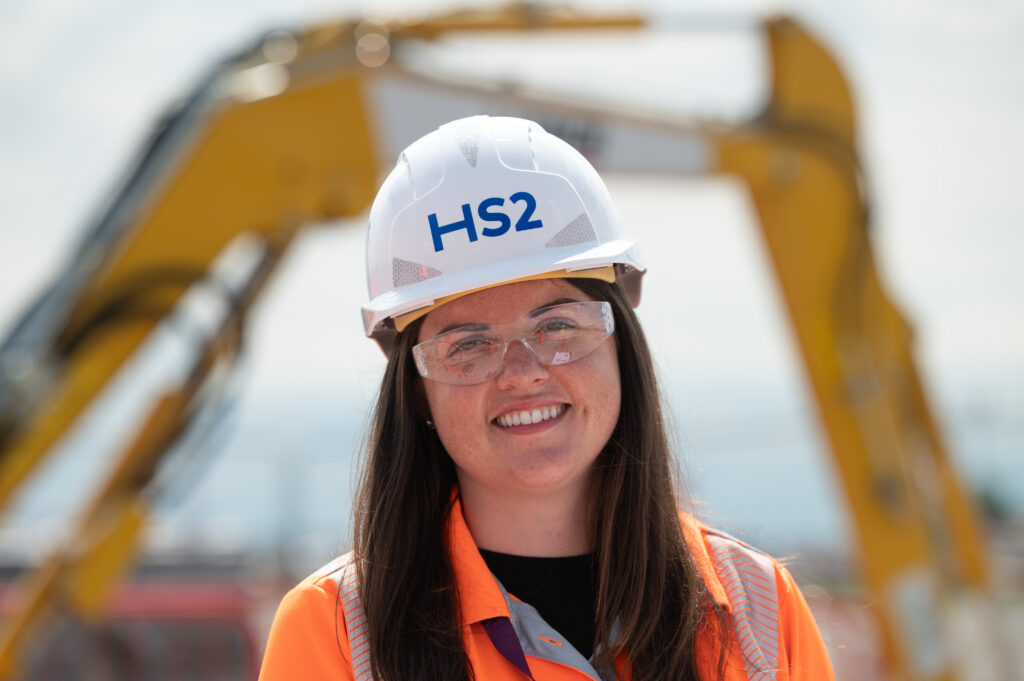 Apprentice milestone
When work began on Phase 1 of the project, HS2 predicted it would create 22,000 jobs in the coming years. With its workforce now reaching close to 30,000, and with thousands more jobs supported across the wider supply chain, the company has certainly delivered.
Demand for talent, however, has not diminished and, each year, HS2 and its construction partners are bringing more and more apprentices into the business. On 18 January this year, HS2 announced it had welcomed 1,126 eager apprentices onboard, rapidly closing in on its target of creating 2000 apprenticeships. And the company is not just looking for fresh-faced school and college leavers – anyone looking for an exciting career change opportunity, with relevant experience and a passion for the project is encouraged to apply.
Jessica Miles, HS2's 1,000th apprentice, was drawn to a new career on HS2 by the nationally recognised qualifications that an apprenticeship offers, along with the opportunity to learn and earn. Having worked in retail fashion for six years, Jessica had climbed the ladder to reach management, but was interested in a career in Human Resources. After finding it difficult to secure a job without the relevant qualifications or industry experience, in 2022 she joined HS2's construction partner Align joint venture on a two-year Level 5 HR Consultant apprenticeship. This has put her on track to secure the CIPD qualifications and work experience needed to build a long-term career in the sector.
"It just goes to show that it's never too late to follow your dreams, says Jessica. "I was 30 when I started my apprenticeship, but my college education meant I was able to begin studying at Level 5, so I'm on track to gain a fantastic qualification that will really boost my career.
"I'm working on the biggest infrastructure project in Europe, helping to recruit a talented workforce to deliver the amazing construction challenges I see in front of me every day. I'm not just building my career, but helping thousands of others too, and we're all working together to deliver this once in a lifetime project. It's amazing!"
Pledge to invest
As the HS2 project advances, the opportunities keep on coming. Hundreds of new apprenticeship jobs were recently announced by Balfour Beatty VINCI (BBV), HS2's construction parent in the West Midlands. All jobs will be based in the West Midlands, North and South Warwickshire, and Staffordshire.
On 6 February, 20 contractors working on behalf of BBV signed a pledge promising to invest in local people and ensure at least 5% of their total workforce are apprentices. The commitment guarantees that at least 200 new apprenticeship jobs will be created before the end of 2024. BBV also announced that it will begin recruiting for over 40 new apprentices, building on the 165 apprentices it has already employed to support HS2's construction.
"We've set ourselves an ambitious target of making sure one in every 20 employees at Balfour Beatty VINCI is an apprentice, which is 5% of our workforce," says Shilpi Akbar, head of Stakeholder and Communities at BBV. "Our pledge to create new opportunities and employ over 200 apprentices within BBV and our supply chain is a big step towards achieving this goal."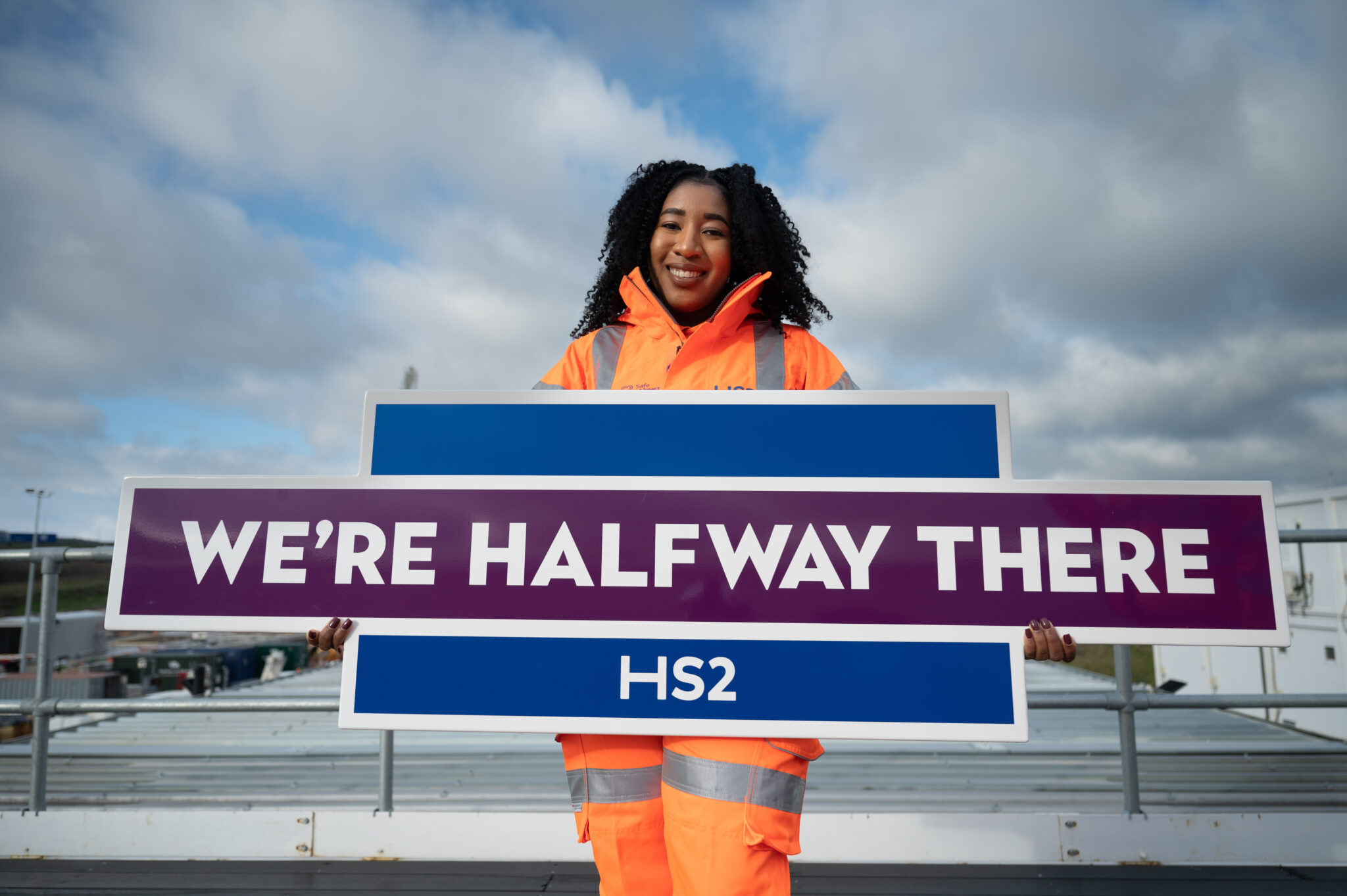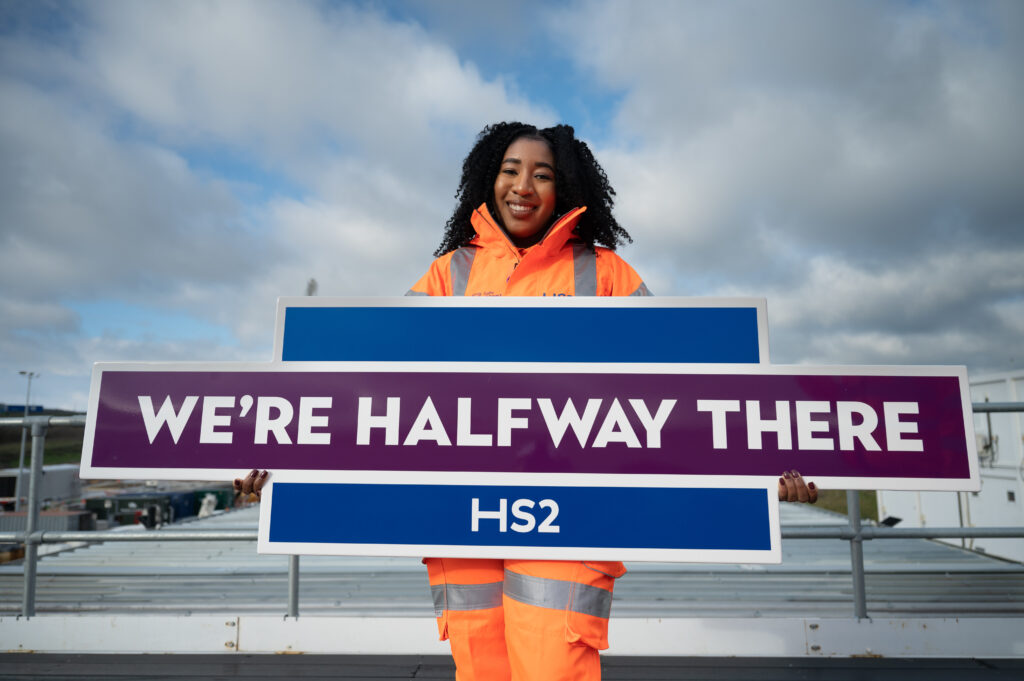 With another huge year of construction ahead, BBV's supply chain is drawing on local talent to fill a broad range of roles, with both office and site-based opportunities.
In readiness for the next giant tunnel boring machine's take off, which launches from Birmingham later this year, Tunnelcraft is recruiting for 10 tunnelling operative apprentices who will join the team tasked with excavating the 3.5-mile twin bore route between Washwood Heath and Water Orton.
Mott MacDonald and Systra, a Design Joint Venture working in partnership with BBV to deliver HS2, is also beginning its search for digital design and business administration apprentices, while Flannery is recruiting for more plant operative apprentices. HS2 Ltd has also confirmed that it will recruit 21 new apprentices, 15 of which will be based at its flagship headquarters in Birmingham city centre.
Regional opportunities
HS2 ensures that the residents of every region the project rolls through benefit from the employment breaks it brings with it, and offers excellent opportunities for those out of work to get back on their feet.
In October last year, for example, unemployed London residents from boroughs bordering HS2's line of route were given the opportunity to apply for a bespoke training and paid work trial programme, allowing them to earn while getting a feel for what a career in construction can offer.
All 10 candidates began their new roles in January, after graduating from a paid work trial with HS2's London-based construction partner, Skanska Costain STRABAG Joint Venture (SCS JV) and its contractor Danny Sullivan Group. Of those 10, four have joined the tunnelling operative apprenticeship programme, supporting the 26-mile-long London tunnelling works delivered by SCS JV. The remaining six have joined HS2's 'orange army' working at sites in Ealing and Camden.
18-year-old Malachi Robinson, from Hammersmith and Fulham, who recently began his tunnelling operative apprenticeship with Danny Sullivan Group said: "When I left sixth form I wasn't sure what I wanted to do, and then I met Ambrose from HS2 at a careers event for young black men. We kept in touch, and he let me know about the work trial, and from day one I loved it. I can't wait to play a part in building the Euston tunnels. I want to work my way up the construction ladder and get my black hat, hopefully working as a foreman or site supervisor."
Over 600 people who were out of work across the West Midlands now have full-time jobs on HS2, and BBV expects its workforce to peak at around 7,000 as its construction programme progresses. BBV recently partnered with Walsall Works, an initiative funded by Walsall Council to support local people to find jobs, apprenticeships, and training, and it is now helping unemployed residents access training, develop new skills, and build a career.
Open to Walsall residents aged 25 and over, and who are out of work, the placements suit those looking for office-based roles. Eligible candidates were offered an eight-week paid placement with BBV, with opportunities available in its HR, Facilities, Procurement, and Finance teams. The placements allowed candidates to get a feel for what it's like to work as part of the team supporting HS2, and those who impressed were given the opportunity to transfer into full time employment. The programme has so far supported three local people into employment.
"We're delighted to join forces with our job brokerage partner, Walsall Works, who share our drive to ensure that local residents benefit from career opportunities on HS2," said Julie Venn-Morton. "Our paid placement programmes have been hugely successful in supporting people of all ages and backgrounds back into the world of work, with promising career prospects for those that successfully complete their placement. I'm confident this new partnership with Walsall Works will be equally successful."
Fast-track
Unemployed locals in the South East and East Midlands are also seeing the benefits of HS2.
Construction partner, Eiffage, Kier, Ferrovial Construction and BAM Nuttall (EKFB), recently launched an employment scheme to help local people who are out of work develop new skills and progress into paid employment.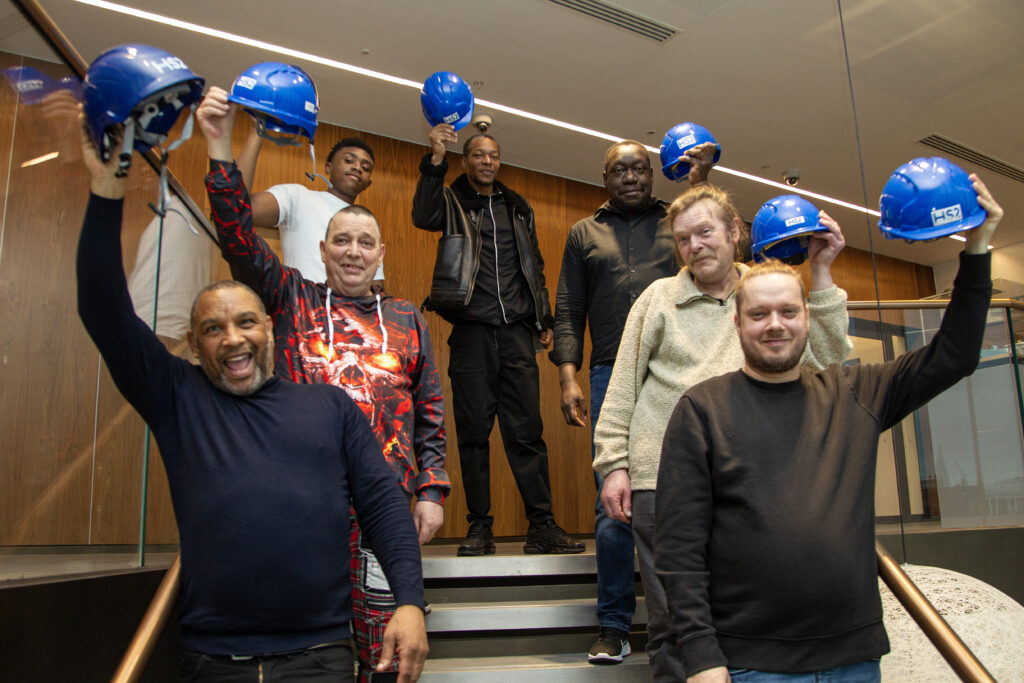 The training programme aims to upskill candidates ready for work on HS2 in just two weeks, with 20 places available for Buckinghamshire and Northamptonshire residents. For those who successfully complete the course, the programme offers progression onto a Level 2 Groundworker Apprenticeship, combining practical and theory training and allowing candidates to play a hands-on role supporting HS2's construction in the local area.
Jhen-Nel Swanston, HS2's legacy manager for the region said: "Fast-track employment programmes help new starters to the industry secure sustainable employment with long-term career prospects.
"The two-week training programme is perfect for those looking to get back into the world of work, starting out in their career, or who fancy trying something different. We're delighted we can now extend this offer to Buckinghamshire and Northamptonshire residents and look forward to welcoming them onto the programme."
The fast-track programme is supported by the Department for Work and Pensions, which can support eligible candidates who are claiming state benefits to participate in the course.
Paddy Patterson, skills, employment and education manager at EKFB said: "EKFB is excited to partner with the Skills Centre to launch our new fast-track employment programme. After the initial two-week training period, candidates will then progress onto our apprentice programme, where they'll study and work, earning whilst learning. Those who wish to progress their careers further will have real job opportunities available to them, as well as sought-after transferable skills desired in the construction industry."
A lasting legacy
The construction of HS2 is displaying to the world the very best of British skills, innovation and ambition. It is also bringing the rail industry together, with businesses and employees in every region of the UK driving the project forward. Construction of the high-speed railway will inspire future generations of rail workers and leave a lasting skills legacy that informs and enables future rail projects.
Supporting and creating jobs up and down the country, HS2's top-quality training is changing the lives of thousands of people. For more information or to search for opportunities, visit www.hs2.org.uk/jobs-and-skills.
Image credit: HS2
---