Nick Millington, Network Rail's Wales and Borders Route Director, was awarded an MBE in the 2023 New Years Honours list for services to the railway, charity, and the NHS. In his 30-year career he has worked across the industry, led multi-disciplinary engineering teams, and driven significant programmes of business change. Throughout his career, Nick has displayed a strong commitment to the safety of rail workers and for this reason RailStaff caught up with him to discuss his career and contribution to health, safety, and wellbeing.
Thanks for joining us, Nick. To get started, could you give us a brief outline of your career to date and tell us what attracted you to the rail industry?
I was always interested in transport – trains, planes, cars, you name it. When I was young, I wasn't sure exactly what I wanted to do, but I remember I did want to be a chartered engineer. My dad was keen for me to go to university, but I wasn't so eager at the time, although I did go later in my career.
I remember when I was 15, my mother's friend came around to the house with a newspaper and pointed out an advert for apprenticeships with British Rail. I applied, and two weeks after I turned 16, I started working on traction, rolling stock and engineers' plant. I then spent around 10-12 years as a site engineer in mechanical, electrical, and civil engineering before moving into asset management. I was part of a team that introduced high output track renewal machinery and all the equipment. That was around 2004 to 2007. During 2007/8, I worked on the Reading Station redevelopment programme and, after that, moved back to track renewals and enhancements, where I stayed until 2012.
After working on infrastructure projects from 2012 to 2013, I became the national track renewals director of safety and assurance, before becoming a project director on railway infrastructure projects. For a year, in 2016, I was the chief of staff for Network Rail, working for Mark Carne, CEO. Following that, I became route infrastructure maintenance director for the Western Route. After we lost two workers at Margam, in south Wales, I was asked to lead the national track worker 'Safety Task Force'. Since June 2022, I've been Route Director for the Wales and Borders Route.
Safety on the railway is a key feature of your career. What inspired your commitment to safety and how do you encourage that in others?
Safety is a mindset. You can choose to be safe or you can unconsciously choose not to. That's the difference between having an accident and not having an accident. Those who cut corners or flout safety rules are more likely to come to harm. Those who consciously stick to safety measures, remove the risks.
When you look at the work we do in the railway industry, we're dealing with huge risks. We work at height, we work with high voltage current, we work with flowing water, and with trains. Each one of these factors is enough to easily result in serious harm. You don't get a second chance when dealing with these types of risks, so you have to be on top of your game. There is the right way of doing things, and there is the dangerous way.
I have always advocated that if you've got a good plan, as well as competent people, the right resources, and the right timescales, that you'll also have a safe plan. When you see people making things up as they go along, when resources are low and time is short, that's when you start to see dangerous things happen. There's also human culture to consider and, unfortunately, some people are natural risk takers.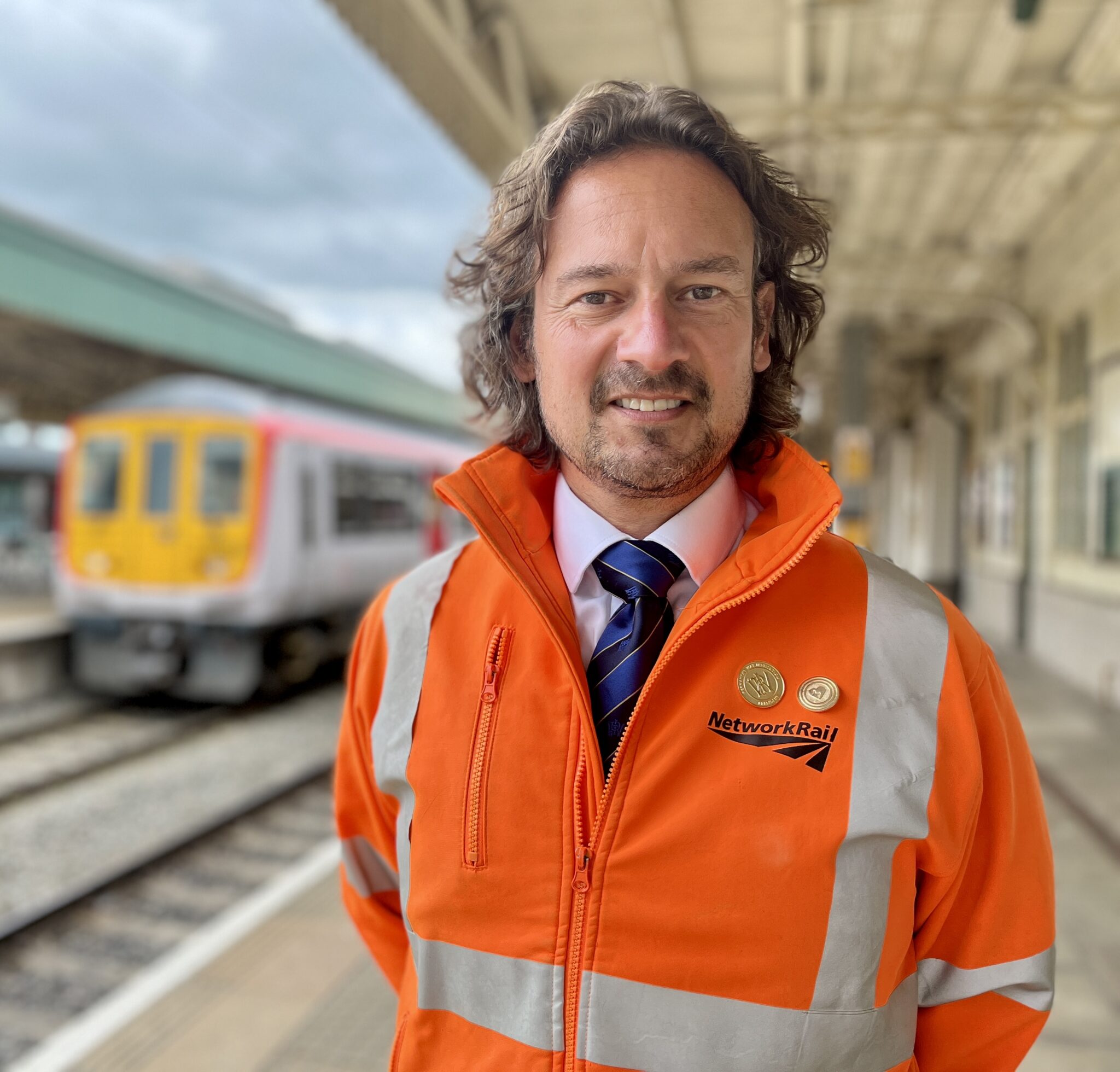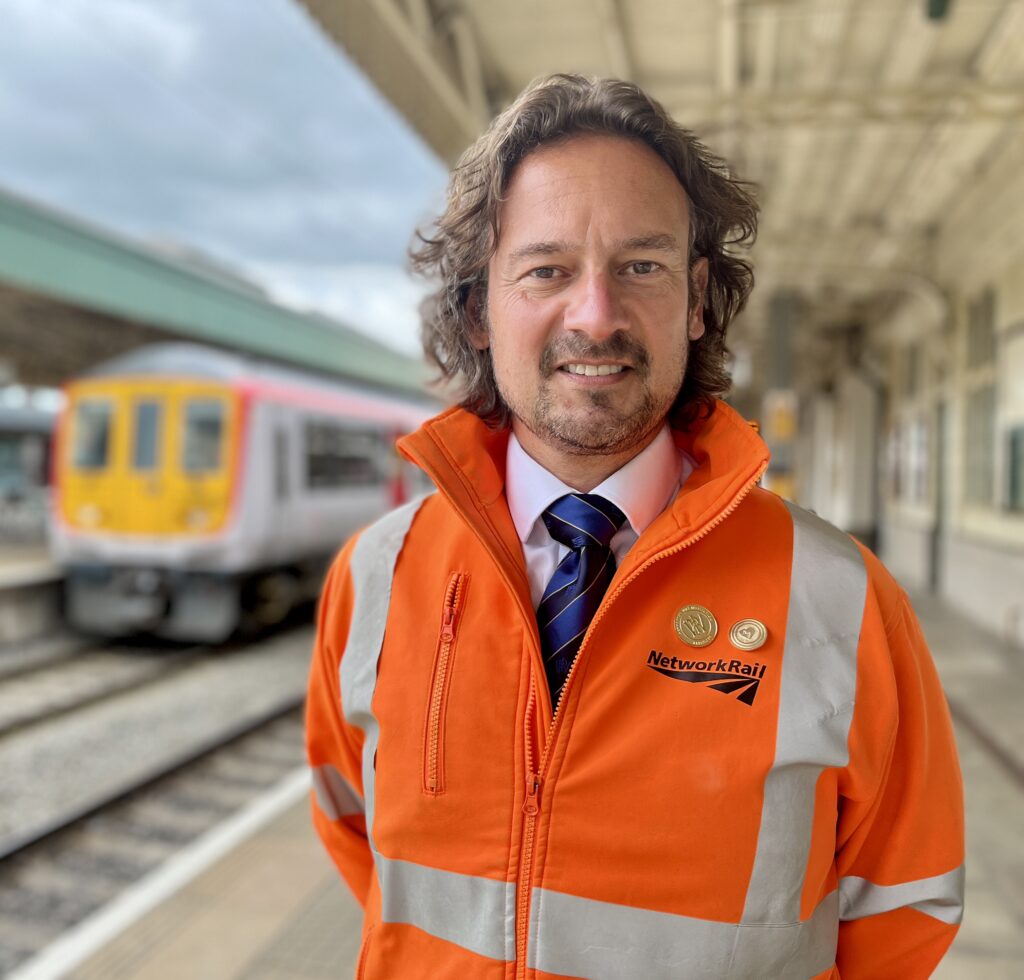 So where does my passion for safety come from? Partly it's because I was taught the right way to do things when I was brought up, and I'm glad I was. I understand the balance of risk probabilities and that if you do things properly, you're more likely to succeed in terms of operational outcomes, financial outcomes, and safety outcomes.
The challenge we have in rail is to get everyone to think of safety at all times. It's difficult to get everyone on the same page, but there are a few ways of doing it.
First, there are some things that you mandate people do. Our lifesaving rules describe these. For example: exclusion zones around large machinery; 'test before touch' when working on high voltage conductors; and not working on railways lines that are open. These are all part of our legal duty to prevent risk to our workforce, and as leaders we can do this.
But that's not everything. The second challenge is to look at human factors. People will be people, after all. To counter this, we can encourage teams to look out for one another. We can educate and enable others as teams, and as individuals, to have each other's backs. We can encourage people to speak up if they see unsafe practices and instil in them the confidence to do so.
We can also gather data and analyse it to find out where our risks lie and then plan to remove them. The railway is never risk-free, but you can purposefully reduce risk with focus.
It's striking that in just 30 years, safety on the railway has improved so rapidly. Why do you think safety awareness was less of a concern around the time you started your career?
Safety on the railway has been an evolutionary process. If you look at the railway industry 100 years ago, 400 people died, each year, at work. In the 1960s, there was a fatality every week. During the 1980s, this was reduced to one a month. Through the 1990s, 2000s, 2010s, this number has dropped further, but colleagues are still getting seriously injured, sometimes fatally.
Injuries and fatalities on the railway were once tolerated as an acceptable risk, but around the 1990s, after some very bad accidents, industry leaders became more uncomfortable with the situation. The legal framework also started to really sharpen up. The introduction of 'The Management of Health and Safety at work Regulations 1999', for instance, had a fundamental impact. It made risk assessments a requirement and introduced a principle of prevention, meaning there is a duty to reduce risk so far as is reasonably practical, and then plan to remove that risk. I think this was a profound moment in safety, particularly on the railway. As a response to this, in 2003, Railtrack introduced 'Rimini', which is an acronym for risk minimisation. This was a precursor to 'Network Rail Standard RT/LS/S/019', which manages the safety of track workers on or near the line, and is still in use today.
These new regulations and standards shifted the focus on rail safety from one of hindsight, or rather simply investigating why accidents happen, to foresight – spending time looking for possible risks and removing them before accidents happen. Today, it's about acting rather than reacting.
You're well known for your work with Network Rail's Track Worker Safety Task Force. Could you give us an overview of the Task Force, including its origins and successes?
In the 2010s we were seeing somewhere in the order of 70-plus near misses between track worker groups and trains every year. This put up to 150 colleagues at very high risk of being struck by a train. Previous investigations into fatal accidents by RAIB and the ORR strongly suggested that unassisted lookout working was by far the most high-risk way to undertake work on or near the line. We were conducting 25% of our track work (32,000 hours a week) using human lookouts, in 2019. Going back to the Management of Health and Safety and Work Regulations, we weren't preventing risk as far as was reasonably practicable.
After the fatal accidents at Stoats Nest Junction in 2018 and Margam in 2019, our safety regulator voiced its concern. Network Rail's response was to build from the near miss reduction programme and step up the 'Safety Task Force'.
Martin Frobisher, Ian Joslin, and Alan Spence and I, consulted on compliance criteria with the ORR and came up with 12 criteria for change by improving planning, deploying new technology, and enacting more effective leadership oversight.
Over two years, the 'Safety Task Force' reduced open line working by 99%. When you look at near misses, this was the highest risk category, and we removed it.
We reviewed 28 million maintenance tasks, twice, and shifted work orders into safer existing possessions or line blockages. We reassessed the signaller workload on all of our 677 workstations, set line blockage quotas, and increased additional protection for simple line blockages from 4% to over 40%, and that's still rising.
A simple line block is 20 times safer than the lookout flag. An additionally protected line block is 100 times safer. So, in doing this we've reduced near misses by 70%. On top of that, we've introduced a new planning system to 25,000 users called 'Rail Hub'. This is a collaborative tablet-based, paperless planning system, which is used by every single work group.
There's still work to do, and that work is ongoing. Each of the 13 routes has a time-bound action plan that they're working to, and that includes the provision of train-activated warning systems, continuing to drive additional protection for simple blockages, provision of site signage, simple wayfinding to help trigger situational awareness, and the creation of access points and walkways to safely separate track workers from trains. That work continues. But over three years, we've improved planning, reduced the immediate risks of working on open railways, deployed safety equipment, increased additional protection for simple line blockages, and much more.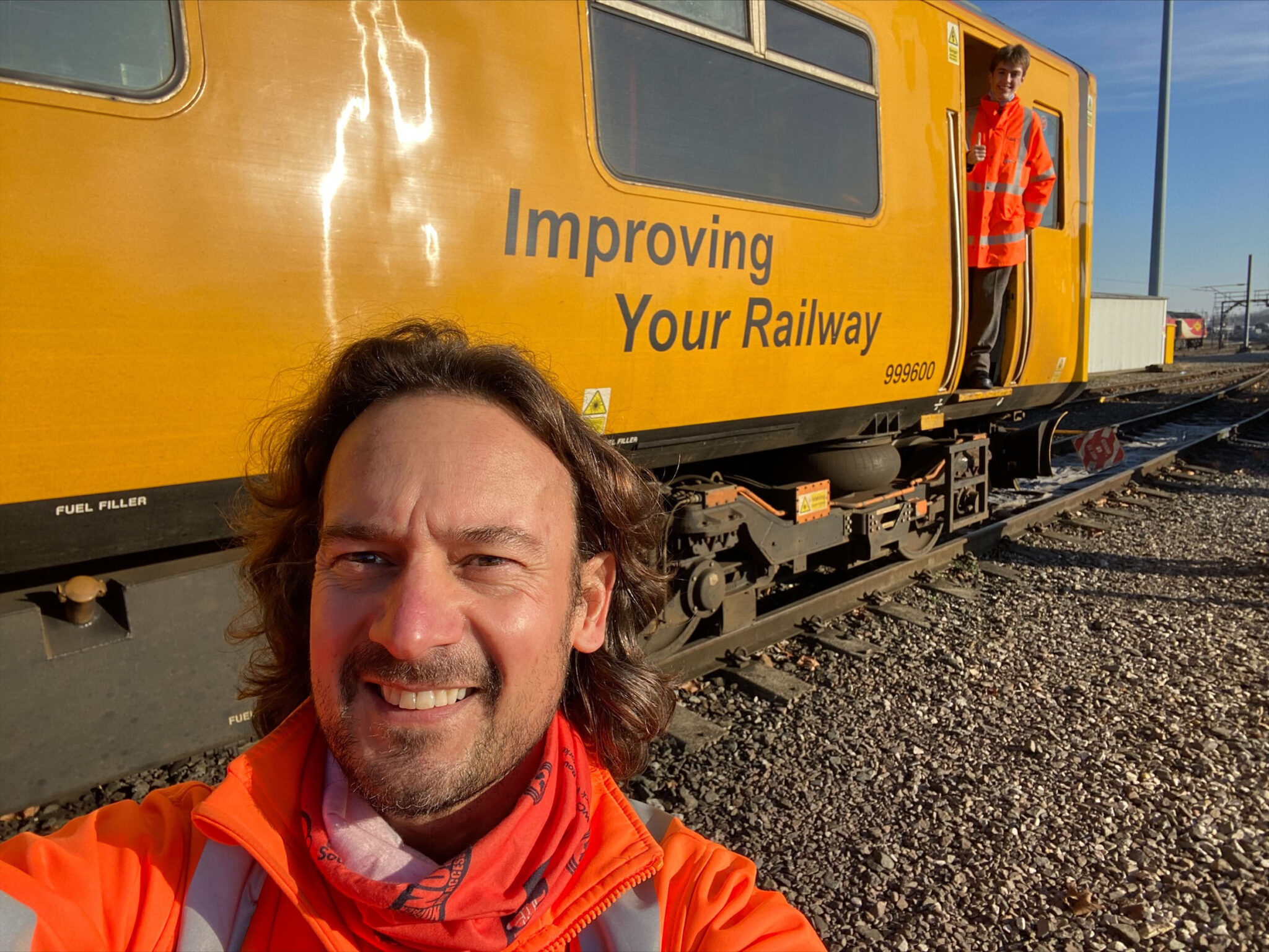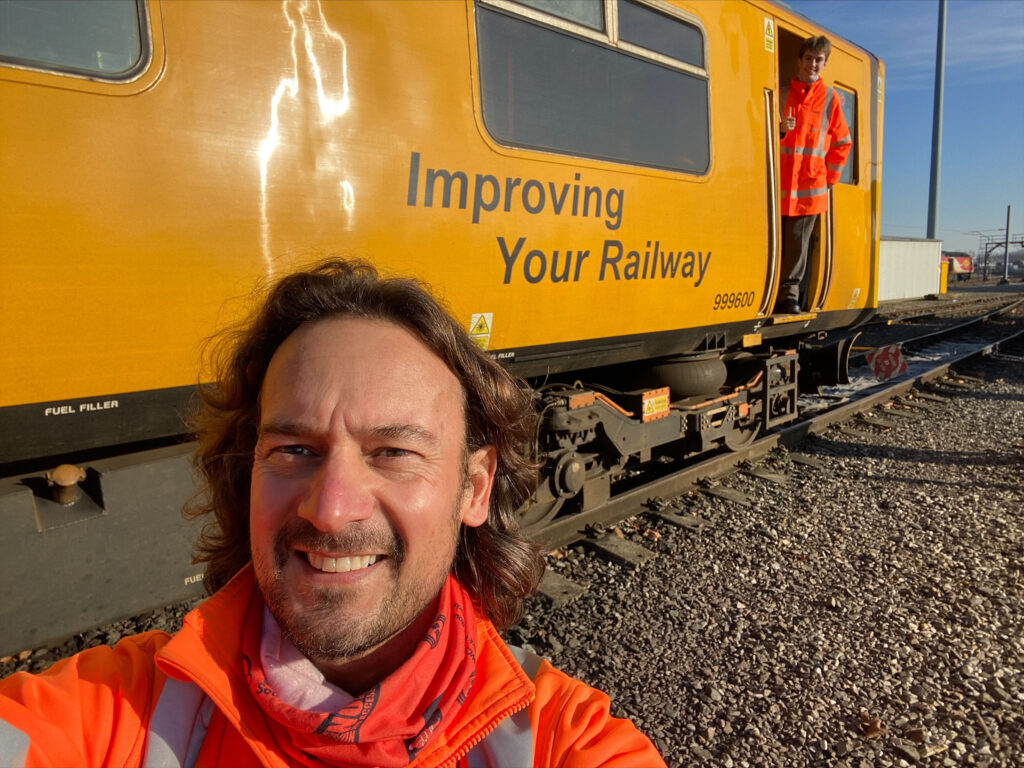 The demographics of the industry are weighted towards older workers with decades of experience. Is it difficult to introduce new safety innovations or technologies to staff who have worked in the industry for such a long time?
There can occasionally be pushback but, overall, I find that some of the best innovators I know have been in the industry for decades. I think experienced engineers are able to blend their intimate knowledge of the railway with new practices. Engineering is about innovation, and you'll find that some of our more experienced staff are just as excited about technological advancements as our newer employees.
I understand the concern that some staff have around new technology and the anxiety that this could result in redundancies, but, ultimately, we must keep everyone safe. The key thing that we've got to do is develop apprentices, recruitment, and future operating models. We need to promote good industrial relations and make safety innovation something that's exciting, rather than concerning.
On top of everything else you do, you're also a mental health champion. How well does the industry address mental health among its workforce?
Historically, railway culture has been male dominated and that culture doesn't really promote talking about perceived weaknesses. But when you open up to others, it's not something to be embarrassed about. In the track renewals business, my team introduced mental health first aid champions. When we looked at sickness and absenteeism due to mental health issues, we initially saw it increase, but as people became happier to talk, it began to decrease. When I was the infrastructure maintenance director on Western I did exactly the same thing, and I'm doing it again in Wales. By this time next year, I'm aiming to put a mental health first aider in every operational location, on every site, and in every van.
How is the cost-of-living crisis impacting worker's mental health, and is this a concern from a safety perspective?
Looking at the current economic climate and how it is impacting mental health – it would be remiss of me as a director and a leader to say that everything's fine at the moment, because it isn't. When you consider incidents and accidents, human factors are often involved – we all become tired and we can become absent minded, at times. If you add to that the pressure of worrying about how you're going to pay your next heating bill, or the rising cost of living, you're certainly not going to be on top of your game. So yes, the current economic situation will impact upon safety, in that it will increase the burden on some people's mental health. That said, mental health awareness on the railway is growing and it is appropriate that the industry supports those who are struggling. We ensure all of our staff have access to mental health support, which we sign-post to regularly in our internal communications.
Thanks for talking to us, Nick. Was there anything else you wanted to add?
The key point that I would like to get across is that in terms of increasing safety consciousness, everybody must be a safety leader. That's my genuine belief. Being aware of risk and taking steps to remove or prevent that risk must be the responsibility of every single person and every single team.
On another note, Rail Safety Week, which runs between 26 June and 2 July, is getting close, and people can use the next few weeks to plan for it. Leaders can use this time to engage with their staff and their safety representatives. They can look at new technologies, innovations, new PPE, engage with their people, check in, listen to their concerns, and really aim to reduce risk.