The construction of HS2 has delivered a huge boost for regional economies, creating major contracts for UK businesses and delivering full-time job roles for thousands. In February this year, RailStaff reported on the recruitment and training opportunities the project was creating up and down the country. Today we take a look at the how, six months on, HS2 continues to provide people with a leg up the career ladder.
Support and training
Skills, employment, and education are strategic objectives for HS2 and are critical in achieving the vision of the project being a catalyst for growth across Britain. Over a third of its workforce was formerly unemployed, and the focus on delivering training and fast-track employment programmes is helping people from disadvantaged and underrepresented groups to launch careers on HS2.
Through partnerships with local authorities, employment support services, and charities, HS2 is working hard to help those seeking employment but who need additional support or training.
At the end of June, it celebrated a milestone as it confirmed that over 3,000 people who were out of work have gone on to secure jobs on the project. Its drive to support those who are unemployed, and upskill people ready for work, has led to 3,221 people launching a new career. That's close to 10% of the workforce supporting HS2's construction.
Opportunities exist up and down the country. The reach of HS2's supply chain means people who were out of work in Wales, the North West, North East, Yorkshire and Humber, and the South East are among those to have secured jobs on the project.
Dedicated Skills Academies, run in partnership with local training providers and colleges, are delivering hundreds of free training programmes to help people build new skills. At the same time, HS2's contractors are providing work trials to give candidates an insight into the industry, helping them to understand the career pathways and progression opportunities.
Training programmes have so far helped candidates to launch careers in ecology, planning, CAD and design, engineering, plant operations, and support functions including finance and community engagement.
"We're exceptionally proud that we've helped over 3,000 unemployed people in England and Wales start a new career on HS2," said Natalie Penrose, HS2's head of legacy. "Whether through apprenticeships, specialist fast-track training programmes, or referrals from our partner agencies, every candidate has gained new skills and vital work experience that will put them on track for a promising future."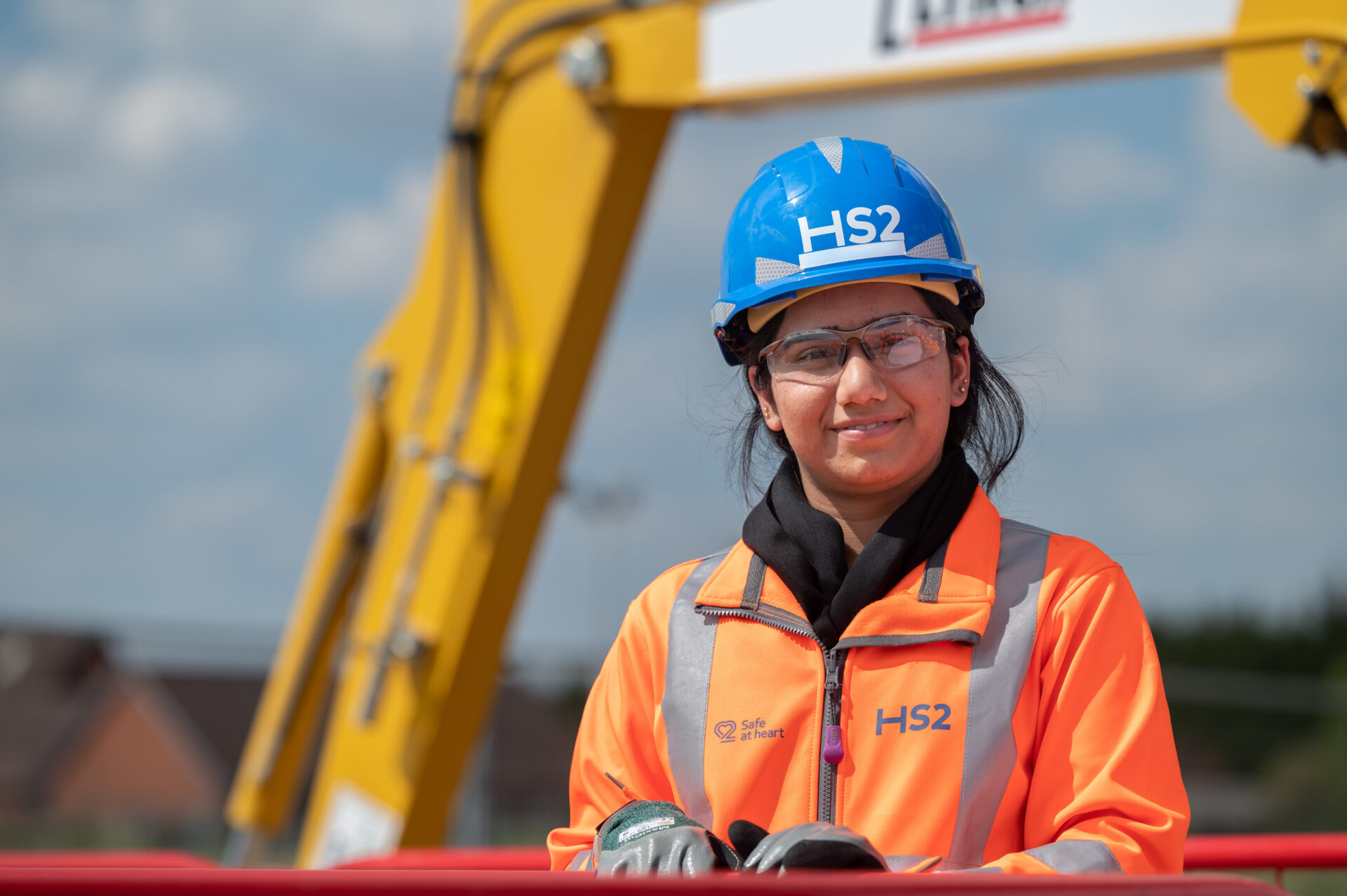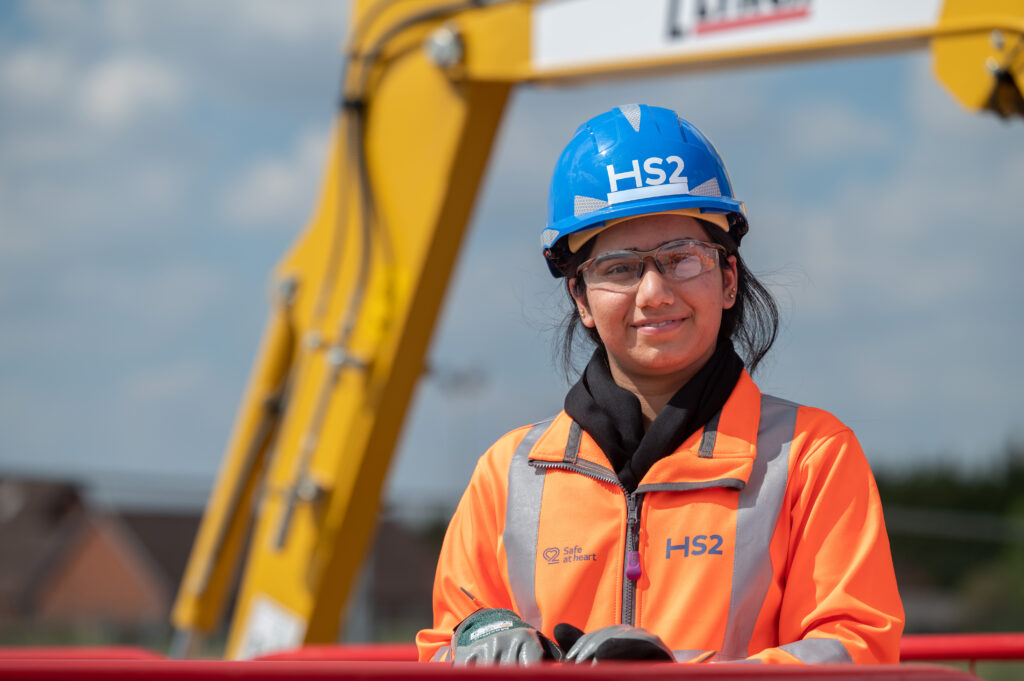 Among those to have secured work is 64-year-old James Burke from Birmingham. James had been unemployed for over a year, but that changed when he attended a HS2 careers event in nearby Chelmsley Wood.
James signed up for a 20-day paid work trial with Balfour Beatty VINCI (BBV), HS2's construction partner for the West Midlands. His previous experience working on construction sites, along with his appetite for hard work, led to him securing a full-time role. He is now part of the team delivering BBV's programme of tunnelling works in Birmingham and Warwickshire.
"The sense of teamwork and the level of professionalism from everyone involved in driving forward HS2's tunnel boring progamme is just brilliant," said James. "Being on site is becoming addictive. The site supervisors are great mentors, I'm learning so much."
Local opportunities
As it rolls through the country, HS2 gives back to the local communities it affects, creating jobs for those who need them most.
In May, for instance, Buckinghamshire residents were given a helping hand to launch a career in construction with HS2's Aylesbury-based contractor, Blackwell Earthmoving Limited.
HS2's construction partner, Eiffage, Kier, Ferrovial Construction and BAM Nuttall (EKFB), appointed Blackwell Earthmoving to deliver the earthworks on a 30km section of the route from Calvert South to the North Chilterns. The scale of work to create the embankments and cuttings for Britain's new high-speed railway is extensive, and the team forecast more local jobs would be created as a result.
To ensure local people were first in line to benefit, the team worked closely with Bucks Training Academy to support those looking for a new career. A local recruitment campaign resulted in over 1,500 enquiries.
Ignacio Chicharro, project director at EKFB said: "We're delighted that Blackwell is going the extra mile to ensure local people benefit from the jobs it is creating. Over the next three years, around 12million cubic metres of earthworks will be delivered on this section of the HS2 route. It's a huge operation, and it's fantastic that the local community is playing a part in what we're delivering."
Stephanie Oliver, 36, and Lincoln Dhana, 45, both completed their training and transitioned straight into full-time employment.
Stephanie, who worked as a care worker during the pandemic, never imagined she'd find herself driving a 60-tonne dumper truck, but the career change has left her feeling less stressed and gives her more time to spend with her family.
"If I'd known there was a role like this for me in construction, I'd have gone for it years ago," she said. "I didn't imagine myself driving a 60-tonne truck, but now I'm here I absolutely love it."
"This is my first full-time job, and it gives me the security I need to provide for my family. Being local also means I have a great work-life balance, and for me that's really important."
Over the last year, Lincoln has completed three different training courses, which means he's now qualified to operate a broad range of plant machinery. He said: "I've progressed really quickly, and new doors are opening for me all the time.
"Working as part of the team on HS2 is rewarding. You can see exactly how you're contributing to building the railway. I'll be able to look back knowing that I was part of the team that helped to make it all happen, and that's amazing."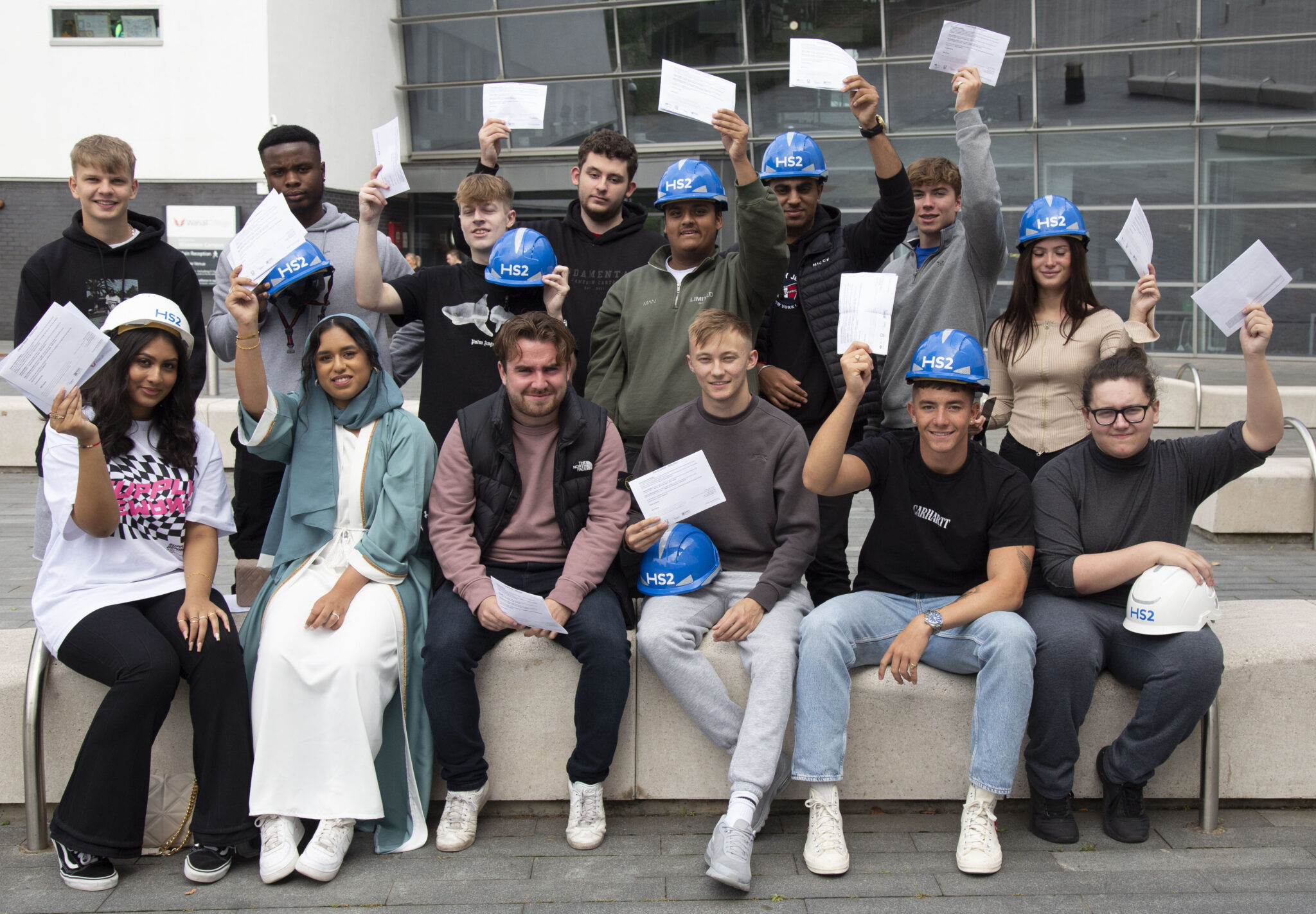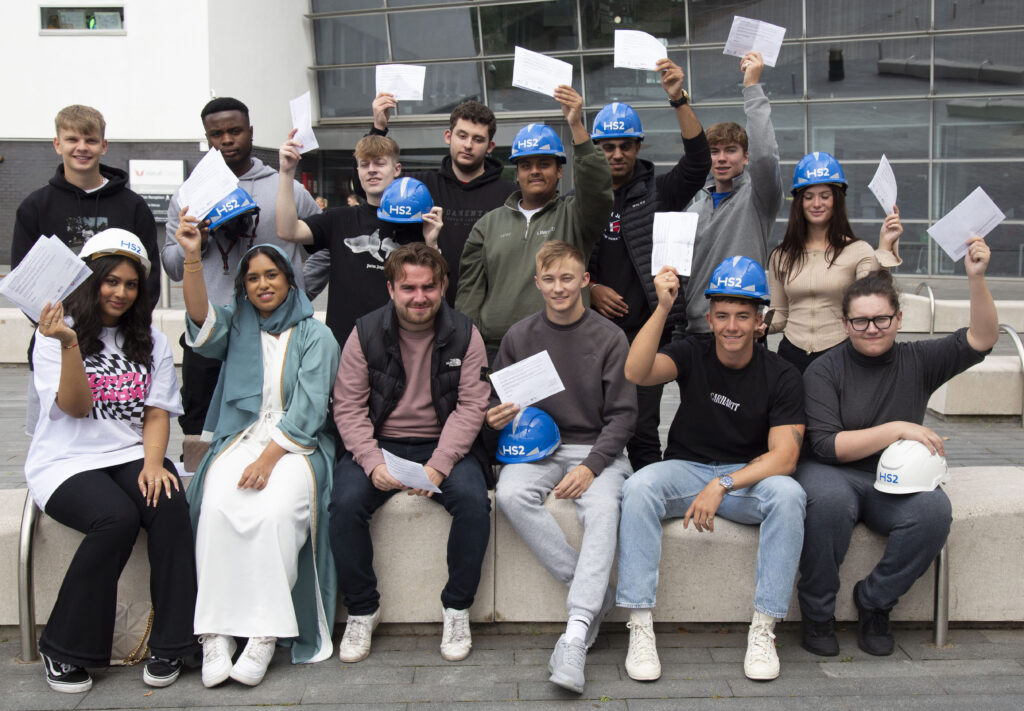 Blackwell Earthmoving currently employs around 125 people to help it deliver its programme of work on HS2. It's proud that 13% of their workforce is female and that two thirds of its trainees come from the local area.
"We're about careers, not just jobs," said Paul Bird, Blackwell's Resources Lead, "and that's why we invest heavily in training our workforce. The ability to live and work locally is really important to people and that's what we can offer, alongside the promise of a long-term career."
Graduate prospects
The construction of HS2 is also playing a pivotal role in helping University graduates to transition straight into careers aligned to their specialist subject areas. Hundreds of students have moved in to graduate-level roles with HS2's construction partners after finishing their studies.
Among those to have launched a new career is 26-year-old Alisha Bhakta from Birmingham. Alisha graduated from De Montfort University Leicester with an Honours degree in English Language and Literature. She spent months trying to find a job that reflected her skillset or offered career progression opportunities.
The chance to start a work placement with BBV, HS2's construction partner for the West Midlands, sparked the career turnaround she was looking for. After completing her placement in 2020, Alisha immediately secured a permanent role in BBV's document control team where she continued to impress. Now, three years on, she's secured two promotions and transitioned into a role in information management, where she has line management responsibilities and the opportunity to expand her team.
"I would never have considered that a career in construction might be for me," said Alisha, "but that's the great thing about a project of HS2's size and scale, as there are so many opportunities.
"I work with a fantastic team at BBV and my confidence has grown. Moving out of my comfort zone and into something new has really helped me, and my career, to progress."
HS2's construction partner Align JV is also helping unemployed people to launch new careers. Queenie Villarente graduated during the Covid pandemic and had been struggling to find a role that suited her studies in Engineering. After many unsuccessful applications, she secured a space on Align's pre-employment programme at the end of 2020.
The programme specifically supported women who were looking to start a career in Construction, and Queenie was introduced to a resourcing manager who helped her to secure a position working on HS2 as a Plant Clerk.
Since joining Align, Queenie's career has developed rapidly. She is now operating as a TBM (tunnel boring machine) control room and data engineer.
"My experience at Align so far has been amazing," said Queenie. "The environment in which I work is definitely a good place for growth and development. It's a place where my voice and opinion matters, with every day offering new challenges and opportunities. I work as part of a team which is very united, working together to achieve our goals. I am very happy to be part of what is a fantastic project."
Inspiring the future
With the high-speed project expected to roll on well into the 2030s, it is crucial to plan today to recruit personnel for tomorrow. HS2 and its construction partners regularly engage with local educational institutions to inspire the workforce of the future.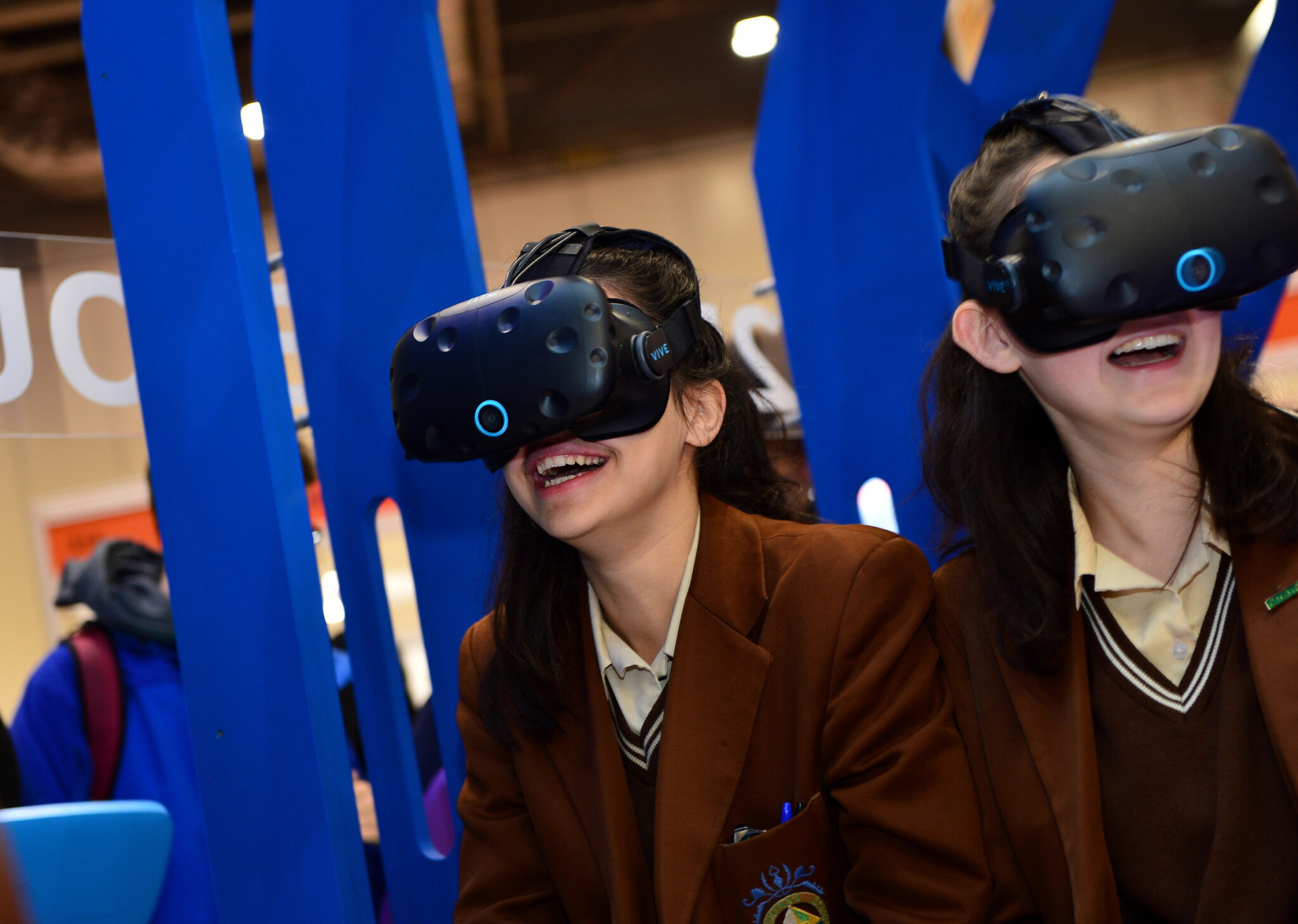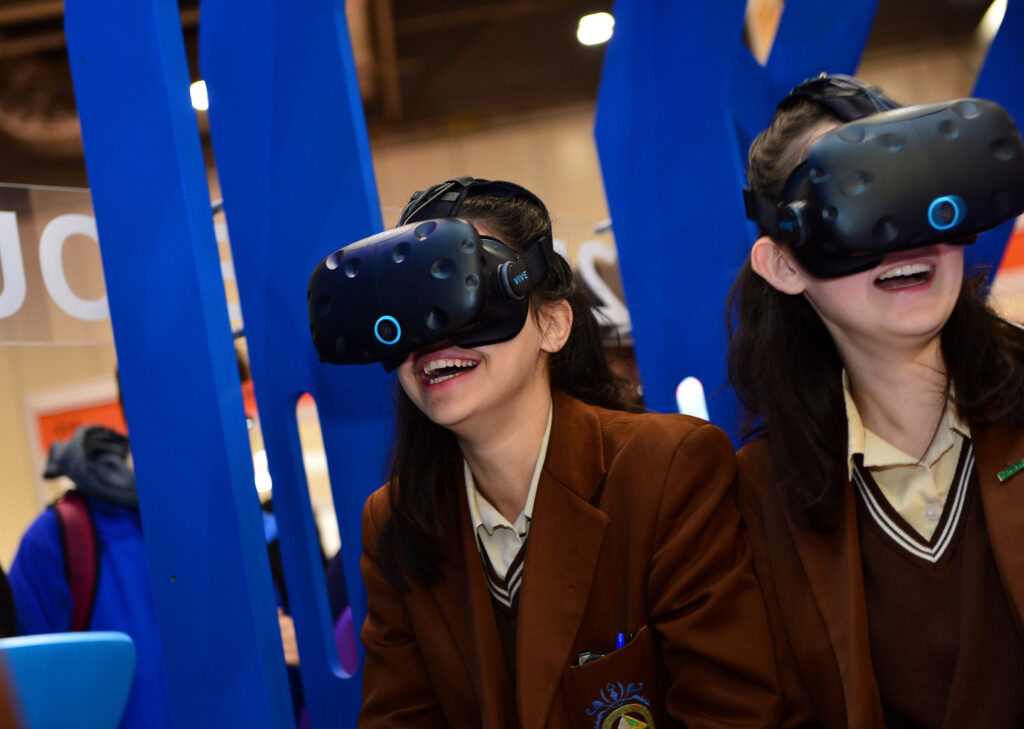 In July, primary school pupils at Chipping Warden Primary Academy in Oxfordshire got an exclusive tour of one of the project's construction sites.
The pupils, aged 4-11, donned mini safety helmets and high-viz jackets before boarding the site safari vehicle for a tour led by engineers and specialists from EKFB. The tour provided a safe environment for the pupils to learn about the bridges, viaducts and tunnels being built in their local area.
During the tour, the pupils saw first-hand the diggers, excavators and specialist machinery being used to build the new railway. They made notes and drew pictures on their activity sheets, which were developed to enhance the learning programme.
"We're exceptionally proud of the work that EKFB is doing with local schools in Northamptonshire and Buckinghamshire," said Jhen-Nel Swanston, HS2's legacy manager for the region.
"The new site safari programme is a fun and safe way to bring young people onto our construction sites where they can learn about how HS2 is being built. Hopefully the programme will help to inspire the next generation of engineers that will build the HS2 network to Manchester and the East Midlands."
Four of HS2's other construction partners recently joined forces to deliver a new education programme for young people in Ealing with special educational needs and disabilities (SEND). The initiative forms part of HS2's Skills, Employment and Education Strategy, which aims to encourage more young people to consider transport infrastructure related careers.
Balfour Beatty VINCI SYSTRA, Skanska Costain STRABAG, Mace Dragados, and Align JV worked with the Ealing SEND Hub to deliver the programme. During the eight-week course, the four contractors delivered science, technology, engineering, and mathematics (STEM) learning sessions and provided tours of HS2's construction sites.
The sessions explained the different jobs and skills needed to build the new high-speed rail network and provided guidance on career pathways – including opportunities to join HS2 on work experience and placement days.
Three schools in Ealing – John Chilton, St Ann's, and Springhallow – took part in the programme, which was tailored to meet the learning requirements of each schools' pupils. The pupils were encouraged to explore how their skills aligned to different job roles, and they were given the opportunity to take part in mock job interviews.
Ambrose Quashie, HS2's legacy manager for Greater London said: "We want local people to benefit from the jobs and opportunities that HS2 is creating, and our contractors are working exceptionally hard to create pathways into training and employment for young people and adults with SEND.
"We look forward to working with the Ealing SEND Hub to engage more young people in the months and years ahead, and we hope that this initiative will inspire young people to consider a career on HS2 in the future."
HS2 and its construction partners are Disability Confident employers. They work closely with employment support services and local charities to help people with SEND to launch careers helping to build Britain's new railway.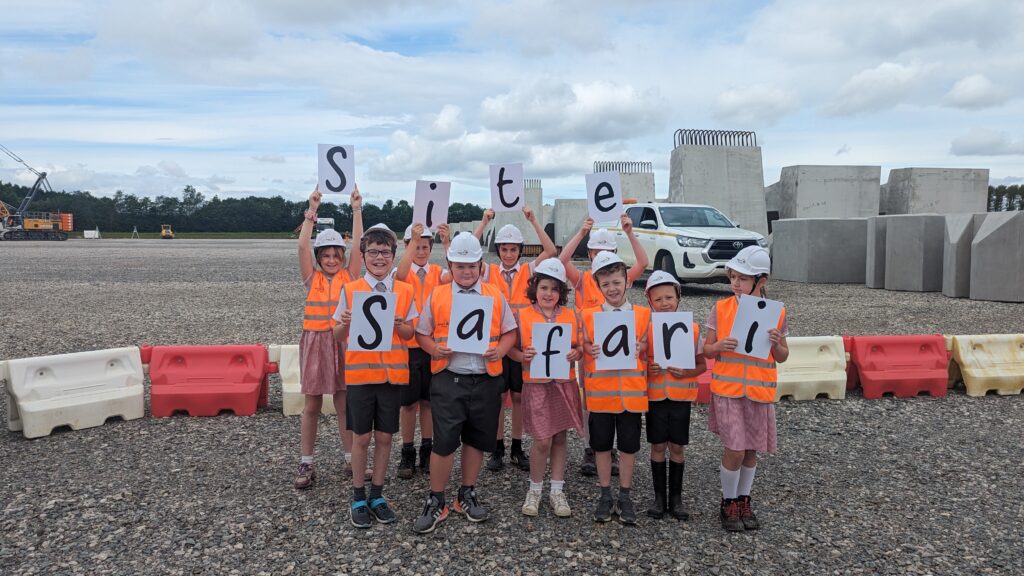 Lisa Quinn, co-director of Business Education Events, a community interest company which brings employers and students together says: "This was an incredible experience for our young SEND people who were given access to everyone working on HS2, from catering staff to engineers and the senior management team.
Each session was meticulously planned with the disabilities of the students in mind. The programme was inclusive and showed dignity to all, we can't wait to come back."
Leaving a legacy
HS2 has opened up a wealth of opportunities to get people back into work and encourage mid-career workers to consider a new direction. It is developing cooperative relationships with the regions it rolls through, offering to upskill and employ locals who provide the manpower required to complete the project. Not only that, but the construction of HS2 is encouraging today's students to consider a career in rail and providing the training opportunities for them to make this ambition a reality. Future generations will surely benefit from the skills legacy that the project leaves behind.
Image credit: HS2